These healthy breakfast ideas will help you plan wholesome, delicious breakfasts that your entire family will love! We have egg recipes, pancakes and waffles, and breakfast casseroles. To round things out, great ideas for fruits and veggies, and a few healthier sweet breakfast treats, too.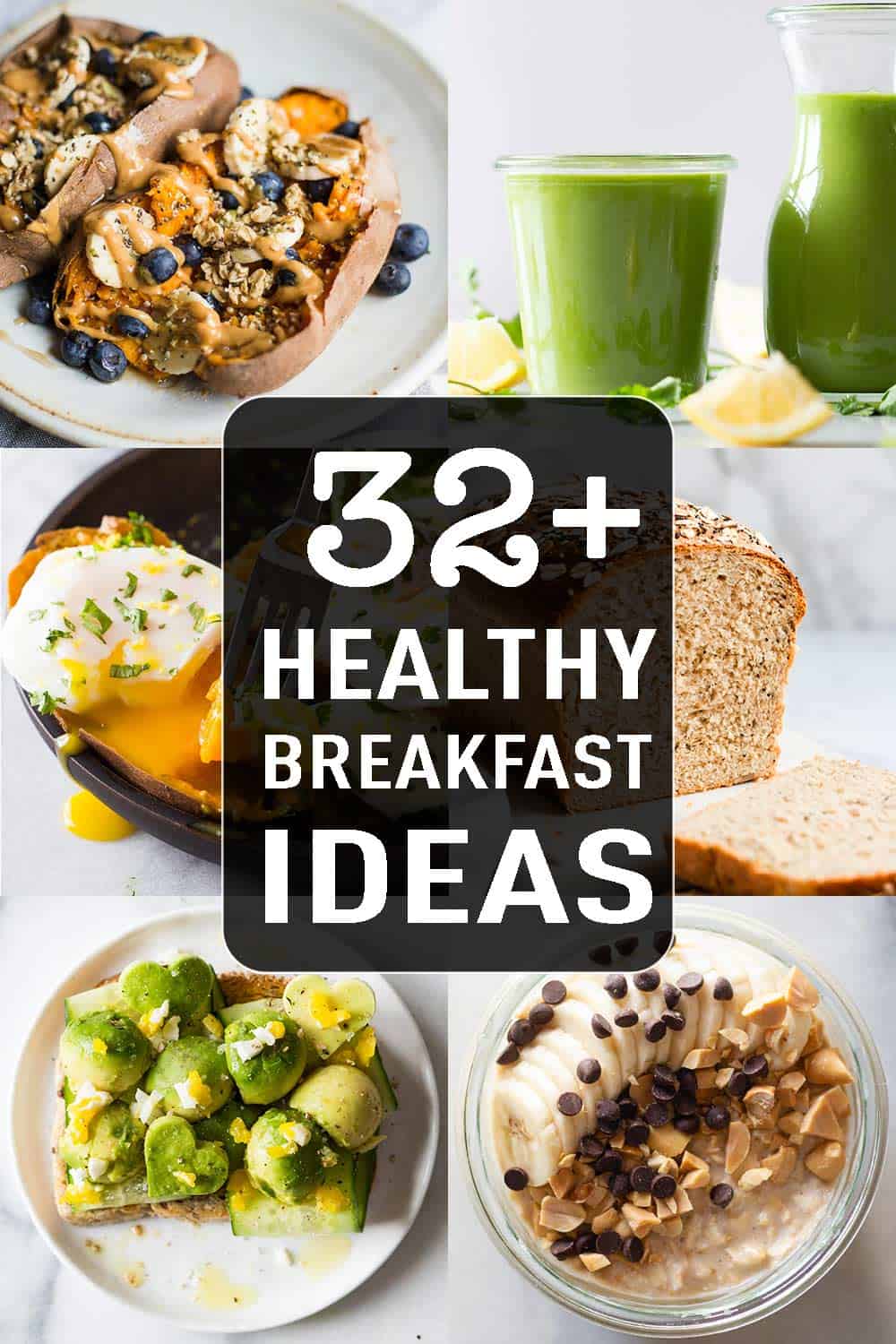 I am surprised at how many people struggle to make a healthy breakfast for their family. When you think of quick and easy breakfast ideas, the things that come up first are high starch foods like bagels, granola bars, and muffins.
To start with, starchy carbohydrates are usually higher in calories. But even more important, they also lack healthy nutrients. The morning is when the body needs protein, vitamins, minerals, and healthy fats. The good news is, a healthy breakfast is just as easy to make, and if you are in a hurry, don't worry! There are plenty of easy meal prep breakfast ideas that are healthy, too.
Here are 32+ healthy breakfast ideas to get you started.
Healthy Breakfast Ideas with Eggs
Some people believe that eggs are unhealthy but that is simply not true. Yes, egg yolks do have cholesterol, but not an excessive amount. If they are eaten in moderation, eggs can be part of a healthy diet. If you are concerned about the cholesterol in eggs, just eat the egg whites, or remove 1 yolk for every 3 eggs. The nutrients in eggs include:
Protein – One large egg has 6 grams of protein
Vitamin D – Great for strengthening bones and the immune system
Lutein – This important vitamin is good for eye health and is known to reduce the risk of cataracts and Macular Degeneration.
Choline – This compound helps the body's nervous system, which operates the brain, the heart, physical movement, and so much more!
Add a few of these delicious and healthy breakfast ideas with eggs into your morning routine!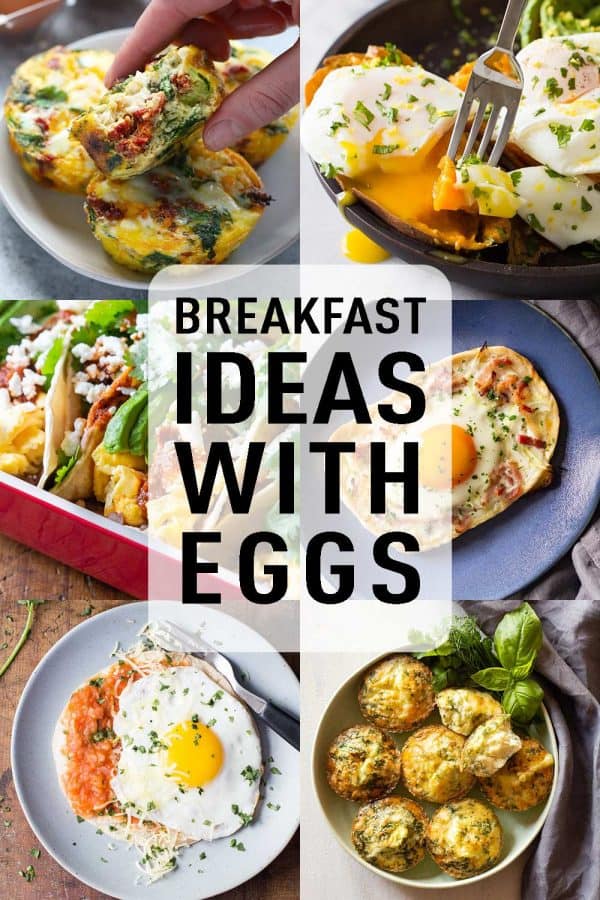 Oats and Other Healthy Grains
Set aside the high sugar cereals and starchy carbohydrates and make breakfast using healthy whole grains instead. There are plenty of healthy grains to choose from, even for those on a gluten-free diet. Some delicious gluten-free grains that taste fantastic for breakfast are:
Rolled oats
Steel-cut oats
Quinoa
Buckwheat
Sorghum
Here are some of my favourite breakfast ideas using healthy grains: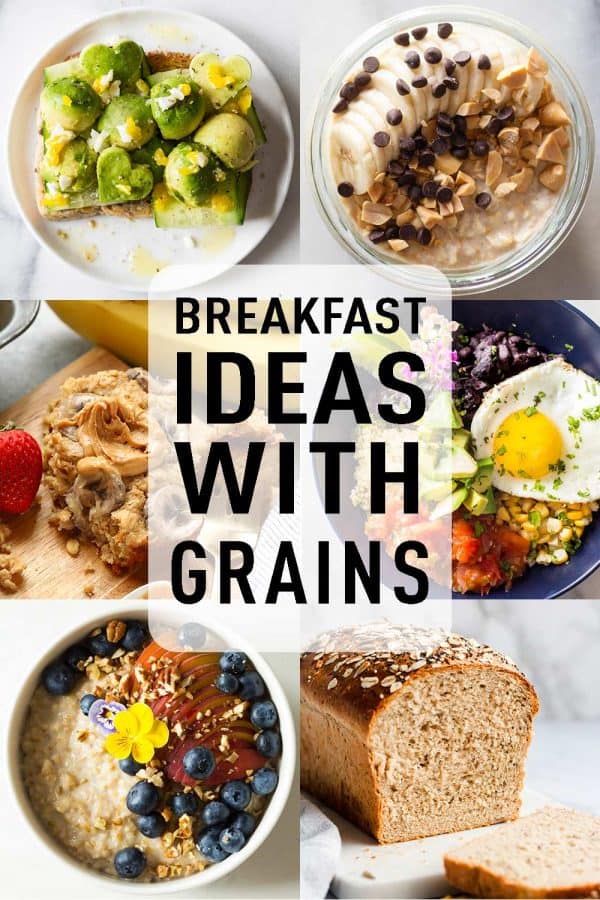 Healthy Breakfast Casseroles
A casserole for breakfast? Yes, indeed! Not only can you make casseroles ahead of time, but they are also quick and easy to reheat. One benefit of breakfast casseroles is that you can make them with leftover cooked meats and veggies. Healthy breakfast casseroles are a fantastic way to clean out your fridge!
Healthy Breakfast Ideas with Fruit and Veggies
One of the toughest challenges a parent can face is getting their kiddos to eat enough fruits and vegetables. An easy way to do that at breakfast is to make fruit smoothies; they're a kid-friendly favourite!
When it comes to veggies for breakfast, sweet potatoes are a nutritious, delicious option. They provide lots of fiber and vitamins, and depending on what else you add to them, they can be high in protein, too.
Healthy Pancakes and Waffles
Nearly everyone enjoys a stack of pancakes or waffles for breakfast. Tips to keep them healthy include using whole grain flour and adding protein, fruit and/or veggies to them. Skip the sugary syrups and top your stack with some low sugar jam or yogurt instead.
Healthy Breakfast Sweets
When you are craving something sweet in the morning, there are healthier options than donuts or pastry tarts. These healthy breakfast ideas are a sweet treat that everyone in the family will enjoy!