Fail-proof Instant Pot Steel Cut Oats and 12 topping ideas! 4 savory and 8 sweet. Add any milk you want to make it high fat, low fat, vegan, vegetarian, whichever way you like.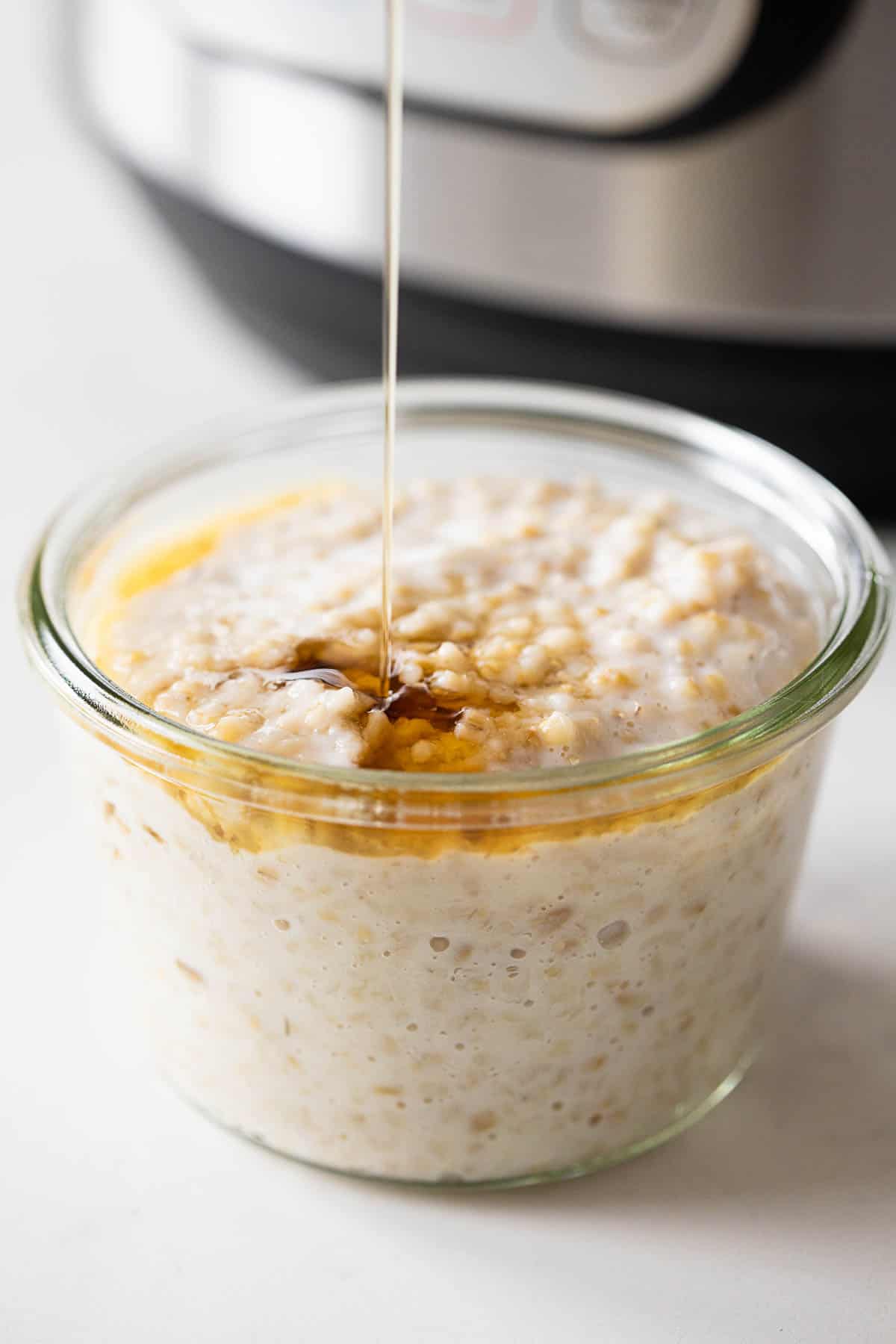 I couldn't be happier with the result of multiple recipe tests. I love steel-cut oats and I love my Instant Pot! The pressure cooker makes just about any grain taste amazing. I mean, has there ever been anything better than Instant Pot Rice? Exactly!
What Liquid Should I Cook The Oats In?
Water!! For many reasons. Cooking dairy under high-pressure kind of end ups super weird. Dairy can curdle or separate when pressure cooking. You also risk your pressure valve getting clogged because dairy foams at a high temperature.
Nut milks can burn and you end up with the dreaded burn warning on your display.
Water is and always will be the best liquid to cook steel cut oats and the best part: it tasted "neutral". You can play will your toppings to make your oats taste like anything you want.
You can make your steel cut oats savory or sweet. They just have an amazing texture with which you can now work to transform into your favorite breakfast bowl.
If you insist in wanting to add milk to your oats I recommend you check out these overnight oats. Those are awesome with milk instead of water :)
What Is The Best Steel Cut Oats To Water Ratio?
The best ratio for perfectly cooked through steel cut oats that end up creamy but not mushy is:
1:2 steel cut oats to water
For savory oats you will want to
How Long Do I Have To Pressure Cook Steel Cut Oats?
After extensive testing, I figured out 3 minutes on high pressure breaks down the grain but it needs natural pressure release to get silky smooth without falling apart.
Imagine boiling your steel cut oats in constantly boiling water and eventually when it's cooked take it out of the water, just like you would cook pasta. Ever tried? Why not? Nobody suggests doing that, right? Because it simply doesn't turn out well. The oats overcook and absorb way too much water that way. They become a big mush tasting like absolutely nothing because it's full of water.
You have to "steam" oats but they also need to absorb enough water so they break down.
So the magic formula is 3 minutes of pressure cooking to break down the oats and 16-18 minutes natural pressure release to "steam" them so they can absorb the exact amount of water necessary.
How To Make Savory Steel Cut Oats
To make savory steel cut oats you will add 1 tsp sea salt to every cup of oats right into the Instant Pot before pressure cooking.
Then, once they are cooked you don't add milk, you serve them as they are in a bowl and top them with savory toppings. Here are 4 suggestions: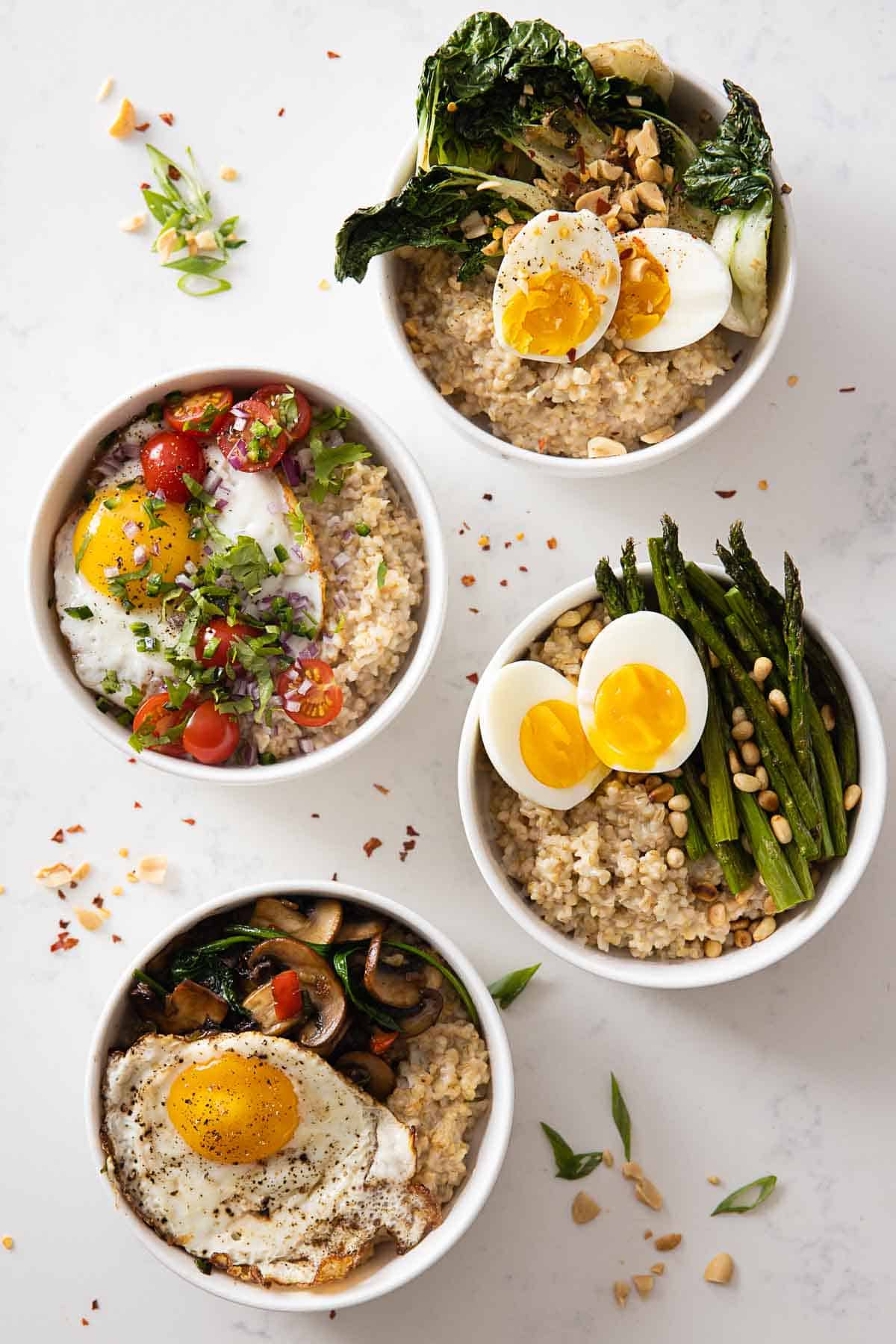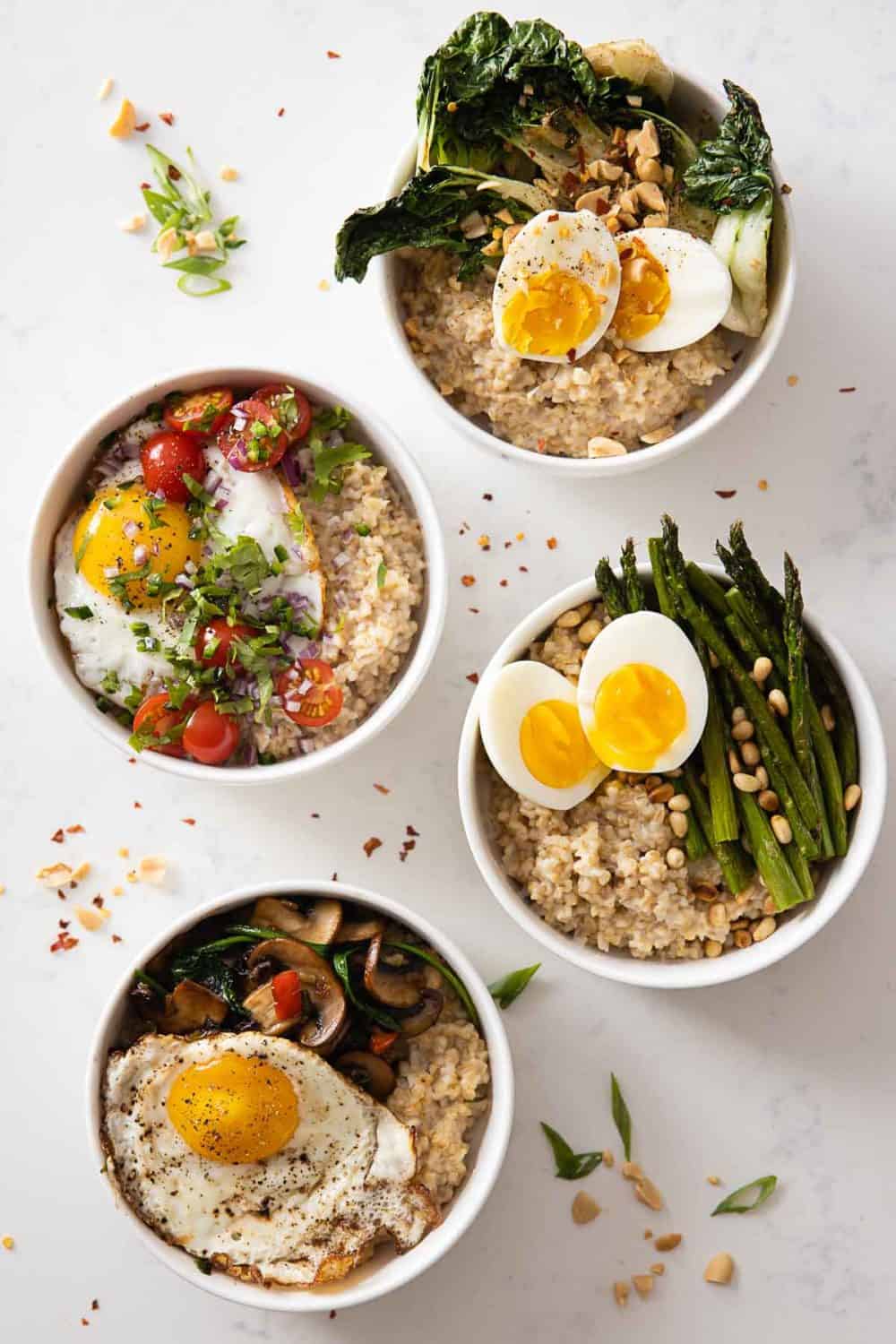 Asparagus, egg, and pine nuts: Preheat the oven to 400F, cut off the dry ends of a hand full of asparagus, and season with a little avocado oil and sea salt, and then roast on a baking sheet for 10-12 minutes. In the meantime, bring water to a boil in a small saucepan and then cook a fridge-cold egg in boiling water for 5 minutes. Then remove the egg and let it sit on the counter for another 5 minutes before peeling. Also, preheat a small pan over medium heat and add a hand full of pine nuts to the dry pan and toast the nuts while constantly stirring for approximately 2-3 minutes. Then top your Instant Pot Steel Cut Oats with everything.
Mushroom, bell pepper, baby spinach, and egg: Preheat a pan over medium heat then add a knob of butter and once melted sauté 2 sliced scallions, 2 sliced mushrooms, and about 1/4 cup diced bell pepper until the mushrooms are nice and brown. Then add a hand full of baby spinach and season everything with sea salt. Sauté for 30 seconds and remove from the pan. Add a drizzle of avocado oil to the same pan and fry an egg in it. Season the egg with sea salt and pepper. Then top a bowl of Instant Pot Steel Cut Oats with the veggies and egg.
Baby bok choy, egg, and peanuts: Bring water to a boil in a small saucepan and then add a fridge-cold egg for 8 minutes. Remove the egg and let it cool on the counter for 2-3 minutes before peeling. Preheat a pan over medium heat, add a drizzle of avocado oil, and then sauté 3 halved baby bok choy, a chopped clove of garlic, and a teaspoon of grated ginger in it until the bok choy softens. Season with sea salt and pepper then remove from the pan. Add the bok choy, hard-boiled egg, and a small hand full of chopped peanuts to a bowl of warm Instant Pot Steel Cut Oats
Fried egg and pico de gallo: Preheat a large pan over medium heat, add a drizzle of avocado oil and then fry an egg in it and season with sea salt. Then top a bowl of Instant Pot steel cut oats with the fried egg and add 3-4 cherry tomatoes cut in half, about a tablespoon of chopped red onion, about 1/2 a tablespoon of chopped jalapeño, about one tablespoon of chopped cilantro. Drizzle everything with lime juice and season with freshly cracked black pepper.
How To Make Sweet Steel Cut Oats
To make sweet steel cut oats in the instant pot you still cook them in just water. Omit or reduce the salt to just a pinch though.
Once they are cooked through add 1/2 of milk of your choice and 1/4 cup maple syrup for every cup of raw oats you added to the pot at the beginning. Stir until well combined and creamy.
Then top a bowl of creamy bowl of steel cut oats with an assortment of fresh fruits, nuts, nut butters, seeds, and chocolate.
In fall/winter I suggest: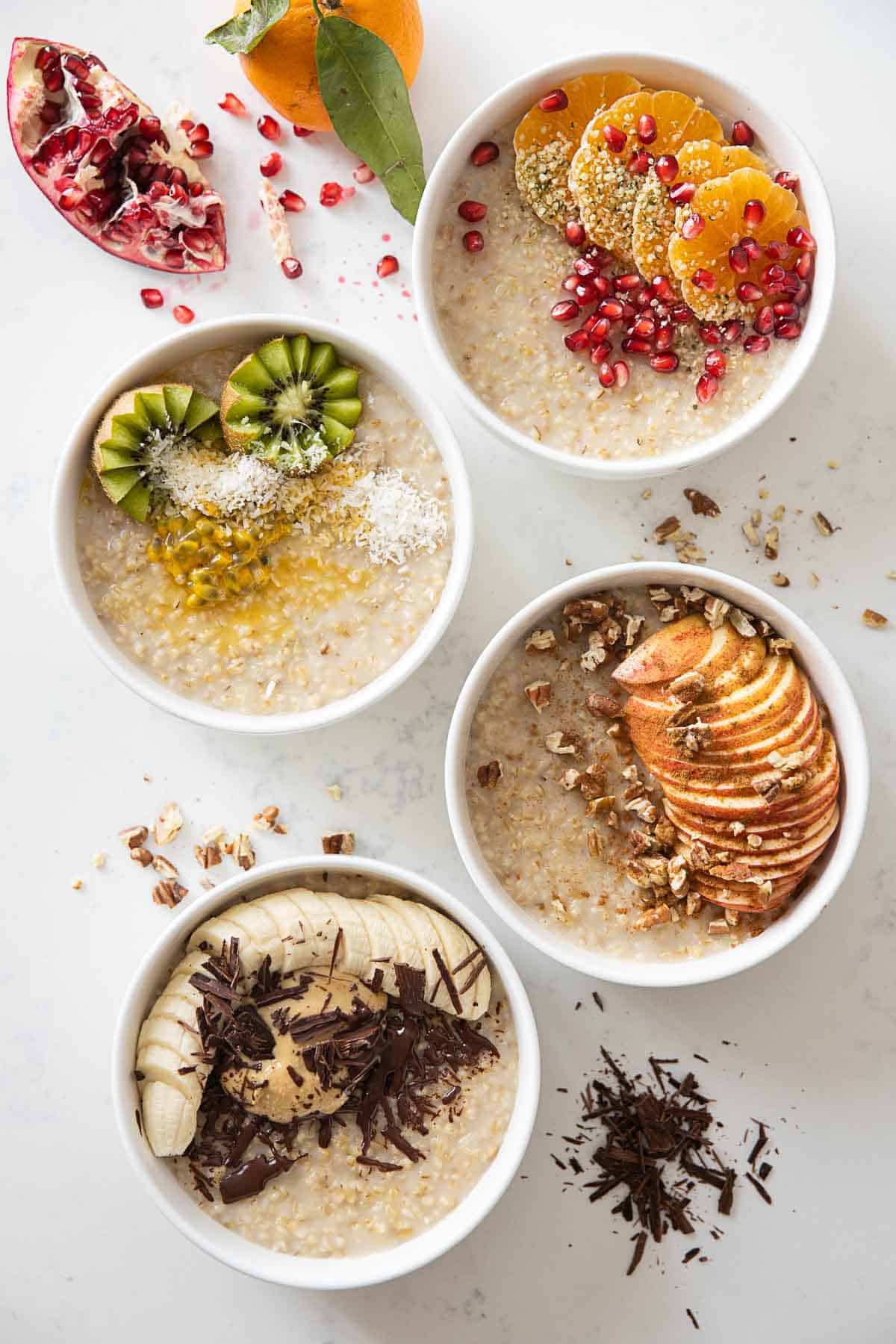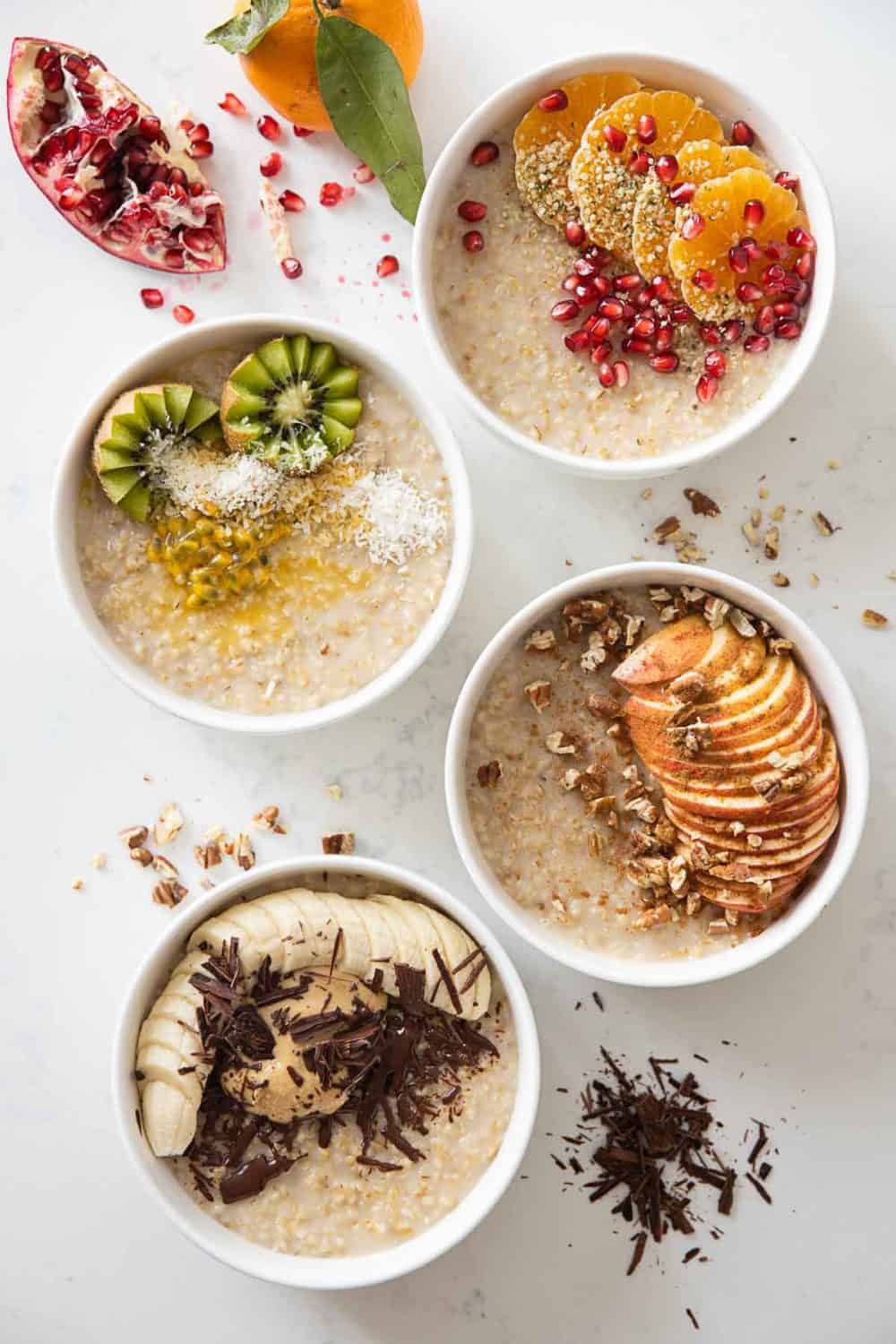 Sliced banana, unsweetened peanut butter, shaved dark chocolate.
Sliced apple, chopped pecan, cinnamon.
Kiwi, passion fruit, unsweetened shredded coconut.
Sliced clementine, pomegranate seeds, hemp seeds.
In spring/summer I suggest: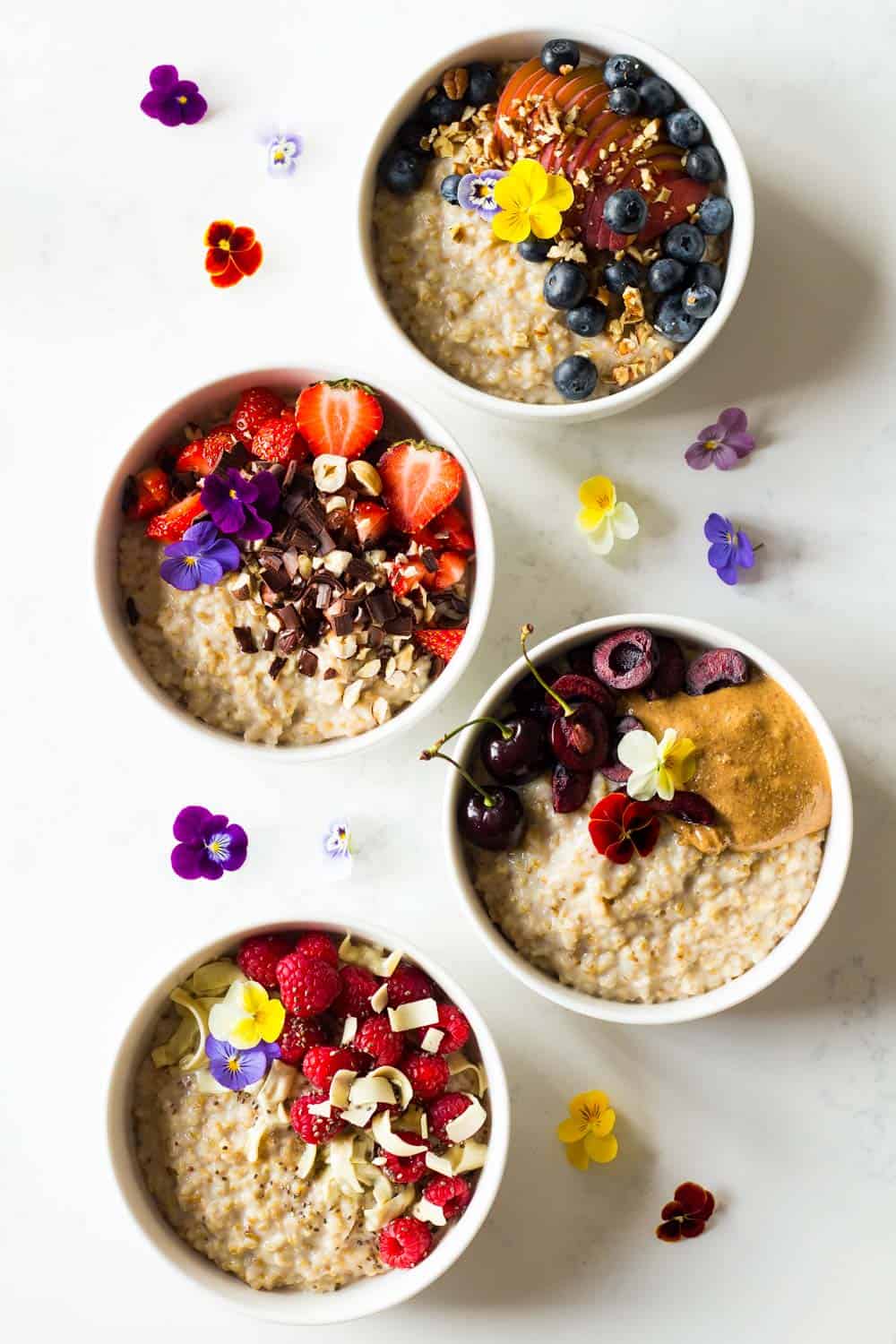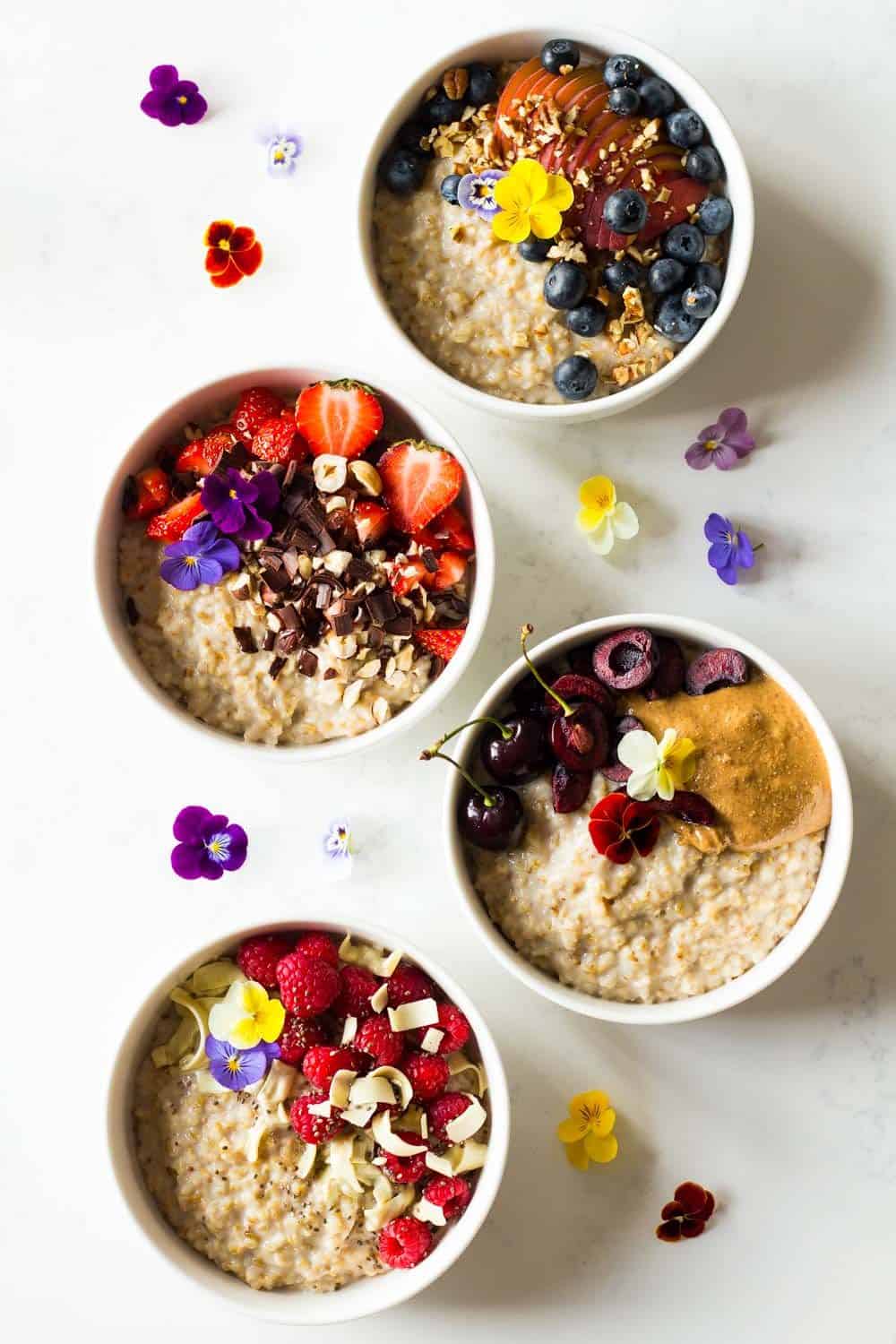 Raspberry, chia seeds, shaved white chocolate.
Cherry, almond butter.
Strawberry, chopped hazelnuts, dark chocolate.
Sliced peach, blueberries, chopped pecans.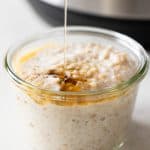 Instant Pot Steel Cut Oats
Fail-proof Instant Pot Steel Cut Oats! Add any milk you want to make it high fat, low fat, vegan, vegetarian, whichever way you like.
Print Recipe
Pin Recipe
Ingredients
1

cup

steel cut oats

2

cups

water

1

pinch/tsp

salt

1/2

cup

milk of choice

1/4

cup

maple syrup

-

(or honey or agave nectar)
Instructions
Add oats, water, and either a pinch of sea salt for sweet oats or a teaspoon of sea salt for savory oats.

Put on the lid and turn the valve to sealing, then set the Instant Pot to 3 minutes on high pressure.

Let pressure release naturally (this will take 15-20 minutes).

If making savory oats, your oats are done. Mix and serve and top with savory toppings.

If making sweet oats, add milk and maple syrup, and stir to combine. Then serve and top with sweet toppings.
Notes
You can store the steel cut oats with milk and sweetener but without toppings in an air tight container in the fridge for up to 4 days.
Nutrition
Serving:
1
g
|
Calories:
268
kcal
|
Carbohydrates:
54.6
g
|
Protein:
5.6
g
|
Fat:
3.6
g
|
Saturated Fat:
0.5
g
|
Sodium:
175
mg
|
Potassium:
278
mg
|
Fiber:
4.4
g
|
Sugar:
23.9
g
|
Calcium:
130
mg
|
Iron:
2
mg
Have you tried this recipe?
Take a picture and tag @greenhealthycooking Can't wait to see your version!