This vegetable frittata recipe is perfect to feed a crowd at brunch or to use as a meal prep breakfast. Just grab, reheat, and off you go into the day. You can add this to your healthy breakfast recipes collection.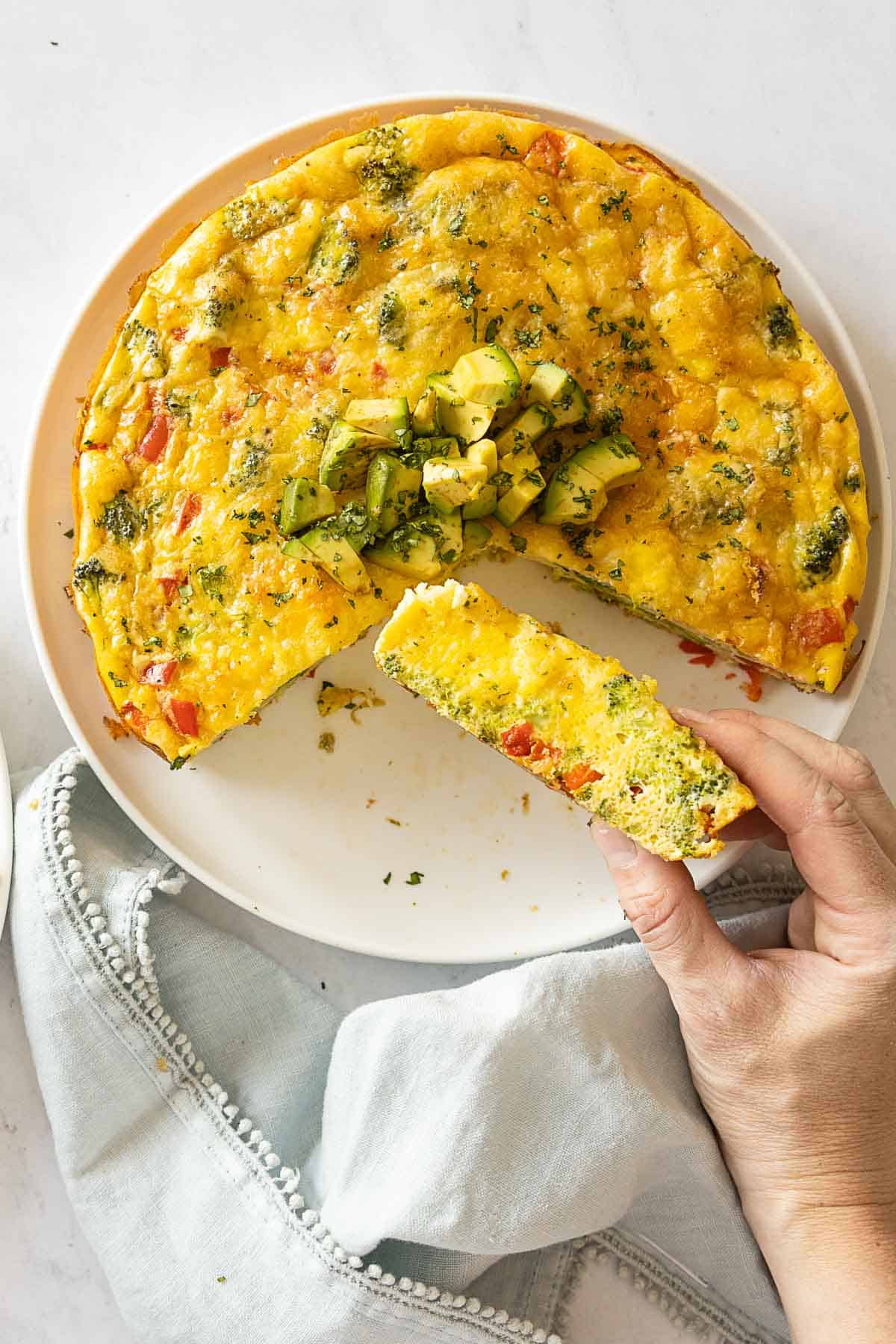 I absolutely love making frittata on a Sunday morning for brunch. Then we keep the leftovers in the fridge for easy grab-and-go breakfast the first couple of days of the week. We've even eaten some for dinner after a busy day and coming home tired. Just serve with your favorite summer salad and you're good.
Today I'm showing you two different versions but honestly, the sky is the limit! You can add which ever combination of vegetables and cheeses you want and make the recipe yours!
Ingredients And Substitutions
Eggs — for a 9-inch pan you will need 12 eggs. If your pan is smaller or larger you might have to adjust the number of eggs to ensure you're frittata doesn't turn out all flat.
Shallots — any other onion will work perfectly fine. Shallots are my favorite for frittatas because they are so mild.
Garlic — who in their right mind would want to replace this? Garlic is the king of any delicious dish.
Seasoning — sea salt and pepper are enough to let the veggies and cheese shine but you can always add extra spices if you like. Great spices for vegetable frittata are paprika, oregano, nutmeg, turmeric.
Cheese — you can use literally any cheese you like. The meltier the better in my opinion. My favorites for harder veggies like broccoli, bell pepper, carrot, celery, etc. are strong cheeses like aged cheddar, gruyere, gouda, or compte. And for softer veggies like tomatoes, spinach, zucchini, etc. I like softer cheeses like feta, queso fresco, or baladi. If you are dairy intolerant you can simply omit the cheese without having to replace it with anything.
Veggies — the sky is the limit of course but you'll want about 4-5 cups in volume of veggies for 12 eggs. You will also want to use vegetables that have similar cooking times to ensure they cook evenly.
Toppings — toppings are optional of course but I love adding a little avocado and freshly chopped cilantro.
How To Make Vegetable Frittata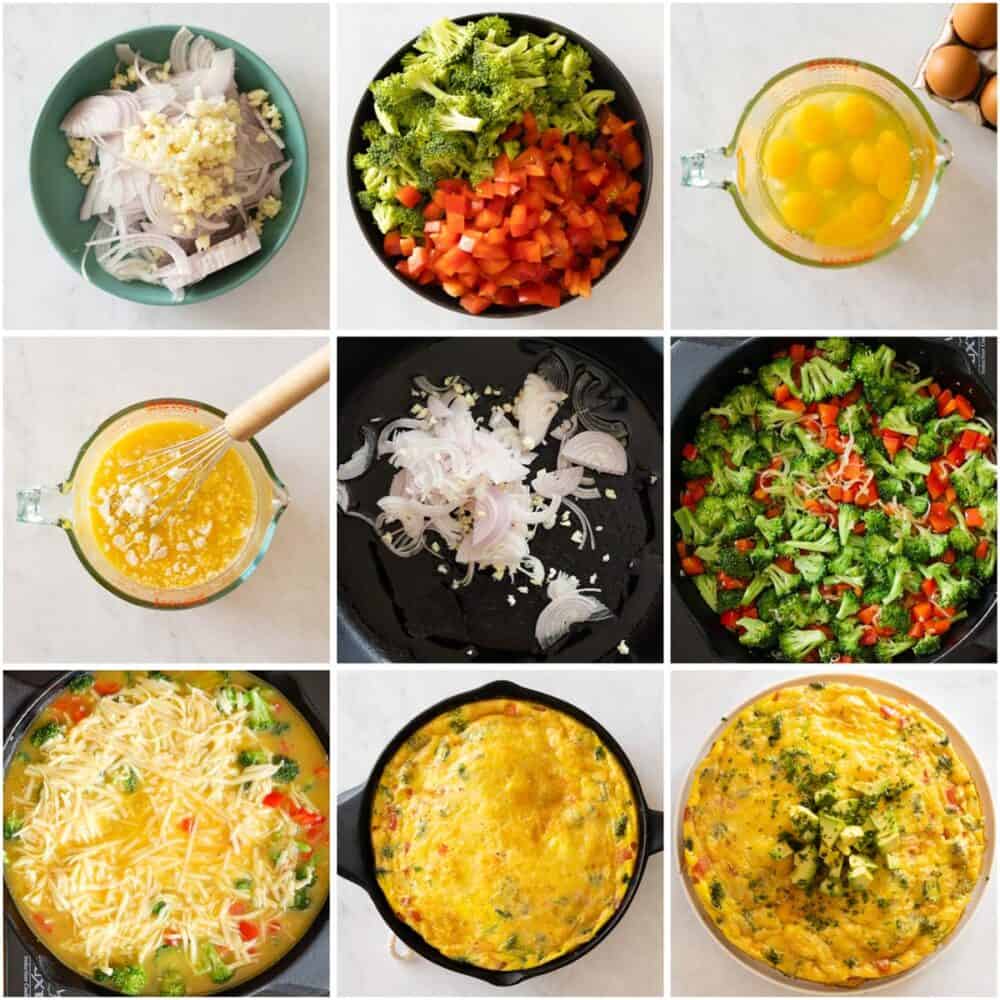 Chop Veggies — finely slice one large or two small shallots. Finely chop garlic and then set aside in one bowl. Then chop your other vegetables if necessary. With broccoli and bell pepper you want to chop into small pieces but spinach and cherry tomatoes don't require any chopping of course. Set vegetables aside in a separate bowl.
Whisk eggs — crack eggs into a large bowl or jug, season with sea salt and pepper, then whisk until liquid and not snotty anymore. Then add cheese of choice.
Sauté Shallots — preheat a 9-inch cast-iron pan (or any other oven-proof pan) over medium low heat, and once hot add a drizzle of olive oil. Sauté shallot and garlic in the oil until translucent.
Sauté veggies — now add the chopped vegetables to the pan and sauté until bright in color. For hard veggies such as broccoli and bell pepper, you'll want to sauté for about 5 minutes. For soft veggies like spinach and tomato, you'll only need to sauté for about 1 minute.
Add eggs and bake — Add the egg/cheese mixture to the vegetables into the pan then immediately remove from the heat and place in the 350F preheated oven for 20-25 minutes.
Let rest — once the vegetable frittata is fully cooked through, remove it from the oven at let it rest for approximately 10 minutes. During this time it will start to separate from the pan and it'll be easier to remove.
Top — top with diced avocado and freshly chopped cilantro or any other herb you like.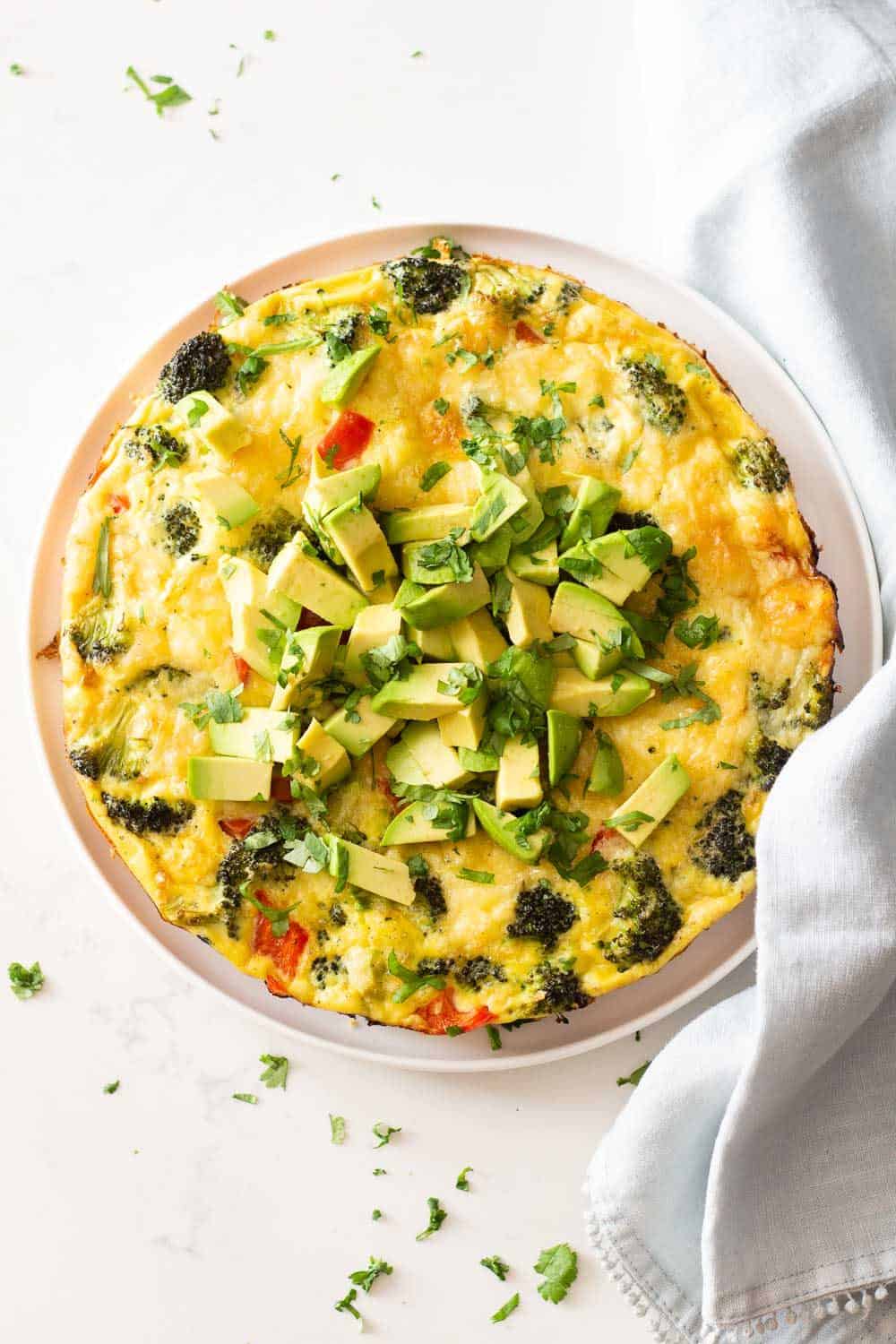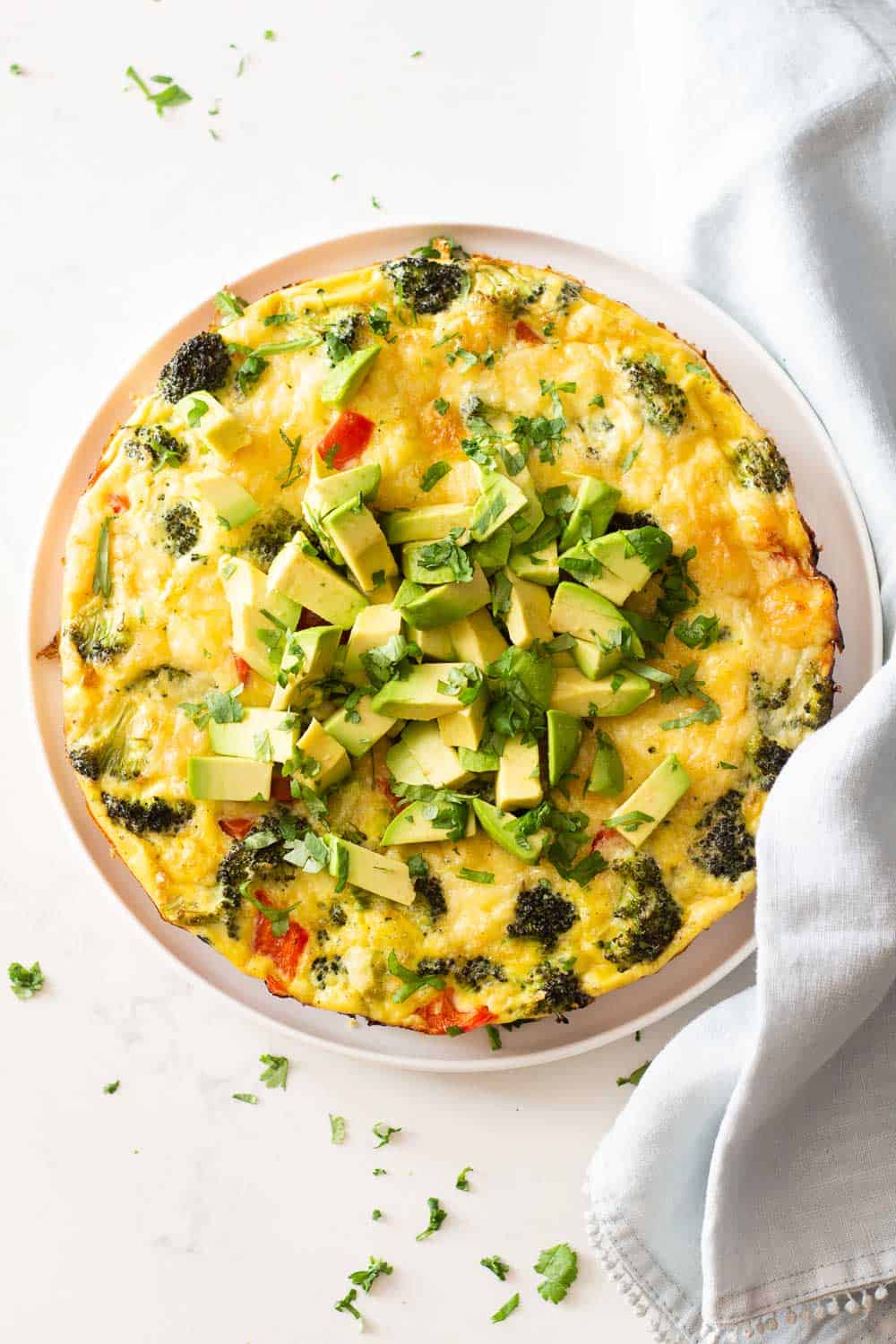 Storing, Freezing, Reheating Instructions
Store leftovers in an air-tight container in the refrigerator for up to 4 days, or freeze on the same day you make it.
Vegetable frittata is freezer-friendly! That's one of the reasons it's perfect to make ahead and pull out as needed.
However, before you freeze it, remove any avocado; it doesn't reheat well. Also, avoid the risk of freezer burn by waiting until the eggs are completely cool first. Simply store in an air-tight freezer-friendly container or a freezer bag.
Make sure to completely thaw it in your refrigerator before reheating it. Otherwise, due to the excess moisture, you may end up with a frittata that is very wet.
To reheat the vegetable frittata, you can warm it in a pan (recommended), an oven at 350 degrees Fahrenheit, or in a microwave. Keep in mind that while it is quicker, a microwave doesn't do a very good job of reheating eggs evenly. Either way, remove any avocado slices from the top before reheating.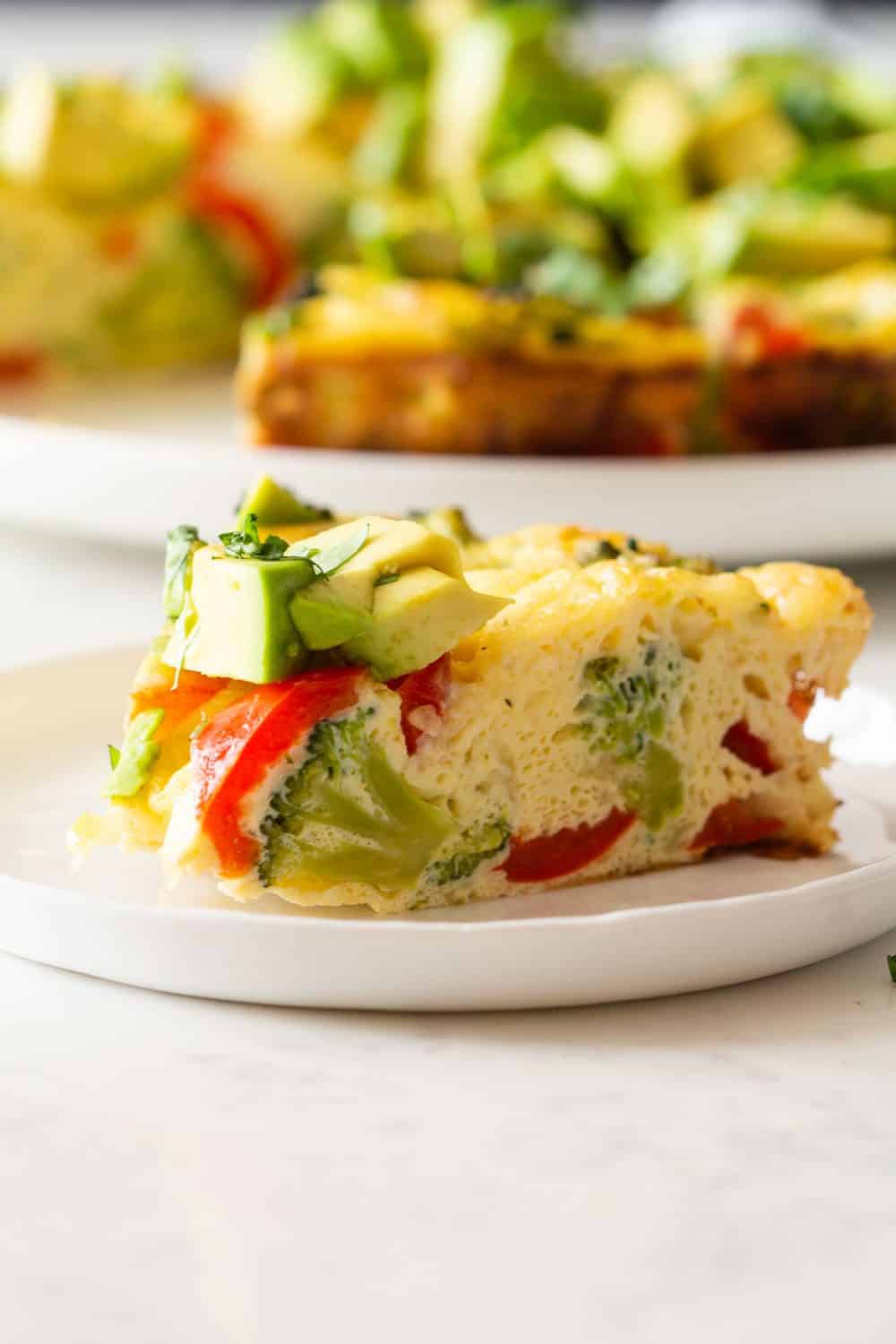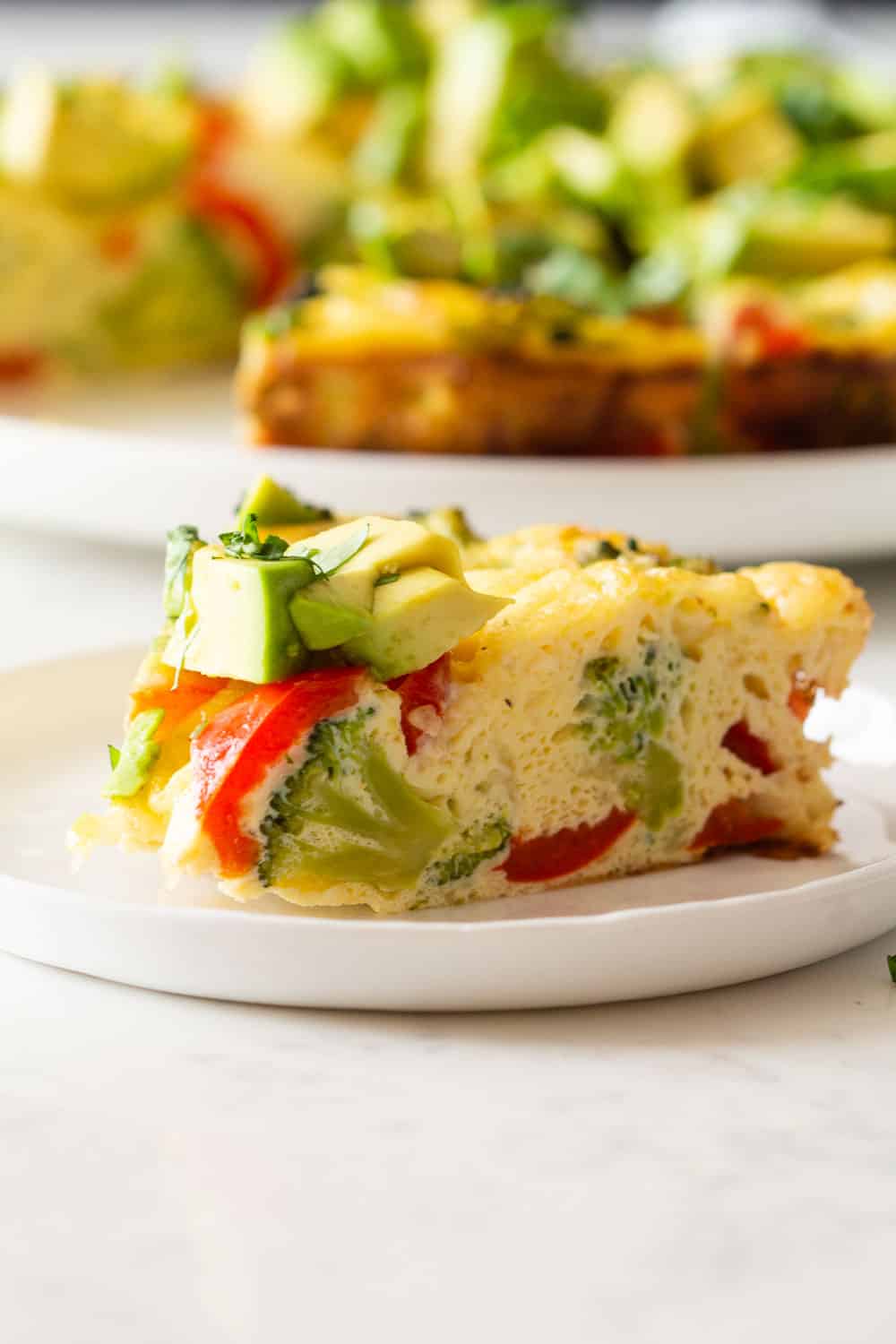 Frequently Asked Questions
What is the difference between Omelet and Frittata?
A frittata is cooked slowly in low heat and it serves many people at once. An omelet is cooked quickly over high heat and you have to make one at a time for one person.
What is a good side dish for vegetable frittata?
Any leafy salad will taste great with frittata. If you want to add a carbohydrate, roasted sweet potatoes taste great on the side.
Is frittata a crustless quiche?
No. Quiches tend to have cream in their egg-filling. Frittatas don't tend to call for cream.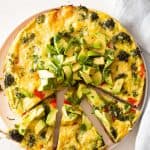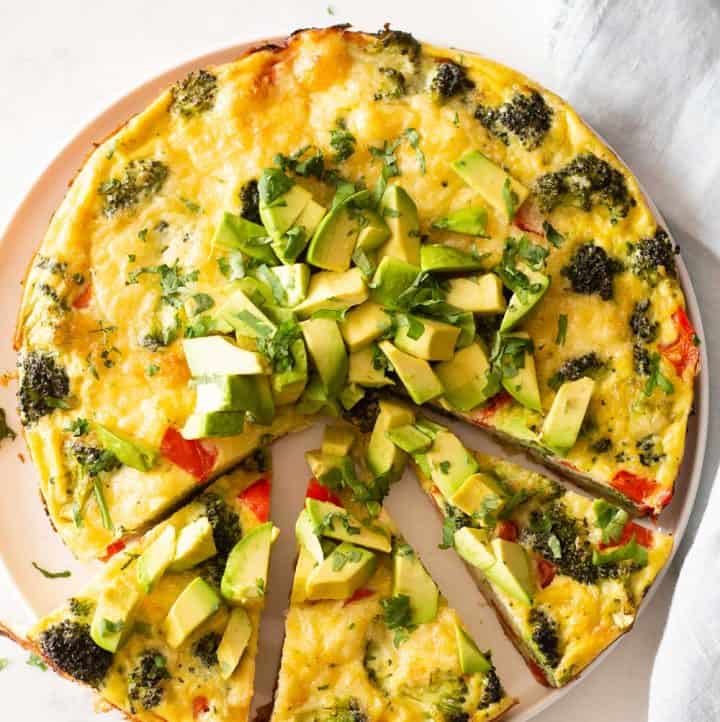 Vegetable Frittata Recipe
This vegetable frittata recipe is perfect to feed a crowd at brunch or to use as a meal prep breakfast. Just grab, reheat, and off you go into the day.
Print Recipe
Pin Recipe
Ingredients
12

eggs

3.5

oz

cheese

-

100g/1 cup – Gouda/Gruyere/Cheddar/Feta

sea salt

pepper

3

cups

broccoli florets (or baby spinach)

-

200 g

1

large

red bell pepper (or cherry tomatoes)

-

150 g

1-3

shallots

2

cloves

garlic

1

avocado

cilantro
Instructions
Add 12 eggs to a large bowl, add salt and pepper and whisk until liquid. You have to whisk for quite a while but eventually, the snotty egg whites will dissolve and become liquid (see video).

Add grated or crumbled cheese to egg mixture and set aside.

Finely slice shallots and chop garlic. Cut broccoli into small florets, and dice bell pepper (if using). Set aside.

Preheat a dry cast iron pan over medium-low heat. Add a splash of olive oil to the hot cast iron pan, then add sliced shallots and garlic and sauté for about 30-60 seconds. Then add broccoli florets and diced bell pepper and sauté 4-5 minutes until the broccoli becomes bright green. Or add baby spinach and cherry tomatoes and sauté for only about 1 minute.

Add the egg/cheese mixture to the pan, remove from the stove, and place in the hot oven for approximately 20-25 minutes until lightly golden but not brown.

Remove from the oven and place on a heatproof surface for at least 10 minutes to let rest. Take a knife or similar to go along the edges of the frittata to remove from the pan, then take two spatulas to lift the whole frittata out and serve on a plate.

Top with diced avocado and chopped cilantro if desired and serve!
Nutrition
Calories:
165
kcal
|
Carbohydrates:
5
g
|
Protein:
11
g
|
Fat:
11
g
|
Saturated Fat:
4
g
|
Trans Fat:
1
g
|
Cholesterol:
230
mg
|
Sodium:
164
mg
|
Potassium:
292
mg
|
Fiber:
2
g
|
Sugar:
2
g
|
Vitamin A:
1203
IU
|
Vitamin C:
52
mg
|
Calcium:
131
mg
|
Iron:
2
mg
What's your clean eating vibe?
Take this fun QUIZZ and find out in 10 seconds!