This vegetable frittata recipe is perfect for a quick and easy brunch. It's a make-ahead, baked eggs recipe using fresh vegetables and cheese, cooking to perfection in just 30 minutes!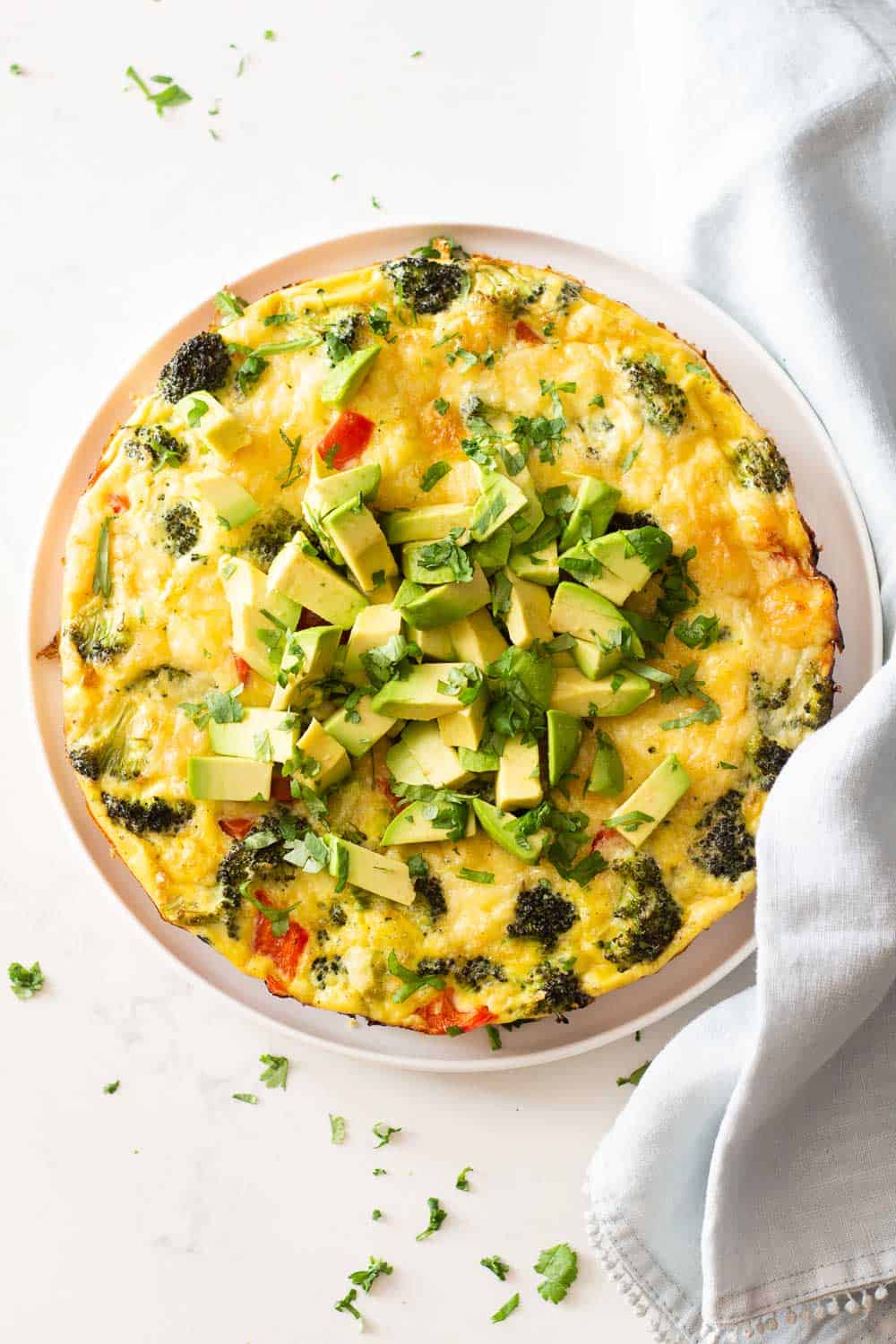 Frittata vs quiche – what's the difference?
Both of these delicious egg recipes consist of baked eggs, but there are some distinct differences.
First of all, frittatas don't have a crust, while quiche typically has one, but not always.
Secondly, quiche is a savory pie. As such, it's known more for the fillings than for the eggs. In this vegetable frittata recipe, the eggs are front and center, with the fillings playing a co-starring role.
Actually, frittatas have more in common with omelets, as both start the cooking process on a stovetop.
Can I freeze a cooked frittata?
Yes, this vegetable frittata recipe is freezer-friendly! That's one of the reasons it's perfect to make ahead for brunch or to serve as a weeknight dinner.
Store leftovers in the refrigerator for up to 4 days, or freeze on the same day you make it.
However, before you freeze it, remove any avocado; it doesn't reheat well. Also, avoid the risk of freezer burn by waiting until the eggs are completely cool first. Start by wrapping it tightly in plastic wrap, then cover it with a layer of aluminum foil.
Additionally, make sure to completely thaw it in your refrigerator before reheating it. Otherwise, due to the excess moisture, you may end up with a frittata that is very wet.
To reheat the vegetable frittata, you can warm it in an oven at 350 degrees Fahrenheit (recommended), or in a microwave. Keep in mind that while it is quicker, a microwave doesn't do a very good job of reheating evenly. Either way, remove any avocado slices from the top before reheating.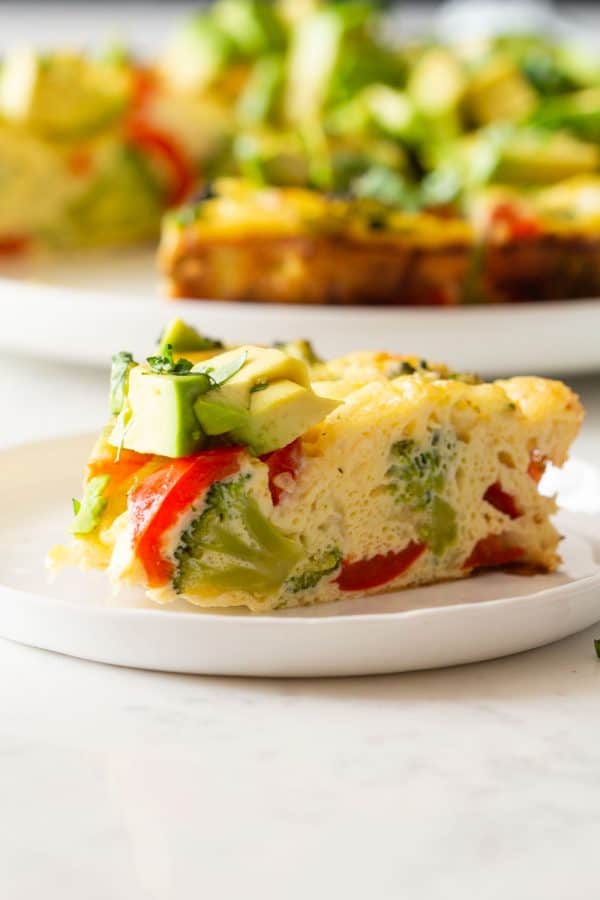 Tips for making this vegetable frittata recipe
As mentioned earlier, making recipes with baked eggs isn't very difficult. That being said, spongy frittata is a very sad and not-so-delicious thing. If you need to serve a crowd, a frittata can be your go-to recipe.
To assure that it's a crowd-pleasing favorite, here are a few tips for making a perfect, custardy vegetable frittata.
Use fresh eggs. As eggs sit in the fridge, they absorb odors from nearby foods. To prevent your vegetable frittata from tasting like last night's chicken curry, use the freshest eggs possible.
Cut vegetables into bite-sized pieces. This may seem like a no-brainer, but trust me on this. If the veggies are too large, you'll miss out on the fluffy goodness of baked eggs.
The pan is important. For this vegetable frittata recipe, you will be cooking a dozen eggs. To be sure they have enough room to breathe, so to speak, your pan should be 10 inches or larger. Additionally, to avoid the baked eggs from sticking, make sure to grease the pan well.
Timing is everything. After you pull a hot frittata out of the oven, it continues cooking in the pan. (This is known as carryover cooking). To avoid spongy eggs, pull the frittata out of the oven while it's still a little glossy on the top. That being said, make sure it isn't jiggly; that's a sign of undercooked eggs.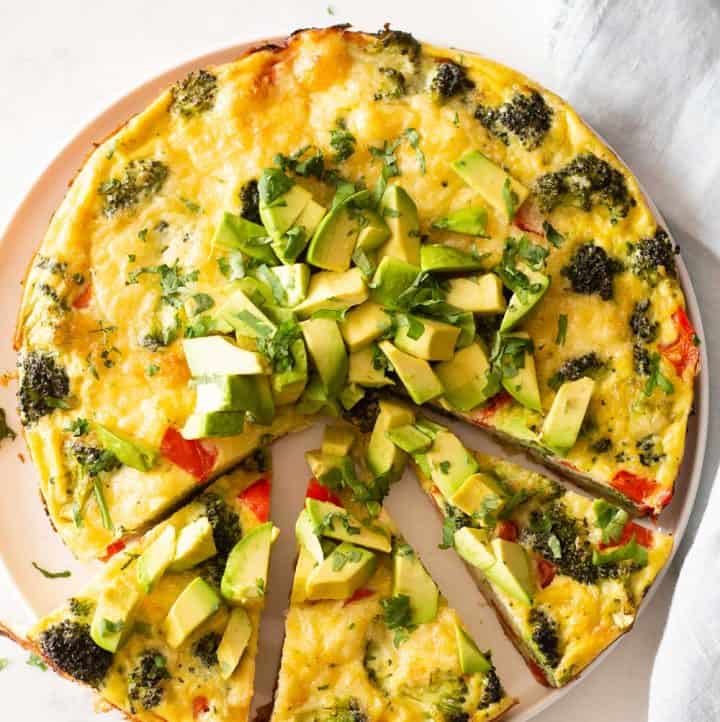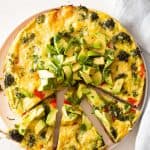 Vegetable Frittata Recipe
This vegetable frittata recipe is perfect for a quick and easy brunch. It's a make-ahead, baked eggs recipe using fresh vegetables and cheese, cooking to perfection in just 30 minutes!
Print Recipe
Ingredients
12

eggs

3/4

cup

grated Gruyère cheese

-

100g

sea salt

pepper

3

cups

broccoli florets

-

200 g

1

large

red bell pepper

-

200g

3

shallots

2

cloves

garlic

1

avocado

cilantro
Instructions
Add 12 eggs to a large bowl, add salt and pepper and whisk until liquid. You have to whisk for quite a while but eventually, the snotty egg whites will dissolve and become liquid (see video).

Add grated Guryère to egg mixture and set aside.

Wash head(s) of broccoli and bell pepper and cut broccoli into small florets, deseed bell pepper and dice. Set aside.

Preheat a dry cast iron pan over low heat.

Peel and finely slice shallots and garlic. Add a splash of avocado oil to the hot cast iron pan, then add sliced shallots and garlic and sauté for about 30-60 seconds. Then add broccoli florets and diced bell pepper and sauté 4-5 minutes until the broccoli becomes bright green.

Add the egg/cheese mixture to the pan, remove from the stove and place in the hot oven for approximately 25-30 minutes until lightly golden but not brown.

Remove from the oven and place on a heatproof surface for at least 10 minutes to let rest. Take a knife or similar to go along the edges of the frittata to remove from the pan, then take two spatulas to lift the whole frittata out and serve on a plate.

Peel, destone, and dice an avocado and place on top of the frittata. Wash, dry and chop fresh cilantro and sprinkle on top as well. Enjoy!
Nutrition
Calories:
280
kcal
|
Carbohydrates:
10
g
|
Protein:
18
g
|
Fat:
18
g
|
Saturated Fat:
6
g
|
Cholesterol:
345
mg
|
Sodium:
197
mg
|
Potassium:
514
mg
|
Fiber:
4
g
|
Sugar:
3
g
|
Vitamin A:
1935
IU
|
Vitamin C:
77
mg
|
Calcium:
246
mg
|
Iron:
2.3
mg
Have you tried this recipe?
Take a picture and tag @greenhealthycooking Can't wait to see your version!