It's so incredibly easy to make this Avocado Toast with Egg you won't believe it! The hardest part is watch the water boil to cook the egg in it!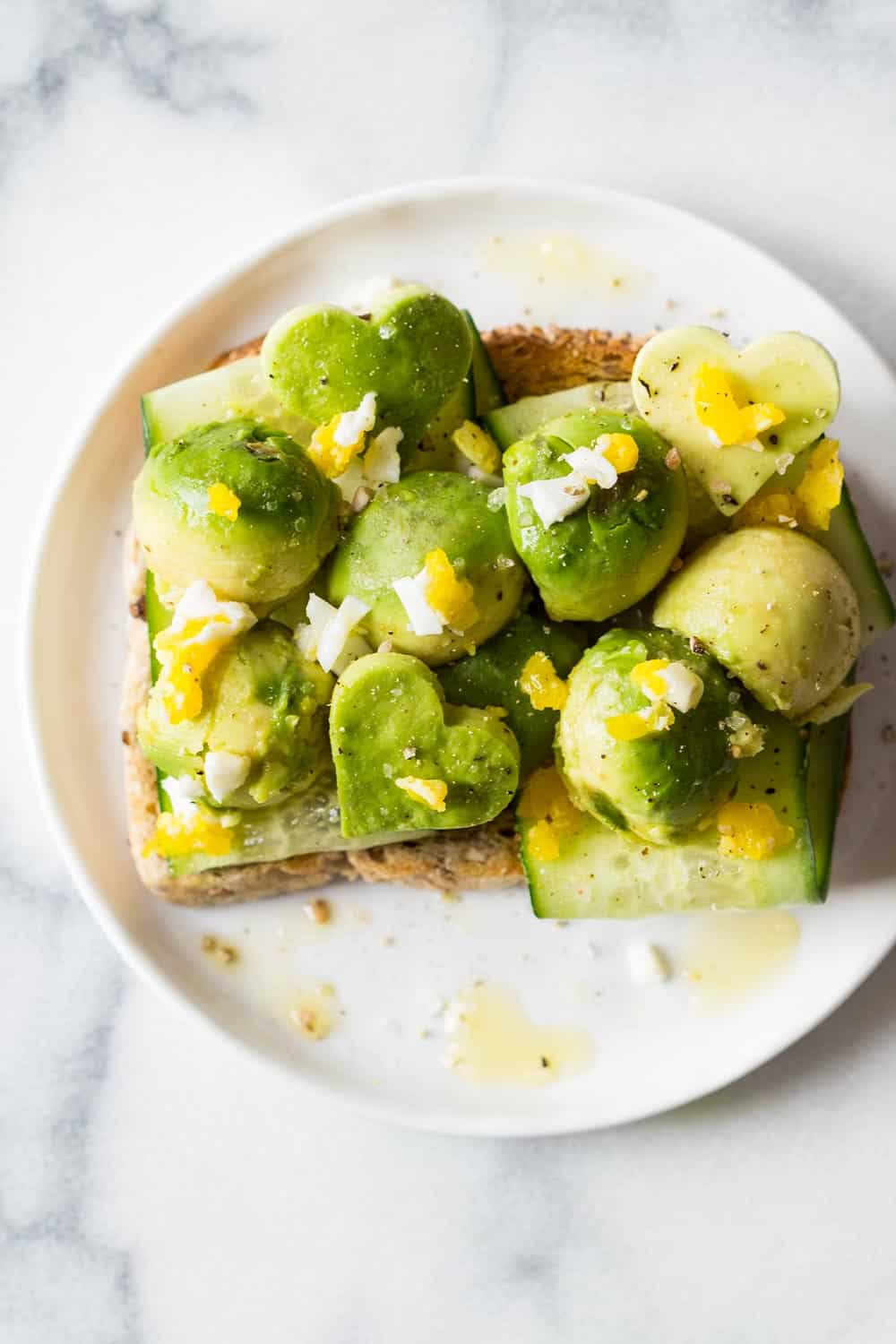 Let's start by explaining the title a little. I made a promise to your guys in my Sweet Potato Lasagna blog post to provide you with two recipes a week. Right? Well, if only all my recipe creations would turn out! *screeeeeeam*
Usually recipe development goes like this:
* "thiiiiink, uhhh, I haven't made a veggie noodle in a long time, right! I will make something spiralized"
* "thiiiink, zucchini, no, no, something more colorful, sweet potato! Yes! Sweet Potato, uuuuhhh, that would taste amazing with a creamy spicy sauce. Oh and if it were green it's would look amazing, it'll have to be creamy, spicy and green. Avocado, cilantro, jalapeno. YES! Brilliant!!! Oh, and chicken for protein. Done!"
* "cook, cook, make sauce, try. Add salt, try again. Thiiiiink. LEMON! It needs acid. It needs lemon. Add lemon. Try. Savor. PERFECT!"
* Let's make everything again for a video and let's shoot photos of that. Finished! The Best Sweet Potato Noodles Recipe.
Sounds super simple right? It actually is quite simple. It comes naturally to me and I love it. I love every second of recipe development…UNTIL it doesn't turn out the way I imagined it would. Then I feel like punching the wall, seriously!
I imagined an amazing apple dish with creamy peanut sauce and raisins and crushed peanuts on top and OMG! The sauce curdled, the apples browned, the sauce tasted gross and not peanutty at all. Total #fail! Total #disaster! A bit like my Cheesecake Fail I posted about last year.
Aaaaanyway, let's get to the avocado toast with egg! SO I'm basically out of ideas. Frustrated as never because my dish tastes gross and looks even grosser. What can I do?? I have toast, I have eggs and I have avocados. I ALWAYS have toast, eggs and avocados at home. Like, ALWAYS ALWAYS! I eat avocado toast so many times a week it's ridiculous, yet I don't have my very own Avocado Toast with Egg recipe on the blog? How is that even possible?!? So here it is, the millionth addition to the collection of the internet's avocado toasts:
Green Healthy Cooking's Avocado Toast with Egg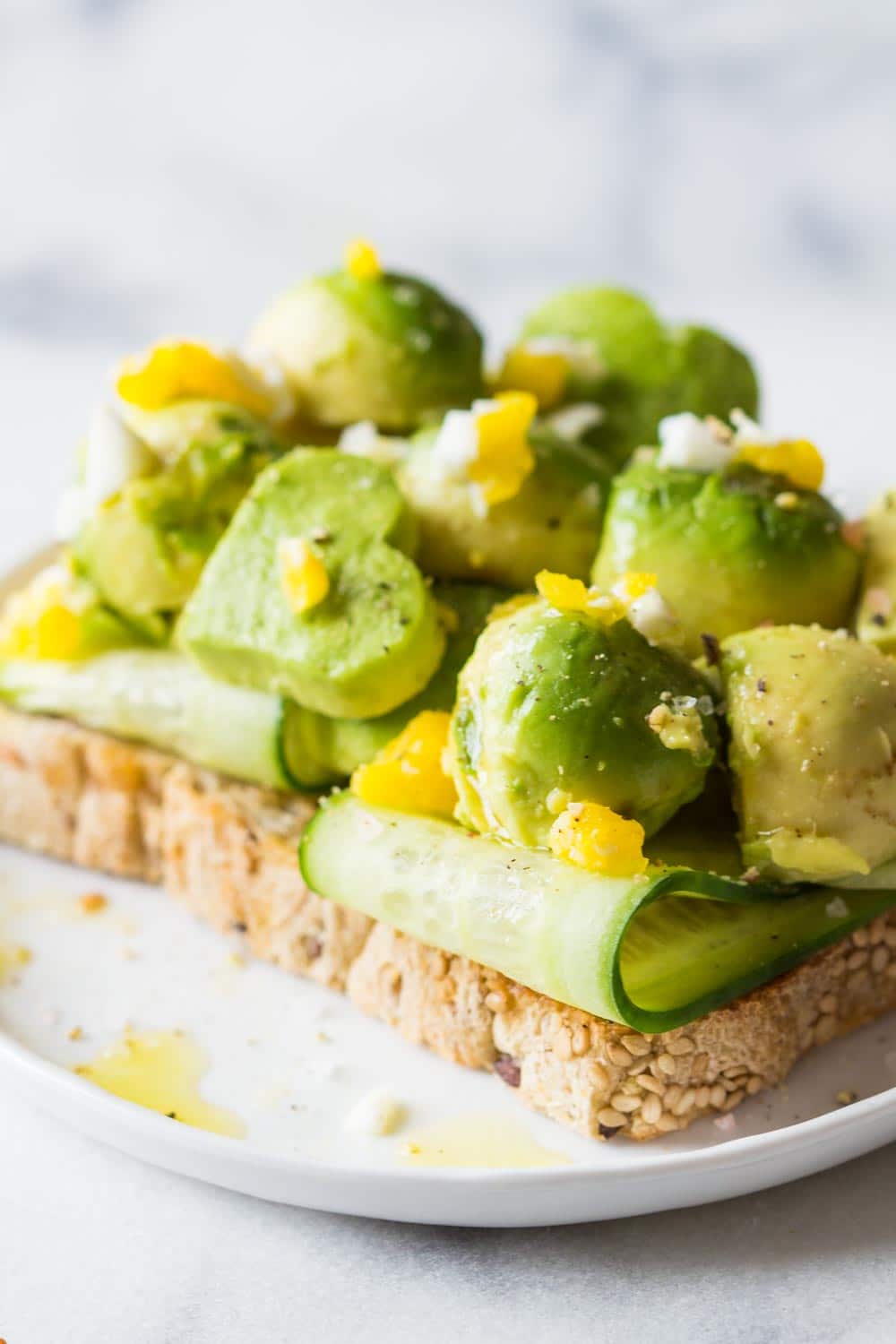 Ask anyone who loves avocado what goes with avocado and I bet the majority will exclaim: EEEEGGG!!!! I totally agree, there is nothing more delicious than the combination of avocado and egg. Put it all on a piece of toast and humm while you eat. Now, I do feel a fresh kind of crunch is always missing in avocado toasts so I experimented with some very thinly sliced cucumber this time and WOW! I love it! It's exactly what was missing for absolute perfection. I don't keep my avocados in the fridge. I keep them on the kitchen counter so they can ripen nicely and once ripe eat them. That being said, my avocados aren't cold but I like something cold for breakfast, too. The cucumber, which I do keep in the fridge is the best addition you can make to your avocado toast with egg.
Which is the perfect ripeness of avocado for avocado toast
It obviously depends on the avocado toast recipe. If you the recipe calls for mashing the avocado you want to choose a fairly ripe avocado that is easy to mash. For my recipe or any recipe that calls for "shaping" the avocado, such as into a rose for example, I recommend ripe but firm. Basically juuust ripe avocados. The ones that barely give in when you press your thumb into them but aren't rock hard anymore. Those are the easiest to peel. No need to scoop out the flesh, the skin comes off almost in one go. The easiest to thinly slice for a rose and the easiest to scoop a ball out. The gadget I used for that is this melon baller *. And for the hearts I used the smallest one of these heart-shaped cookie cutters. *
* the links above are affiliate links and I earn a couple cents commission if you buy the product through the link. All earnings go towards buying coffee and keep my brain running to create more blog posts for you :P
How long until the avocado turns brown?
Say you want to prepare a beautiful breakfast for several people. You obviously can't start cutting into avocados and form little balls etc when your guest(s) are already present. So, I did an experiment. I made the toast and left it untouched on the kitchen counter for an hour. I wish I could have made it longer to give you the exact time of when it turns brown but I couldn't resist biting into it any longer. It was absolute torture. Anyways, you can prepare these 1 hour ahead without a problem.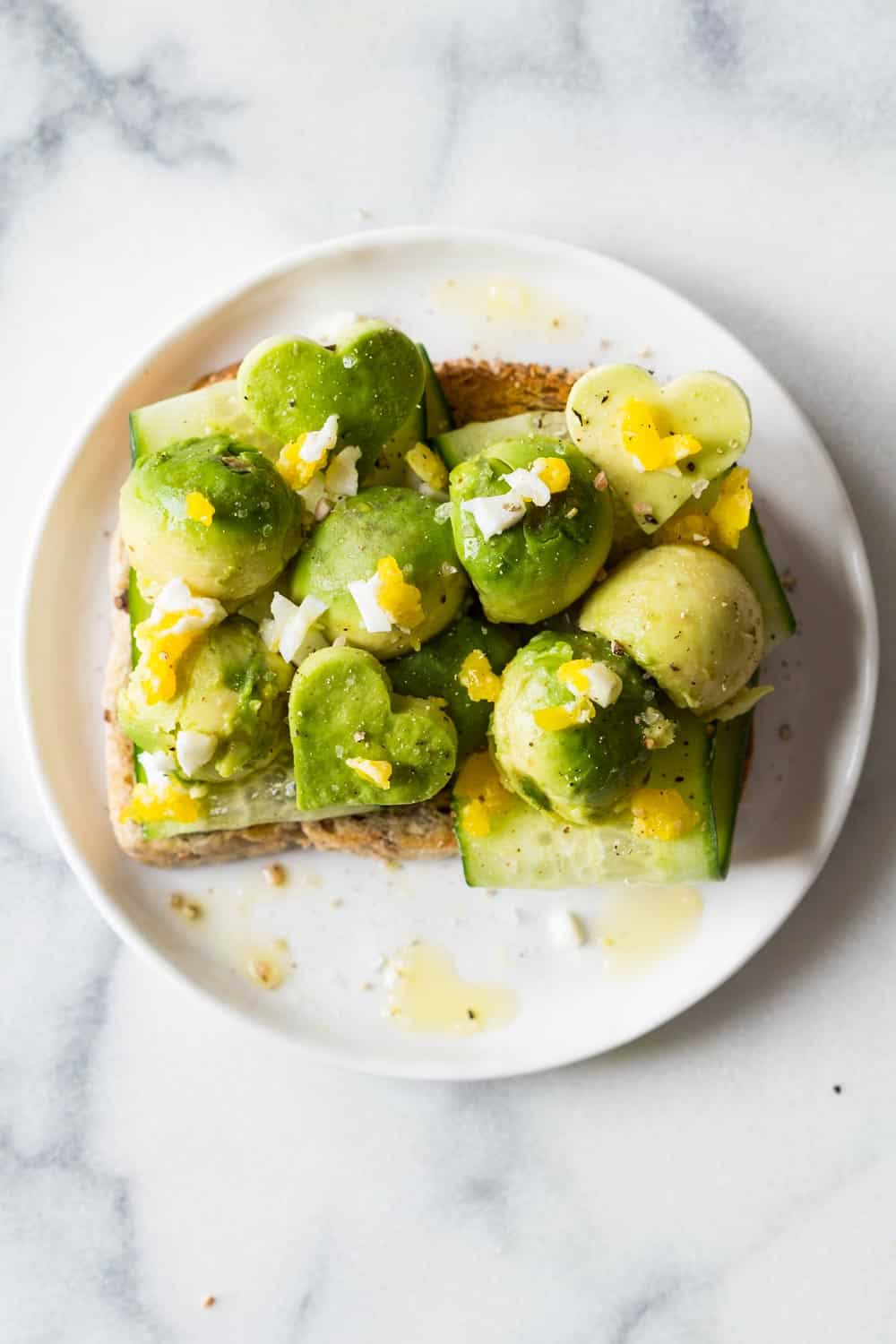 How to cook egg for avocado toast
Most recipes I've seen out there call for sunny side up or poached eggs. I love that combination because the egg yolk is nice and soft and runs down like a sauce onto the toast. It's absolutely delicious. However, it also runs down your hand and sometimes your shirt and that's the last thing you want in the morning when about to head out. I love semi hard-boiled eggs for avocado toast. Not completely hard boiled, not soft boiled but something in between. The timing will depend on the size of the egg of course but for a medium sized egg you simply bring water to the boil. Take the egg out of the fridge. Put the cold egg in the boiling water for 5 minutes. Take it out and let cold water from the tap run over it until you can touch it. Peel it and chop it. The yolk is soft and golden but not runny. Ok, we'll leave it at that. This is becoming a food porn article right here.
Is avocado toast with egg a breakfast?
Technically probably yes! However, I love it so much and in my opinion it is so incredibly healthy and nutritious it can perfectly serve as breakfast, brunch, lunch, snack, dinner or midnight snack. The only thing you have to keep in mind is that it is on the fattier side of foods and you have to adjust your other meals a little maybe. I'm not really an early breakfast person. Don't get me wrong. Breakfast is my FAVORITE meal but I can't eat breakfast any earlier than maybe 10 am. My stomach needs time to wake up. Once it wakes up it's hungry though. VERY hungry and that's when I need a hearty breakfast. An avocado toast with egg like this can get me to dinner without a problem if I know I won't have time for lunch. It's amazing!
When everything fails make Avocado Toast with Egg
It's so incredibly easy to make this Avocado Toast with Egg you won't believe it! The hardest part is watch the water boil to cook the egg in it!
Print Recipe
Ingredients
1

avocado

1

medium

egg

1

cucumber

-

(you will need very little but it should be at least half a cucumber to slice long sheets)

1

slice

toast

Salt

Pepper

oilve oil
Instructions
Bring enough water to the boil in a small pot to completely cover an egg. Once at a rolling boil, carefully add an egg with a spoon and set a timer for 5 minutes.

In the meantime, toast slice of toast in toaster. Cut avocado in halve and remove the pit. Use the bigger fleshier half of the avocado to form little balls with a small melon baller. Peel the other half and lay flat side down on a chopping board and cut out hearts with a heart-shaped cookie cutter. Then cut thick hearts into thinner hearts.

Wash and very thinly slice cucumber with a mandoline. Enough to cover the toast. If you don't have a mandoline just cut very thin rounds of cucumber to cover the toast.

Remove egg from boiling water when timer goes off and immediately let cold water run over it just until it's not too hot anymore to touch. Peel egg and chop on a chopping board.

Assemble avocado toast by adding cucumber, avocado balls and chopped egg. Sprinkle with salt and pepper, drizzle with olive oil and enjoy!
Nutrition
Calories:
468
kcal
|
Carbohydrates:
29
g
|
Protein:
11
g
|
Fat:
37
g
|
Saturated Fat:
6
g
|
Polyunsaturated Fat:
5
g
|
Monounsaturated Fat:
24
g
|
Cholesterol:
170
mg
|
Sodium:
1369
mg
|
Potassium:
935
mg
|
Fiber:
12
g
|
Sugar:
4
g
|
Vitamin A:
450
IU
|
Vitamin C:
23.1
mg
|
Calcium:
90
mg
|
Iron:
3.1
mg
What's your clean eating vibe?
Take this fun QUIZZ and find out in 10 seconds!