A nourishing Quinoa Breakfast Bowl to kickstart the day! Delicious fluffy quinoa, homemade pico de gallo, black beans, a fried egg, and creamy avocado. I call this a breakfast of champions!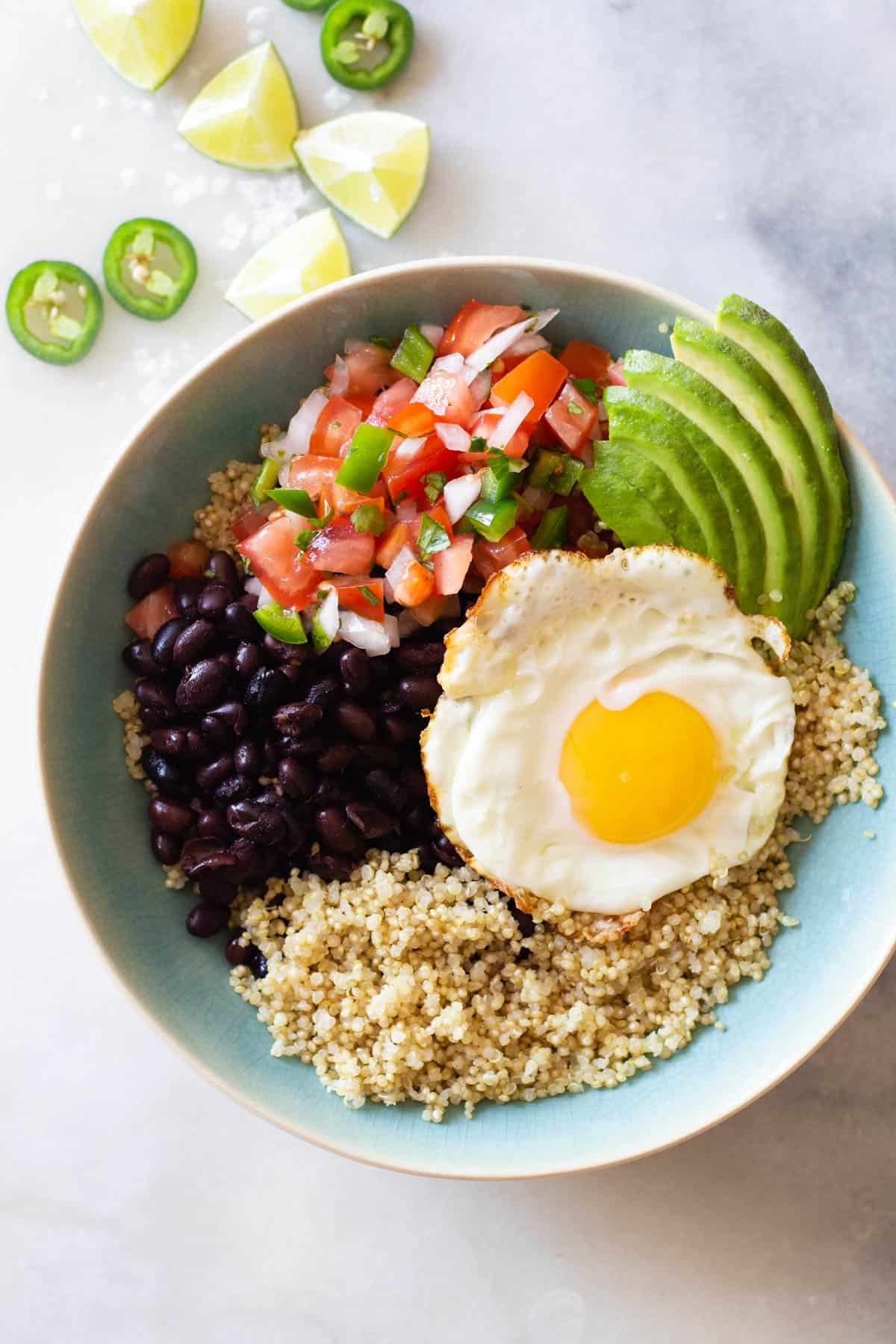 Let's dive into the individual ingredients and possible replacements
Quinoa Breakfast Bowl Ingredients
Obviously, the base of this bowl is quinoa. My favorite way to cook quinoa is in the instant pot but if you don't have one, I have a full guide on how to cook quinoa any other possible way. I even teach you how to cook black and red quinoa in the guide in case you want to make those instead of white for this breakfast bowl.
I love love love adding a fried egg on top of my bowl because the egg yolk gives me some extra sauce. If you are short on time though, you can simply add an egg to the instant pot with the quinoa and black beans to hard-boil. Alternatively, add some extra black beans and leave the egg out completely to make the breakfast bowl vegan.
Pico de gallo makes just about everything taste better. Always prep this delicious salsa fresh it only takes a few minutes and while quinoa is cooking you have at least 20 free minutes anyway.
If you are not a big fan of black beans, you can easily replace them by pinto beans or even navy beans. If you prefer to avoid canned legumes, I have a full guide on how to cook beans in the instant pot.
Spicy salsa is a must for me whenever I have anything with egg. I generally buy my go to salsas made in Mexico but when I can't get my hands on those I make my own, they keep really well in the fridge: Mexican Salsa and Salsa Verde.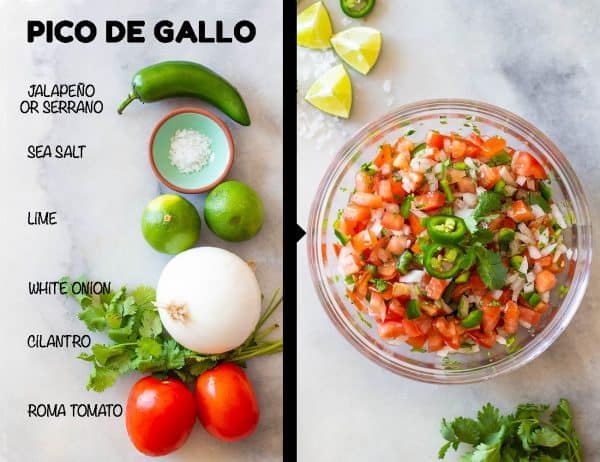 How to Build a Nourishing Breakfast Bowl
A lot of people believe breakfast has to be sweet and while I do enjoy all kinds of healthy sweet breakfast, savory breakfasts full of nutrients are my favorite.
This Quinoa Breakfast Bowl is the perfect example of a nourishing breakfast bowl. Carbs, plenty of protein, healthy fats, fresh veggies in the form of pico de gallo. That's all you want for a healthy breakfast.
The best part with bowls like this though is that they're not only amazing for breakfast but also lunch or dinner :)
Frequently asked questions
Is quinoa better than oatmeal?
In my opinion, both are incredible sources of fiber. I don't love one over the other. They serve completely different purposes.
I love overnight oats for a sweet breakfast, always add maple syrup or honey and some fruit and nuts or nut butter. For a savory breakfast bowl, however, I much prefer quinoa or farro. The nutty flavor of the seed goes so well with eggs and beans.
You can make a sweet quinoa breakfast bowl but honestly, any sweet bowl with quinoa tastes much better made with oats in my opinion.
Is quinoa high in carbs?
Cooked quinoa consists of 21% carbs, which is similar to rice. It has a fairly low glycemic index (GI) though, i.e. in most cases, it does not cause a rapid spike in blood sugar (source).
Is quinoa allowed in a keto/paleo diet?
Quinoa is not suitable for a Keto diet. The Keto diet requires you to eat a significantly low amount of carbs and you better keep the carb count for fresh vegetables.
Some people consider quinoa not suitable for the Paleo Diet but many do. In my opinion, quinoa is a great carb when following the Paleo Diet.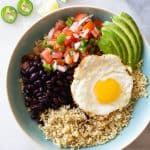 Quinoa Breakfast Bowl
A nourishing Quinoa Breakfast Bowl to kickstart the day! Delicious fluffy quinoa, homemade pico de gallo, black beans, a fried egg, and creamy avocado. I call this a breakfast of champions!
Print Recipe
Pin Recipe
Ingredients
1

cup

quinoa

1/2

avocado

1

cup

cooked black beans

3

tomatoes

1/2

white onion

1-2

jalapeños

1

cup

chopped cilantro

2

eggs

1-2

lime

sea salt

spicy salsa
Instructions
Add 1 cup quinoa and 1 cup water to the Instant Pot, place the trivet on top, and an ovenproof container on the trivet. Add the cooked beans into the container to warm up while quinoa is cooking, plus sea salt to taste. If you want to eat your breakfast bowl with hard-boiled egg instead of fried add one egg into the instant pot, as well (see video). Set Instant Pot to 1 minute on high pressure, then let the pressure release naturally.

In the meantime, prepare the pico de gallo by chopping onion, tomatoes, cilantro, and deseeded jalapeño. Add all ingredients to a small bowl and add 2 Tbsp lime juice and sea salt to taste.

Fry eggs if desired. Peel and slice half an avocado.

Build breakfast bowls by dividing all ingredients between two bowls. Drizzle with your favorite spicy salsa and enjoy.
Nutrition
Calories:
360
kcal
|
Carbohydrates:
45
g
|
Protein:
18
g
|
Fat:
13
g
|
Saturated Fat:
3
g
|
Cholesterol:
164
mg
|
Sodium:
84
mg
|
Potassium:
1208
mg
|
Fiber:
15
g
|
Sugar:
7
g
|
Vitamin A:
2463
IU
|
Vitamin C:
43
mg
|
Calcium:
92
mg
|
Iron:
4
mg
What's your clean eating vibe?
Take this fun QUIZZ and find out in 10 seconds!