You've proooobably all heard about the famous Acai Bowl by now but if you haven't it's about time you find out because this up there on the photo ladies and gentlemen is about the most amazing breakfast you will try in your life!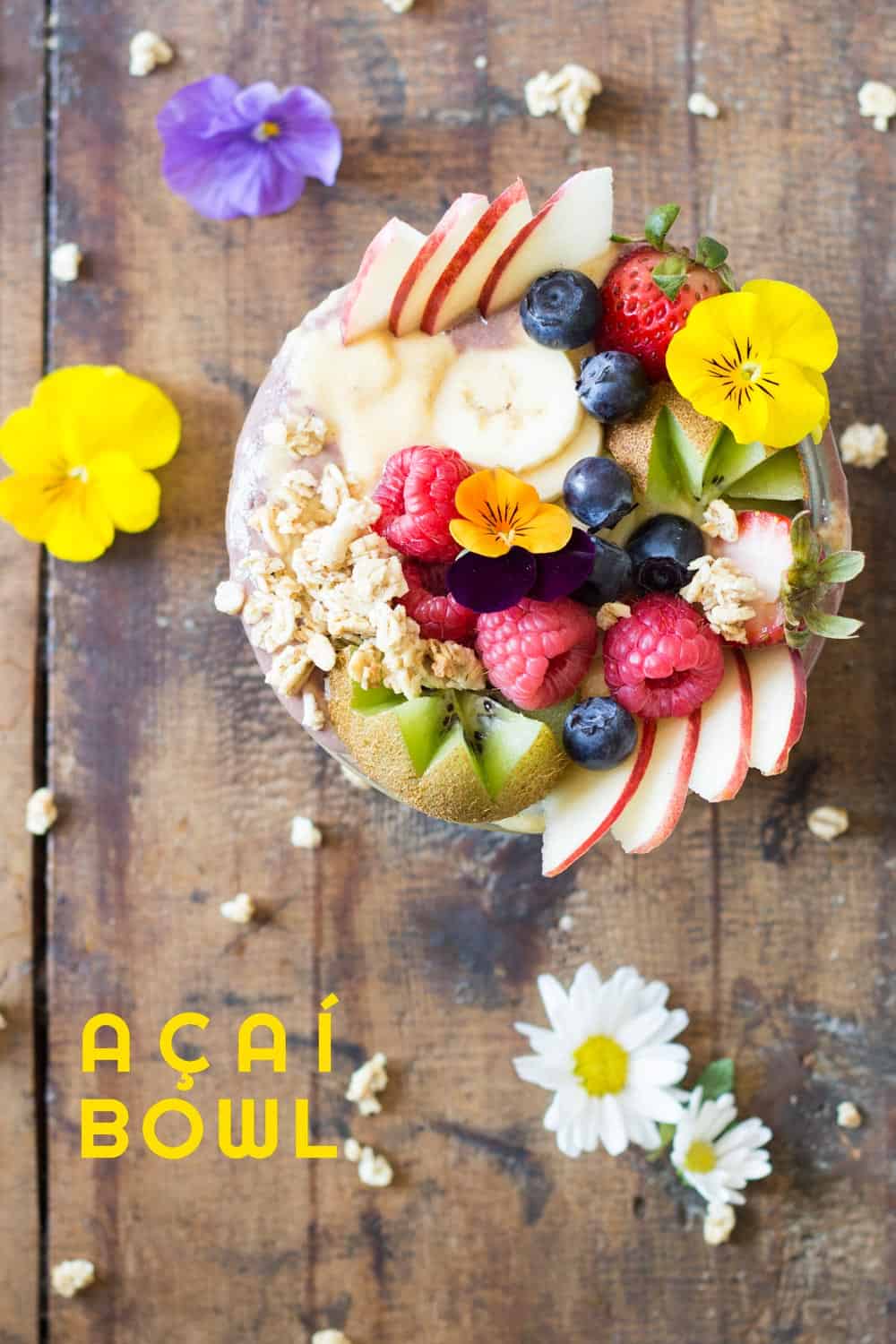 Since it's best made in a high speed blender I've teamed up with Vitamix who is currently running an amazing "what's in your cup" campaign just in time for the finals and one of you lucky people can win big by entering the giveaway down below for a 5200 Standard Vitamix. Wheeeehe!
This beauty, but in black, is what we are giving away to one lucky winner at the end of the giveaway so you can make your own delicious suuuper smooth Acai Bowl.
The little Playmobile NHL referees with Stanley Cup you'll have to buy extra though, who else is gonna turn on your blender otherwise? Lol!
Taking the photo above was about the most difficult task ever in my food blogging career. My kids could.not.understand that I needed those little toys our awesome post man brought as a surprise (gosh, what an amazing post man, eh?) for my photos and they weren't allowed to touch them until I was finished. The good thing is, those little fellas suddenly became SO important, once they were allowed to take them, they were entertained all afternoon!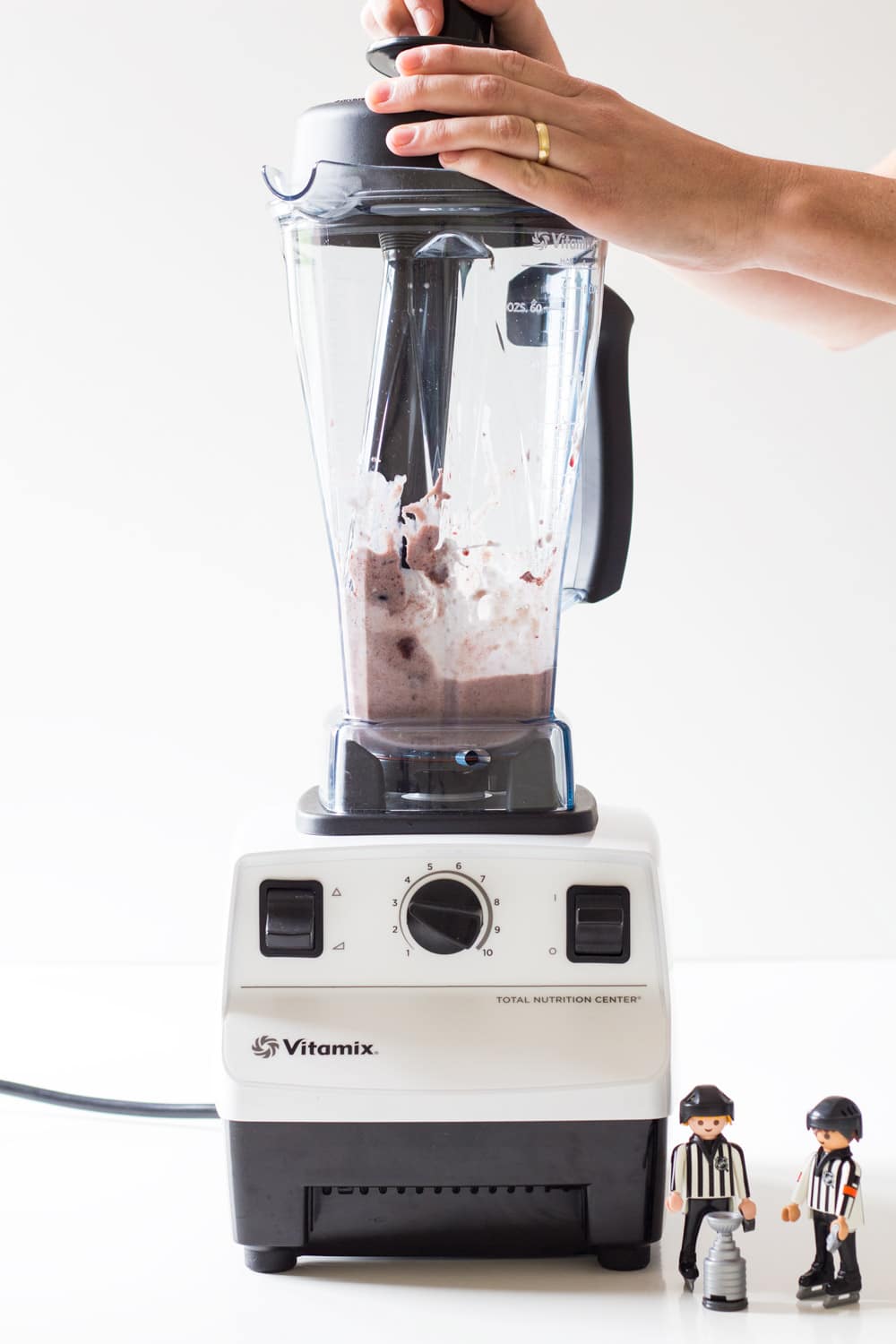 If for some reason you've never heard of an Acai Bowl you might be asking yourself the same question I did when I first heard about it:
What the heck is acai?
Well, first of all it's actually written açaí (and pronounced: a-sigh-ee) and it is a small berry that looks very similar to a blueberry. It grows only in the Amazon Rainforest of Brazil, parts of Trinidad and Northern South America and because it only ripens on the açaí  palm and rots pretty much the same day it is harvested you can only find it frozen (I found mine at my local health food store) or as freeze dried powder at health food stores or on Amazon.
It is high in antioxidants, low in sugar and offers large amounts of iron, calcium, fiber, and vitamin A. The absolute very best feature in my opinion though is that it tastes like a mix of wild berries and…..wait for it……CHOCOLATE! If I haven't convinced you to give it a try with this last info, let's put it nicely: you are a weirdo! ;)
I've made this acai bowl or smoothie bowl a stacked one with two flavors because the açaí berry is not very sweet and I wanted to avoid adding sweeteners to the smoothie. Instead I added a frozen banana to the açaí smoothie and filled the bowl only half with it, then topped it with mango smoothie which tastes a lot sweeter and compensates the berry's sourness.
The sweet fruit and granola on top give it the ultimate finish to not only look absolutely gorgeous but also taste uhhhhmaaaazinggg!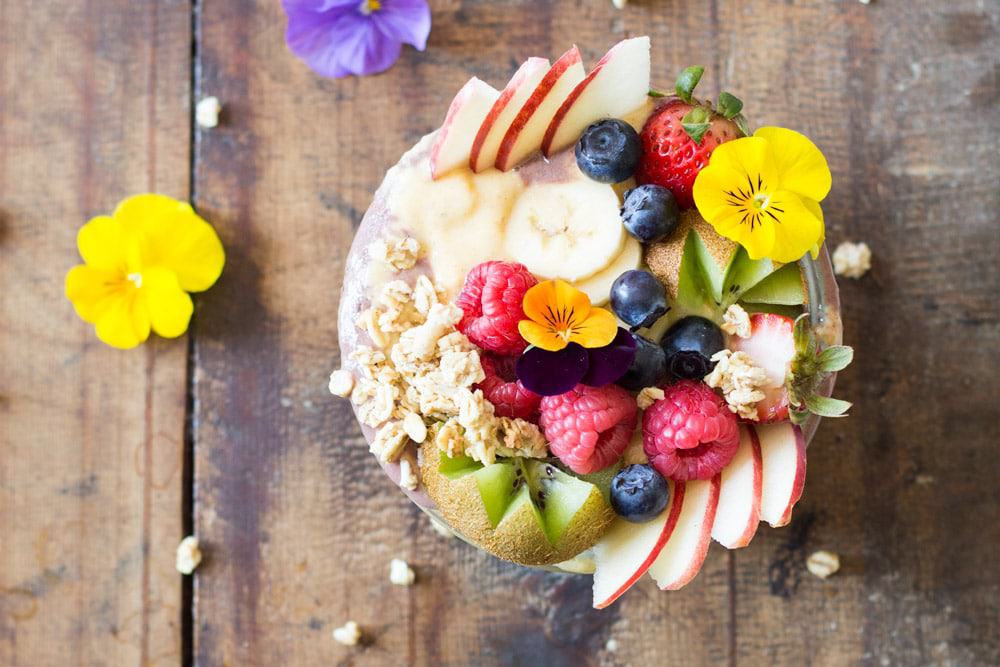 In case you were wondering, of course you can mix it all together and make it ONE smoothie. It'll taste exactly the same it just won't look as nice if you have it in a glass bowl but let's be real, who serves their breakfast in a glass bowl except a food blogger obsessed with food styling and photography? Tssss.
No need to rinse your blender and make a second batch of smoothie, you might as well throw all smoothie ingredients in at once and that's that. If you want to make this for your guests when watching the finals though you might want to go the extra mile in order to celebrate an amazing hockey game holding your cup proudly and think to yourself, this is prettier to watch than the game itself :P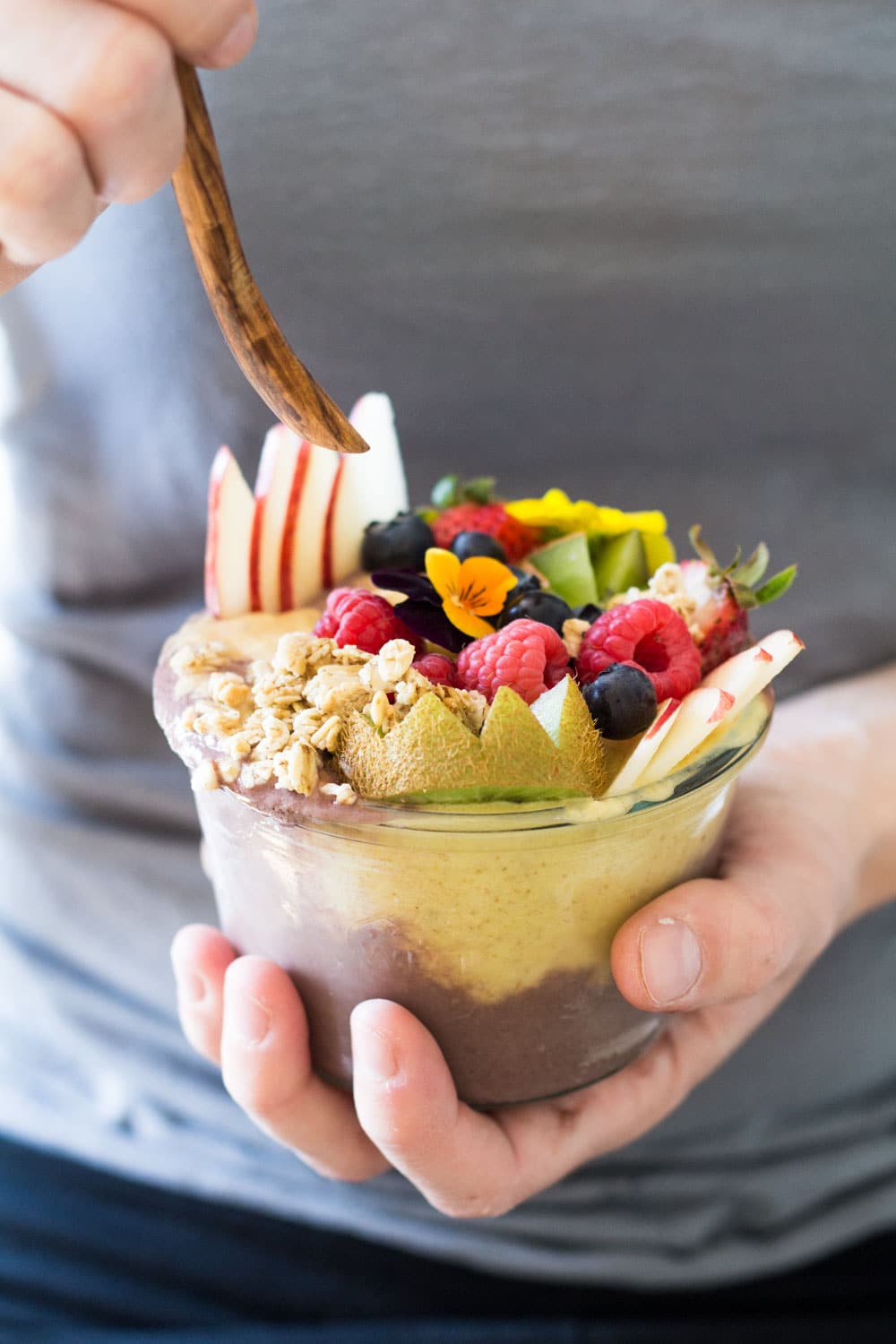 what's in your cup for the finals?
When Vitamix asked that question at first I had no idea of course until I developed this out of this world delicious smoothie converted into what the world now knows as acai bowl. THIS is what's gonna be in my cup, not only for the finals but most likely every morning until the day I die. I might even share with those little Playmobile-loving short people that call me mama and who seem to have become absolute hockey fans since the arrival of their new toys ;)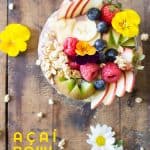 Acai Bowl
Print Recipe
Ingredients
1/4

cup

canned coconut milk

1

pouch

frozen açaí pulp

1

frozen banana

1/4

cup

canned coconut milk

1/2

cup

frozen mango

1

frozen banana

favorite fruit

-

(I used fresh banana, apple, blueberries, raspberries, strawberries, kiwi)

favorite granola

-

(my favorite is Peanut Butter Granola)

edible flowers for decoration

-

(optional)
Instructions
Add 1/4 cup coconut milk, açaí pulp and 1 frozen banana to blender and blend until smooth. Add to bowl.

Add 1/4 cup coconut milk, frozen mango and other frozen banana to blender and blend until smooth. Add on top of açaí smoothie.

(OR: add 1/2 cup coconut milk, açaí pulp, 2 frozen bananas and frozen mango to blender and blend until smooth. Add to bowl).

Top with favorite fruit and granola and decorate with flowers.

Dig in!
What's your clean eating vibe?
Take this fun QUIZZ and find out in 10 seconds!
Disclosure: This post may contains affiliate links, which means that if you click on one of the product links and end up buying it, I'll receive a small commission. The price is the same for you, though! Thank you for your support.
"This giveaway is sponsored by Vitamix and open to residents of the continental United States and Canada (void in Quebec) who have reached the age of majority at the time of the contest in the state, province or territory in which they reside. No purchase necessary to enter.
Giveaway will run from Sunday, May 23, 2016 at 12:01am to end on Sunday, June 05, 2016 at 11:59pm. Winner is chosen at random via Rafflecopter. Winner will be contacted via email and given 48 hours to respond. If not, a new winner will be chosen. Winner's name will be displayed on Rafflecopter widget. Email address will never be given out to any third party or anyone for that matter."