These Flourless Banana Pancakes are so fluffy and delicious they light up even the gloomiest days of all. Banana, Oats and Eggs make the most incredible flourless pancakes on the planet!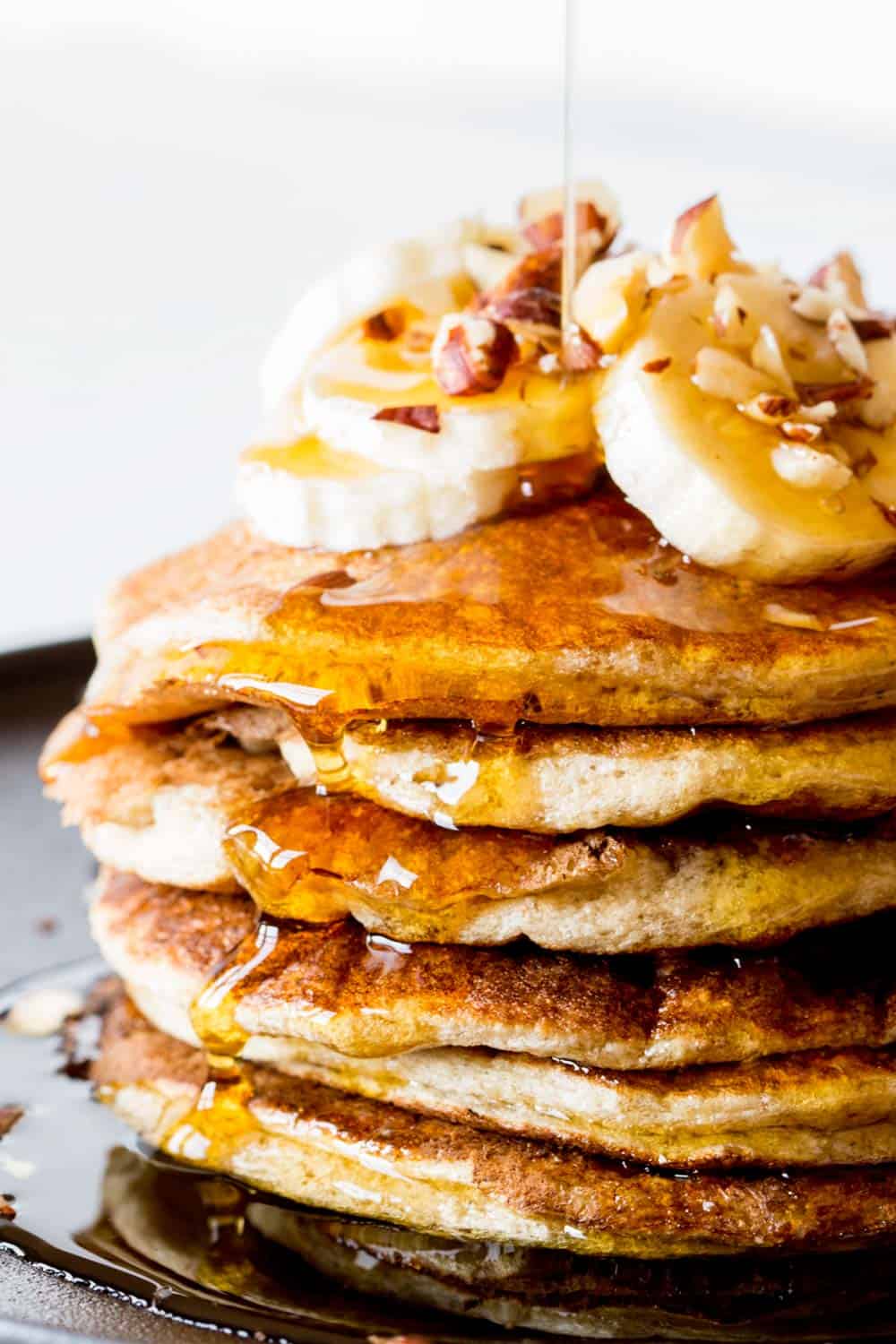 I went on a mission. Goal: flourless breakfast. Don't get me wrong. I looove good bread for breakfast. The emphasis lies on "good" though. Good artisan bread takes time to make or is expensive to buy and sometimes there simply isn't enough time to do it all. Also, I send them a sandwich to school way too often, hence the no-bread breakfast need.
Our go-to breakfast is always either overnight oats or breakfast smoothies. My kids can't get enough of oatmeal. I get bored pretty easily, however. So here a way to switch up your morning routine: super airy and delicious Flourless Banana Pancakes.
How to make flourless banana pancakes
There are tons of recipes for banana and egg only recipes out there for pancakes. They are high protein but have no carbs at all and my kids and I NEED carbs for breakfast. If I don't feed the breed carbs in the morning I have whining kiddos by 9:30 am because they're already hungry again. As if they weren't always "hungry again" enough all day.
So, MY Banana Pancakes are wheat-flour-less but not carb-less. I use oats to fill up the tummy while still keeping them protein rich with 4 eggs. Naturally sweetened with banana and the maple syrup is obviously optional. The bigger the kids the more they'll want it. I'm the biggest kid of all I'm afraid. Ha!
Are flourless banana pancakes gluten-free?
Oats themselves are naturally gluten-free, not all packaged oats are completely gluten-free though. Sometimes they are cross-contaminated when harvested or packaged. To make absolutely sure there is no gluten in your oats by certified gluten-free oats for your Flourless Banana Pancakes. All other ingredients in this recipe are gluten-free.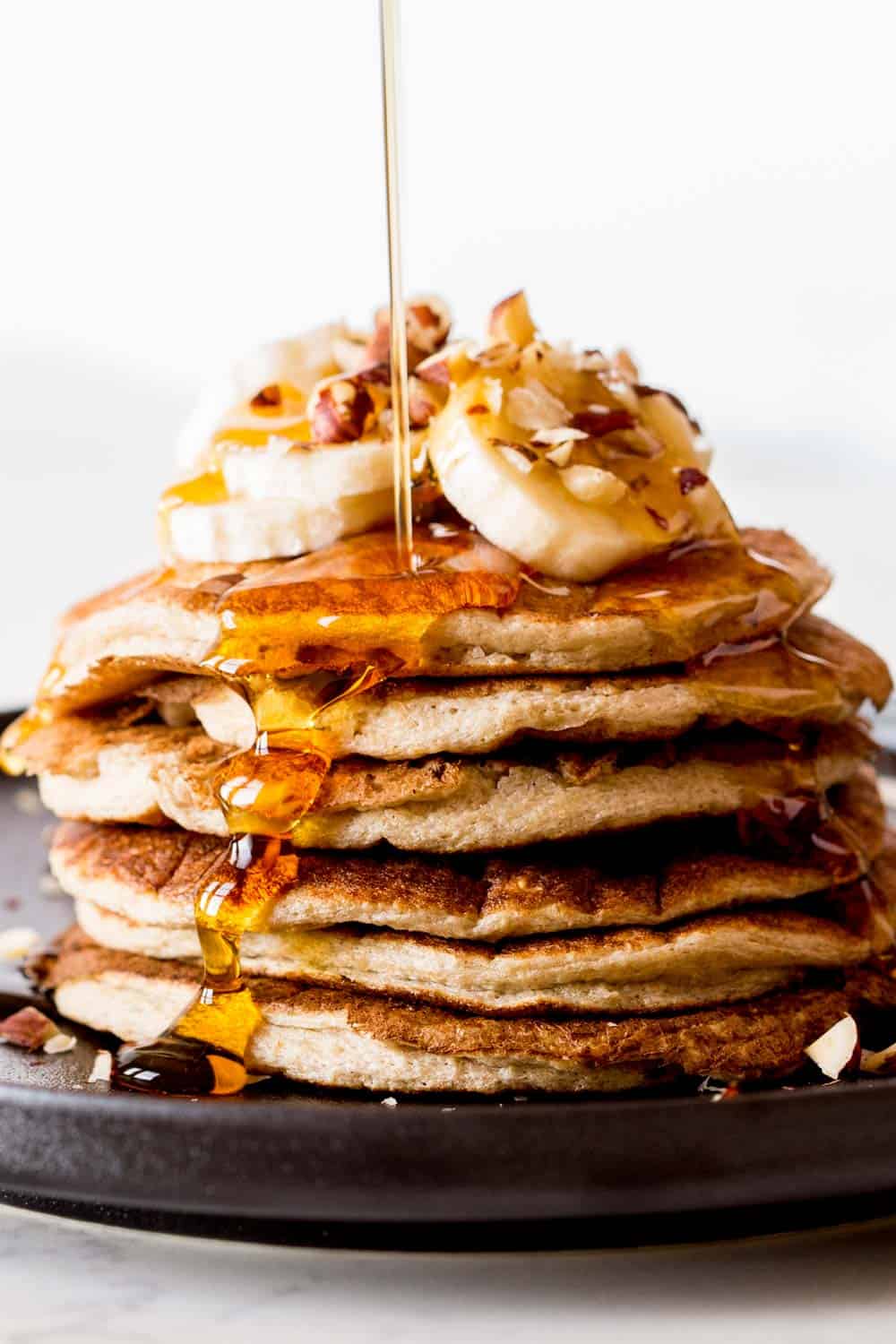 Fluffy pancakes without baking soda
If you went through the ingredient list you might have noticed there is NO baking soda or powder in the recipe and the pancakes are none the less super fluffy and airy. How come? The secret lies in the stiff egg whites. It's important to separate egg whites and yolks to be able to beat the white alone into a stiff fluff. Egg whites hold air super well if you work it slowly and carefully into a batter and thus there is no need for
Making many pancakes takes forever
If you've ever made pancakes for more people than just yourself you know it takes an eternity in just one pan. If you love pancakes and make them often I recommend using 2-4 pans at the same time on different burners. OR invest in a cool thingy like a Plug-In Electric Griddle where you can cook pretty much all your pancakes on the plate at the same time.
And if you're like me and need to switch it up often, make sure to check out these other healthy breakfast ideas.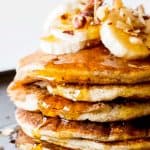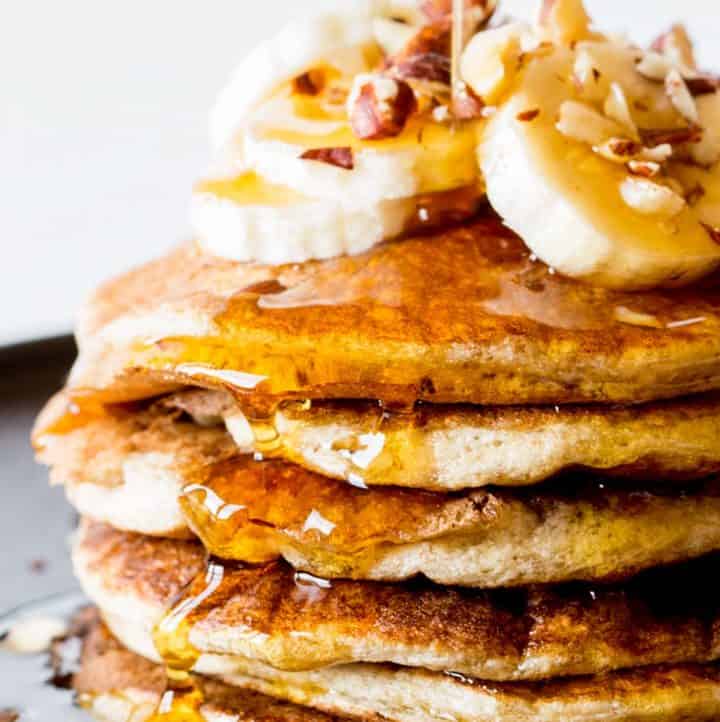 Flourless Banana Pancakes
These Flourless Banana Pancakes are so fluffy and delicious they light up even the gloomiest days of all. Banana, Oats and Eggs make the most incredible flourless pancakes on the planet!
Print Recipe
Pin Recipe
Ingredients
4

large

eggs

1

large

banana

1

cup

old fashioned rolled oats

-

(certified gluten-free for gluten-free)

1

tsp

vanilla

1/2

cup

almond milk

-

(or any other milk you prefer)

1

large

banana

-

(optional for decoration)

1/4

cup

chopped hazelnuts

-

(optional for decoration)

500

gallons

real maple syrup

-

(optional but recommended!)
Instructions
Preheat a non stick pan over medium low heat.

Separate egg yolks and whites and beat whites until stiff. Set aside. (Make sure there is NO egg yolk in the whites and the bowl and utensils are completely oil-free or they won't become stiff).

Add banana, oats, egg yolks, vanilla and almond milk to a high performance blender (a regular blender might need some scraping a couple times) and blend until completely battery and pourable.

Add batter to egg whites and carefully and slowly mix together. Don't mix too vigorously because the egg whites' air bubbles will disappear and the pancakes come out all deflated and flat and not at all fluffy.

Add about 1/4 cup batter to the center of your HOT pan. You can oil your pan a tiny little bit if you desire, it's not really necessary though if the pan is REALLY hot.

Cook for about 2 minutes on one side and 1-2 minutes on the other or until golden brown.

Add sliced banana and chopped hazelnut on top and serve with gallons of real maple syrup.
Nutrition
Calories:
526
kcal
|
Carbohydrates:
62
g
|
Protein:
21
g
|
Fat:
22
g
|
Saturated Fat:
4
g
|
Cholesterol:
372
mg
|
Sodium:
227
mg
|
Potassium:
873
mg
|
Fiber:
9
g
|
Sugar:
18
g
|
Vitamin A:
625
IU
|
Vitamin C:
12.8
mg
|
Calcium:
169
mg
|
Iron:
4.5
mg
What's your clean eating vibe?
Take this fun QUIZZ and find out in 10 seconds!