Take 10 minutes in the morning to make yourself a mango fruit salad to take to work and start your work day with a lovely healthy breakfast or snack!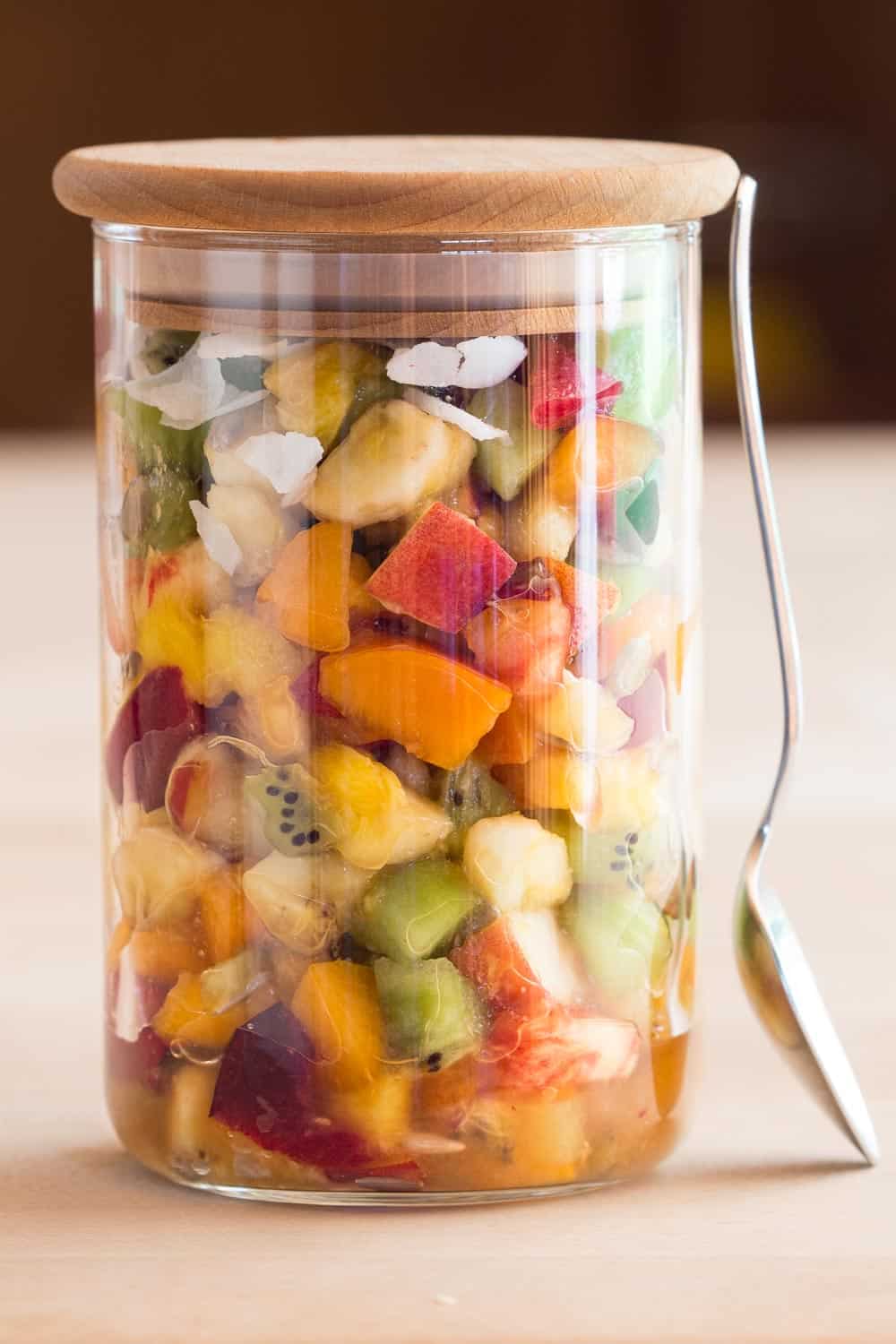 This recipe was inspired by my cousin. She lives in Berlin and I visited her a week ago. The day I had to leave she made me a surprise mango fruit salad to take on my trip home. I didn't have time to have breakfast before travels and the fruit salad tasted like GLORY! (thank you Dominique!).
Now imagine a super stressful morning, getting kids ready for daycare or school and not really wanting to sit down to gulp down breakfast in less than 10 minutes. Instead, take those 10 minutes to prepare yourself (and your family) a take-away mango fruit salad or a Strawberry Smoothie, which can be enjoyed during a calmer moment of the day. Sounds amazing, right??
So what are best fruits to add to your fruit salad?
how to make mango fruit salad that tastes like glory
In summer use summer fruit, in winter use winter fruit but by all means use mango all year round :P Mango is sweet and sour and soft and cool and tropical at the same time. Can you tell I love mango? Ha!
Mango is an absolut MUST!!! It's the secret ingredient that makes any fruit salad taste like you're sitting at a Caribbean white beach. The taste alone produces the sound of waves in your ears. I SWEAR!
In summer use summer fruit (most stone fruit and berries): peaches, nectarines, plums, cherries, strawberries, raspberries, blueberries, blackberries….
In winter use winter fruit (most citrus fruit): apples, pears, nectarines, pomegranates, grapefruit….
Fruits that are easily available and ripe all year round: pineapple, mango, coconut, banana, kiwi….
Always add some nuts and/or seeds to make sure you also eat protein and healthy fats for breakfast with your salad. They also help avoid spikes in your blood sugar level cause by the fruit.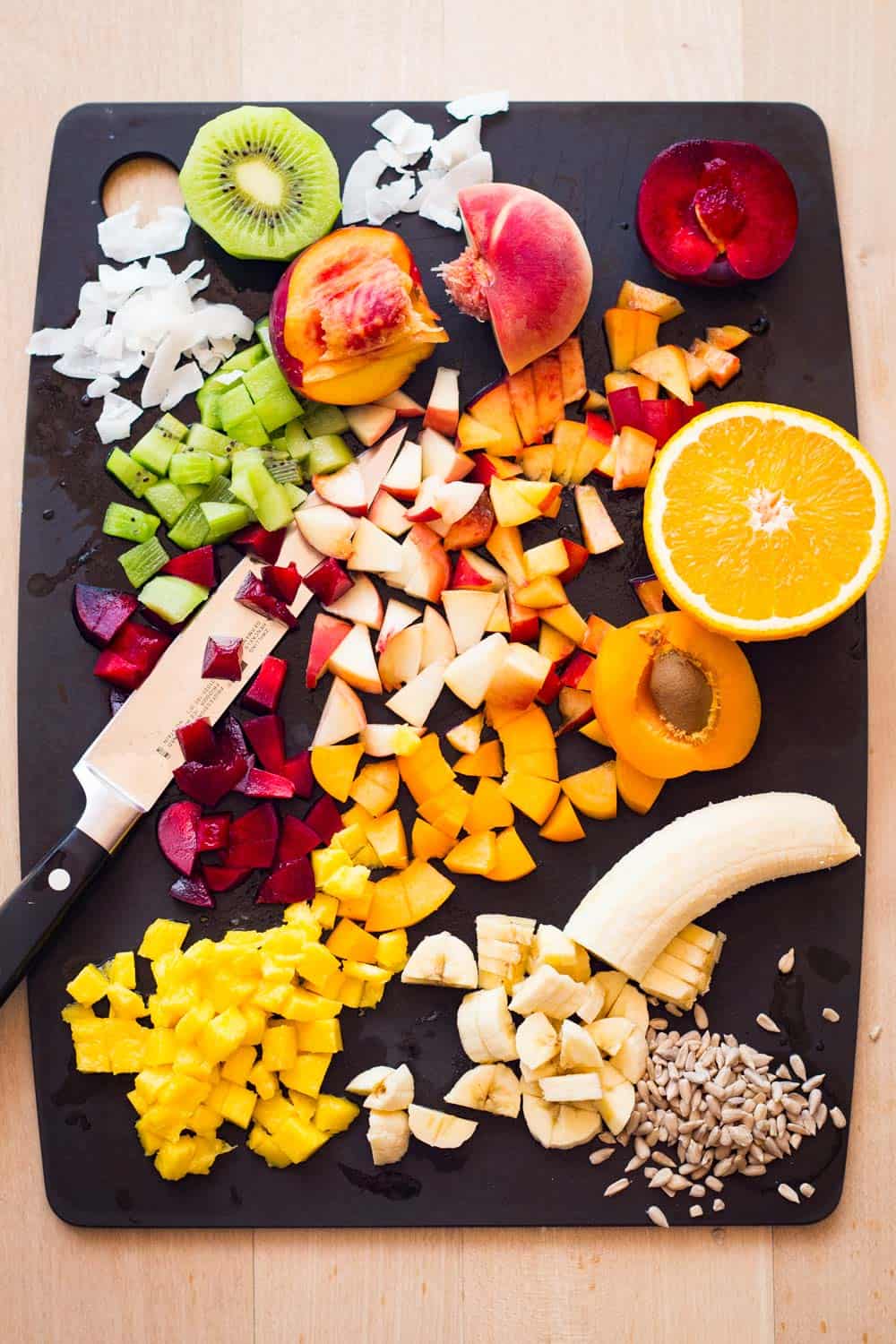 what stops fruit salad from going brown
Banana and apples and pears for example turn brown pretty quickly. A way to stop fruit from going brown is adding an acid. Lemon juice works well but it's a bit sour of course. I prefer fruit salad with orange juice. Orange juice has enough acid to keep fruit from browning for a little while. It won't avoid fruit salad from going brown for hours and hours but certainly a couple hours while you arrive at your destination where you'll enjoy your delicious mango fruit salad.
when to prepare fruit salad
Prepare fruit salad as close to the time you're eating it as possible. If you can, take whole fruits to work and cut up there right before eating. I know that's not possible for most people. If it's not possible for you, cut up fruit in the morning before leaving the house.
when to eat mango fruit salad
Mango Fruit Salad is best for breakfast! Fruit provides vitamins and minerals such as Vitamin C and potassium, they help your body function properly. Eating fruit at breakfast also helps you meet the recommended five servings of fruits per day. I struggle with this a lot. I eat tons of veggies but keep forgetting about fruit. Fruit salad makes this so easy.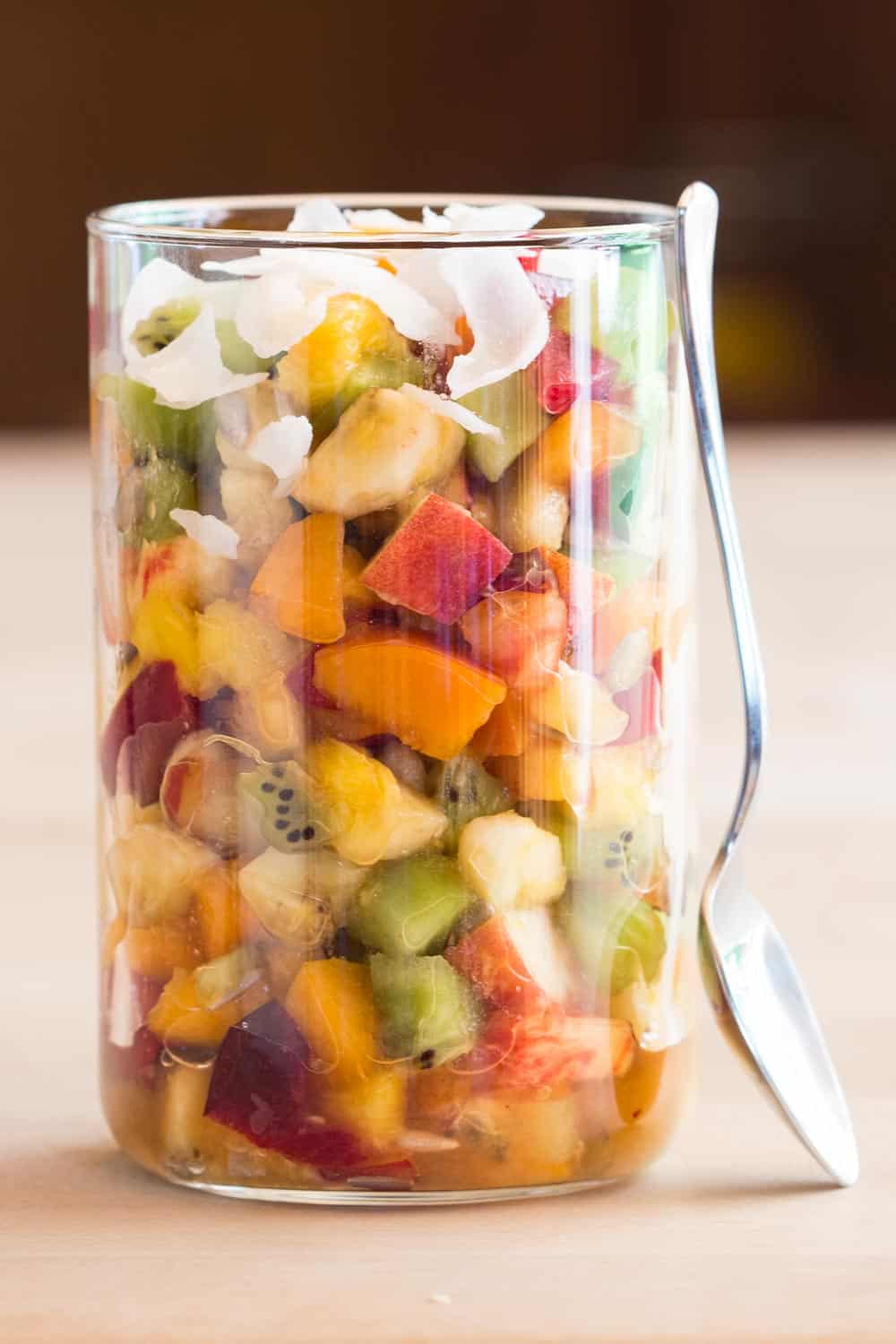 mango fruit salad without added sugar
As long as you add ripe fruit there is absolutely no need to add any sweetener to your mango fruit salad. If you add unripe fruit your fruit salad will taste sour. Better leave the unripe fruits out and wait for them to ripen and use in your next fruit salad. A fruit salad with all ripe fruit taste super sweet. Especially mango fruit salad is extra sweet. Try and avoid adding sugar, rather make sure to use ripe fruit.
how long does fruit salad last
Fruit salad is best eaten right away or a couple hours after making. Of course sometimes you have leftovers or you didn't get to eating it quick enough and it will turn brown. This does NOT mean you have to toss it. Brown fruit is PERFECTLY edible. The looks and consistency won't be the same but it will still taste amazing! If you are not able to eat your salad the same day, store it in the fridge and eat the next day. It is still perfectly edible the next day. It'll simply be a bit mushy but still absolutely delicious :)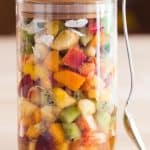 Take to Work Fruit Salad
Take 10 minutes in the morning to make yourself a take-to-work mango fruit salad and start your work day with a lovely healthy breakfast!
Print Recipe
Ingredients
1

donut peach

1

nectarine

1

mango

1

plum

1

kiwi

1

banana

1

apricot

1

orange

1/2

cup

sunflower seeds

1/4

cup

dried coconut
Instructions
Cut up all your fruit except orange and add to a big bowl. Add sunflower seeds, then juice of orange (yes, it has to be the juice only, this is what will prevent the other fruit from going brown).

Give the salad a good stir and spoon into a air-tight container suitable to take to work or school. Enjoy!
Nutrition
Calories:
510
kcal
|
Carbohydrates:
74
g
|
Protein:
12
g
|
Fat:
24
g
|
Saturated Fat:
9
g
|
Polyunsaturated Fat:
10
g
|
Monounsaturated Fat:
4
g
|
Sodium:
8
mg
|
Potassium:
911
mg
|
Fiber:
15
g
|
Sugar:
50
g
|
Vitamin A:
2100
IU
|
Vitamin C:
160.9
mg
|
Calcium:
100
mg
|
Iron:
3.1
mg
What's your clean eating vibe?
Take this fun QUIZZ and find out in 10 seconds!