This Zucchini Noodle Recipe is a delicious way to work more green veggies into your weekly meal rotation. These spiralized zucchini noodles (aka zoodles) are topped with crispy roasted chickpeas and tossed in an out-of-this-world Tahini Herb Sauce. Perfect as a side dish or light meal, and vegan-friendly. And if you love zucchini like I do, then you've got to try my Zucchini Soup and Zucchini Cheese Crisps!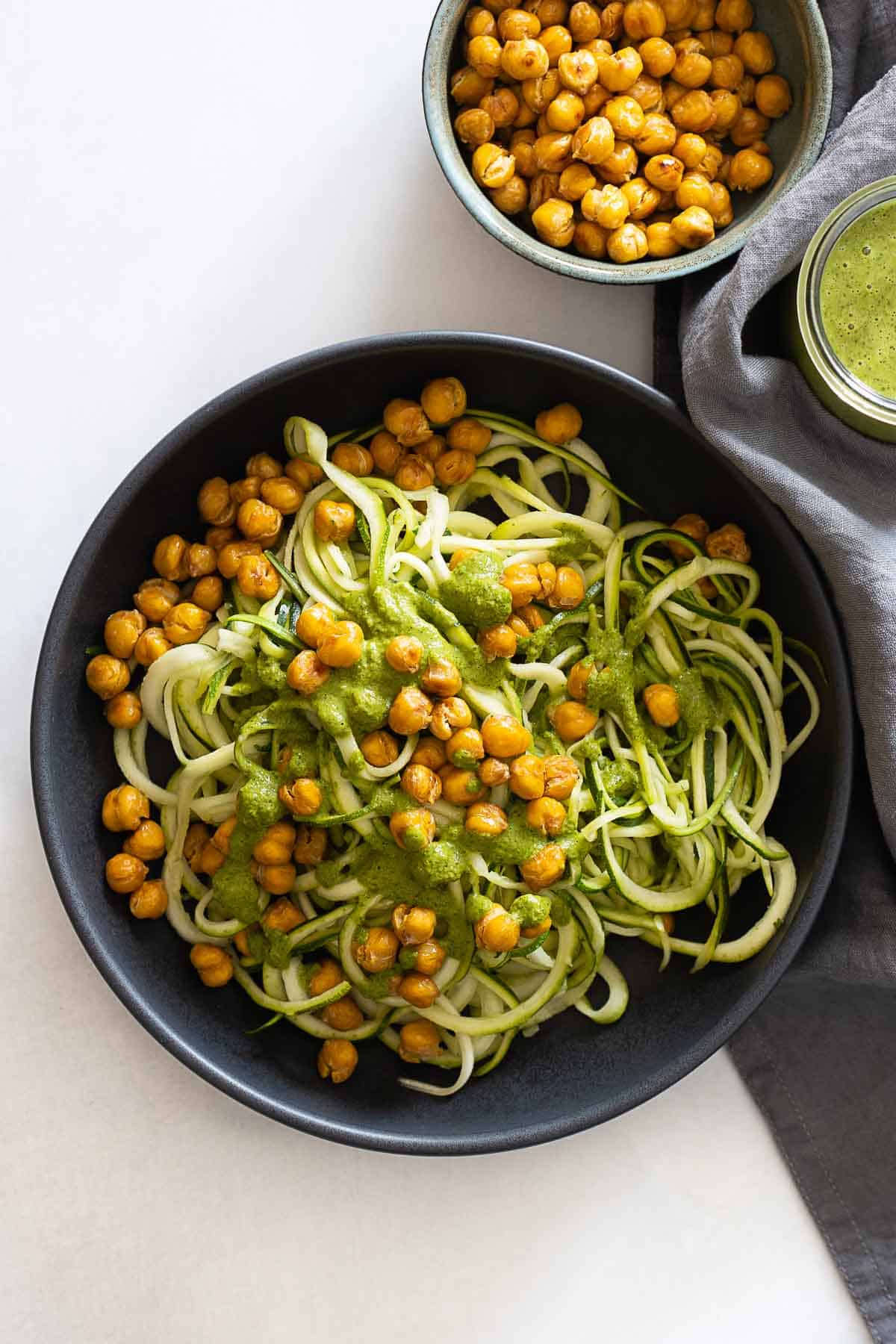 Key Ingredients
You only need 5 ingredients to make the very best zucchini noodle recipe at home:
Avocado oil
Cooked chickpeas
Sea salt
Zucchinis (can also substitute for store-bought zucchini noodles)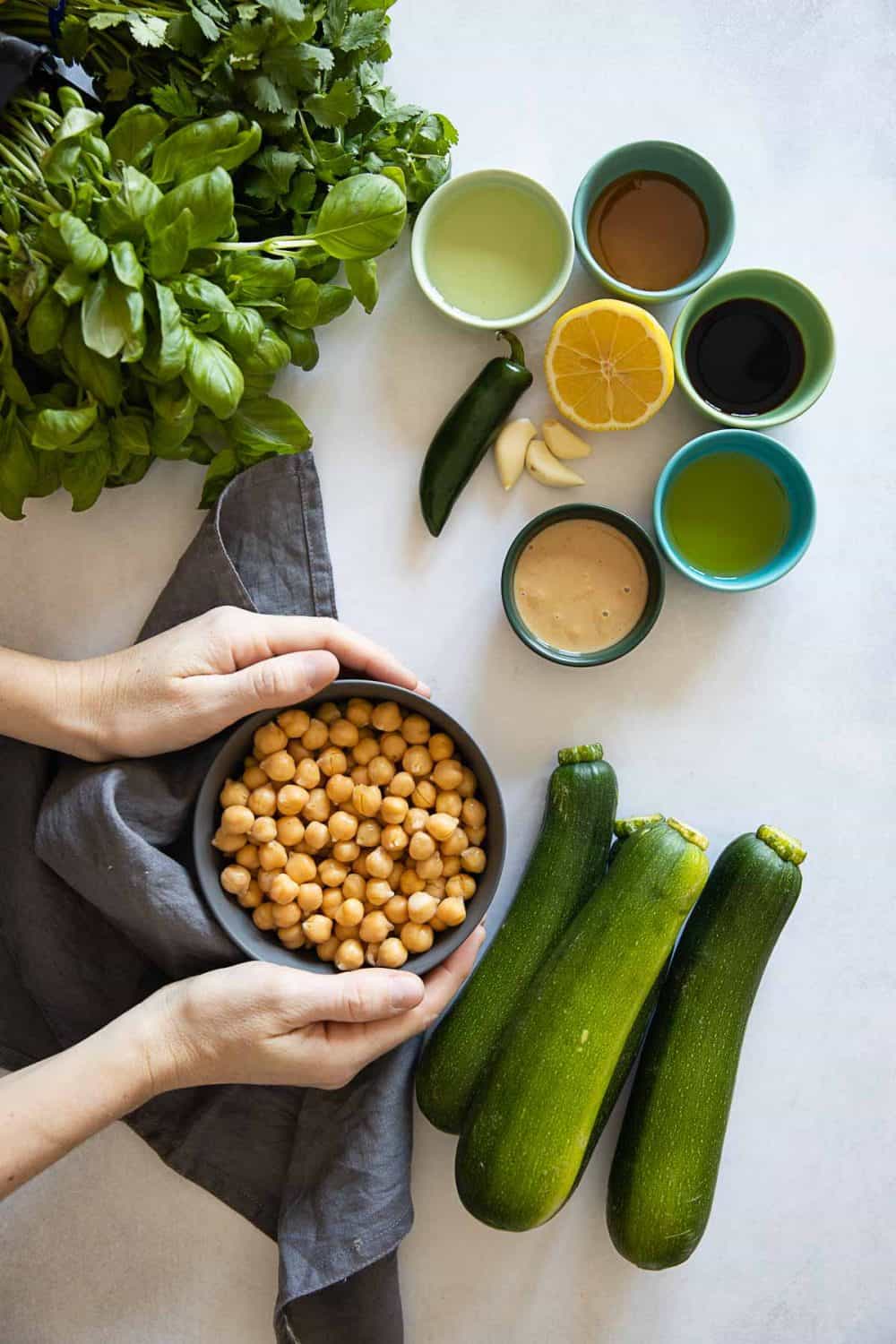 The BEST Sauce for This Zucchini Noodle Recipe
Zucchini noodles don't have a strong, natural taste, which is why I believe they need an extraordinary sauce. And this Tahini Herb Sauce couldn't be more perfect!
Basil, cilantro (or parsley), tahini, soy sauce, rice vinegar, honey, garlic, lemon, jalapeño … It's an explosion of flavor! And best of all, this sauce is made in a food processor in three minutes flat. It truly doesn't get any simpler than that!
This sauce is also delicious with regular pasta noodles, on chicken, with shrimp … it goes with everything!
How To Make This Zucchini Noodle Recipe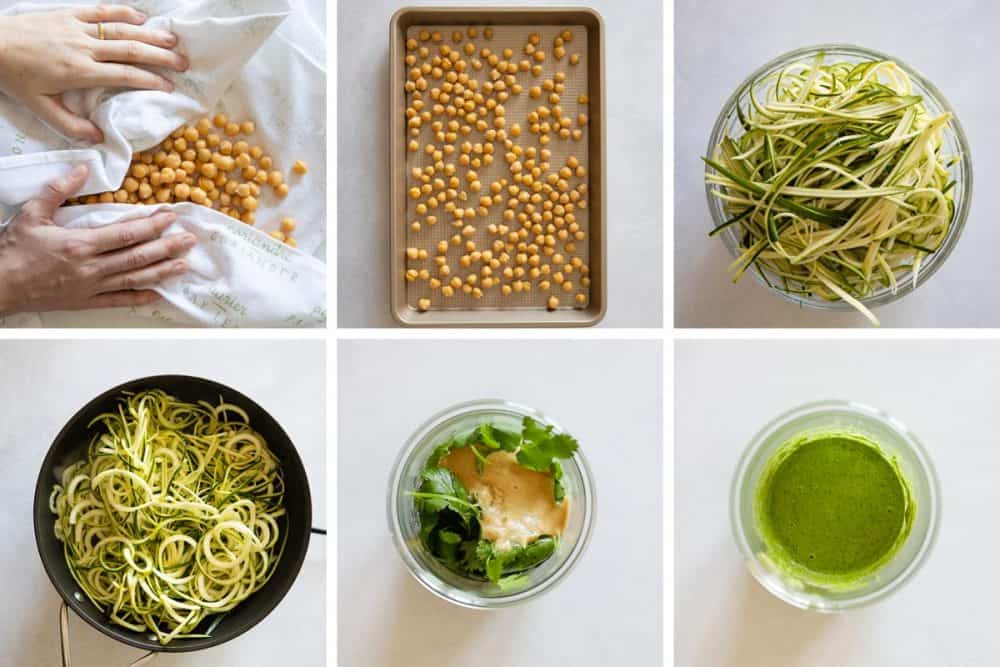 First, roast your chickpeas. Preheat oven to 400 degrees. Then drain, rinse and dry garbanzo beans thoroughly in a kitchen towel before adding them to a large rimmed baking sheet. Drizzle with avocado oil, sprinkle with sea salt, and toss to combine. Roast for approx. 30 minutes, stirring halfway through.
Next, prepare the Tahini Sauce by adding all of its ingredients to a food processor or blender, and blending until smooth.
Then, cook the zoodles if you like them warm. Prep a large skillet over medium-high heat. While it's getting hot, make your zucchini noodles as instructed below and let drain in a colander until ready to cook. Add a splash of oil to the pan. Once shiny, add zucchini noodles. Sprinkle them with salt, and stir constantly to release steam. Once they're slightly soft, immediately remove them from the pan and add to a serving bowl.
Make your zoodles dish! Simply add roasted chickpeas to the warm zoodles, and drizzle with Tahini Herb Sauce. Toss to combine, serve, and enjoy!
Variations
Want more veggies? Shredded carrots and sliced sugar snap peas would work well with this zucchini noodle recipe — raw or cooked! My recipe for roasted carrots and broccolini would also be a delicious addition. You could even substitute a yellow squash or two for some of the zucchinis to add more color.
Add some protein! The chickpeas are plenty filling on their own, but if you're craving some meat, add a grilled or sautéed chicken breast to each serving. Sautéed shrimp or grilled pork (tenderloins or chops) would also be delicious!
Want a creamier sauce? Throw in half of an avocado with the rest of the ingredients before you blend. This is a great dairy-free way to thicken a green noodle sauce!
How To Make Zucchini Noodles?
All you need is some sort of "spiralizer." This is a device that you attach the zucchini (or really any fruit or vegetable) to and rotate along an inserted blade shaped to your preference to create a noodle shape. Here are some of the best options on the market (affiliate links):
There are cheap spiralizers I've heard work just fine. They do, however, require quite some elbow grease though. It's hard work to get the job done, but you'll get it done (eventually).
The one I have is very similar to this semi-professional spiralizer. I love it. It's still fairly inexpensive, and it does a really great job and getting those perfect curly noodles.
If you love vegetable noodles more than life, or if you eat gluten-free and don't love the rice/quinoa/chickpea pasta on the market, I recommend investing in this handy dandy ultra-professional spiralizer that attaches to your stand mixer. It'll save on counter space and blend right into your kitchen. I have this one, too, and love it for big batches.
How To Make Zucchini Noodles Without a Spiralizer
You don't have to buy a spiralizer to make zucchini noodles. It will require a little more work without one, but it is totally possible without any fancy equipment whatsoever. If you have a mandoline, put it on the thickest setting and slice your zucchini into thick slices. Then, cut into long noodles with a sharp knife.
If you don't have a mandoline use a vegetable peeler and peel the zucchini into long slices. Then, use a sharp knife to cut the strips into noodles. By using a vegetable peeler your noodles will be much thinner than with a spiralizer and will require even less time in the pan.
Or, the fastest and easiest way to make zoodles without a spiralizer is with a julienne peeler.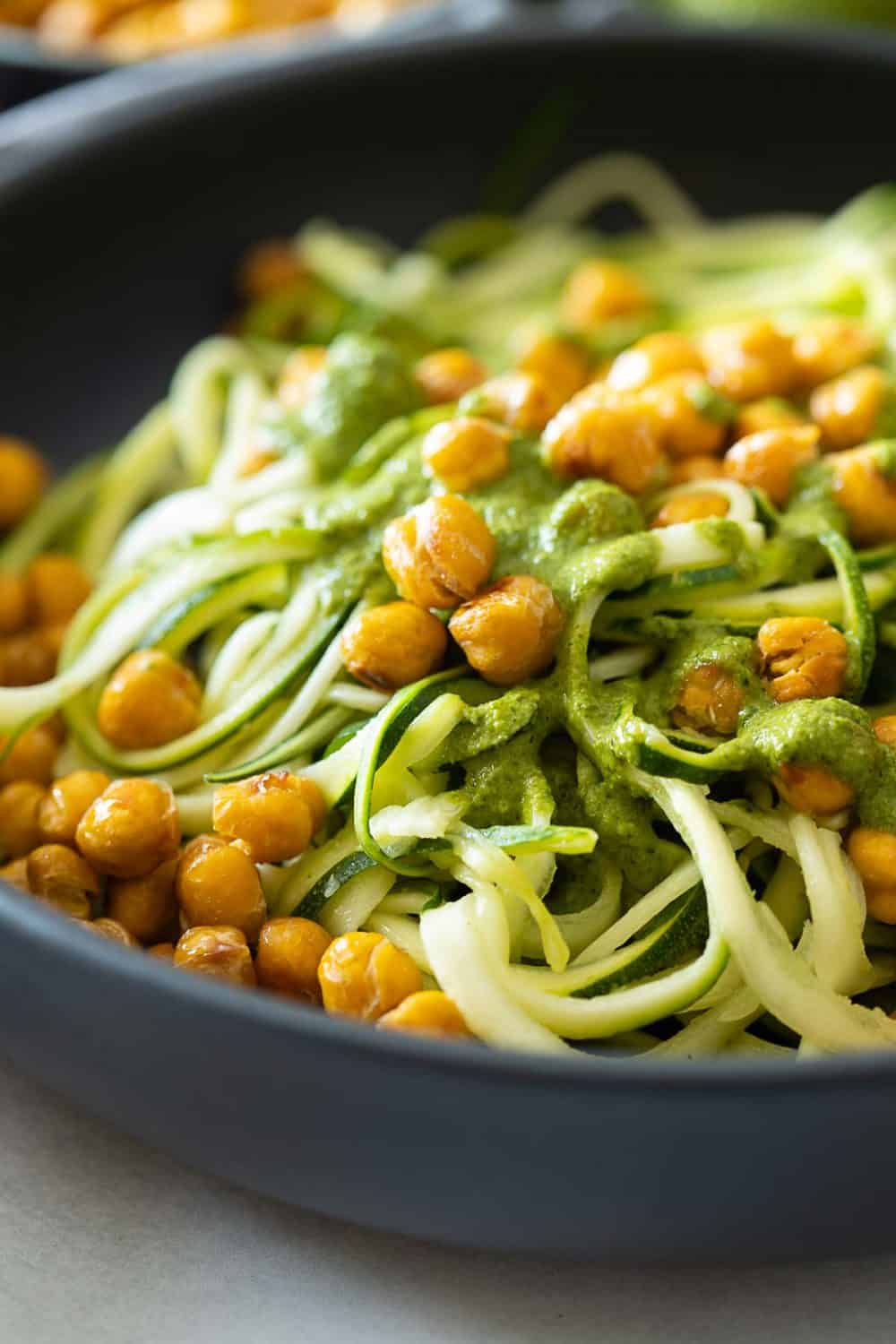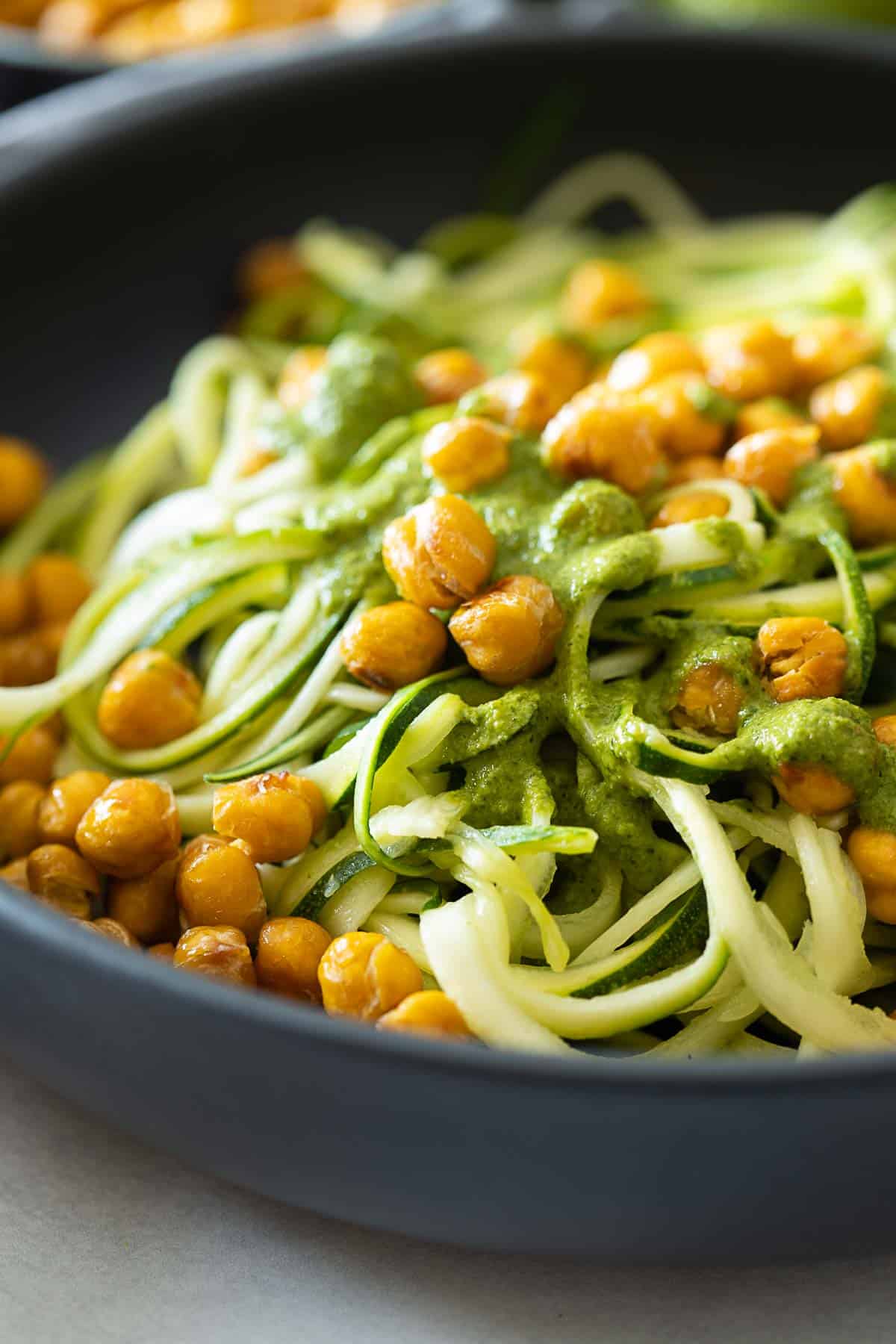 How To Make Vegetable Noodles Less Watery
Zucchini, like any vegetable, is comprised of mostly water, so the No. 1 complaint with spiralized vegetables is that they become soggy when cooked. You can, of course, eat them raw and avoid them getting soggy altogether. I prefer mine warm, though. And the trick to achieving perfectly cooked zoodles is to sauté them quickly in a large pan on medium-high heat.
After you add the zucchini noodles to that pot, stir them constantly to let steam escape and help that moisture evaporate instead of settling at the bottom. As soon as the first zucchini becomes soft, remove all of them from the pan. (They'll continue to cook while cooling on a plate.)
Storage, Freezing, and Reheating Instructions
To Store: While this zucchini noodle recipe is best eaten the day it's made, you can keep leftovers in an airtight container in the fridge for up to two days.
To Reheat: If you're going to eat these for lunch the next day, consider enjoying them cold or at room temperature. If you prefer to eat them warm, you can quickly sauté them again for just a couple of minutes. I wouldn't microwave them, as they can easily overcook and get soggy.
To Freeze: I did not test freezing this recipe, and I wouldn't recommend it. The zoodles will just turn to mush from the freezing and thawing process.
More Recipes To Try
If you enjoyed this Easy Zucchini Noodle Recipe, then you'll love these other veggie-loaded recipes: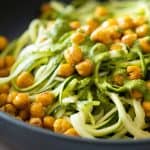 Easy Zucchini Noodles
This Zucchini Noodle Recipe is a delicious way to work more green veggies into your weekly meal rotation. These spiralized zucchini noodles (aka zoodles) are topped with crispy roasted chickpeas and tossed in an out-of-this-world Tahini Herb Sauce.
Print Recipe
Pin Recipe
Ingredients
1

tsp

avocado oil

1.5

cups

cooked chickpeas

sea salt

4

medium

zucchinis

-

or 12 oz bagged zucchini noodles

sea salt

2

oz

basil leaves

-

about 2 hands full

1

oz

cilantro leaves

-

about 1 hand full

1

Tbsp

honey

1/4

cup

rice vinegar

1/2

lemon

2

Tbsp

tahini

-

unsweetened and unsalted

1

Tbsp

soy sauce or tamari

1-2

Tbsp

olive oil

3

cloves garlic

1

deseeded jalapeño
Instructions
Preheat oven to 400F (200C).

Drain, rinse and dry chickpeas in a kitchen towel. Remove skins if desired.

Add chickpeas to a large baking sheet and drizzle with avocado oil and sprinkle with salt. Smush around with your fingers to make sure all chickpeas are covered with oil and salt.

Roast for 25-35 minutes moving the chickpeas around with a wooden spoon mid-through.

Make the Tahini Sauce by adding basil leaves, cilantro leaves, honey, garlic, rice vinegar, soy sauce, tahini, olive oil, lemon juice, and jalapeño to a blender and blend until smooth.

Preheat a large skillet over medium heat.

Spiralize zucchinis with a spiralizer. (If using mandoline/veggie peeler and knife technique you will need longer for this step, so start the whole recipe by preparing your noodles first, with a spiralizer it won't take longer than 5 minutes, so can be done while waiting for chickpeas to finish roasting and pan is preheating).

Add a splash of olive oil to the hot pan, add zucchini noodles, sprinkle with salt and stir constantly for the zucchini to be able to release it's steam upwards instead of into the pan. Remove from the pan as soon as slightly soft.

Add zucchini noodles to a big bowl, add roasted chickpeas and drizzle with Tahini Herb Sauce.
Nutrition
Calories:
505
kcal
|
Carbohydrates:
64
g
|
Protein:
20
g
|
Fat:
22
g
|
Saturated Fat:
3
g
|
Sodium:
189
mg
|
Potassium:
1693
mg
|
Fiber:
16
g
|
Sugar:
26
g
|
Vitamin A:
3361
IU
|
Vitamin C:
105
mg
|
Calcium:
223
mg
|
Iron:
7
mg
What's your clean eating vibe?
Take this fun QUIZZ and find out in 10 seconds!