The most delicious way to get more veggies into your diet: make a juicy roasted vegetable sandwich with a fried egg on top. This is more than just a sandwich. It's a full main dish!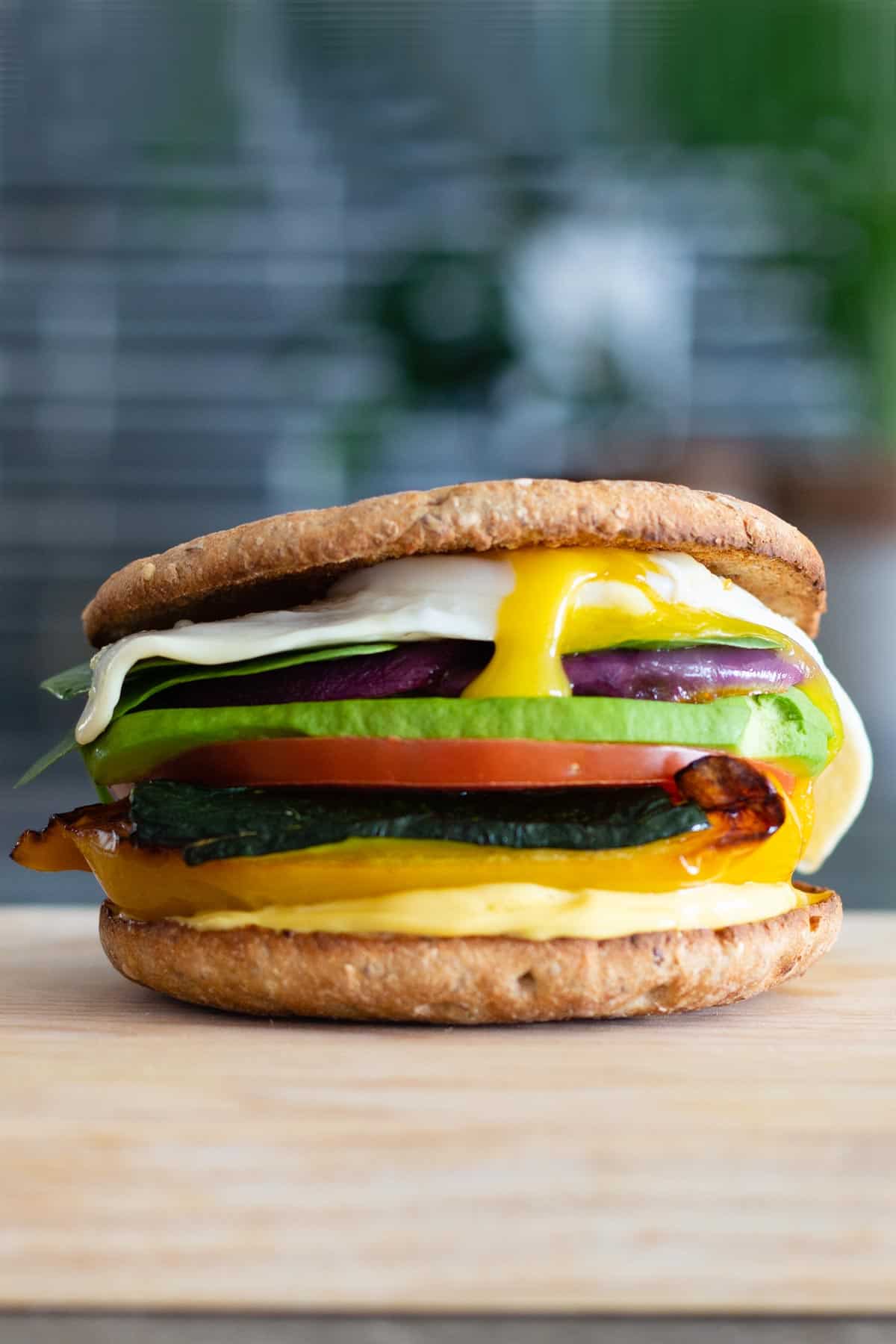 What vegetables can you put in a sandwich?
The possibilities are literally endless. The trick is to choose vegetables that can easily be cut into flat pieces. Broccoli and Cauliflower, for example, are rather difficult to cut in a way that will fit in a sandwich.
You can use:
raw vegetables
roasted vegetables
grilled vegetables
a combination of them all
When roasting, I recommend using a combination of veggies that roast in similar times. Bell peppers, onions, and zucchini all roast in 15-20 minutes for example. Whereas carrots take a little longer.
My favorite roasted vegetables for sandwiches are zucchini, bell pepper, onion, eggplant, and asparagus.
My favorite raw veggies for sandwiches are cucumber, tomato, avocado, lettuce, baby spinach.
Make sure you cut your veggies somewhat flat. You can cut asparagus in half lengthwise so they don't roll off your sandwich.
How to Make the Best Vegetable Sandwich In 3 Steps
Make sure you use easy to bite bread. Hard crusty bread or very thick bread can be hard to give a bite when it's a loaded sandwich. You might hurt your jaw.
Always use a sauce, or olive oil or butter, to flavor the bread itself a little or else the sandwich will taste dry. Homemade Mayonnaise is my favorite bread spread. Hollandaise Sauce or Roasted Red Pepper Sauce work fantastic as spreads as well though.
Use a combination of cooked (roasted/grilled) and raw vegetables to ensure the best sandwich texture when you bite into it. Crunchy and soft at the same time.
How to Make A Sandwich a Full Meal
You all know I love ensuring that we have veggies, carbs, and protein in every meal. In order to add some protein to your sandwich, you can either put a fried egg on top (my favorite).
Or, if you prefer a vegan meal, you can use hummus as a sauce or instead mash up some cooked chickpeas and spread them on your bread.
To make it omnivore you can add a couple of thin slices of turkey or chicken breast or some ham.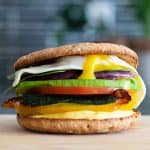 Roasted Vegetable Sandwich
The most delicious way to get more veggies into your diet: make a juicy roasted vegetable sandwich with a fried egg on top.
Print Recipe
Pin Recipe
Ingredients
4

slices

whole-wheat bread

-

thin and soft

1/2

red onion

1

yellow bell pepper

1

medium-sized zucchini

olive oil

sea salt

1/2

beef tomato

1/2

avocado

1/2

cup

baby spinach

2

eggs

1

Tbsp

homemade mayonnaise

-

or any other sauce/fat of your choice
Instructions
Preheat the oven to 400F.

Peel and cut the red onion in half and then peel off the layers (you should have little onion boats so to speak) until you have about 4-6 boats. Cut the bell pepper in 4 large flat pieces. Cut the zucchini in half and then take steady into your hand and cut into 4 strips lengthwise so you have flat pieces of zucchini. (see video)

Place the cut-up vegetables on a baking sheet, drizzle with olive oil, and season with sea salt. Then use your hands to ensure all vegetable pieces are well-coated in oil and salted from all sides.

Roast the vegetables in the preheated oven for 20 minutes turning mid through.

In the meantime, cut 2-4 thin round pieces of tomato. Cut the avocado in half and peel one half and cut into slices. Toast your bread slices if desired.

Preheat a pan over medium heat and start assembling the sandwich by placing one slice of bread on a stable surface. Spread mayonnaise on the piece of bread, then layer the roasted vegetables and raw vegetables on top of each other and finish with the baby spinach.

Add eggs to the preheated pan and fry until desired doneness. Top vegetables with a fried egg and place another slice of bread on top and enjoy!
Nutrition
Calories:
421
kcal
|
Carbohydrates:
41
g
|
Protein:
17
g
|
Fat:
23
g
|
Saturated Fat:
4
g
|
Cholesterol:
167
mg
|
Sodium:
355
mg
|
Potassium:
1109
mg
|
Fiber:
10
g
|
Sugar:
10
g
|
Vitamin A:
2037
IU
|
Vitamin C:
148
mg
|
Calcium:
135
mg
|
Iron:
3
mg
What's your clean eating vibe?
Take this fun QUIZZ and find out in 10 seconds!