Oven Roasted Vegetables smothered in butter and garlic are the most special treat ever. Place them on a bed of quinoa, top them with a fried egg and you just made yourself a balanced and healthy full meal.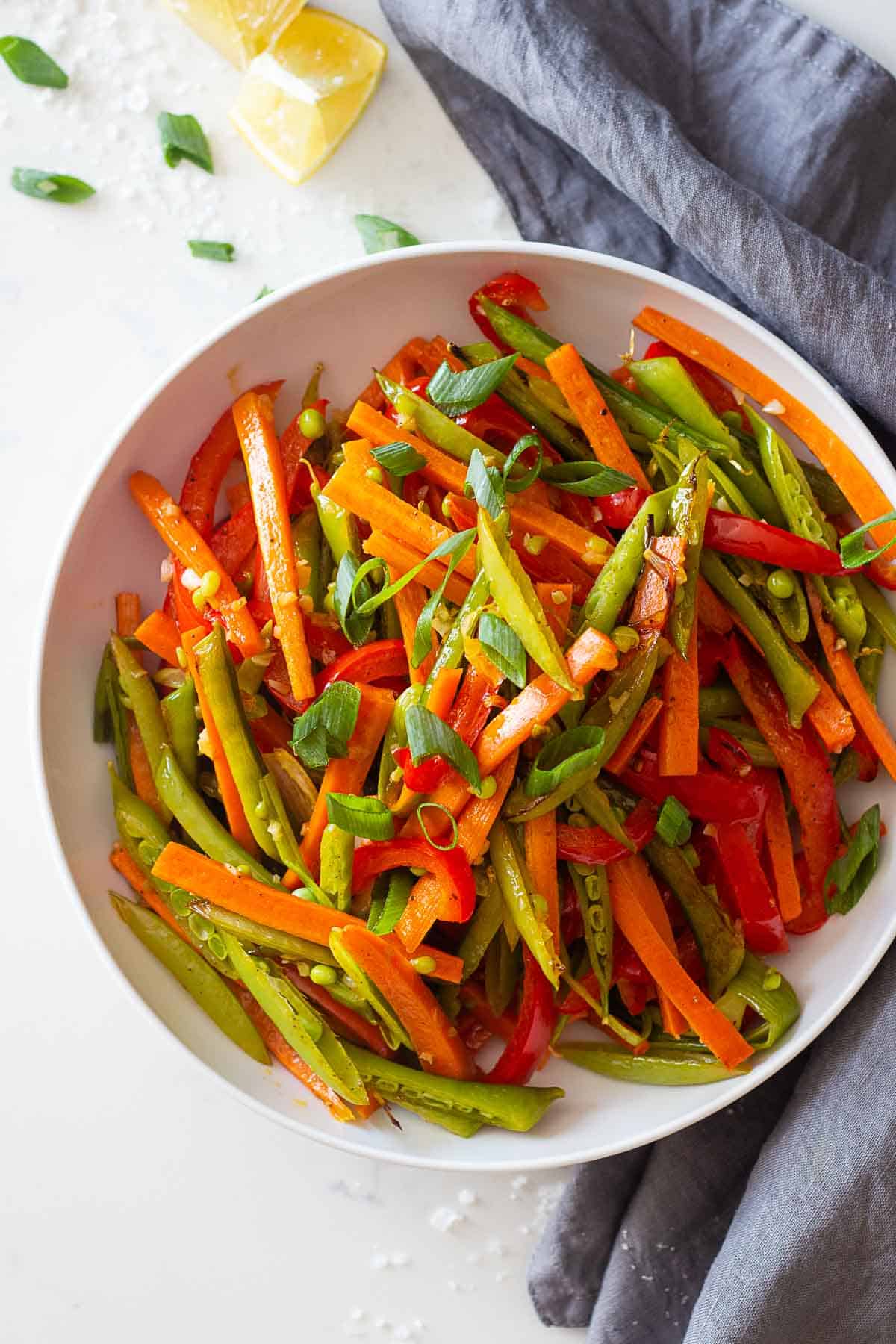 I love vegetables in all their shapes and forms. Roasted vegetables though … oh my … oven roasted they're better than *** (insert your favorite word, you know what it is, lol)!
Roasted with butter and garlic on top of that they suddenly transform into something from another world. I have yet to find a vegetable skeptic that wouldn't transform into a veggie lover when served with butter and garlic and roasted.
Serve all those delicious roasted vegetables on a bed of quinoa – here is a post about all the different ways on how to cook quinoa – or serve it on rice – here is a post on how to cook rice in the instant pot. Then top it all with your favorite protein. Depending on how much time you have it can simply be a fried egg or something more sophisticated like a slow-roasted leg of lamb. Do I have you drooling already?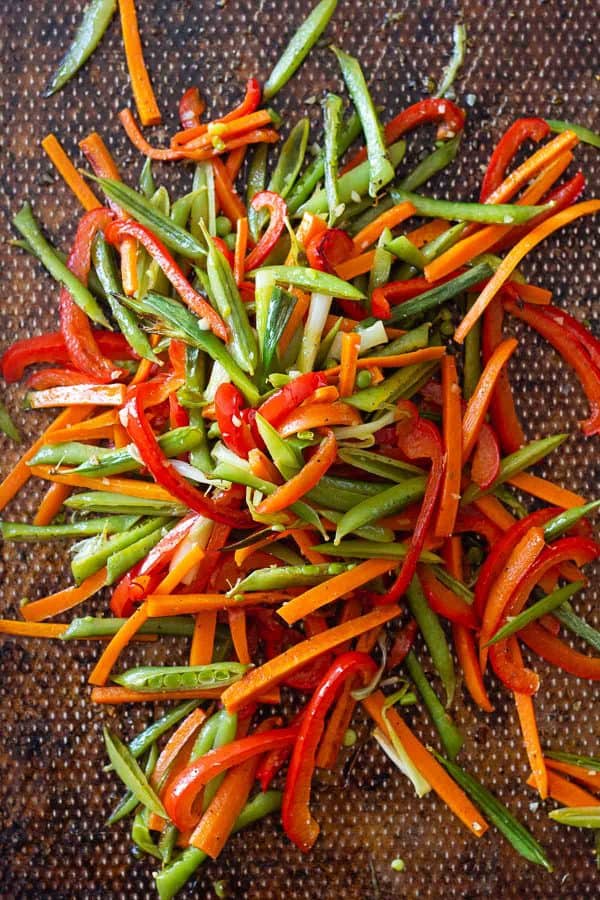 The ingredients
Vegetables – easy! Simply use your favorite veggies that cook in similar amounts of time and cut them all evenly thick to ensure they roast evenly.
Some of my favorite combos are not limited to:
Carrot, Bell Pepper, Spring Onion, Sugar Snap Peas
Zucchini, Egg Plant, Asparagus, Red Onion
Brussels Sprouts, Sweet Potato, Red Onion
Broccoli, Cauliflower, Green Beans, Leek
Butter – yes you can use oil or a combination of butter and oil but there is something about butter that is simply unbelievably delicious on roasted veggies.
Fresh Garlic – this is probably the most important and only ingredient that should by no means be replaced by anything else. Don't you dare use dried garlic here. It's NOT the same. Also, the measurement depends entirely on your heart's desire. There is no such thing as too much garlic ;)
Spices – I like to keep it simple and use nothing but sea salt and pepper so the actual taste of the veggies, garlic, and butter can shine through but you can obviously add as many dried herbs and other spices as you like to this.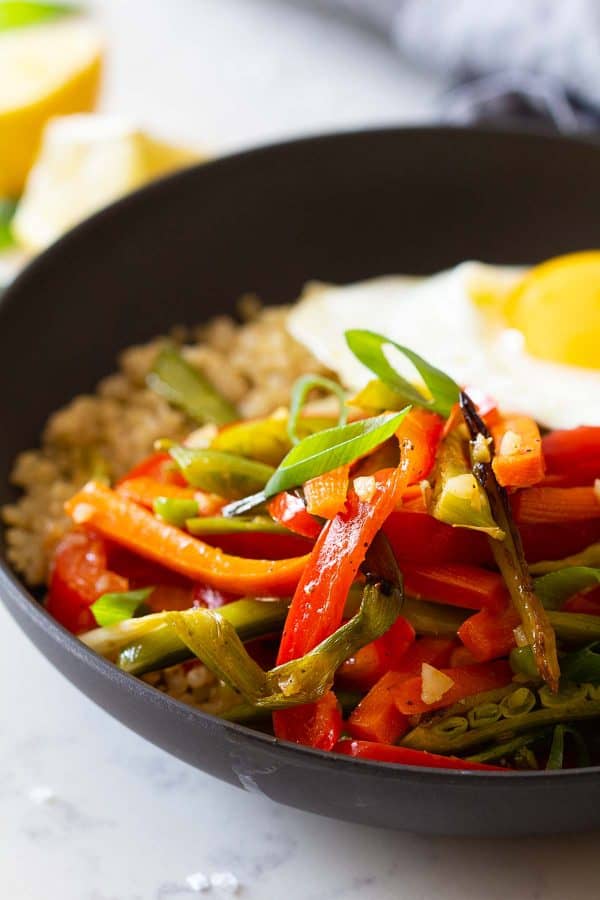 Frequently Asked Questions
What temperature is best for roasting vegetables in the oven?
400F (200C)! Hands down. I've tried them all. 300, 350, 400, 450… and I find that at 400F they roast perfectly.
The lower the temperature, the higher the risk your vegetables will steam instead of roast. The higher the temperature, the higher the risk they will burn before roasting.
Do you cover vegetables when roasting in the oven?
No!!! Don't cover them. If you cover the vegetables steam will build around the vegetables and then water condensation happens and the water will slide right off that cover and back into the veggies and then they will steam and cook. To roast vegetables they need air circulation so all steam can evaporate. (See point 1 under important tips).
Important Tips
Don't crowd your vegetables on the baking sheet. The closer together and stacked on top they are the more steam builds around and under them, and your vegetables steam in the oven instead or roast. The taste of oven steamed vegetables is completely different to oven-roasted vegetables. They cannot release their natural sugars and aren't as sweet and delicious then.
Choose a combination of vegetables that cook in the same amount of time.
Cut your vegetables into equally tick/big pieces so they roast evenly.
Melt the butter before adding to the vegetables so you can work it in with your hands.
Use your hands to coat each piece of vegetable. A piece of vegetable without butter or oil on it simply dries out in the oven and becomes rather tough to chew.
Watch the video of how to roast vegetables in the oven so you can see what I mean by "not crowding" and working butter in "with your hands".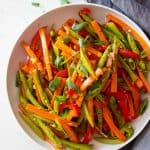 Oven Roasted Vegetables
Oven Roasted Vegetables smothered in butter and garlic are the most special treat ever. Place them on a bed of quinoa, top them with a fried egg and you just made yourself a balanced and healthy full meal.
Print Recipe
Pin Recipe
Ingredients
3-4

scallions

1

red bell pepper

2

carrots

3

cups

sugar snap peas

1/4

cup

butter

3-4

cloves

garlic

sea salt

pepper
Instructions
Preheat oven to 400 F (200 °C).

Cut all vegetables into very thin stripes (1/4" ; 0.5cm) as shown in picture above. Cut them all as evenly as possible. Use only the white and light green part of the scallions for roasting and set the dark green parts aside for garnish.

Place all vegetables on a large baking sheet.

Melt butter in a saucepan.

In the meantime, peel and crush garlic and add to the sliced vegetables.

Drizzle melted butter over vegetables, and season with sea salt and pepper. Then work butter and seasoning into the veggie slices with your hands until every piece is well coated.

Roast for 20-25 minutes depending on how thick you cut them and how soft you like them. I roasted mine until the first leek bits started slightly burning (20 minutes). I like my veggies still crunchy.

Slice the green parts of the scallions set apart earlier into fine rings and garnish your veggies.
Nutrition
Calories:
321
kcal
|
Carbohydrates:
23
g
|
Protein:
6
g
|
Fat:
24
g
|
Saturated Fat:
15
g
|
Cholesterol:
61
mg
|
Sodium:
257
mg
|
Potassium:
682
mg
|
Fiber:
7
g
|
Sugar:
12
g
|
Vitamin A:
14540
IU
|
Vitamin C:
173
mg
|
Calcium:
111
mg
|
Iron:
4
mg
What's your clean eating vibe?
Take this fun QUIZZ and find out in 10 seconds!