Chicken and rice cook together with veggies to create a wholesome meal that is comforting and delicious. You probably already have everything you need to make this one-pot chicken dinner!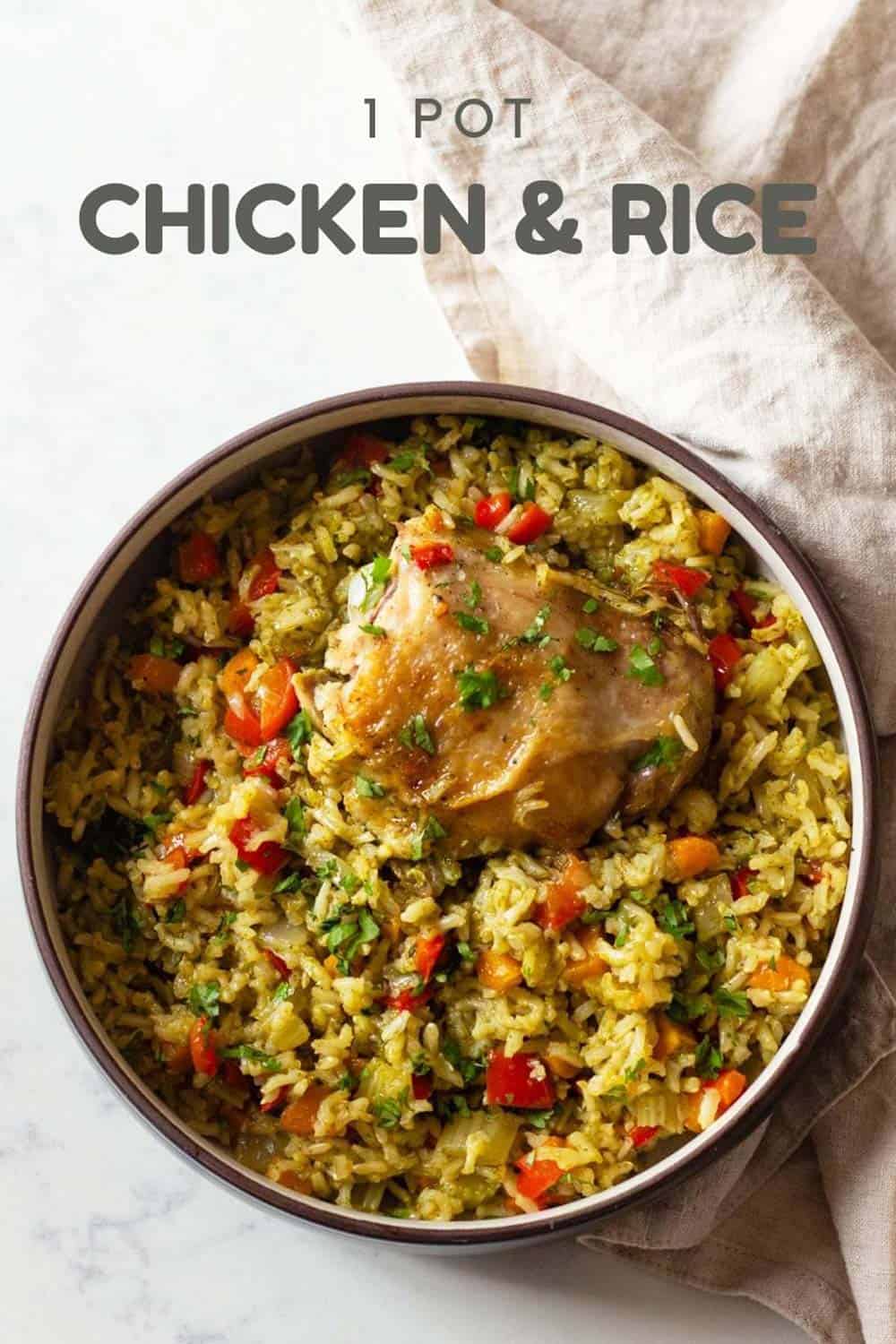 This recipe has been adapted into an Instant Pot Chicken and Rice as well as Slow-Cooker Chicken and Rice recipe if you prefer to cook it with those kitchen appliances.
Can you cook raw chicken with rice?
In this recipe, I brown the chicken first but do not cook it all the way through by itself. The chicken will finish cooking with the other ingredients.
This is a safe way to cook raw chicken and rice, as long as all the ingredients are cooked thoroughly. The chicken should reach an internal temperature of 165 degrees F.
What cut of chicken to use for chicken and rice
When I make this dish, I prefer to use legs and thighs. Dark meat has a reputation for being fattier than breast meat, but there are several great reasons to still use it.
All chicken is a great source of high quality, lean protein.
The fat in dark meat chicken is a healthy fat that is good for your heart.
Thigh meat is less expensive than breast meat, and doesn't easily dry out during cooking. In a dish like chicken and rice, where chicken cooks for a long period of time, the meat will still be tender, juicy and perfect.
So don't be afraid to use legs and thighs when you make this chicken and rice recipe!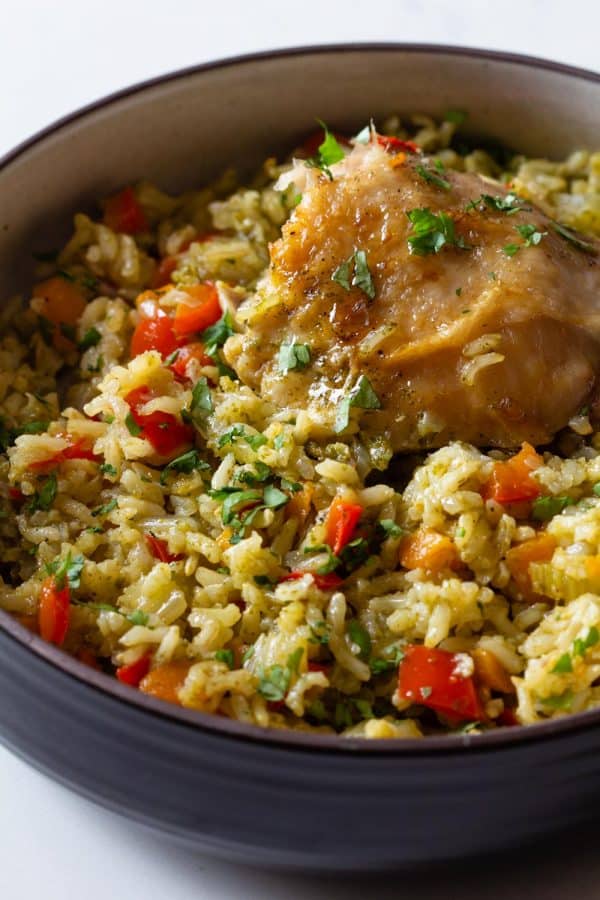 How do I cook one-pot chicken and rice?
This dish takes a little bit of prep work but will create a whole meal in just one pot. To make extra flavourful rice for this one-pot chicken and rice, I use cilantro water. Infusing cilantro into the cooking water allows the rice to absorb all of the flavour as it cooks!
Prepare the cilantro water so it has time to infuse.
Clean and prepare the vegetables.
Sear the chicken by cooking it in oil over medium heat.
Deglaze the pan, then cook the veggies.
Add the rice and cilantro water. Be sure to fully submerge the rice in the water so it cooks. You don't want to end up with random pieces of uncooked rice!
When the liquid comes to a boil, add the chicken back to the pan, reduce the heat, and cook for 40 to 50 minutes.
What is the healthiest rice?
While you may think of rice just being white or brown, there are actually 40,000 different varieties of rice. What type of rice you should use depends greatly on what you are using it for. Here are some things to keep in mind when choosing rice to go with your meal.
Long grain rice has a lower glycemic index than short-grain rice.
The cooking method also makes a difference. Microwaving or boiling rice increases the glycemic index.
Arsenic occurs naturally in rice. Brown rice has higher levels of arsenic than white rice because the arsenic stays in the outer shell. The shell is stripped away to make white rice.
Brown rice has more fiber and protein than white rice.
Keep in mind that cooking times vary for different types of rice. Before making substitutions to this chicken and rice recipe, confirm how long to cook the rice.
Other one-pot chicken recipes
Here are some other delicious chicken dinners that cook up in one pot or pan:
Chicken and Rice
Chicken and rice cook together with veggies to create a wholesome meal that is comforting and delicious. You probably already have everything you need to make this one-pot chicken dinner!
Print Recipe
Pin Recipe
Ingredients
1

bunch cilantro

1

chicken or vegetable stock cube

1.5

cups

water

1

yellow onion

2

cloves garlic

1

red bell pepper

3

stalks celery

2

carrots

1

cup

brown rice

3

chicken legs (thighs and drumsticks)

sea salt

pepper

cilantro for garnish
Instructions
Prep cilantro water: Add cilantro, stock cube, and water to a jar and blend with an immersion blender or add ingredients to your regular blender and blend until smooth.

Peel and finely chop onion and garlic and set aside.

Wash and dice bell pepper, carrots, and celery and set aside.

Preheat a large pan or pot with a tight-fitting lid over medium heat and once hot add a splash of oil and then brown the chicken legs on both sides for approximately 5 minutes per side. Season the legs with sea salt and pepper.

Remove the chicken legs from the pan and set aside. Add chopped onions and garlic to the same pan and stir-fry until slightly translucent. Add a splash of water to deglaze the bottom of the pan and scrape off all chicken skin bits and pieces. Continue to stir-fry onion and garlic until well translucent.

Add diced vegetables to pan and stir-fry for a couple of minutes until slightly soft, then add brown rice and "cilantro water", give it all a good stir, then use a spatula to flatten it all and make sure all rice grains are submerged in the water. Bring to a boil and as soon as bubbles form, add browned chicken legs on top, put on the lid, reduce the heat to low and let simmer for 40-50 minutes.

Once all the water is absorbed by the rice it's time to serve with some cilantro sprinkled on top.
Nutrition
Calories:
417
kcal
|
Carbohydrates:
44
g
|
Protein:
21
g
|
Fat:
17
g
|
Saturated Fat:
5
g
|
Cholesterol:
90
mg
|
Sodium:
353
mg
|
Potassium:
524
mg
|
Fiber:
4
g
|
Sugar:
4
g
|
Vitamin A:
6163
IU
|
Vitamin C:
42
mg
|
Calcium:
46
mg
|
Iron:
2
mg
What's your clean eating vibe?
Take this fun QUIZZ and find out in 10 seconds!