This Peruvian Green Rice is hands down the best side rice in the world! A bunch of coriander not only makes it green but extraordinarily nutritious and delicious!
I have yet to meet a person I (or my mother) have made this rice for who doesn't love it. Most people who don't like rice were served rice or cook rice simply the wrong way.
If you cook rice in too much unsalted water it ends up being a tasteless mush. Yuck! If you follow a couple simple steps, I promise you, you can convince a rice hater that there is nothing more delicious than rice.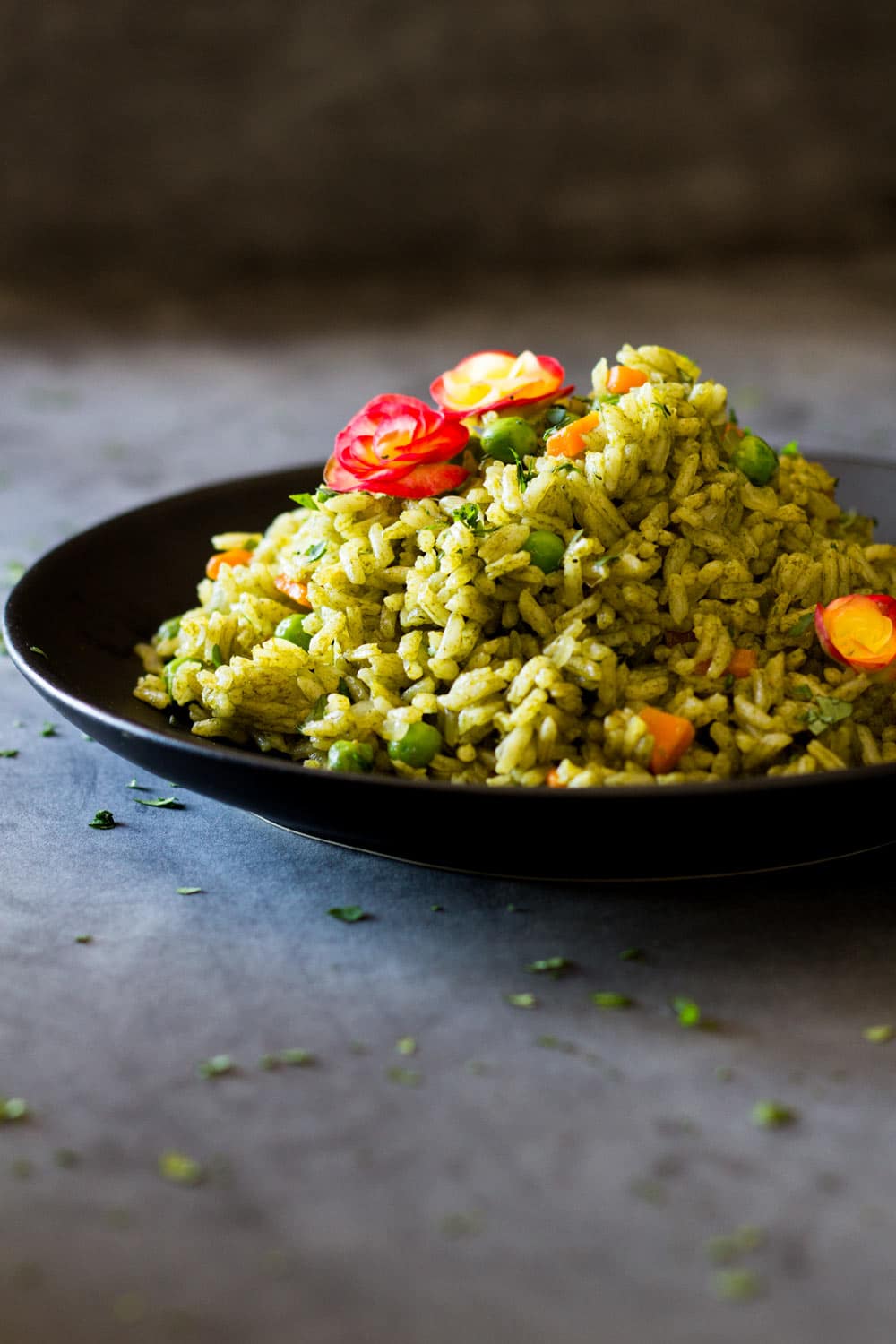 The 5 most import things to remember when making rice
Don't be afraid of salt!
Don't overcook rice! **
Add crushed garlic!
Fry some onion in bacon fat, then add the rice and liquid.
Use herbs like coriander or basil to add to the taste.
** Most types of white rice need a 1 to 1.5 ratio (1 cup rice to 1.5 cups liquid 1 to 1 in the instant pot or a small pot with extremely tight sitting lid).
Add both, rice and liquid to the pot at the same time. Bring liquid to a strong boil over medium (!) heat. Once boiling reduce heat immediately to low and cover with a tight sitting lid immediately, too.
After 10 minutes check on rice the first time. Use the back of a spoon to poke a hole all the way to the bottom of the pan to see if there is still water. If there is, cover again quickly and let simmer for another couple of minutes, then check again.
Once there is no water on the bottom anymore, remove pot from heat and fluff rice with a fork and leave uncovered. Do NOT stir the rice during the cooking process. Not all grains will cook. The trick is to move the rice the least possible when checking on it. That's why using the back of a spoon to poke a small hole is the best method.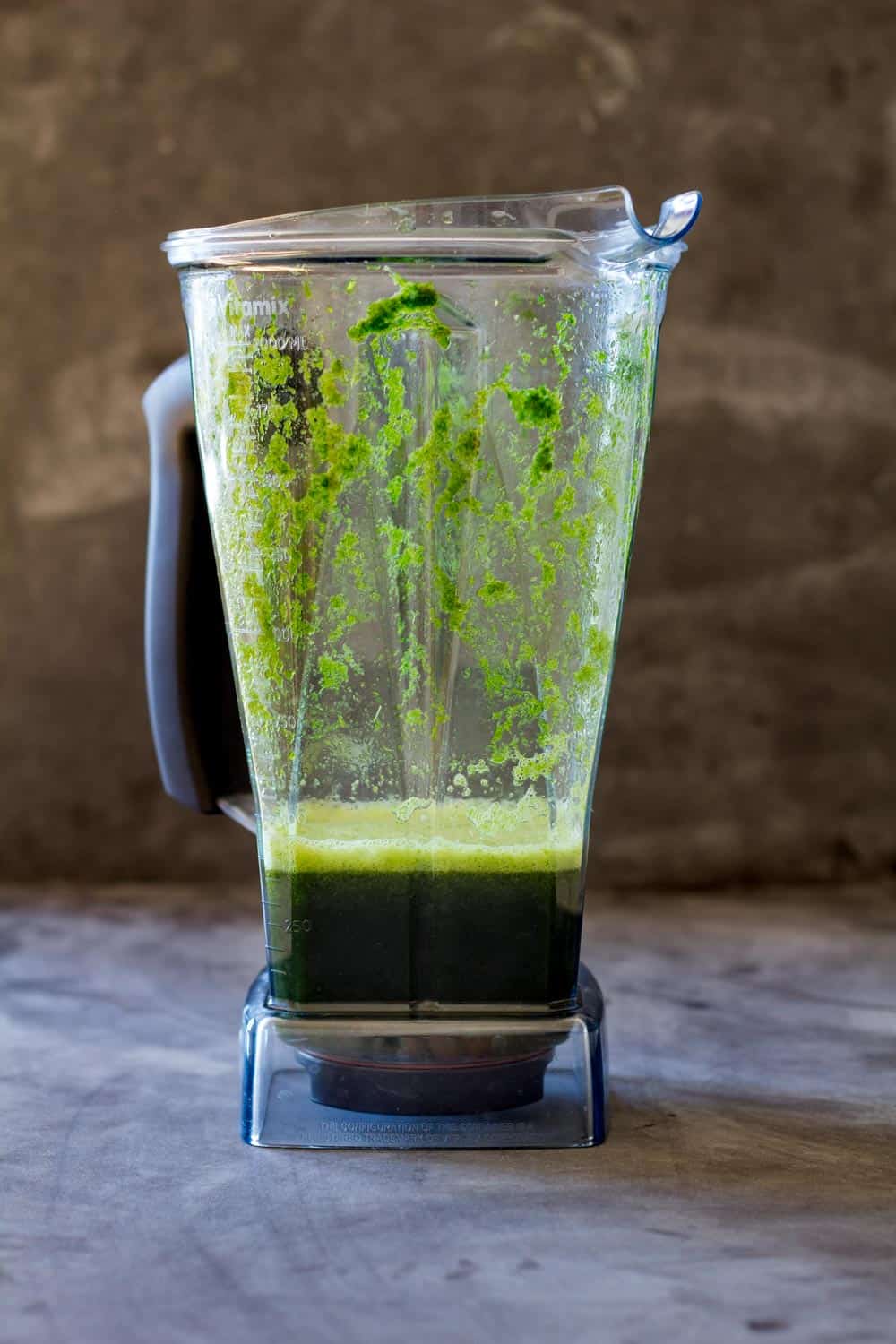 What makes Peruvian green rice green?
Coriander!!! Now, don't just add a teaspoon of ground coriander or even chopped fresh coriander and expect the rice to become green. There is a trick to it. You have to blend the fresh coriander with the water you cook the rice in first.
The coriander needs to be completely liquified. Blend for at least 5 minutes until you basically end up with very very green water. Then add that green water to the rice and cook it. The rice absorbs the green coriander water and becomes green.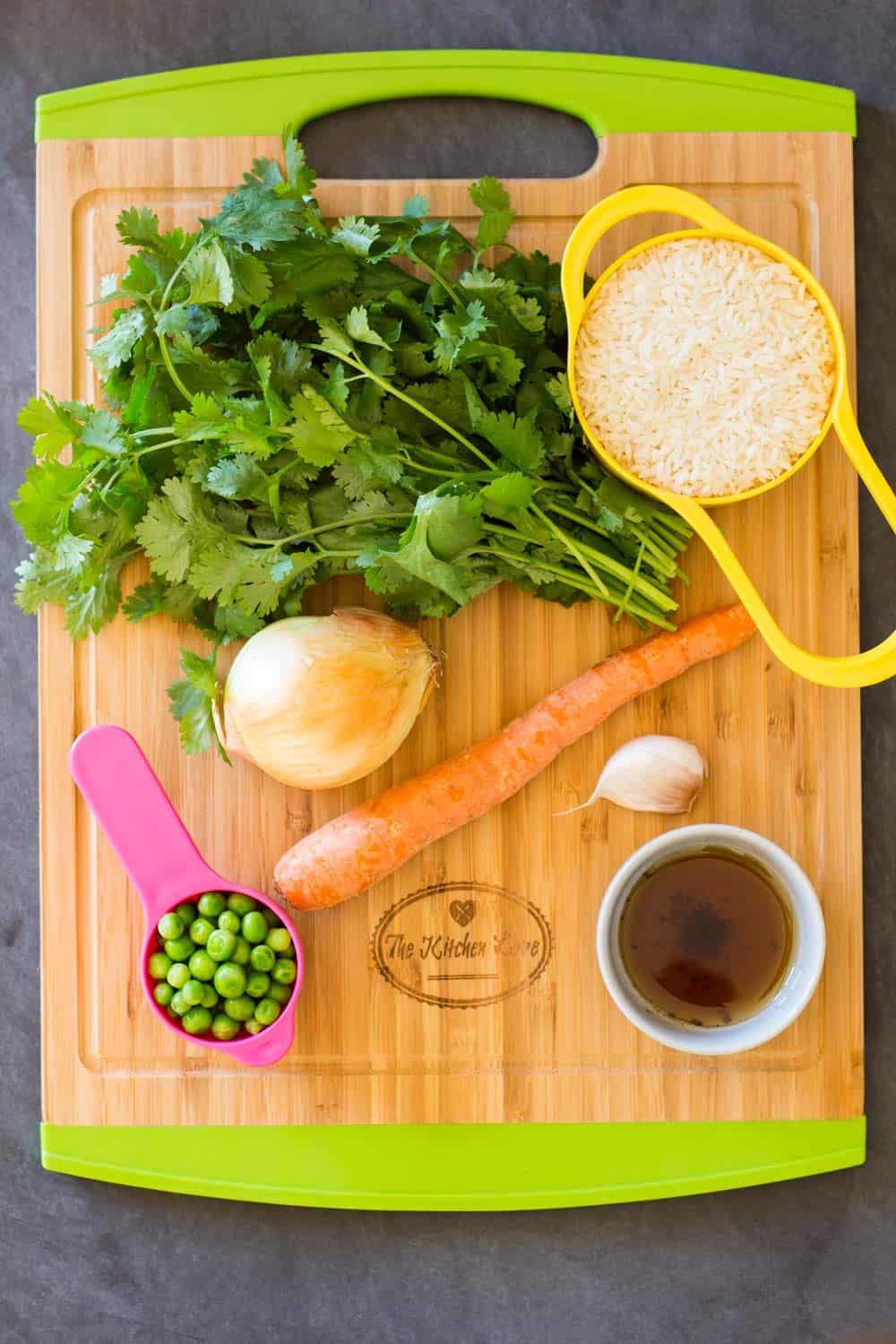 This chopping board, courtesy of The Kitchen Love
  (*), is amazing by the way. It doesn't slip from your surface and is made of naturally antimicrobial bamboo and silicone on the edges to prevent from mold. I'm totally in love with it and it's got GREEN edges!! HELLOUUU!?!?! *shreek*
(*) this is an affiliate link and I receive a small commission if you buy it through this link but at no extra cost to you :)
What makes Peruvian green rice Peruvian?
Bacon fat and peas I would say. Mexican green rice is made with coriander, too. So that's probably not the part that makes it Peruvian. Frying the onion in bacon fat first and adding peas at the end is probably what makes it taste like were sitting in a restaurant in Lima.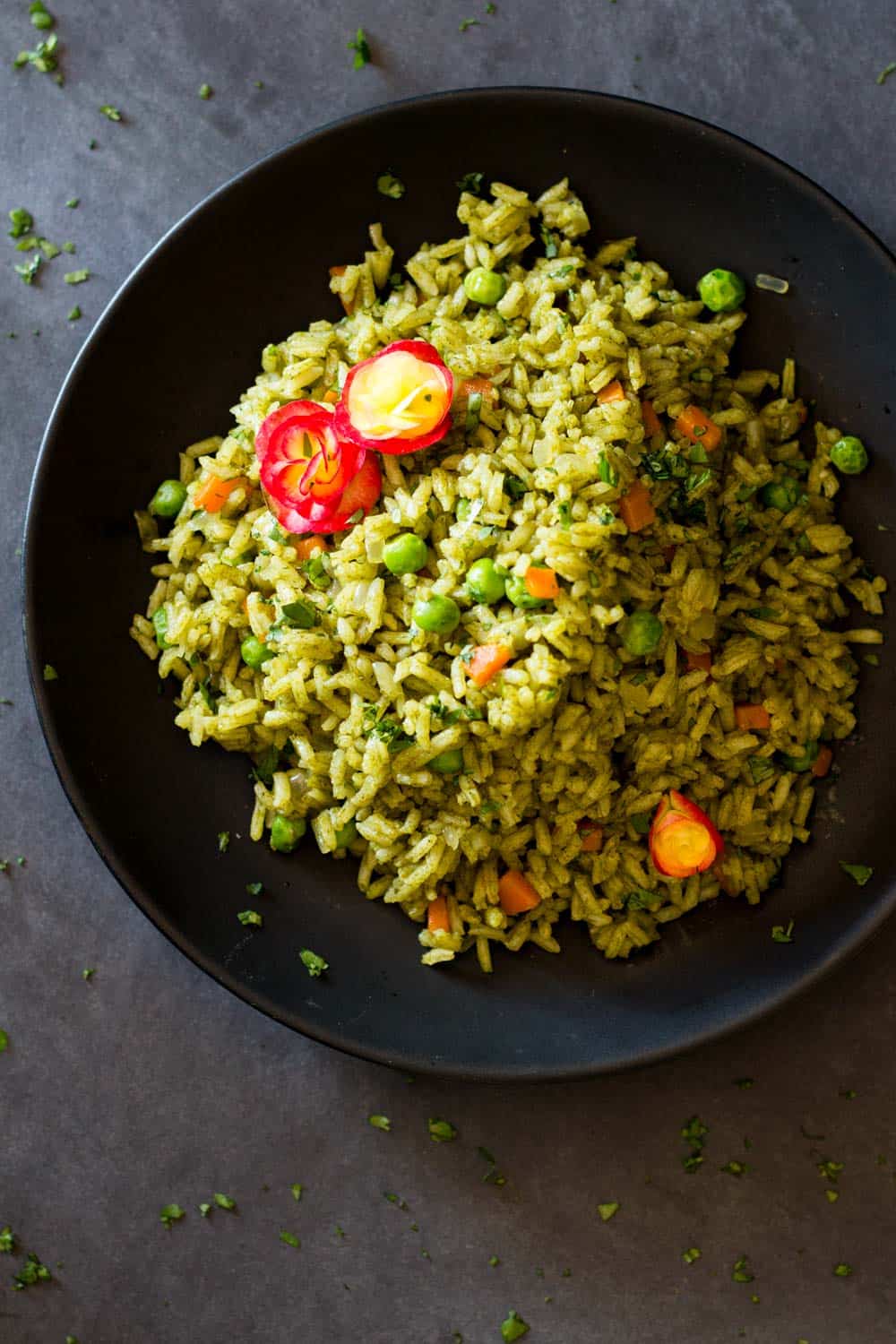 If you want to incorporate more rice into your diet although you're not a big fan, I urge you to try this recipe. I promise you, you will love it. Besides, who doesn't want his kitchen to smell like a 5-star Peruvian restaurant?!?!
If you like this recipe or Peruvian cuisine in general, I'm sure you will absolutely enjoy this Peruvian Lamb Stew and this Cauliflower Fried Rice.
Peruvian Green Rice
This Peruvian Green Rice is hands down the best side rice in the world! A bunch of coriander not only makes it green but extraordinarily nutritious and delicious!
Print Recipe
Ingredients
50-60

g

fresh coriander

1.5

cups

water

1.5

Tbsp

bacon fat

-

(fat released from about 2 strips of bacon you had for breakfast ;)

1

small

onion

1

clove

garlic

1

cup

jasmin rice

1.5

tsp

Salt

1/4

cup

peas

1

carrot
Instructions
Peel and chop onion, peel and crush garlic and peel and dice carrot.

Preheat a large pot over medium heat.

Add coriander and water to blender and blend until coriander is completely liquified.

Add bacon fat to pot, then add onion, crushed garlic and diced carrot. Fry until onion is translucent. About 3 minutes.

Add jasmine rice, coriander water and wait until water boils.

Once it boils, immediately turn heat down to low and cover with a tight sitting lid.

Cook for approximately 10 minutes, until all water has been absorbed.

Add peas and fluff rice with a fork.

Sprinkle some chopped fresh coriander on top for decoration and serve immediately.
Nutrition
Calories:
240
kcal
|
Carbohydrates:
42
g
|
Protein:
4
g
|
Fat:
5
g
|
Saturated Fat:
2
g
|
Cholesterol:
4
mg
|
Sodium:
904
mg
|
Potassium:
214
mg
|
Fiber:
2
g
|
Sugar:
2
g
|
Vitamin A:
3460
IU
|
Vitamin C:
9.4
mg
|
Calcium:
33
mg
|
Iron:
0.8
mg
Have you tried this recipe?
Take a picture and tag @greenhealthycooking Can't wait to see your version!