chicken breast and white rice
or
chicken thighs and brown rice
. You'll see, this instant pot recipe will become your new favorite dinner!
The Perfect One-Pot Dinner Recipe
Ever since experimenting with
instant pot rice
and
instant pot chicken
I reckoned it's time to figure out how to combine the two and make a one-pot meal out of both. The advantage of a pressure cooker is that water doesn't evaporate, you cook grains like rice with less water and avoid any kind of mushiness. Now, exactly this is why the Instant Pot is perfect for cooking chicken and rice at the same time. Since there is little water involved the chicken "sits" on the rice, as opposed to being submerged in water. You basically steam the chicken breasts or chicken thighs and they come out super duper tender and juicy. Boiled chicken breast or chicken thighs are
horrible
if you ask me and steamed is the absolute best for moist, juicy meat. If you don't have an Instant Pot though you can obviously also make regular
1-Pot Chicken and Rice
on the stove.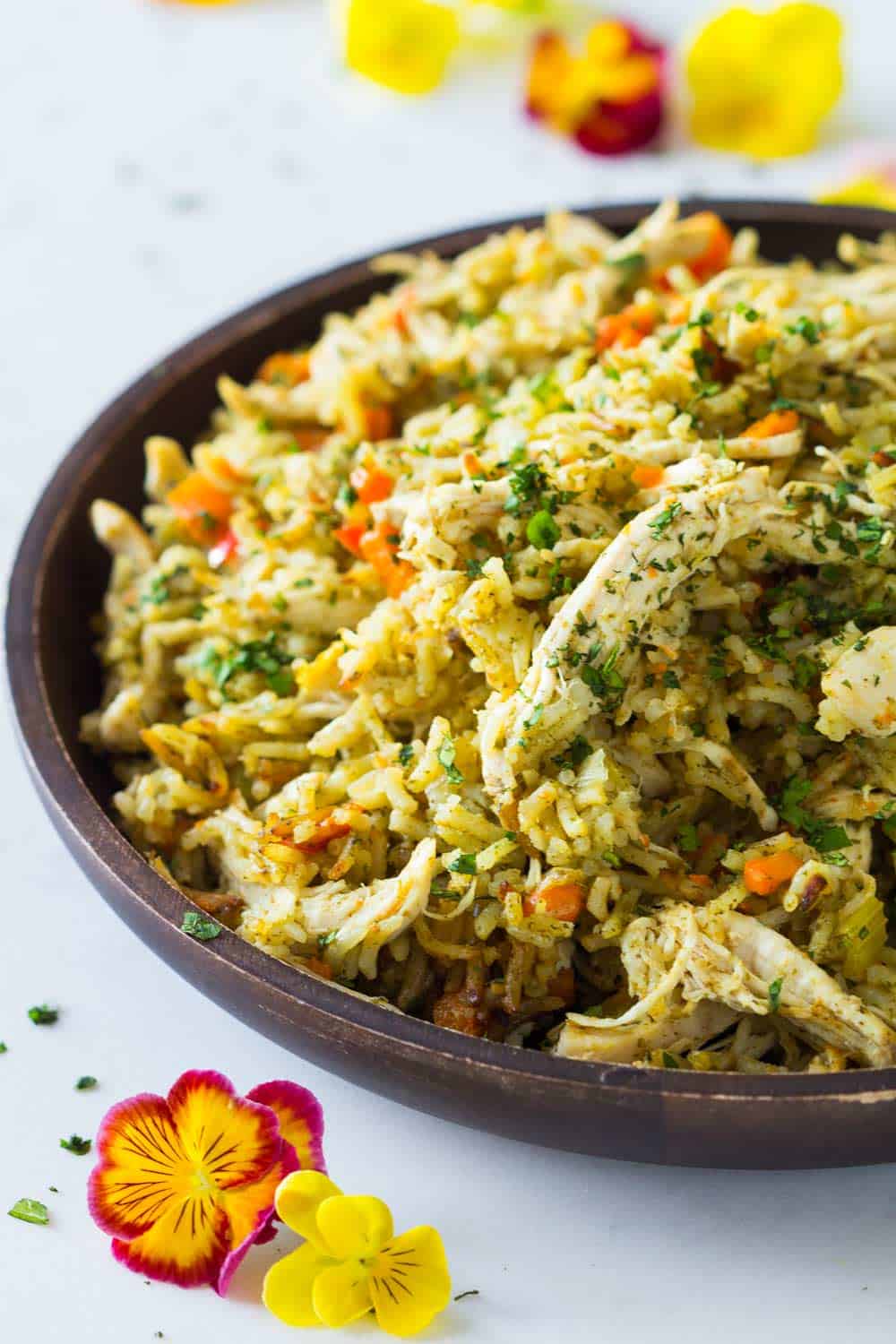 Instant Pot Chicken Breasts and Rice
The original recipe initially was for chicken breasts and white rice in the Instant Pot and I tested it extensively! This recipe has never failed me and the majority of you have had no problems and love it. Some people haven't had success with the recipe though and after troubleshooting with them we came to the grain of the problem. Here the list of things you have to pay special attention to so you can be successful, too:
Preheat the Instant Pot and sauté garlic and onion in order to bring the instant pot to the right temperature before the high-pressure cooking process.
Do not use chicken breasts much larger than 6.5 oz (180g). If your chicken breasts are bigger I recommend cutting them into 1″ cubes to ensure they cook through.
The sealing knob has to be in the sealing position and the IP has to come to high pressure without any air or steam coming out of the knob. If there is air or any noise coming out it means the sealing ring isn't positioned properly and needs to be adjusted.
After the 5 minutes high-pressure and 10 minutes natural pressure release the chicken is JUST cooked. It won't be dry but it shouldn't be pink at all, just white.
If your pin dropped before the 10 minutes the pot most likely didn't get to high pressure. After the 10 minutes natural pressure release there should still be quite a bit of pressure to be released.
Instant Pot Chicken Thighs and Rice
I've had many people ask for versions of the original recipe with brown rice. And I've had people ask for versions with chicken thighs instead of breasts. After what feels like a million test trials I finally got the formula!! YAY!!! The problem is white rice needs only a short amount of cooking time and so do chicken breasts. That's why they are easy to combine. Brown rice, however, takes triple the time to cook and breasts dry out during that process. The secret is in using brown rice and
bone-in
chicken thighs! The brown rice / chicken thigh version was even better than the chicken breast / white rice version in my opinion. I am SO happy you asked me to experiment. All your questions and comments always lead to further improvements of recipes on my blog.
How To Avoid The Burn Warning
Some Instant Pots are hormonal teenagers it feels like and if you don't treat them a certain way they tell you straight in your face: burn. *sigh* Unfortunately, all chicken and rice recipes easily trigger the hormonal teenager so here is how to handle the situation. This is parent-to-parent advice ;) Try and avoid the burn warning from the get-go by paying attention to the following:
Don't skimp on the fat for sautéing the onion and garlic.
After sautéing the onion and garlic ensure no burnt bits and pieces are stuck to the bottom of the pot. If necessary add a splash of water and deglaze the bottom with a wooden spoon to really scrape everything off.
Have ingredients already measured out and ready to go so no time is wasted. This is especially important for the diced vegetables. Have them chopped and all in one bowl ready to add.
Once you add the rice you have to work quickly. Don't let the dry or rinsed rice sit on the hot plate without liquid for longer than 5 seconds. Add the cilantro water immediately after adding the rice and stir.
Do not mix in the vegetables and chicken. Let them sit on top of the rice.
Put on the lid quickly. From the moment you add the rice to the moment you close the lid should not be longer than maybe 30 seconds. The longer it takes you to put on the lid, the more liquid evaporates, and the higher the chances you'll get the burn warning.
Frequently Asked Questions
Can you cook rice and meat at the same time in the Instant Pot?
Absolutely! As long as you choose the right cooking time to ensure either are well cooked through it is perfectly safe to cook both at the same time.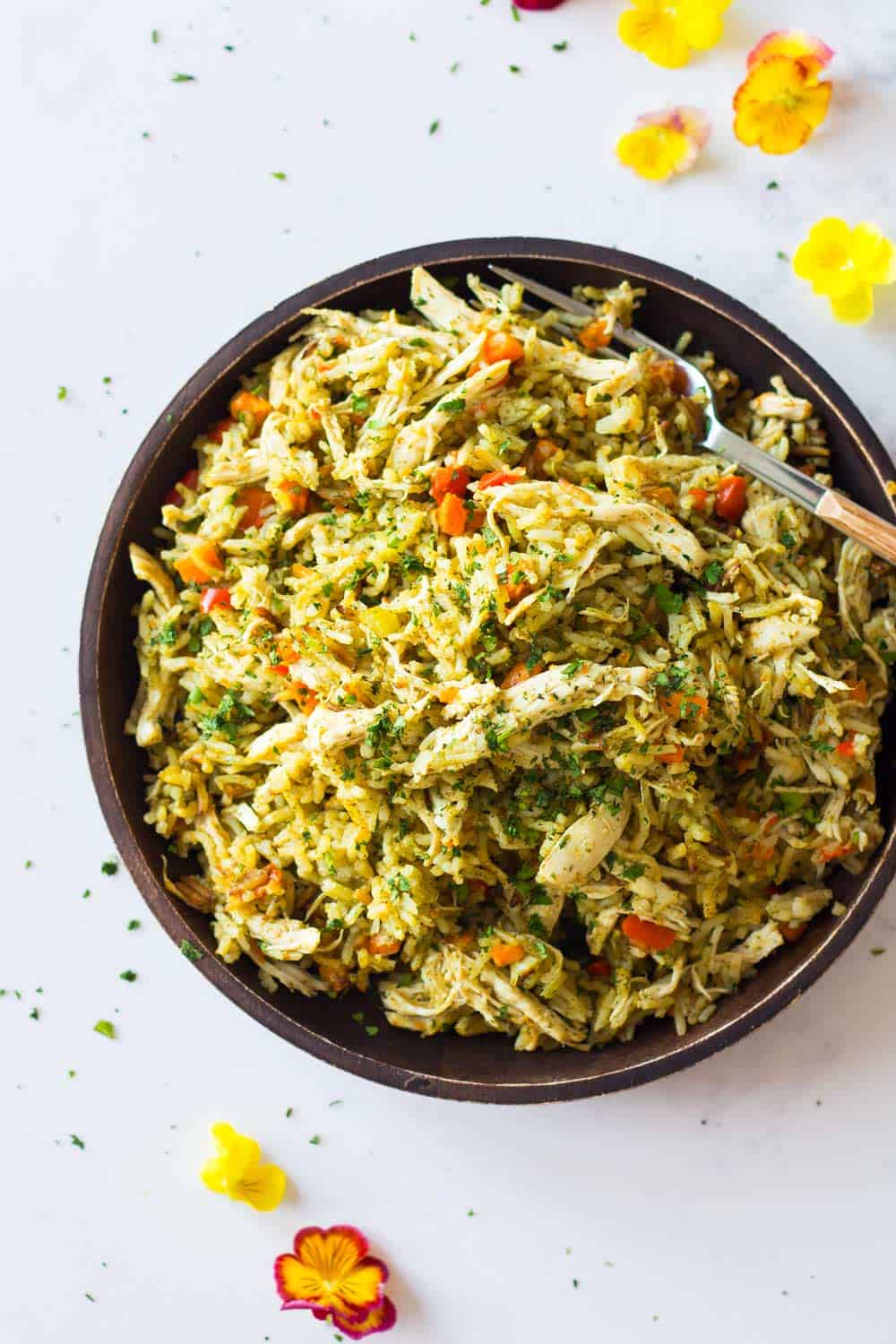 Can you put raw chicken in the Instant Pot?
Yes! As long as you make sure chicken reaches 165F internal temperature it is 100% safe to add to the Instant Pot.
Why did my rice burn in the Instant Pot?
If you add dry or rinsed rice to an already preheated or hot Instant Pot and don't add liquid to it at the same time or very quickly after your rice will immediately stick to the bottom and start burning.
Further Questions
If you have ANY questions left about how to make Chicken and Rice in the Instant Pot or any other pressure cooker, please let me know in the comments below. Happy to go back in the kitchen and experiment. If you tried the recipe please make sure to rate it this helps others decide if they want to make it :)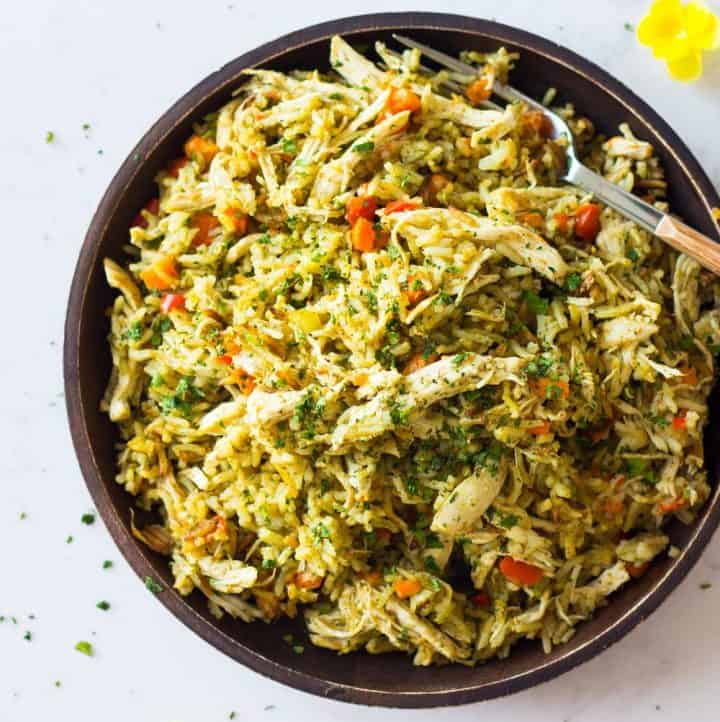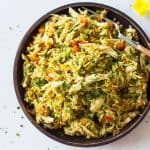 Instant Pot Chicken and Rice
Instant Pot Chicken and Rice is the perfect comfort food all year round! Make it entirely in the electric pressure cooker to save on dishes! Either chicken breast and white rice or chicken thighs and brown rice.
Print Recipe
Pin Recipe
Ingredients
2

5oz / 10 oz

chicken breasts / bone-in skinless chicken thighs

-

(Either 2 five-ounce chicken breasts if you are making the recipe with white rice. OR. 2 ten-ounce bone-in chicken thighs if you are making the recipe with brown rice.)

1

bunch

cilantro

1

cup

water

-

(at room temperature, not cold!)

1/2

Tbsp

ghee or bacon fat or avocado oil

1

small

diced onion

2

cloves

garlic

1

cup

white basmati rice or brown basmati rice

-

(choose white or brown depending on the type of chicken you are using)

1

cup

diced carrot

1

cup

diced celery

1

cup

diced red bell pepper

Salt

Pepper

cilantro for garnishing
Instructions
Generously season chicken with salt and pepper on both sides and set aside.

Peel and dice carrot, dice celery, deseed and dice bell pepper. 

Add cilantro and room-temperature water into a blender and blend until completely smooth.

Peel and chop onion and garlic.

Preheat Instant Pot by pressing the "sauté" button.

Once the Instant Pot's display says "hot": add fat or oil, chopped onion, and garlic, and sauté until translucent.

Stir often. Make sure no burnt bits of onion or garlic are stuck to the bottom of the pot. If for some reason there are, deglaze by adding a tablespoon or two of water and scrape with a wooden to remove all bits from the bottom.

Now work fast: add rice, salt and pepper to Instant Pot and then pour in cilantro water and give it a quick stir. Add diced vegetables on top in one layer (do not mix in!) and then top with seasoned chicken breasts. Then IMMEDIATELY close lid to avoid water from evaporating (<-important!)

Turn venting knob to "sealing", hit "cancel" and then "manual" and adjust to 6 minutes high pressure for chicken breast / white rice version OR 22 minutes for chicken thigh / brown rice version.

Wait for full natural pressure release. This means once the pot beeps don't do anything. Don't touch the valve and instead just wait for the safety pin to drop on its own. This can take anywhere from 15-25 minutes.

Open the pot and enjoy the smell! Then use two forks to shred the chicken. Mix it all and serve immediately with some fresh cilantro sprinkled on top.
Notes
*Please read the blog post section where I go into detail about what to pay attention to in order to succeed to avoid any error messages from the pot.
nutritional info is for white rice and chicken breast.
I might have come to the bottom of the "burn" warning. If once you add the liquid you work slowly, too much water evaporates and then there isn't enough liquid left in the pot to get to pressure and cook the rice. To be able to work at whichever pace you feel comfortable you can simply, turn off the pot once the onion is translucent, take two oven mitts and remove the inner pot from the instant pot and put on a heat-proof surface, then add all the remaining ingredients (rice, liquid, veggies, chicken...) and then put the inner pot back into the instant pot and proceed as written in the instructions.
Nutrition
Calories:
405
kcal
|
Carbohydrates:
60
g
|
Protein:
26
g
|
Fat:
6
g
|
Saturated Fat:
1
g
|
Trans Fat:
1
g
|
Cholesterol:
60
mg
|
Sodium:
178
mg
|
Potassium:
805
mg
|
Fiber:
4
g
|
Sugar:
6
g
|
Vitamin A:
9043
IU
|
Vitamin C:
71
mg
|
Calcium:
66
mg
|
Iron:
1
mg
Have you tried this recipe?
Take a picture and tag @greenhealthycooking Can't wait to see your version!