A delicious warm Wild Rice Salad made with sautéed mushrooms, a sweet crunchy apple, salty soft goat cheese, and crunchy chopped walnuts. An explosion of taste and texture!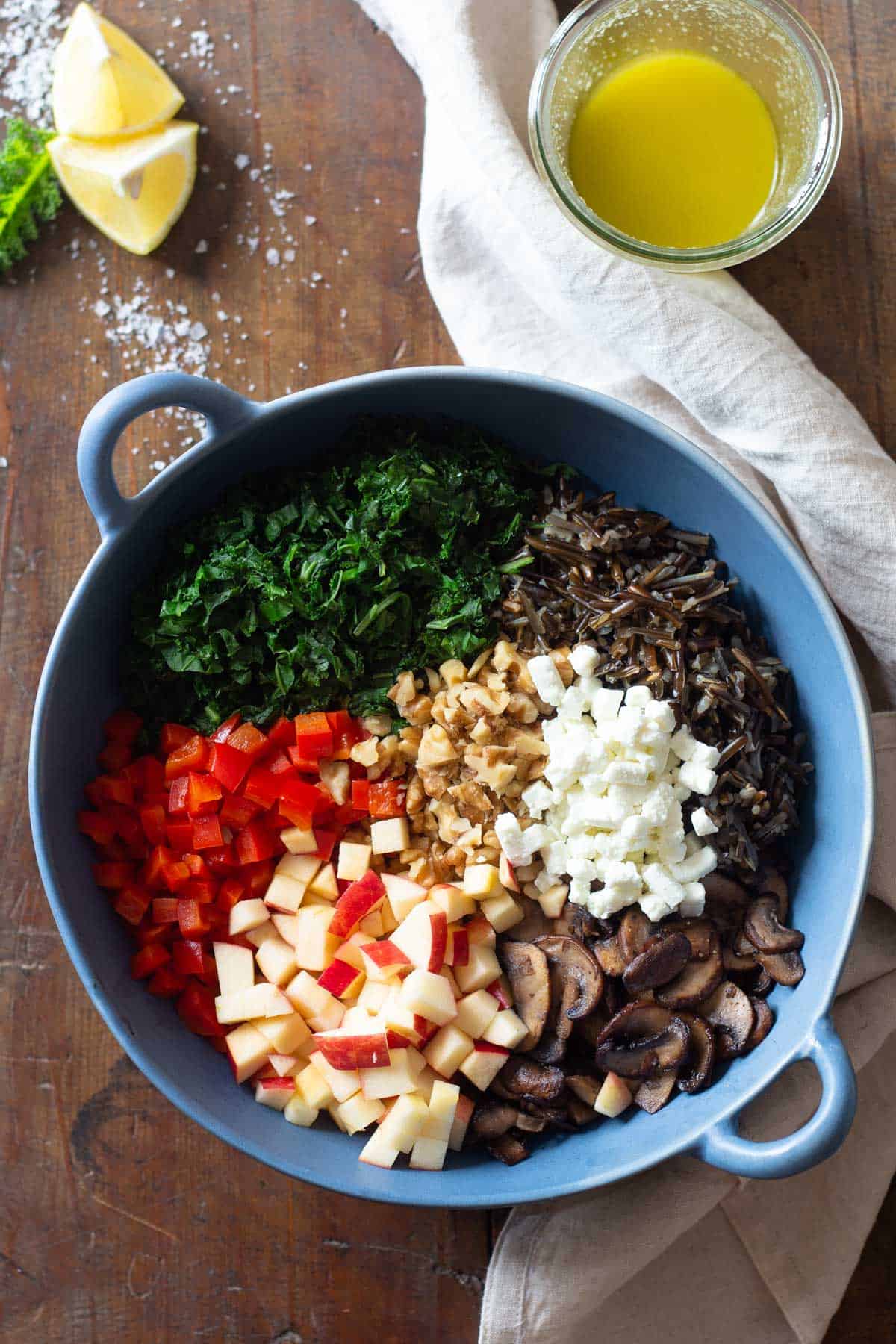 The ingredients
Wild rice – make sure you use wild rice. Not wild rice *blend*. Yes, you can replace it with brown rice but to be honest, I like this salad better for brown rice.
Mushrooms – I know, I know. Some people just don't like mushrooms. I encourage you to try them though and follow my cooking instructions to a T. Most people have a problem with their texture and the cooking method is SUPER important for great texture and not soggy texture. If you sitting here feeling like you want to p*** (lol), simply leave them out.
Bell Pepper – Any color will do but red "looks" the nicest. You can also replace with carrots if you prefer.
Kale – Curly kale tastes better in this wild rice salad than dragon kale. If you're not a kale fan, use either baby spinach, or Swiss chard.
Apple – it gives the salad a sweet crunch and tastes AMAZING combined with the other warm ingredients. Pear is a great replacement if you don't have apples on hand. No other fruit though. It has to be a hard fruit that doesn't become soggy.
Walnuts – In my opinion, the best nut in this combo but pecans or almonds obviously work great as well.
Goat's Cheese – I love the softness of the goat's cheese in a wild rice salad. It somewhat melts into the dressing and makes it all creamy. Crumbled feta tastes great, too though.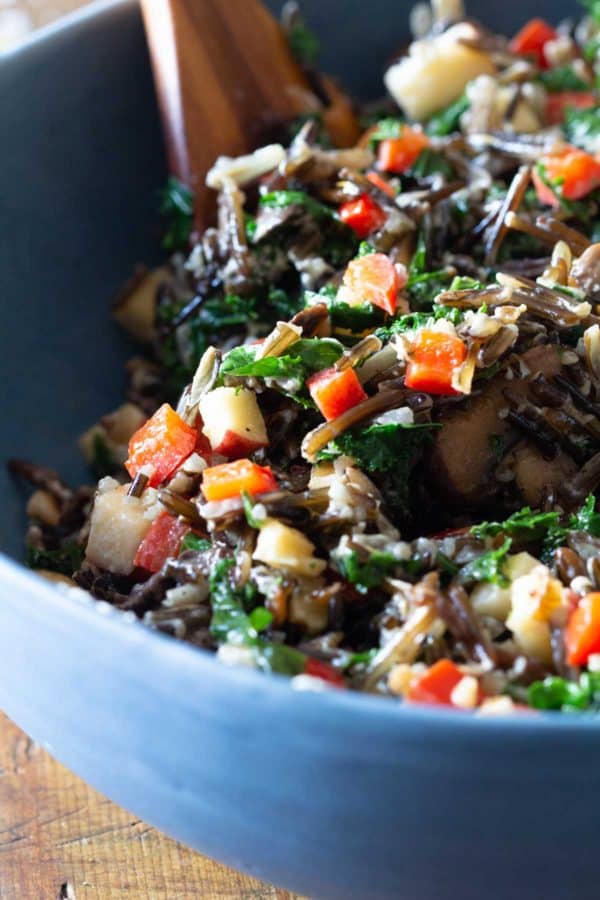 Frequently Asked Questions
Which is the best wild rice for salad?
Any brand will be fine. The important thing is that the bag should say "wild rice" exclusively. Do not choose a wild rice *blend*. Wild rice blends contain all kinds of different types of rice including wild rice and this will change the recipe a lot.
How long does wild rice take to cook?
The best and fastest way to cook wild rice is in the Instant Pot. You set it and forget it and it turns out perfect every single time.
If you don't own an instant pot you can cook it on the stove. I recommend using a small pot with a tight-fitting lid without a hole in it for the best results. 1 cup of wild rice tends to cook in 45-60 minutes.
Why is wild rice so expensive?
The short answer: Expensive methods of cultivation.
The long answer: Wild rice, despite its name, isn't really rice. It's the seed of a tall aquatic wild grass that grows only in fresh water under weather conditions given in North America where it's native to. Large-scale commercial cultivation isn't possible.
Considering the exceptional nutritional value though it's 100% worth it. You can only half the amount of wild rice to get almost the same amount of protein as brown rice. And brown rice is already a nutritional powerhouse.
Can you eat wild rice cold in a salad?
Yes! Wild rice is delicious hot, warm, and cold. It's absolutely delicious at all temperatures. In a salad I love eating it warm with other warm ingredients like freshly sautéed and still warm mushrooms. In a wild rice soup I love it hot of course. When used in meal prep bowls and mixed with other grains I eat it cold.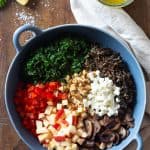 Warm Wild Rice Salad
A delicious warm Wild Rice Salad made with sautéed mushrooms, a sweet crunchy apple, salty soft goat cheese, and crunchy chopped walnuts. An explosion of taste and texture!
Print Recipe
Pin Recipe
Ingredients
1

cup

wild rice

-

*not wild rice blend, just wild rice

8

oz

brown mushrooms

1

red bell pepper

1

bunch

kale

1

Tbsp

butter

1/4

cup

olive oil

1/2

lemon

1

tsp

Dijon mustard

1

tsp

honey

1/4

cup

chopped walnuts

1/4

cup

crumbled goat cheese

1

red apple

sea salt

pepper
Instructions
Instant Pot: 1 cup wild rice + 1 cup water + pinch of salt. 30 mins high pressure + full pressure release.Stove: 1 cup wild rice + 3 cups water + pinch of salt. Bring to a boil, cover, reduce heat to simmer, cook for 45-60 minutes or until some kernels burst. Drain excess water.

While the rice is cooking, prepare all the rest.

Slice all mushrooms into about 1/4" sliced. Set aside.

Deseed and dice the red bell pepper into about 1/4" dice. Set aside.

Destem the kale by pulling on the stem with one hand and on the leave with the other (see video). Then thinly slice just the leaves and discard the stems. Set aside.

Preheat a large pan over medium heat and once hot, add 1/2 Tbsp butter and once melted add your sliced mushrooms. Stir fry the mushrooms while constantly stirring. You want to avoid steam building and the mushrooms starting to cook in their own juices. Stir so the steam can escape and the mushrooms fry instead of steam. Once nice and brown, season with sea salt and pepper, remove from the pan and set aside.

Add a tiny bit of butter and sauté the diced bell pepper for about 3 minutes, season with sea salt and pepper, remove and set aside.

Add a bit of butter again and stir-fry the sliced kale for 2 minutes.

Add the olive oil, lemon juice, Dijon mustard, honey, sea salt, and pepper, to a sealable container, seal it and shake to combine.

Add the cooked wild rice, kale, bell pepper, and mushrooms to a large salad bowl, top with chopped walnuts, and crumbled goat cheese, add a freshly diced red apple to it all and drizzle the dressing over it. Give it a good toss and enjoy.
Nutrition
Calories:
444
kcal
|
Carbohydrates:
47
g
|
Protein:
13
g
|
Fat:
25
g
|
Saturated Fat:
6
g
|
Cholesterol:
14
mg
|
Sodium:
113
mg
|
Potassium:
747
mg
|
Fiber:
5
g
|
Sugar:
10
g
|
Vitamin A:
4438
IU
|
Vitamin C:
86
mg
|
Calcium:
101
mg
|
Iron:
2
mg
What's your clean eating vibe?
Take this fun QUIZZ and find out in 10 seconds!