A combination of your two favorite recipe qualities: quick and Mexican. Hehe. This 20-Minute Mexican Picadillo is a great healthy weekday dinner recipe.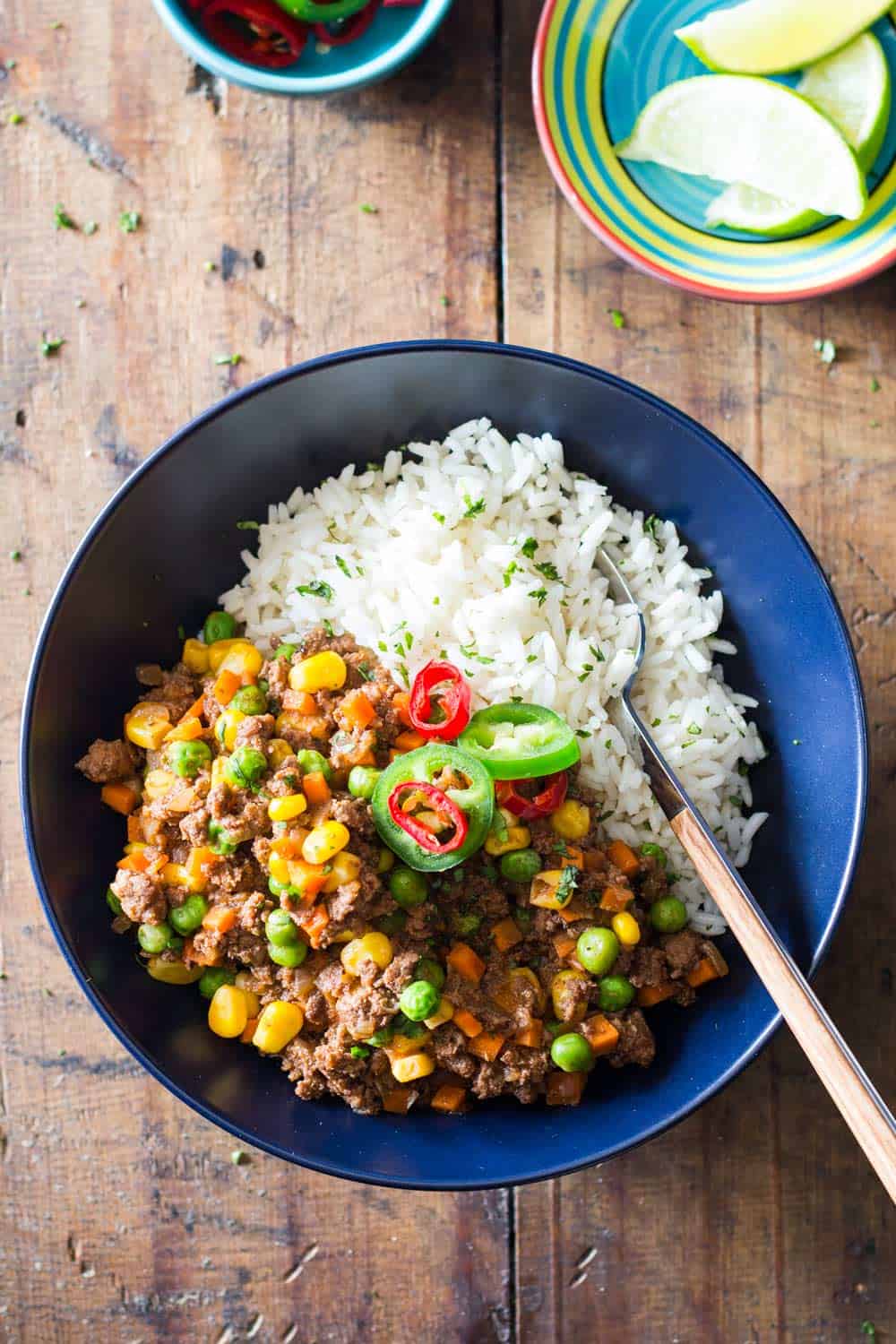 I love preparing more elaborate dishes on the weekend or when I have guests over for dinner parties. During the week I'm just as busy as most of you though and I'm in need of quick and easy meals, too.
I often end up making chicken breasts or fish filets with lettuce and that's it. That's healthy, sure, but preeeetty boring if eaten too often. I'm on a mission lately to create loads and loads of 20-Minute or 30-Minute dinner recipes for busy weekdays.
Apart from the quinoa breakfast series and the holiday recipe ideas of course. Ummm, can the days please have 30 hours instead of 24?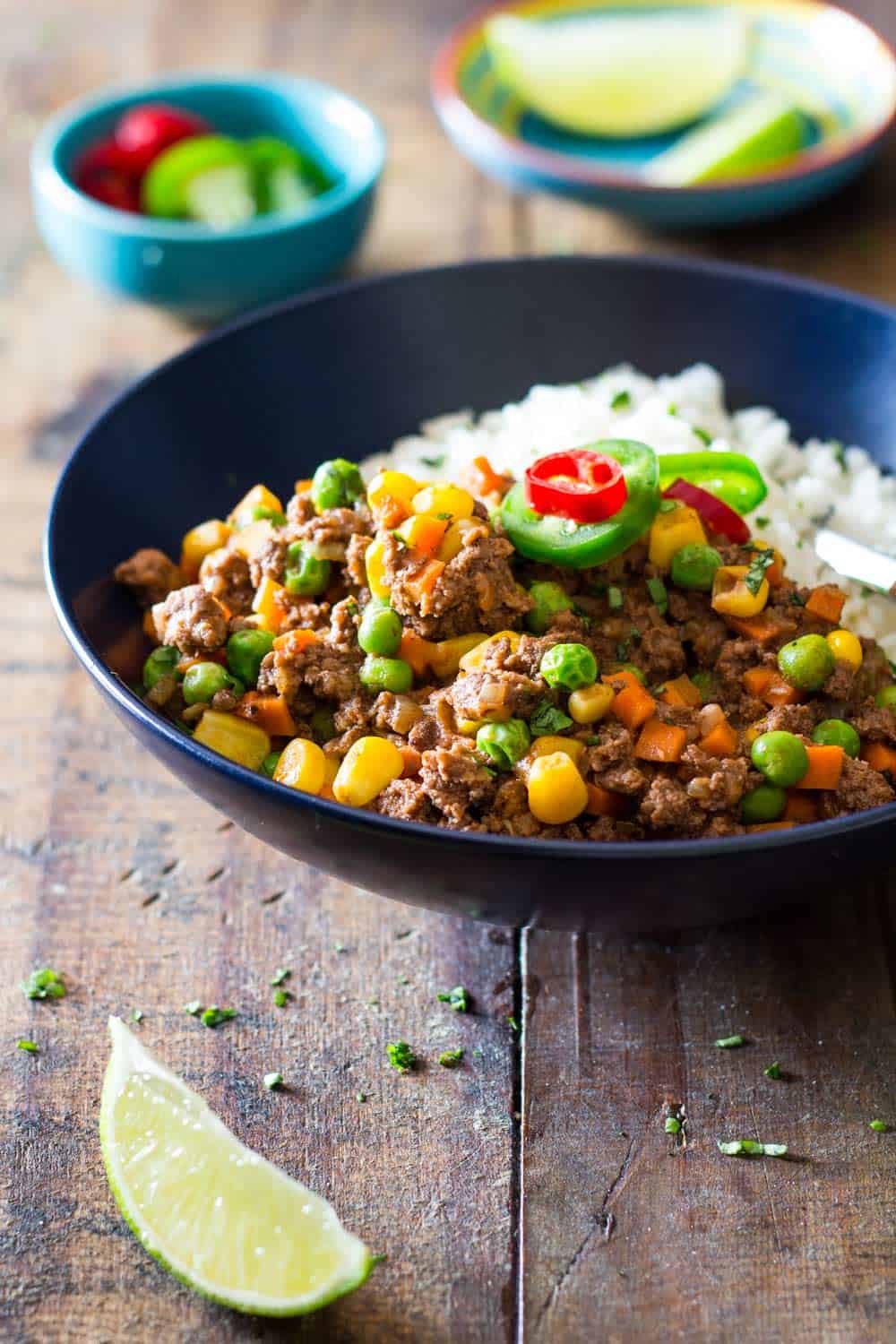 Anyway, today I've got one of those 20-Minute dinner recipes for you. Wheeeee! Not only that. I made it Mexican. Wheeee again. You guys really seem to like Mexican food based on what recipes you visit the most on Green Healthy Cooking. I completely understand though. Mexican food is indeed amazing. Today Green Healthy Cooking is all about Mexican Healthy Cooking and Picadillo.
What exactly is Picadillo?
The word Picadillo is a combination of two Spanish words. Picado which means minced or chopped and platillo which means dish. It's basically a dish with all its ingredients chopped or minced into small pieces.
Most picadillos I've tried in Mexico so far were always with ground pork but many like using ground beef as well. It is typically served with white rice or tortilla and also often used as filling chiles rellenos or empanadas.
How to make Mexican Picadillo with Ground Beef?
There are many ways to prepare Picadillo and every family has their own traditional recipe. This specific Mexian Picadillo with Ground Beef is my husband's grandma's version of it. Not exactly of course, I don't even remember exactly what she put in it, but pretty close :)
It contains ground beef, chopped onion, diced carrot, frozen corn, frozen peas and tomato sauce and broth. It requires one pan and you're good to go. Fry the onion, fry the beef and carrot with a bit of lime juice, add the tomato sauce and broth, let simmer for maybe 5 mintues, add corn and peas and tadaaaaa!
You can serve it with either rice or simply bread. The best bread would obviously be Mexican Dinner Rolls a.k.a. "Bolillos". For a 20-minute meal you'll have to serve with white rice though, my favorite quick to prepare grain :)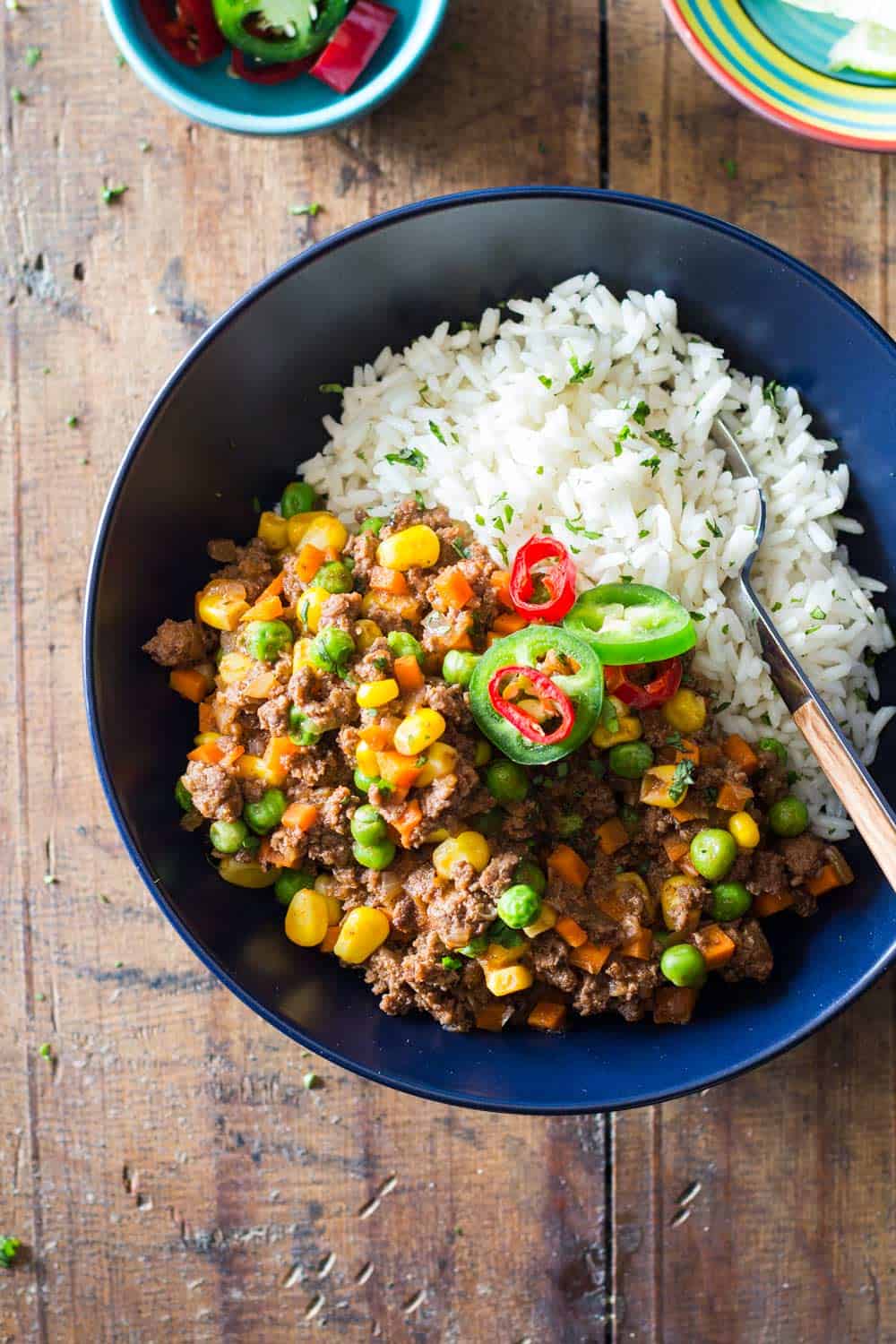 Can you freeze Mexican Picadillo?
ABSOLUTELY! Super easy. Just wait for the Mexican Picadillo to completely cool down, store in a freezer-proof container with airtight sitting lid or a ziplock bag and freeze.
To defrost just put in the fridge for 18-24 hours. Every night I check my mealplan to see what we are having for lunch/dinner the next day and if I have to transfer something from the freezer to the fridge. Once it's defrosted you can just warm it up in a pan. You might have to add a splash of water and reseason a little but other than that, you've got dinner ready in 5 minutes tops.
If you want to make this as part of a grain-free dinner you can serve it with this amazing Mexican-Style Side Salad or if you'd rather like something spongy to dunk into the delicious sauce of the picadillo the best would obviously be homemade Mexican Dinner Rolls. YUM!
20-Minute Mexican Picadillo
A combination of your two favorite recipe qualities: quick and Mexican. Hehe. This 20-Minute Mexican Picadillo is a great healthy weekday dinner recipe.
Ingredients
1

small

onion

2

small

carrots

500

g

lean ground beef

(a little more than a pound)

1/2

Tbsp

lime juice

(about 1/2 a lime)

1/2

tsp

cumin

1/2

tsp

sea salt

1/4

tsp

Pepper

1/2

cup

tomato sauce

1/2

cup

chicken broth

1/2

cup

frozen peas

1/2

cup

frozen corn

1

Tbsp

chopped fresh coriander

(optional)

1

chili

(optional)
Instructions
If needing rice as a side start by preparing rice and while rice is steaming prepare the Mexican Picadillo.

Heat a large pan or skillet over medium-high heat.

Peel and chop onion. Peel and dice carrots.

Add a splash of flavorless oil to your pan, then add onion and fry until translucent stirring often.

Add diced carrots, ground beef and lime juice, salt, pepper and cumin to pan and break up the ground beef into small pieces so it doesn't stick together.

Add tomato sauce and chicken broth and bring to the boil. Once boiling reduce heat to low and let simmer for approximately 5 minutes. Stir often to ensure meat cooks evenly.

Add frozen peas and corn and let simmer another 2-3 minutes or until frozen vegetables are hot.

Sprinkle with chopped fresh coriander and fresh chili if you like.

Serve over rice or with bread.
Nutrition Facts
20-Minute Mexican Picadillo
Amount Per Serving
Calories 317
Calories from Fat 81
% Daily Value*
Total Fat 9g 14%
Cholesterol 103mg 34%
Sodium 883mg 37%
Potassium 1072mg 31%
Total Carbohydrates 19g 6%
Protein 39g 78%
* Percent Daily Values are based on a 2000 calorie diet.
WHAT CAN BE PRESSURE COOKED WITH WHAT?
Get access to my FREE cheat sheet to help you mix and match ingredients.