This easy Mexican Picadillo is based on my grandmother-in-law's original Picadillo recipe. The perfect busy weeknight dinner. Chock full of veggies and flavor.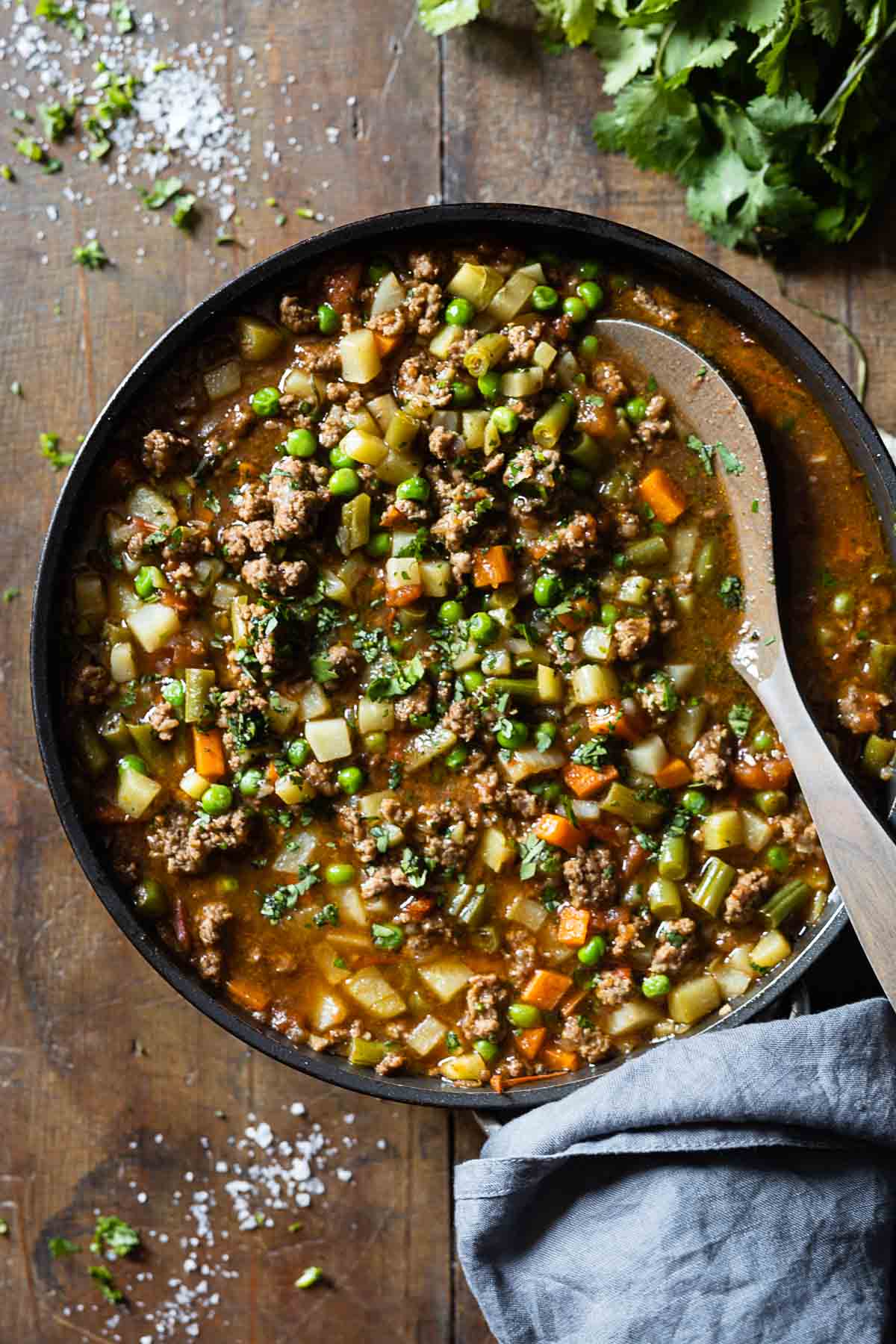 What Exactly Is Picadillo?
The word Picadillo is a combination of two Spanish words. Picado which means minced or chopped and platillo which means dish. It's basically a dish with all its ingredients chopped or minced into small pieces.
A lot of picadillo recipes I've tried in Mexico so far were with ground pork but many like using ground beef as well. It is typically served with white rice, tortilla, or Bolillos (Mexican rolls). Many also use it as a filling for chiles rellenos or empanadas.
The Ingredients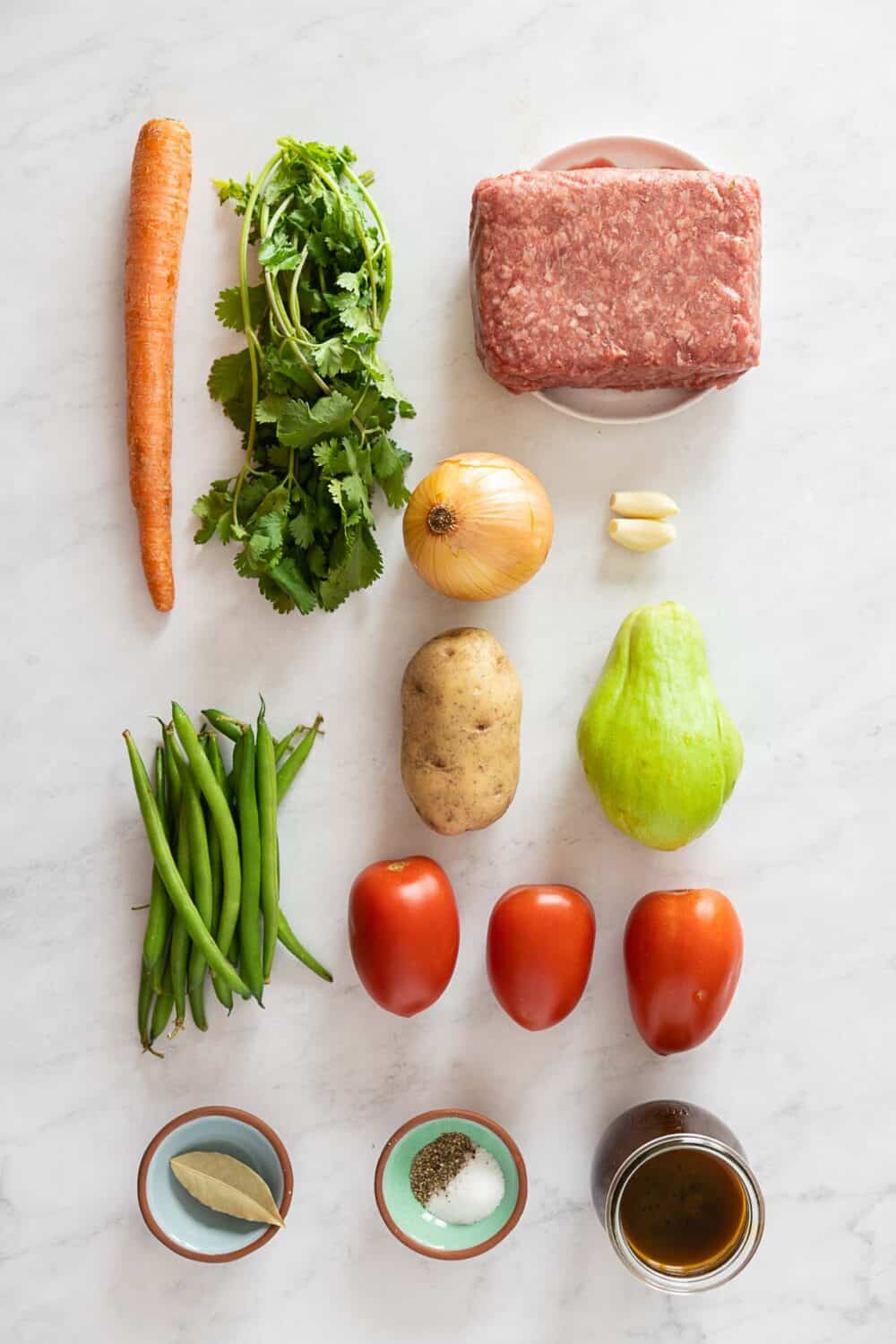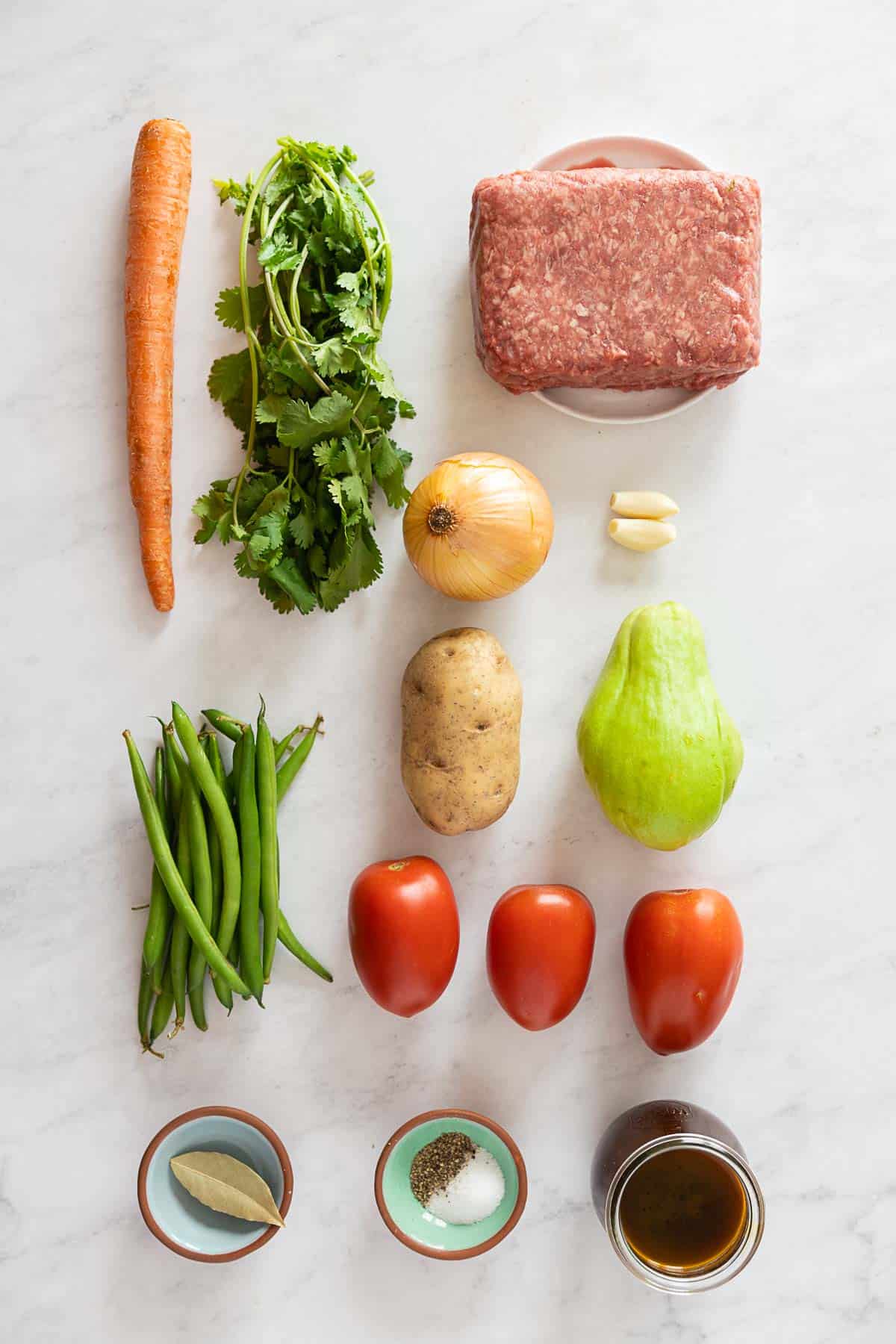 Onion & garlic — the flavor makers of any recipe really. Us yellow onion for this dish and anywhere from 2-4 cloves of garlic depending on how much you like the flavor of garlic.
Protein — typical for Mexican Picadillo is either ground pork or ground beef or a mix of both. You can however also use ground turkey or ground chicken of course. If you want to make this recipe vegetarian I recommend cooked lentils.
Tomatoes — if you don't have fresh you can also use canned but there is nothing better than fresh Roma tomatoes for this dish.
Veggies — this is where the sky is pretty much the limit. My Mexican grandmother-in-law often calls this dish "let's-clean-out-the-fridge" Picadillo because she puts in whatever veggies are still left before grocery shopping day. My favorites are carrot, green beans, and chayote (an edible cactus that can easily be replaced by zucchini or celery if you can't get your hands on it).
Starch — to get the broth in which the dish cooks to become saucy you will need starch. The typical starch added is usually a starchy potato (the kind you use to make mashed potatoes) but if you don't have one you can also just add a bit of corn starch slurry during the last couple minutes of cooking.
Herbs — cilantro makes EVERYTHING better in my opinion but I know some of you don't like it. In this dish, you can perfectly replace it with parsley.
Broth — any broth works (beef, chicken, vegetable, mushroom, herb) but if making your Mexican Picadillo with ground beef, beef broth obviously tastes best in it.
Seasoning — sea salt, pepper, and a bay leaf are all you need because the cilantro and tomato give such great flavor already. If you like it spicy you can obviously add a bit of chili powder, too.
Peas — for a change I forgot to put the frozen peas in the photo because well, they were in the freezer. Peas are super typical in picadillo and taste delicious in it. Add some if you have.
How To Make Mexican Picadillo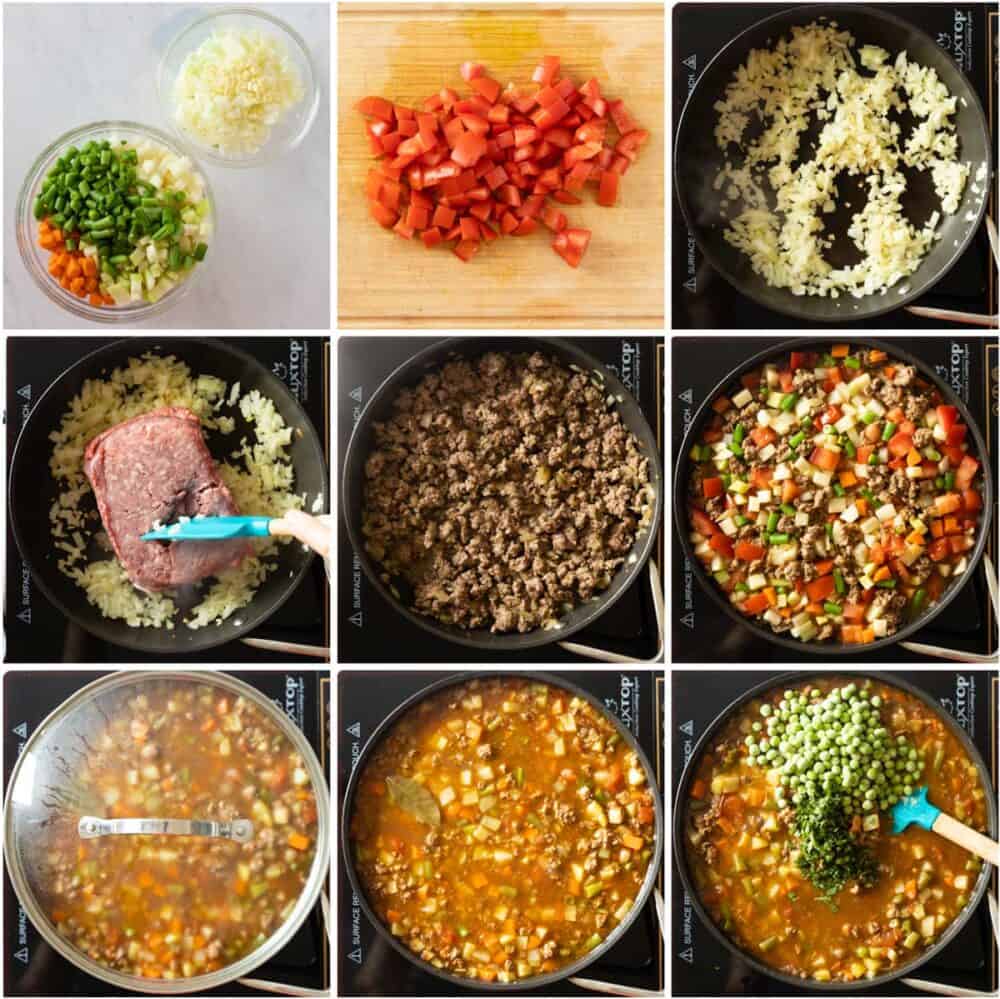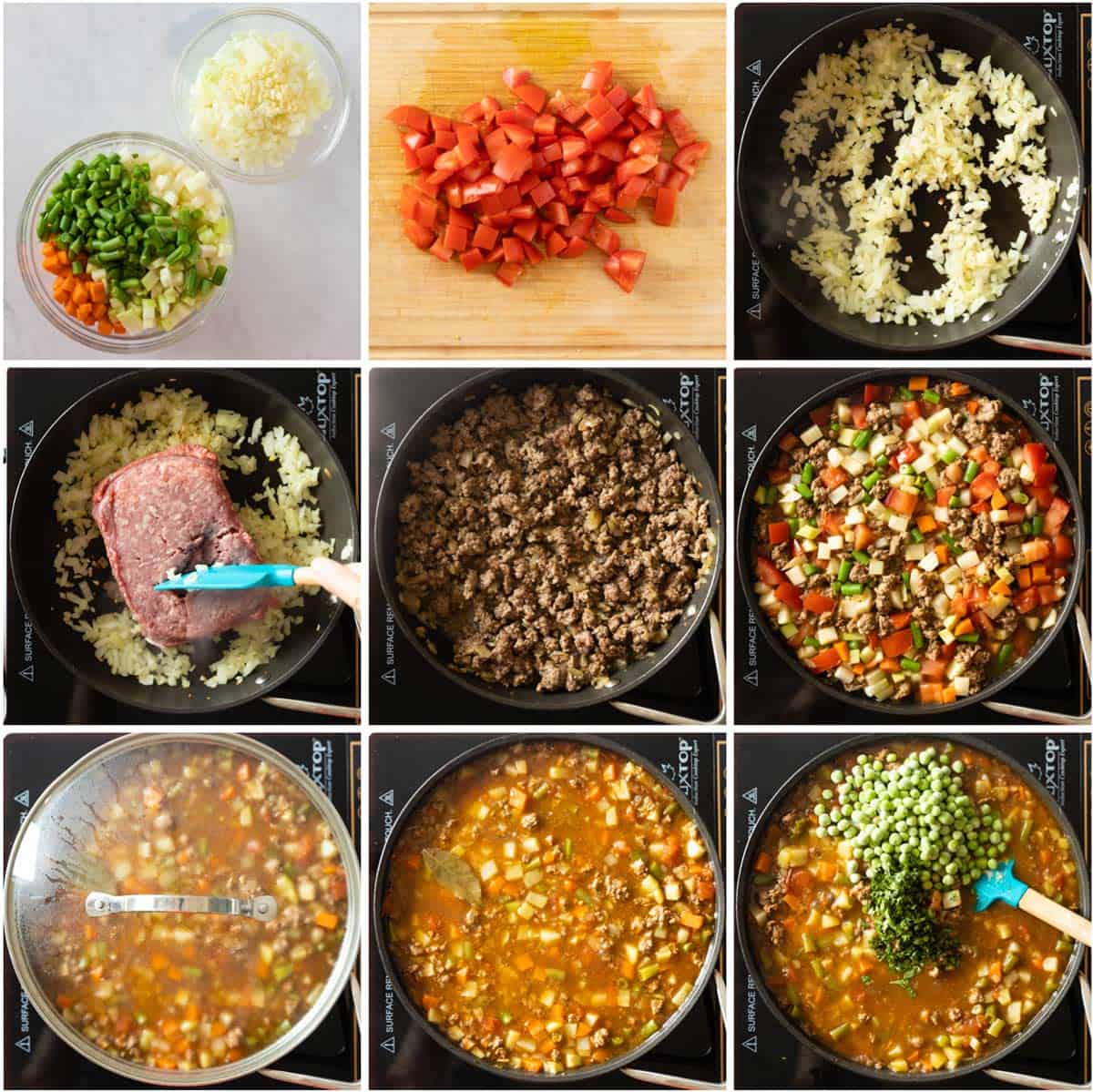 Chop veggies — take your time and chop the onion and garlic really finely and set them aside in a bowl. Then chop all your other veggies into about pea-size pieces and set them aside in a separate bowl.
Chop tomatoes — the size here is really not that important because they disintegrate during the cooking process anyway.
Sauté onion and garlic — preheat a large pan over medium heat, add a drizzle of olive oil and then add the chopped onion and garlic and sauté until translucent.
Brown ground beef — add the ground beef and break it apart with a spatula and make sure it browns nicely all over.
Add veggies, spices, broth – once the beef is nice and brown add all the veggies and chopped tomato as well as the spices and beef broth and flatten out everything so it's mostly submerged in the broth. Don't worry if it's not all submerged, the tomatoes still have to drop their juice and the broth level will rise.
Cover and simmer — bring everything to a boil, then cover the pan, and immediately reduce the heat to low. Let the Picadillo simmer for approximately 15 minutes.
Uncover and simmer — after the 15 minutes covered simmering all veggies, meat, and potato should be thoroughly cooked and it's time to give the broth a chance to become "saucy". Remove the lid and stir everything often so some water can evaporate and the potato's starch can get to work. This shouldn't take longer than 5-10 minutes.
Add peas & cilantro — once the broth is saucier you can remove the bay leave and add the frozen peas and chopped cilantro. Give it one last stir and it's ready to serve.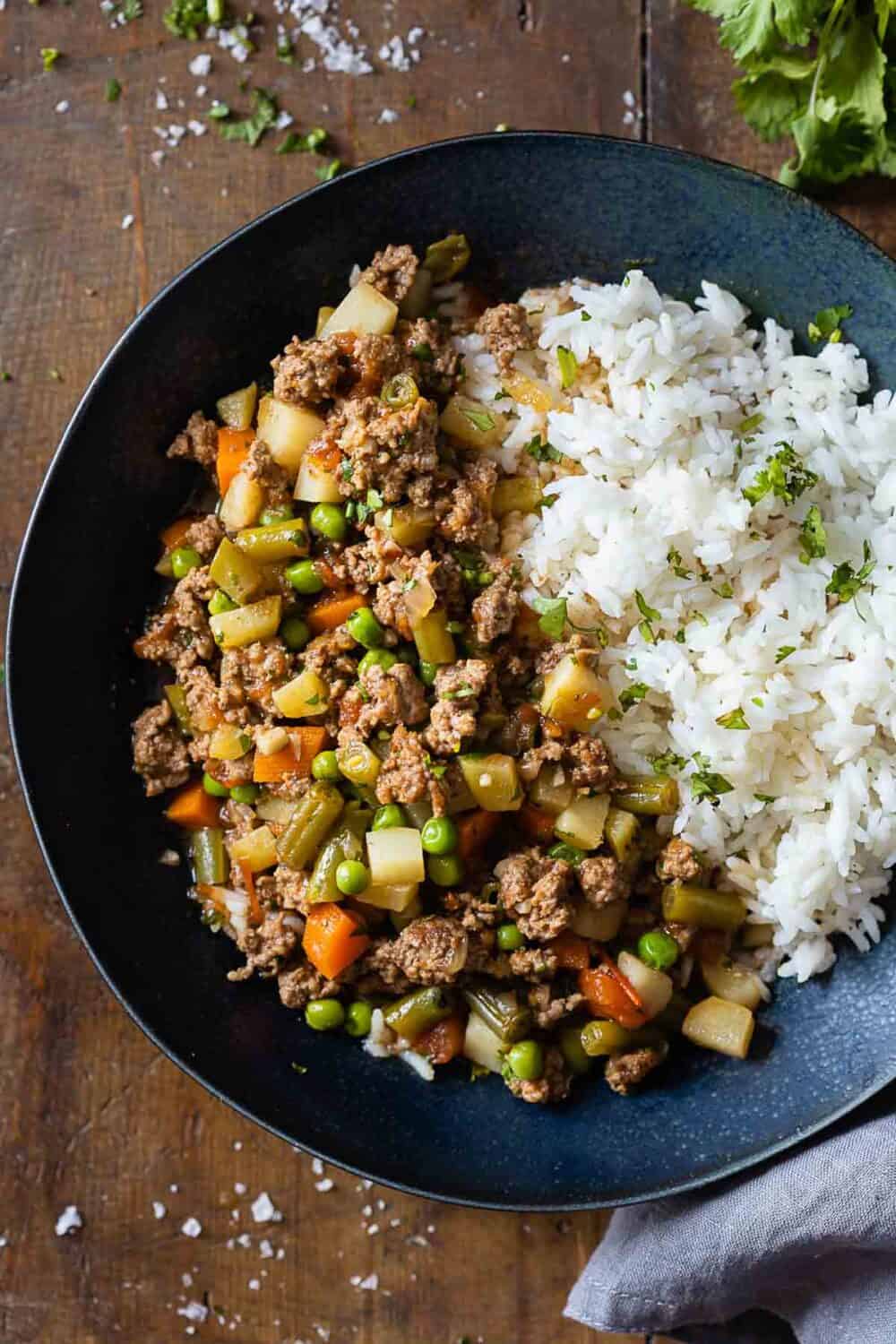 Frequently Asked Quesions
Can you freeze Mexican Picadillo?
Absolutely! It's a great dish to freeze for busy weeknight. Once completely cooled down store in a freezer-friendly air-tight container and freeze. To defrost place in the refrigerator overnight and then reheat.
What goes well with Picadillo?
Typically it is served with rice or tortilla but you can also use it as filling for peppers, chiles, or empanadas.
Where is Picadillo from?
Picadillo is a traditional dish in all Spanish-speaking countries. From Spain to Central and South America.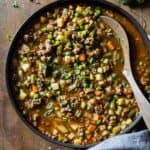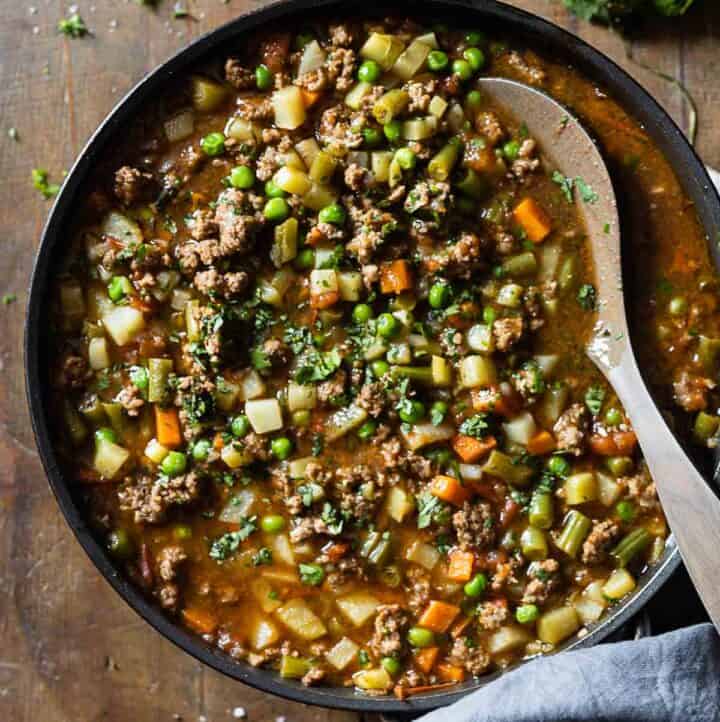 Easy Mexican Picadillo
This easy Mexican Picadillo is based on my grandmother-in-law's original Picadillo recipe. The perfect busy weeknight dinner. Chock full of veggies and flavor.
Print Recipe
Pin Recipe
Ingredients
1/2

Tbsp

olive oil

1

small

onion

2

cloves garlic

1

lbs

lean ground beef

1

carrot

1

chayote

3.5

oz

russet potato

3.5

oz

green beans

3

Roma tomatoes

sea salt

pepper

1

bay leaf

1/2

cup

beef broth

1/2

cup

frozen peas

1/4

cup

cilantro
Instructions
If needing rice as a side start by preparing rice and while rice is steaming prepare the Mexican Picadillo.

Finely chop onion and garlic and set aside in a bowl.

Peel carrot, chayote, and russet potato and cut into about 1/4" dice. Then cut off dry ends from green beans at cut into about 1/4". Lastly, cut green parts off Roma tomatoes and then coarsely chop. Set all veggies aside in a bowl.

Preheat a large pan over medium heat, then add olive oil and fry chopped onion and garlic in it until translucent.

Add ground beef and break apart with a spatula and stir-fry until brown.

Add all veggies to the beef, as well as sea salt, pepper, bay leaf, and beet broth then mix well and flatten with a spatula.

Reduce heat to low and cover the pan. Let simmer for 15 minutes, then remove the lid, and let simmer an additional 5-10 minutes stirring often.

Once the broth is saucier and less brothy, add frozen peas and cilantro, give one last stir, and serve.
Nutrition
Calories:
334
kcal
|
Carbohydrates:
16
g
|
Protein:
25
g
|
Fat:
19
g
|
Saturated Fat:
7
g
|
Trans Fat:
1
g
|
Cholesterol:
77
mg
|
Sodium:
148
mg
|
Potassium:
832
mg
|
Fiber:
4
g
|
Sugar:
5
g
|
Vitamin A:
3315
IU
|
Vitamin C:
24
mg
|
Calcium:
57
mg
|
Iron:
3
mg
What's your clean eating vibe?
Take this fun QUIZZ and find out in 10 seconds!