This recipe for guacamole is so simple, you can mix it up in just a few minutes. It makes a healthy and delicious snack or spread. This is my Mexican grandma-in-law's authentic recipe. A great side for authentic Mexican recipes such as Tacos de Cochinita Pibil or Picadillo.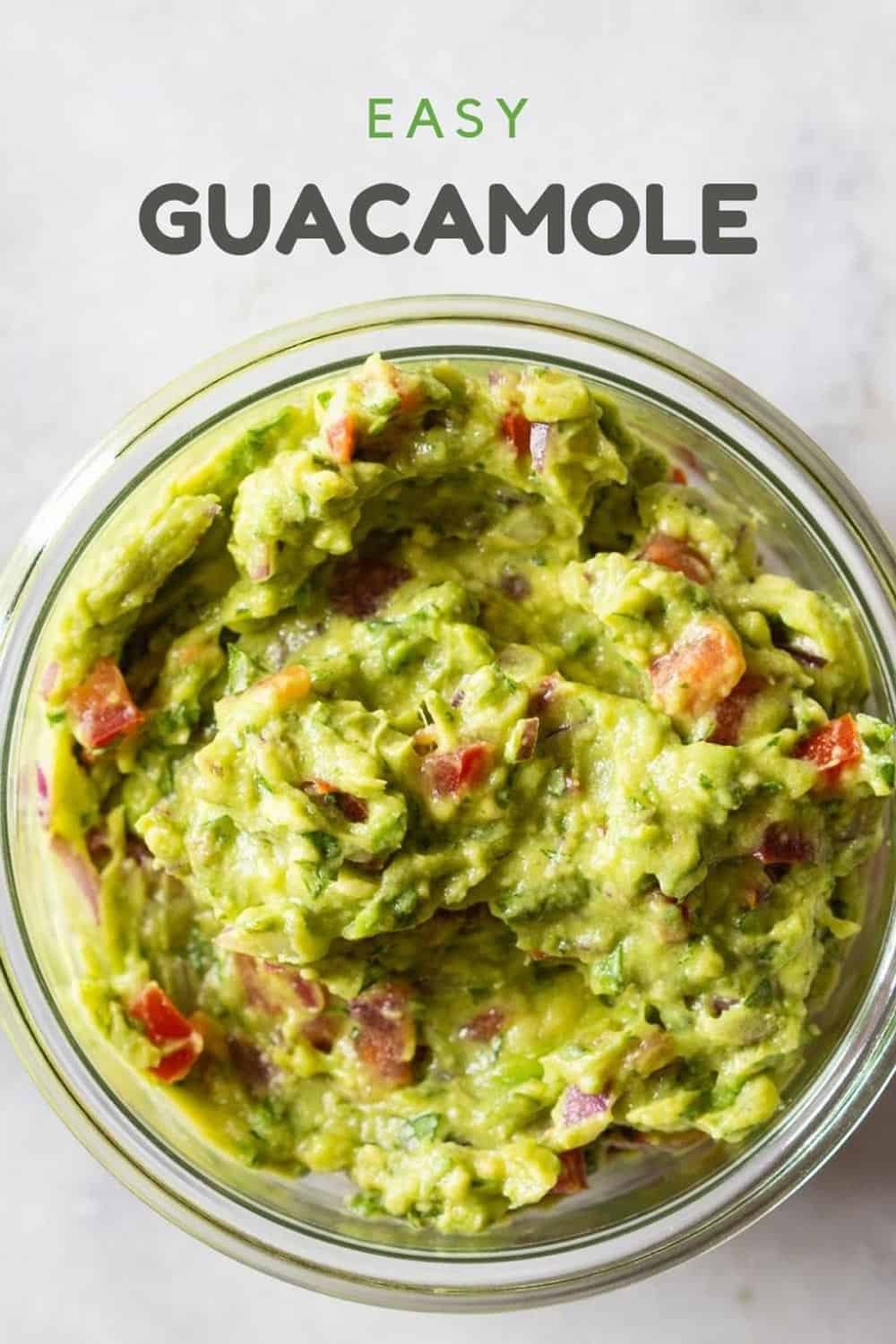 The Ingredients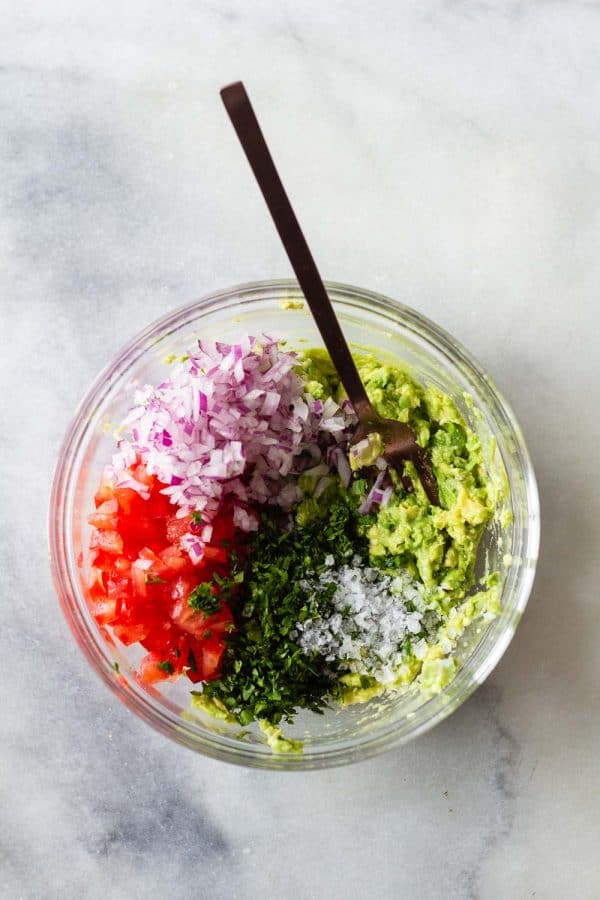 Avocados — choose ripe avocados or wait for them to ripen. I have some tips down below on how to get them to ripen faster.
Cilantro — authentic guacamole always has some fresh chopped cilantro in it. If you are one of those people with the weird enzyme that makes cilantro taste like soap, you could use parsley but that will make it taste very different.
Onion — the most typical onions used are white onion or red onion. My Mexican grandma-in-law swears by red onion in guac.
Tomatoes — not all guac recipes have tomatoes in them but I sure love tomatoes in mine. I remove the seeds of the tomatoes so the guacamole doesn't become soggy.
Chili — the most common chilis added are either jalapeño or serrano chili depending on how spicy you want it. I often omit chili because my kids can't handle the spiciness yet. We're getting there ;)
Sea Salt — the only seasoning I ever add is sea salt but you can also add some pepper if you like.
Lime — this is a crucial ingredient not only because of its amazing flavor but also to prevent the avocados from turning brown fast.
How To Ripen Avocados Faster
If your avocado isn't quite ripe enough to use, you can place it in a brown paper bag with an apple or banana for a few days to speed the process along. Keep a close on them though, don't miss the critical moment of perfect avocadoes!!! Check them twice a day.
If you have the opposite problem and the avocado is ripe but you aren't ready to make your easy guacamole just yet, you can put it in the refrigerator. This greatly slows the ripening process. The avocado will keep in the refrigerator for up to one week.
How To Make Guacamole From Scratch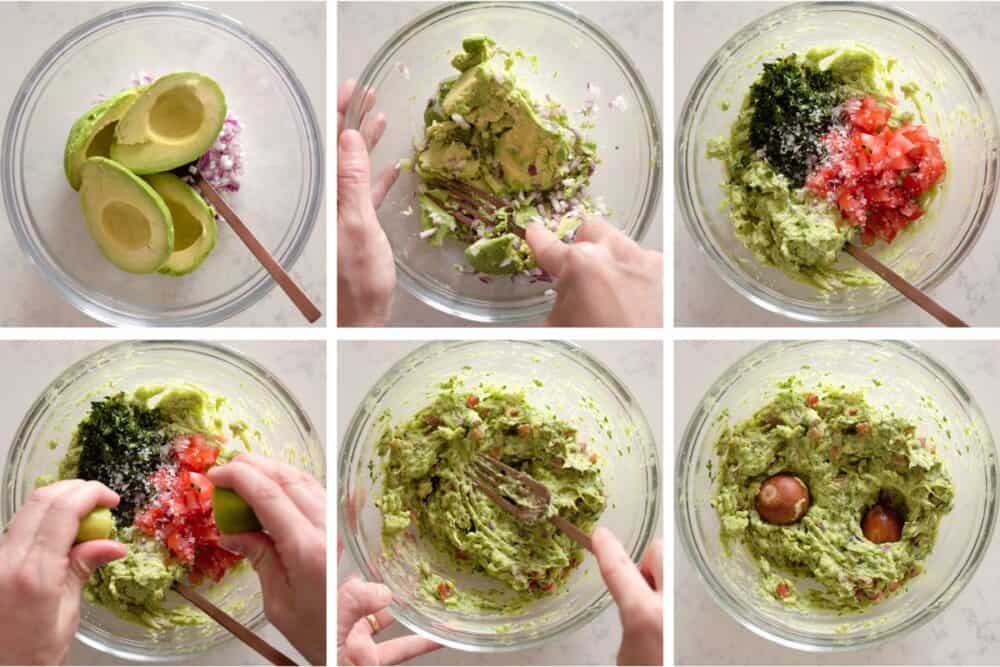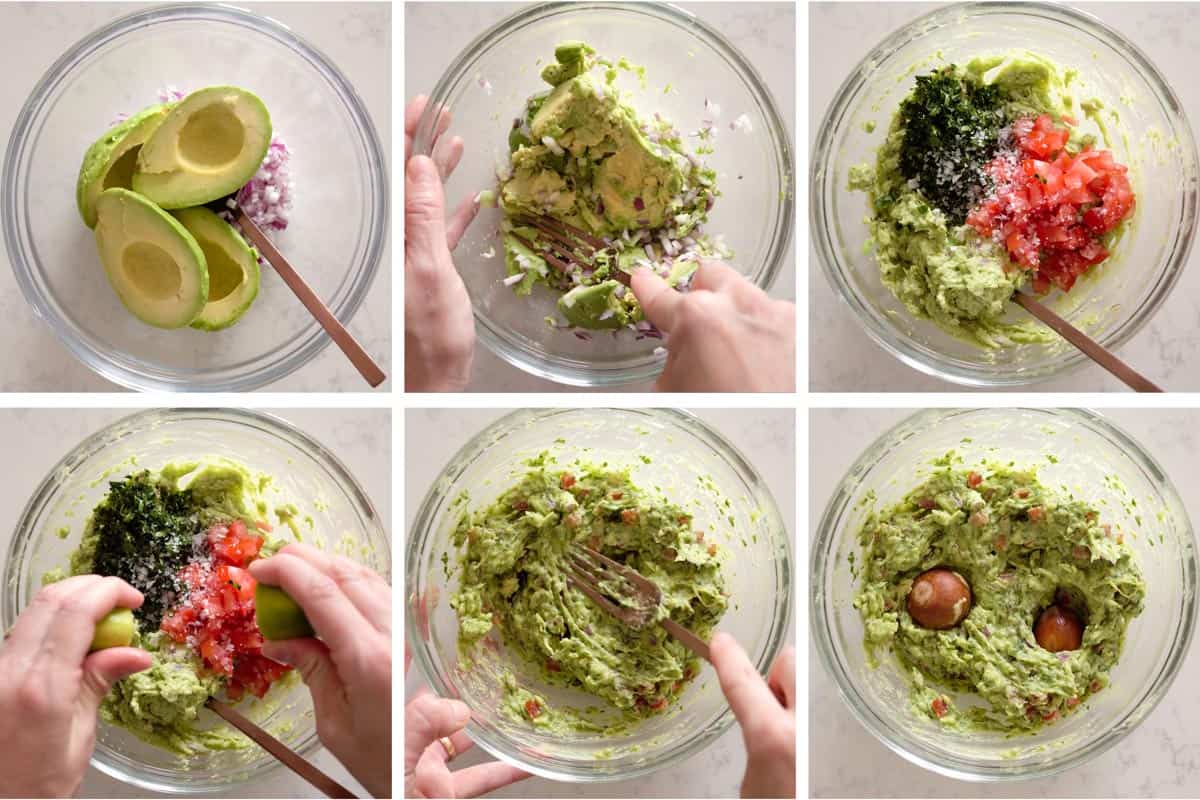 Add Onion and Avocado — add finely chopped red onion and 2 ripe avocados to a bowl. Save the avocado pits! Do not throw them away.
Mash — use a fork to mash the avocado. You can mash as much of as little as you want. The less you mash the chunkier your guacamole, the more you mash the creamier.
Add Tomato, Cilantro, Chili, Salt — add finely chopped cilantro and your deseeded and chopped tomatoes. If you are adding chili this is the moment you'd want to add finely chopped chili as well. Then season everything with sea salt.
Add Lime — roll one or two limes as a whole on your kitchen counter while pressing down on them to release the juices, then cut in half and press out by hand. I do not recommend using a lemon juicer for this because you'll get the bitterness of the white part of the limes into your guac.
Mix — use the same fork you used to mash the avocados and mix everything well together. Take your time to distribute the salt evenly.
Serve or Store — either serve the guacamole immediately or store in the refrigerator. The best way to store it is by adding the pits of the avocado back into the guacamole and then seal the bowl air-tight. This stays fairly green and pretty in the fridge for a good 6 hours. Just give it a quick stir again before serving.
Frequently Asked Questions
Can you freeze guacamole?
Yes and no. You can freeze it of course and it will be safe to eat after defrosting but the taste and texture change so much I personally don't enjoy it anymore.
How long can you store guacamole in the fridge?
In theory (safely) up to 3 days. In practice (personally) only 24 hours. It turns too brown and the texture becomes rather unpleasant after a day even if it's still safe to eat.
How do I best stores leftover guacamole?
With the pits sunken in, in an airtight container with little space left inside (choose a small container), and place in the fridge. Stir well before serving again.
Serving Suggestions
Aside from using it as a dip for tortilla chips or topping on a taco salad, try using guacamole in creative ways, too. Here are a few ideas: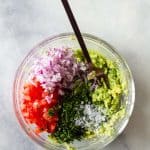 Easy Guacamole
This recipe for guacamole is so simple, you can mix it up in just a few minutes. It makes a healthy and delicious snack or spread.
Print Recipe
Pin Recipe
Ingredients
2

ripe avocados

1

roma or vine tomato

1/4

cup

chopped red onion

1/4

cup

chopped fresh cilantro

sea salt

2-3

limes

1-2

jalapeño or serrano chilis

-

optional
Instructions
Peel and pit avocados and finely chop onion and add to a bowl. Use a fork to mush up all the avocado.

Wash and cut the tomato in half and remove all the seeds and liquid, then dice the flesh only and add to the bowl.

Wash and spin dry fresh cilantro and finely chop until you have about 1/4 cup chopped cilantro and add to the bowl.

Season with sea salt and lime juice, stir everything well together and serve!

For spicy guacamole add finely chopped chili, too!
Notes
My favorite chips to dip into this guacamole are BLUE CORN TORTILLAS!
Nutrition
Calories:
178
kcal
|
Carbohydrates:
14
g
|
Protein:
3
g
|
Fat:
15
g
|
Saturated Fat:
2
g
|
Sodium:
9
mg
|
Potassium:
573
mg
|
Fiber:
8
g
|
Sugar:
2
g
|
Vitamin A:
360
IU
|
Vitamin C:
22.9
mg
|
Calcium:
23
mg
|
Iron:
0.8
mg
What's your clean eating vibe?
Take this fun QUIZZ and find out in 10 seconds!