This is not a one pot one mush recipe! This is perfectly but separately cooked Lentils and Rice still all in one pot! Pure magic! Instant Pot magic!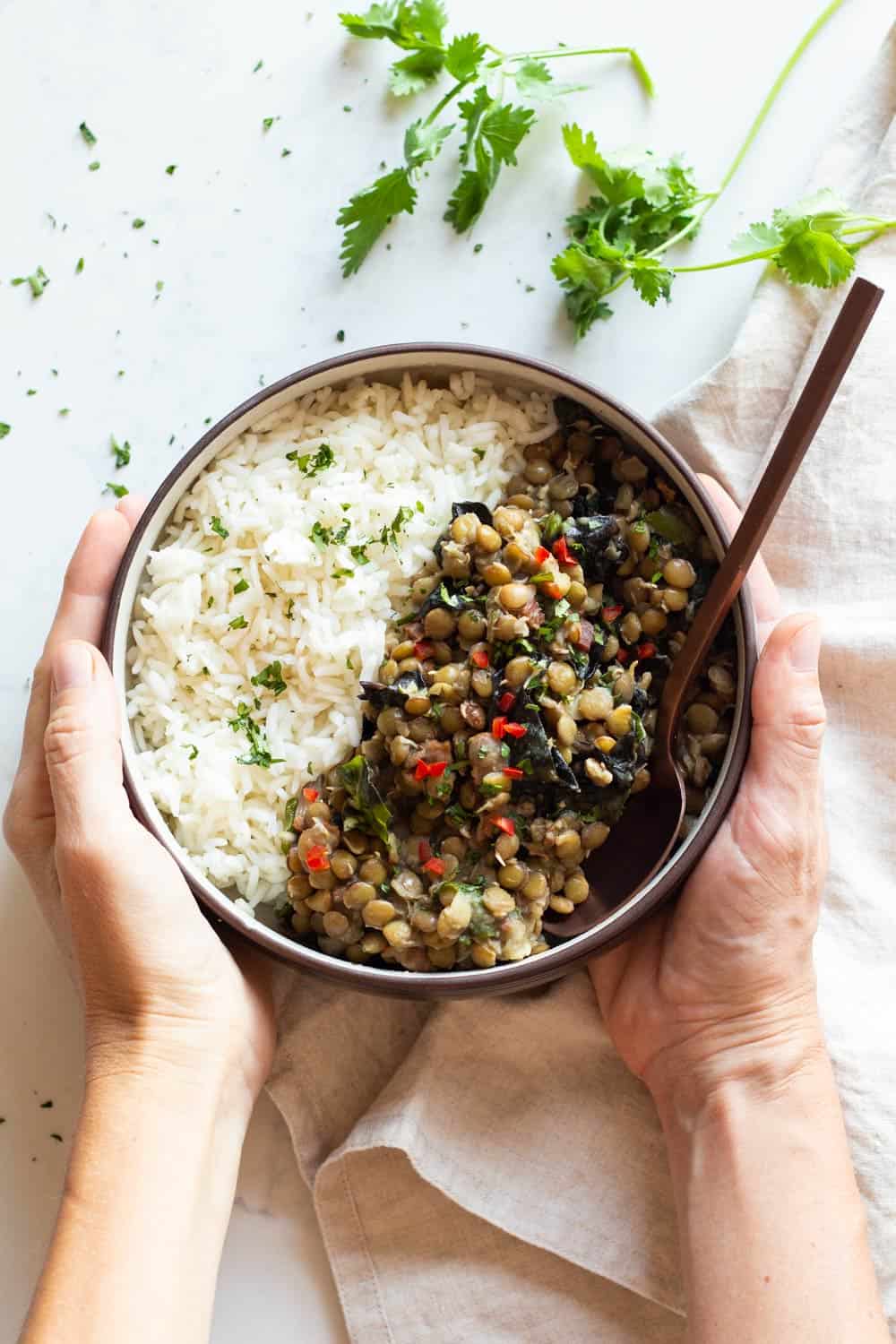 You all know how much I love my pressure cooker, but having experimented with cooking two things at the same time but separate but together in one pot……I am in awe! This brings pressure cooking to a whole new level!
Rice And Lentils With The PiP Method
I had heard about the PiP (Pot in Pot) method before but never quite understood what the hype was about. I mean, what's the point of adding a pot into the inner pot of the pressure cooker and cook in that pot instead of the main pot?
Some said it's easier for clean-up but I never felt like the stainless steel pot itself was hard to clean at all. Often I would just put it in the dishwasher and be done with it.
Now, I understand why this method is so magical!!
You can cook rice in a smaller pot ON TOP of your stew, or meat, or lentils, or whatever else…..without them getting mixed up! As long as the pot is oven-proof and smaller than your inner pot and placed on a rack you're good to go.
I have an amazing Instant Pot Chicken and Rice recipe here on Green Healthy Cooking. It's all mixed up though. I don't mind much at all to be honest. It gives the rice a ton of flavor. However, it does get a bit mushy.
Cooking rice and lentils together didn't sound appealing at all. I like my rice grain separated (not mushy) and the soft lentils on the side so I can mix them with every bite.
When you cook rice and lentils together in one pot at the same time you usually end up with a huuuuge mushy dough.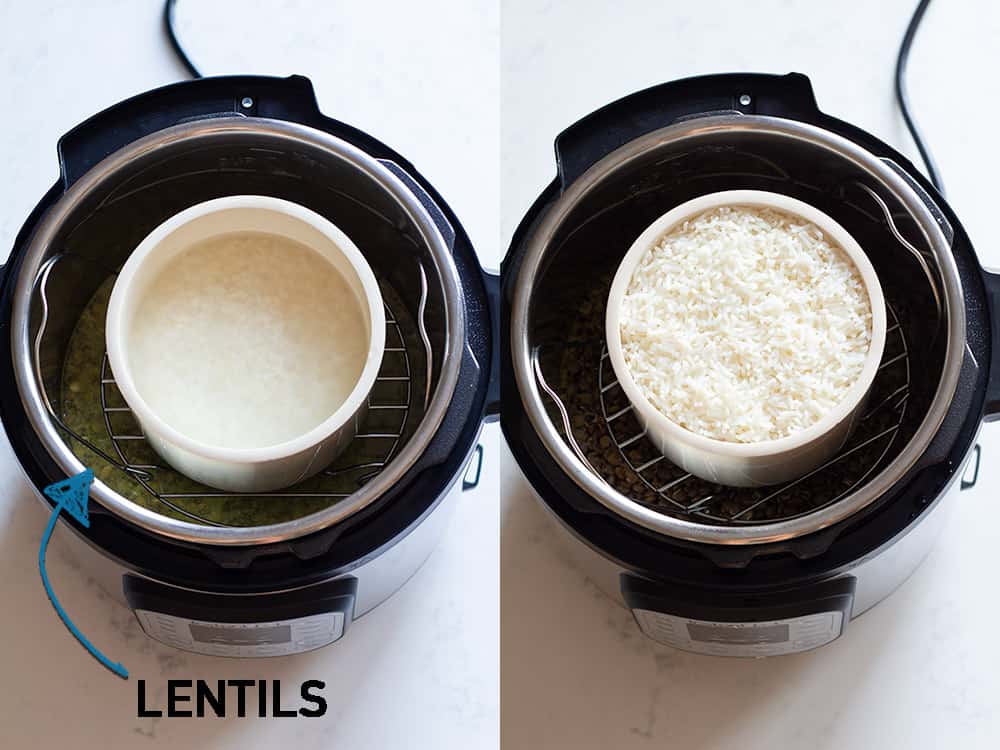 The Best Lentils And Rice Recipe
Let's just call this what it is: it's the best Lentils and Rice Recipe!
Why?
You make it all in one pot.
Perfectly cooked rice, perfectly cooked lentils.
5 minutes of high pressure cooking that's all it takes.
Very little clean-up to do.
Awesome for meal prep and freezer-friendly!
Also, you can give your lentils whatever kind of flavoring you like best. I love to add a Peruvian touch to my stews. I'm aware that not everybody has access to "ají amarillo" but if you do…..GET IT! Add it to your sofrita together with the cilantro paste and make these lentils the most delicious you've eaten in your life!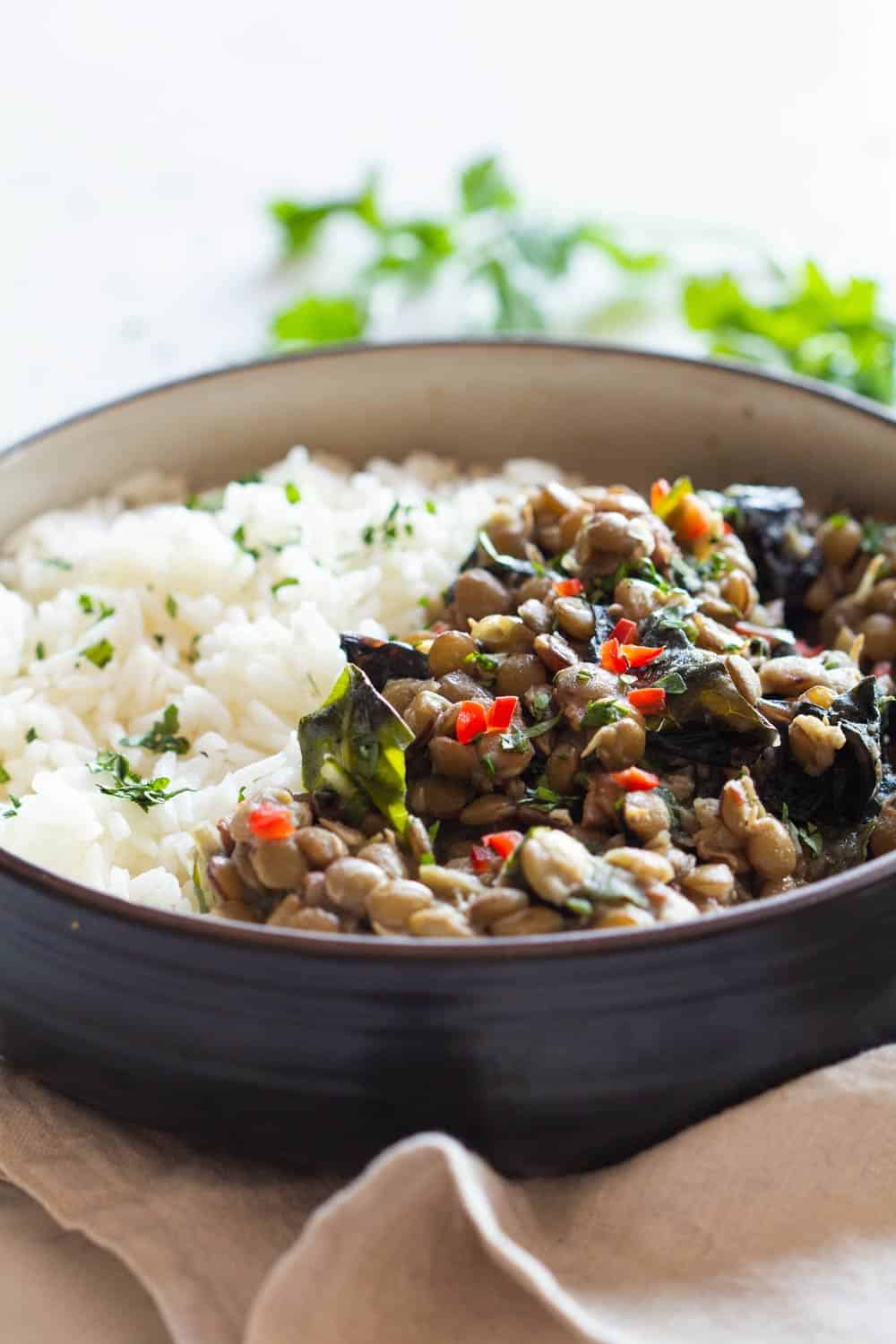 Are Lentils Good For You?
In my opinion lentils are a superfood. They are high in fiber, protein, minerals, and vitamins, while still being low in calories and super satisfying!
Also, they are dirt cheap! They are a great way to reduce meat consumption and stretch both your stews and your grocery budget.
One thing I have to mention though, the highly-discussed topic of soaking vs no soaking…. soak your lentils! You will find a million and one recipes and articles saying it's not "necessary". What does that even mean though?
Of course, soaking isn't "necessary" to get the lentils to cook through. You can definitely cook them to the point where you can easily chew them. However, will you also be able to easily digest them? And that is my #1 concern when cooking lentils or any other legumes.
I go into detail about why soaking is so important in my Instant Pot Beans post if you want to read more about it.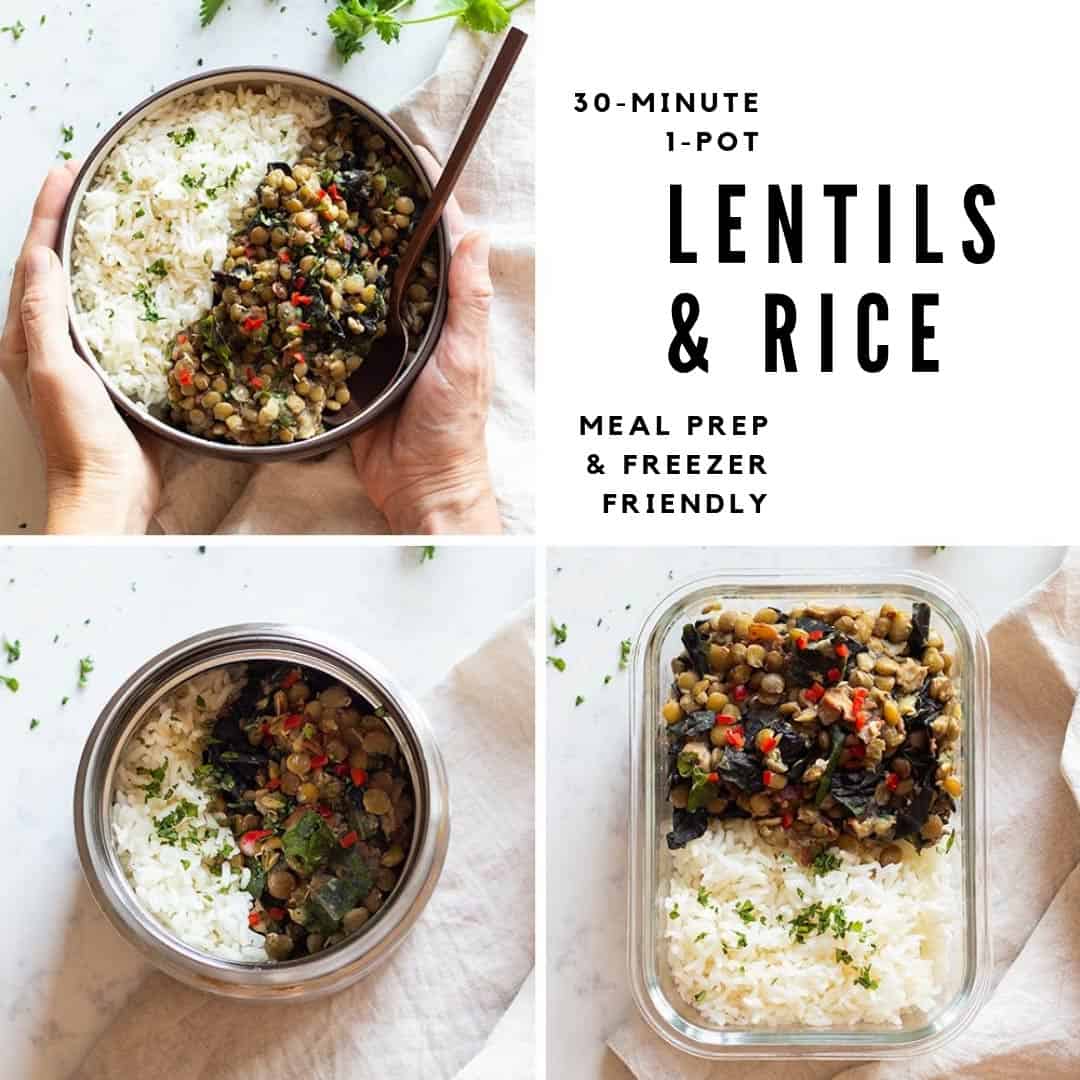 Lentils And Rice Are The Best Meal Prep Meal and Freezer Meal
One thing I absolutely adore about this recipe is that it serves as a fantastic meal prep meal and freezer meal.
The lentils and rice recipe is made so fast you can make it in the morning before going to work, add it to one of those amazing thermos containers and enjoy your hot lunch a couple hours later.
OR, you can store them in a container in your fridge for up to 4 days.
OR, you can add them to a freezer-friendly container and freeze for up to a month. To defrost, just place in the fridge 12 hours prior and then reheat either in the microwave or dump into a pan and stir until hot.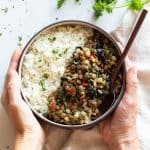 Lentils and Rice
This is not a one pot one mush recipe! This is perfectly but separately cooked Lentils and Rice still all in one pot! Pure magic! Instant Pot magic!
Print Recipe
Ingredients
9

oz

dried green lentils

-

250g (soaked 8-12 hours)

3.5

oz

bacon

-

100g (optional, for vegetarian use 1 Tbsp avocado oil)

1

onion

2

cloves

garlic

1

Tbsp

coriander paste or 1/4 cup fresh cilantro

1/2

tsp

cumin

water

2

cups

white rice

-

basmati or jasmin

2

cups

water

sea salt

pepper

1

bunch

Swiss chard

cilantro

red chili

1-2

tsp

ají amarillo (optional)

-

(Peruvian yellow chili paste)
Instructions
Soak your lentils in abundant. water on your kitchen counter for 8-12 hours, then drain and rinse well.(If you are a slow chopper, chop onion and bacon before preheating pot)

Press sauté on the Instant Pot to heat, then slice bacon, peel and chop onion and peel and crush garlic.

Add bacon to hot instant pot and stir fry until golden, then add chopped onion and garlic and sauté until translucent.

Add coriander paste (or finely chopped cilantro) and ají amarillo if using, and sauté for a couple of seconds then add a splash of water to deglaze the pot.

Time to add soaked lentils, sea salt, pepper and cumin and enough water to barely cover all lentils.


Then place a large stainless steel stacking ring and trivet or a high trivet into the lentils and place an oven-proof ceramic (I used Emile Henry Clay Storage Jar) or glass or stainless steel container on top to add 2 cups rice, salt and 2 cups water to that container.

Close the lid, turn the valve to sealing position, hit cancel to stop sautée function and then press "manual" (or pressure cook) button and make sure Instant Pot shows "high pressure" cooking and adjust timing to 5 minutes.

In the meantime, wash, destalk and chop chard.

Once Instant Pot beeps, leave untouched and wait for full natural pressure release. When the safety pin has dropped on its own, open, remove rice container and trivet and then add chopped chard and give it a quick stir.

Place lid back on for 3-5 minutes, then serve, store or freeze.

To serve sprinkle with freshly chopped cilantro and some red chili if desired.
Nutrition
Calories:
555
kcal
|
Carbohydrates:
94
g
|
Protein:
22
g
|
Fat:
9
g
|
Saturated Fat:
2
g
|
Cholesterol:
13
mg
|
Sodium:
272
mg
|
Potassium:
871
mg
|
Fiber:
17
g
|
Sugar:
2
g
|
Vitamin A:
3690
IU
|
Vitamin C:
22.3
mg
|
Calcium:
90
mg
|
Iron:
5.8
mg
What's your clean eating vibe?
Take this fun QUIZZ and find out in 10 seconds!