Make German Spaetzle from scratch and you'll be rewarded with a tasty, traditional side dish for your next German meal. It's quicker and easier to make these German egg noodles than you think.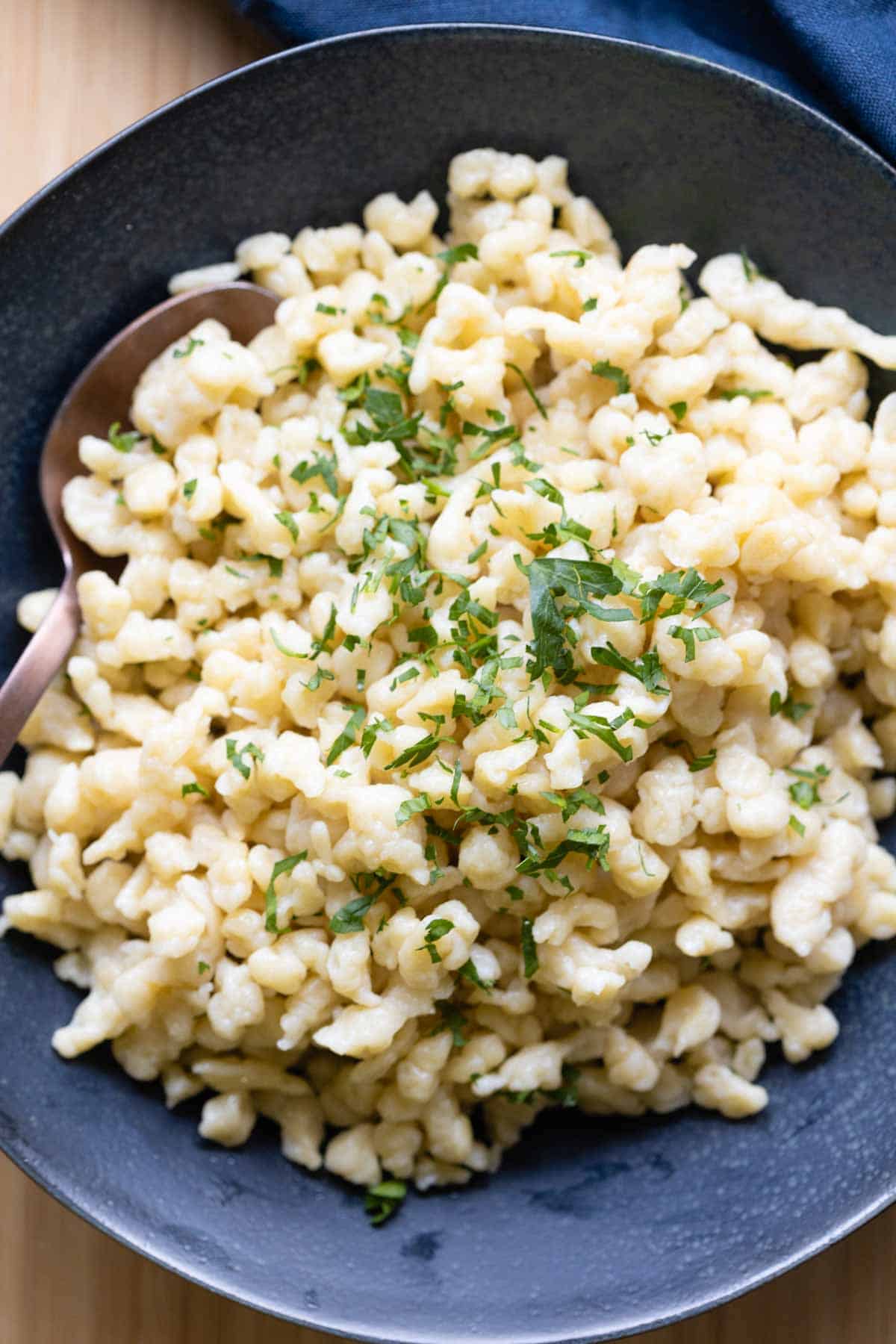 In case you wondered, I am German. Not only that, I am actually Swabian. Swabia is a region in Southern Germany where Spaetzle is from. So essentially, these German Spaetzle – or "Spätzle" which is how we spell it in German – are in my blood since I was a baby.
Spaetzle stands for "little sparrows" and is one of the most popular German side dishes in Swabia specifically and Germany in general. Close seconds are probably this German Potato Salad or German Creamy Cucumber Salad. and Braised Red Cabbage also known as "Blaukraut".
If you are planning a full German meal, make sure you accompany your main dish with several sides and then for dessert you could serve this delicious authentic German Apple Cake called "Versunkener Apfelkuchen".
Now let me walk you through my German Spaetzle recipe, I promise it's much easier than many people think.
Equipment Needed To Make Spaetzle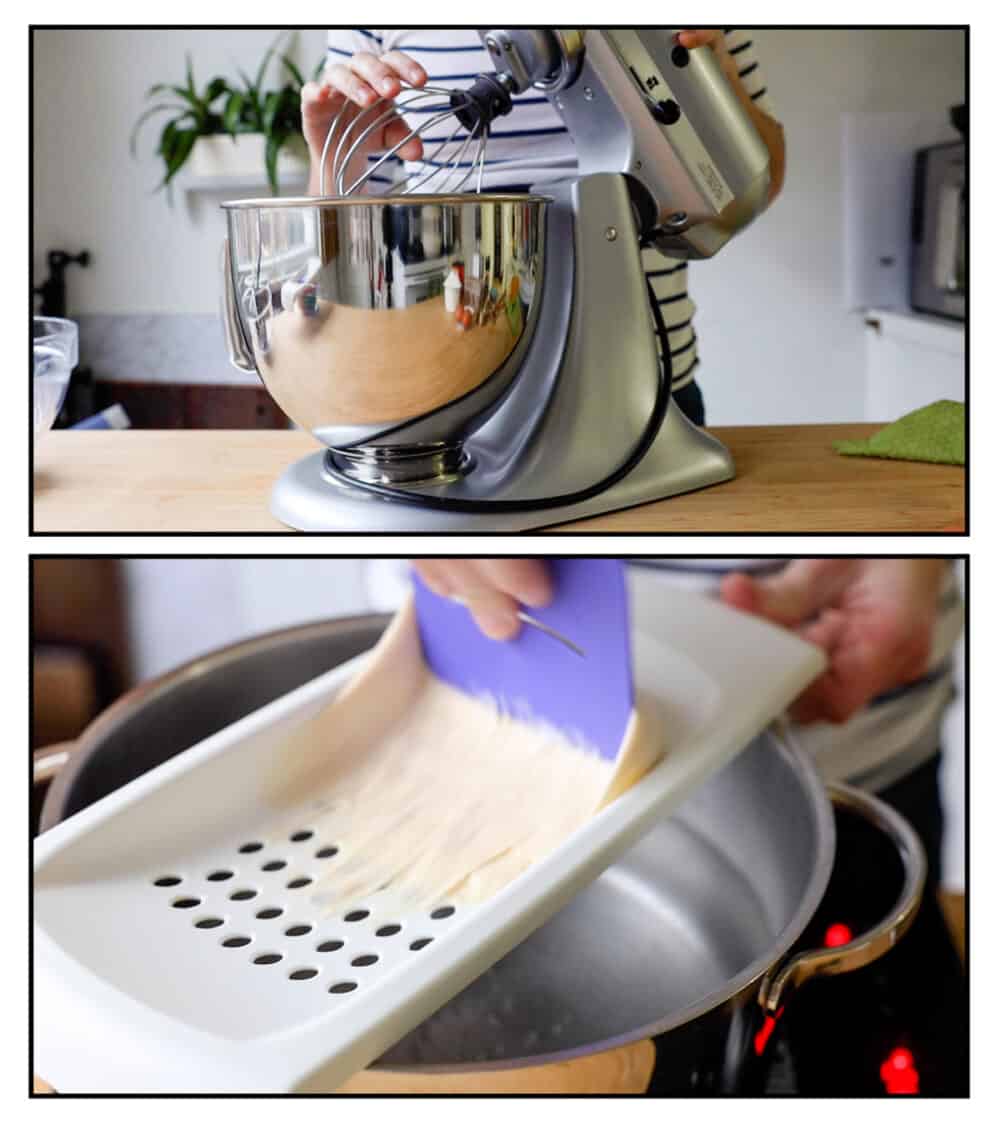 A lot of recipes online suggest using a pasta strainer, colander, cheese grater or potato ricer. I mean, if you want to make your life difficult these are definitely options. However, if you don't enjoy cursing and screaming in utter frustration I suggest you invest in a Spaetzle Maker. Don't worry, there are very affordable ones for as little as $15.
There are many different kinds. The one my grandma used to use is the one that looks like a potato ricer (it's different than a potato ricer though, it has bigger holes). While that's probably a more traditional way to make Spaetzle it's honestly one of the hardest after "hand cutting". I'm not even going into how to make German Spaetzle by hand because trust me you just do not want to do this.
In my opinion and experience, all Spaetzle Scrapers are much easier to use than the ricer. They make the process a lot faster and less messy. The one I own looks very similar to this bowl-shaped scraper and I love it.
You can mix the batter in a bowl by hand but it will take a lot of muscle and perseverance. My grandma of course would not accept a stand mixer or electric hand mixer. In her opinion, authentic German Spaetzle HAVE to be mixed by hand. I personally have never even tried because I get tired alone from watching my stand mixer doing the work for me, ha! It's really hard work.
The Ingredients You Need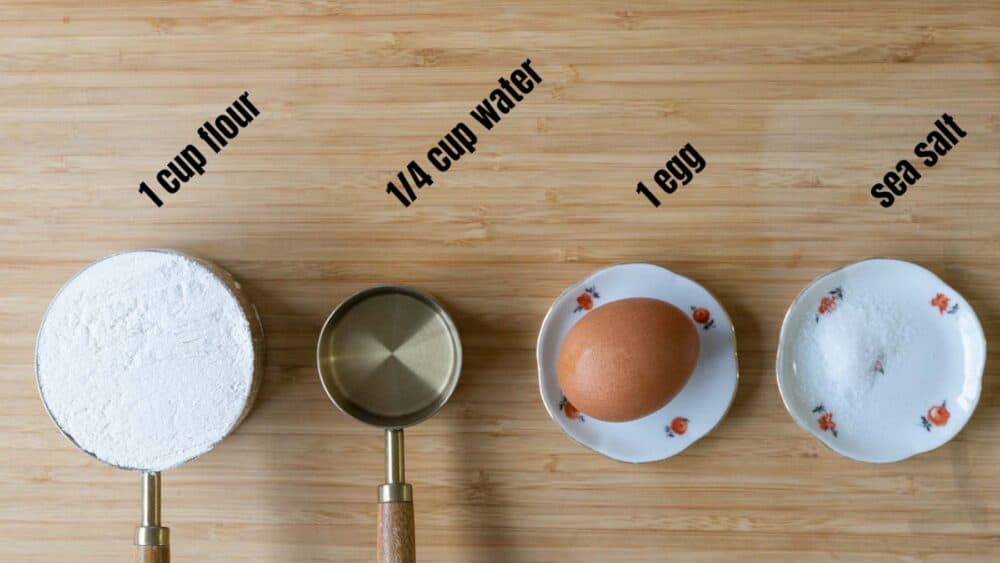 Very simple, you only need 4 ingredients. All-purpose white flour, eggs, water, and salt. Some people actually make them with only 3 ingredients: flour, eggs, and salt. No water. German Spaetzle made without water is a lot more yellow and has a stronger taste, however, they are much harder to press through the scraper or Spaetzle press. I prefer to add some water.
My magic ratio is 1 cup of flour to 1/4 cup water to one egg and 1/2 teaspoon salt. This will make enough for 2 people as a side dish. Multiply as often as necessary to make enough for everybody.
The Dough / Batter
There is a certain consistency you need to reach to get a really great texture later. German Spaetzle is often compared to dumplings but they are actually very different in texture. If you mix the batter too little it does have a similar consistency to dumplings.
If you mix the batter sufficiently and to the right consistency the end product will be "rubbery". Spaetzle is meant to have a somewhat rubbery consistency once cooked, not soft and squishy. I don't know how else to describe it.
When you mix the batter vigorously for long enough it will start to become very very smooth, you won't see any flour lumps in it and once you stop mixing it should start forming bubbles.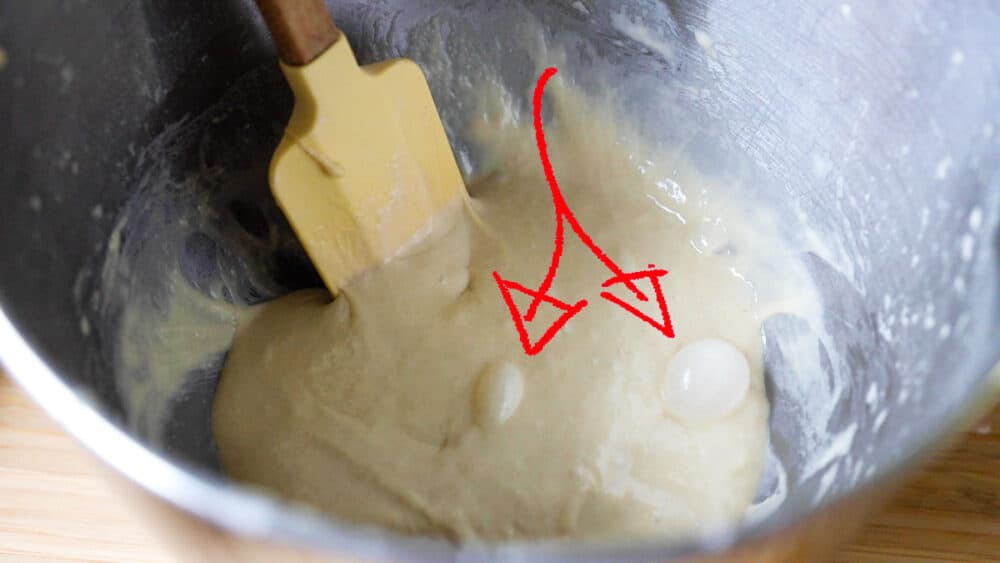 What I do with my stand mixer is, I start it on low so the flour doesn't shoot out all over the place, and once it's hydrated I turn the mixer to high and let it work for a good 5 minutes.
When you lift the arm the batter should slowly slide off the whisk attachment without leaving much residue. Soon after the batter will start building a few air bubbles. That's the batter consistency you should shoot for.
Cooking Spaetzle
Now that your batter is perfectly smooth it's time to get started cooking the Spaetzle. Bring a large pot filled with water to a boil and salt the water until it tastes like the ocean.
Once you reach a rolling boil, reduce the heat just enough to keep a slow rolling boil. You need the water to consistently boil, not just barely simmer. You want bubbles to form constantly.
Put your Spaetzle maker on top of the pot, add about half a cup of batter on top and start scraping it through the holes. Some pieces will fall off as little blobs, others will start hanging from the scraper and become longer Spaetzle. Both are fine.
Cook them only for about 30 seconds. You know they are done when they start floating to the top. At that point use a slotted spoon to remove them from the water. Then repeat the process with the next half cup of batter until you're done.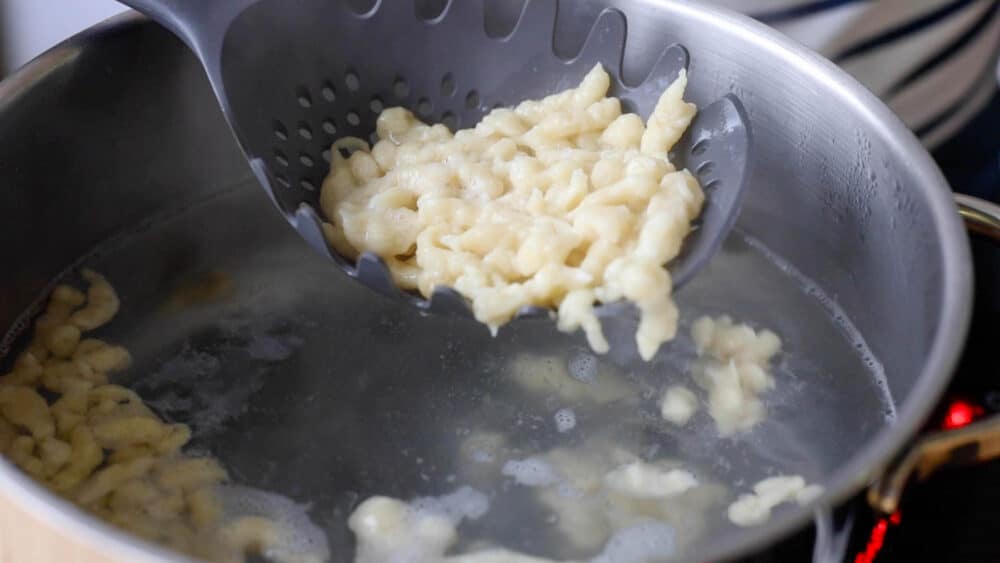 What To Do Next
Depending on your main dish and your cooking process, you will either serve the freshly cooked German Spaetzle immediately in a bowl. Then pour a hot stew like a German-Hungarian Goulash over it.
If you plan on serving it in a bowl or platter for everybody at the table to serve themselves then I recommend adding them to a bowl with cold water right after cooking so they don't stick together. Then, once all Spaetzle are cooked, strain them from the cold water. Don't let them sit in the water for too long or they'll become soggy. Then add a little butter to a large pan and brown and reheat the Spaetzle before adding it to your serving dish.
Alternatively, you can add the strained Spaetzle to a baking dish, cover with aluminum foil, and place it in the oven at a low temperature (about 250F) for anywhere from 20-40 minutes or until your main dish is ready.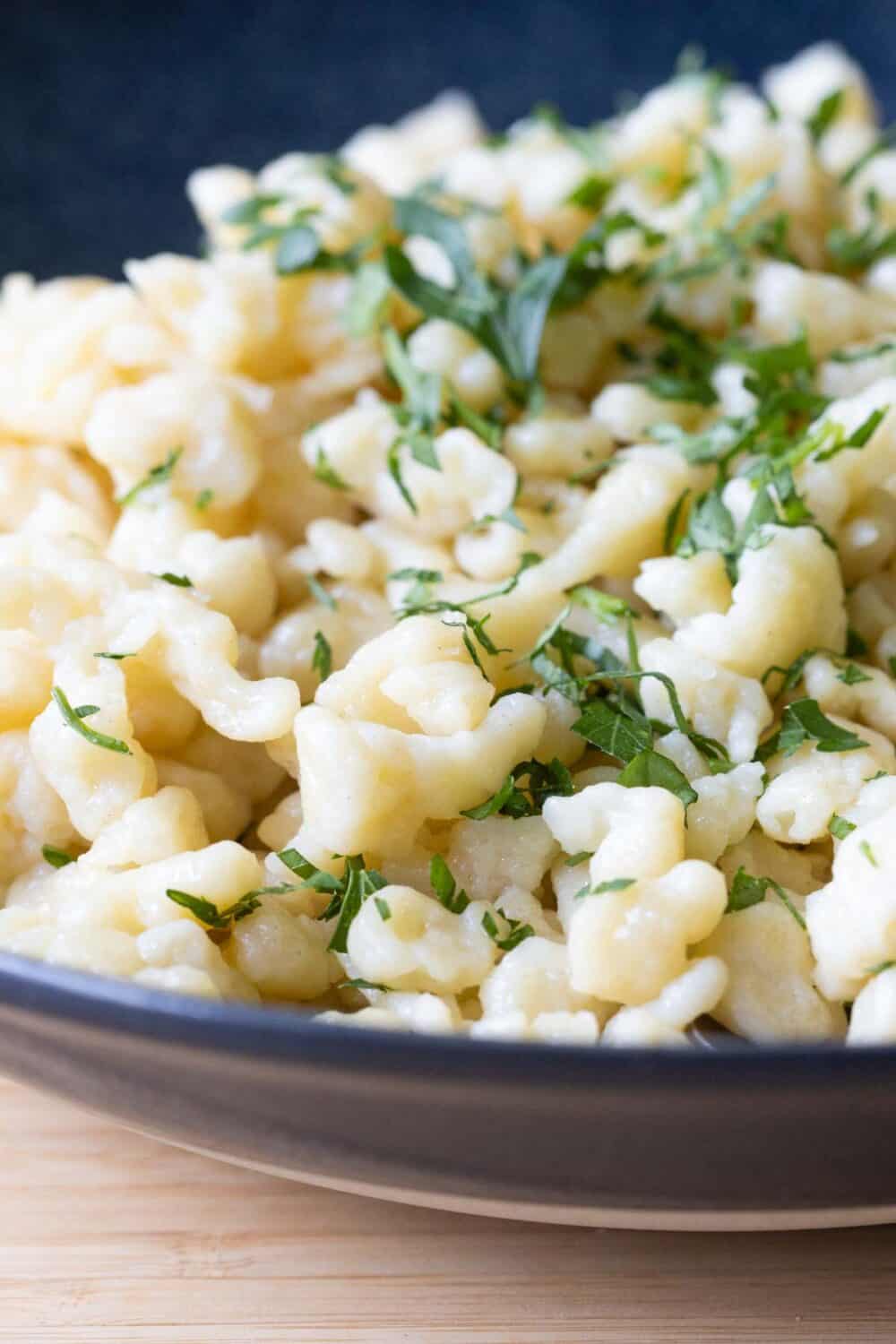 Can German Spaetzle Be Prepared Ahead of Time?
Yes! It holds its shape wonderfully and if you shock the Spaetzle in cold water after cooking it won't stick together. You can easily make this side dish a day or two ahead and then simply reheat it in a pan with a little butter.
What To Do With Leftovers?
You can place leftovers in a sealable container in the fridge and store them for up to 4 days. You can also freeze Spaetzle without a problem for up to 3 months.
A great recipe for leftovers is "Käsespätzle", cheese Spaetzle. It's not the healthiest but a little every once in a while won't hurt ;)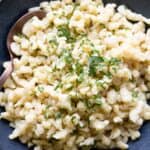 German Spaetzle
Make German Spaetzle from scratch and you'll be rewarded with a tasty, traditional side dish for your next German meal.
Print Recipe
Pin Recipe
Equipment
Spaetzle Maker / Scraper

Stand Mixer or Electric Hand Mixer
Ingredients
1

cup

all-purpose flour

1

egg

1/4

cup

water

1/2

tsp

salt
Instructions
Add flour, egg, water, and salt to the bowl of a stand mixer or a regular large bowl. Mix with the whisk attachment if using a stand mixer or with the dough attachment if using a hand mixer. Start on low, then increase speed to high and beat for at least 5 minutes or until the dough is super smooth and starts forming air bubbles.

Set aside, and bring a large pot filled with water to a rolling boil. Salt the water and reduce the heat to maintain a low rolling boil.

Put your Spaetzle maker on top of the pot and add about 1/2 a cup of dough at a time to it and scrape it through the holes so it can fall into the water. Let the Spaetzle cook for about 30 seconds. They are ready when they start floating to the top.

Use a slotted spoon to remove from the water and either serve right on a plate or place in a bowl filled with cold water and ice cubes to avoid from sticking to each other if you want to finish making the full batch of Spaetzle in one go.

Strain the Spaetzle and brown in a little butter ina pan to reaheat and serve in a bowl, or add to a baking dish, cover with aluminum foil, and place in a 250F-preheated oven to reheat.
Nutrition
Calories:
259
kcal
|
Carbohydrates:
48
g
|
Protein:
9
g
|
Fat:
3
g
|
Saturated Fat:
1
g
|
Polyunsaturated Fat:
1
g
|
Monounsaturated Fat:
1
g
|
Trans Fat:
0.01
g
|
Cholesterol:
82
mg
|
Sodium:
615
mg
|
Potassium:
97
mg
|
Fiber:
2
g
|
Sugar:
0.3
g
|
Vitamin A:
119
IU
|
Calcium:
23
mg
|
Iron:
3
mg
What's your clean eating vibe?
Take this fun QUIZZ and find out in 10 seconds!