This authentic German Potato Salad is my grandma's original recipe. It is a traditional recipe made year-round in Southern Germany. The potato salads in Northern Germany are prepared differently.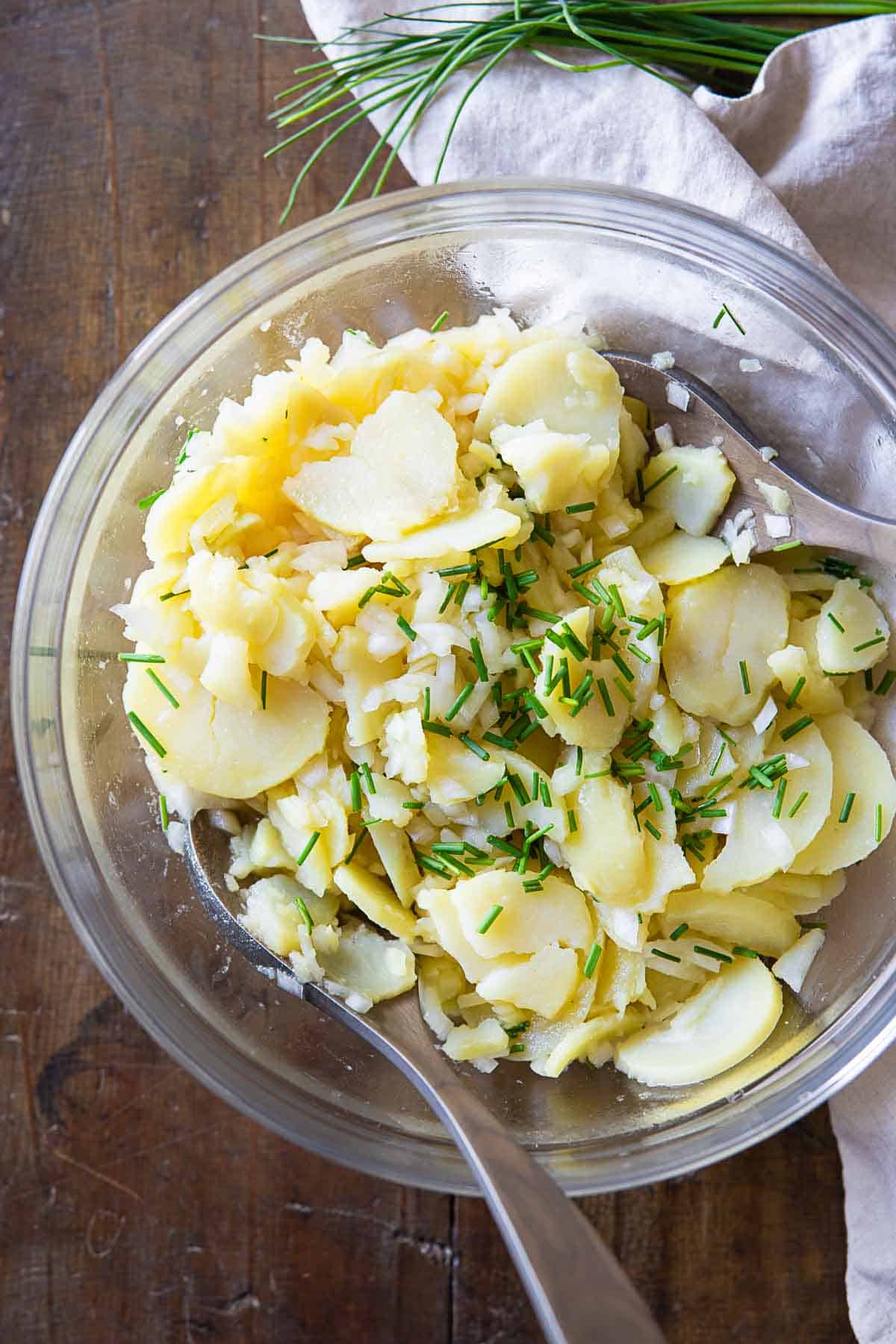 Also, for those that need to read this: My grandma made THE BEST….obviously, duh! She called it "Schwäbischer Kartoffelsalat" which translated means "Swabian Potato Salad". Swabia is a region in Southern Germany, which is where my grandma, me, and my family all grew up. Other typically Swabian side dishes are this German Spaetzle. and this Creamy Cucumber Salad.
Ingredients
Potatoes – make sure you use waxy potatoes. They are potatoes low in starch and the packaging usually says something like "good for salads". It's important you stay away from any type of potato that is advertised for mashed potatoes as those will be high in starch and completely fall apart.
Onion – traditionally the recipe calls for white onion as it is much milder than yellow onion and red onion. While for most recipes I tend to say any onion will work in the end this recipe is an exception. I really believe it's essential you use white onion for a German potato salad because it contains quite a bit and it's raw. You don't want the onion flavor to overpower the potatoes.
Broth – I know it may sound weird to add broth to a salad but trust me, it's what makes or breaks the recipe. Beef broth is the most flavorful and used in the traditional recipe. However, you can also use chicken broth, or vegetable broth if you want the salad to be vegetarian or vegan.
Oil – any flavorless oil will work. My grandma used to use sunflower oil. I prefer avocado oil. It's just important you don't use any oil that has a strong flavor such as olive oil or sesame oil or the like. I know it sounds like a lot of oil in the recipe but again, trust me. It's necessary to make the recipe very flavorful. Potatoes absorb a lot of flavor and taste bland if not properly seasoned.
Seasoning – salt and pepper are basically the only spices you are adding on top of the Dijon mustard. I highly recommend sticking to Dijon over any other mustard as other mustards can be quite overpowering. You want your salad to mostly taste like potatoes. Don't skimp on the salt. Remember, potatoes absorb a lot.
Herbs – chives are the traditional herb you add but chopped up parsley works wonderfully, too.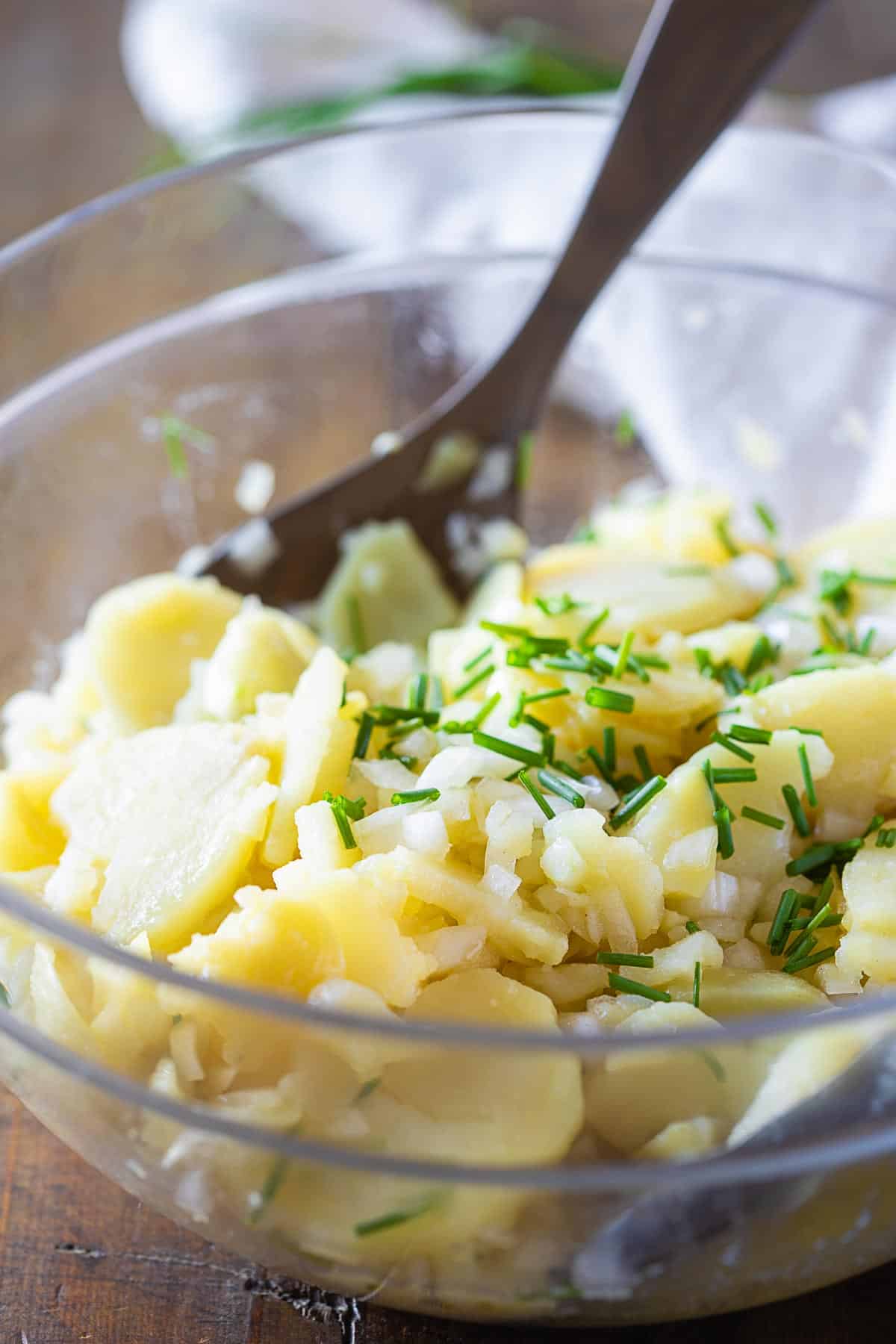 Special Tips And Tricks To Make The Best German Potato Salad
Check the potatoes' doneness often throughout the cooking process. You want to stop the cooking process when they are BARELY finished cooking through. Don't overboil your potatoes or they won't hold their shape in the salad.
Peel the potatoes while they are still hot. The peel comes right off. It's much harder to peel cold potatoes. Also, the salad tastes amazing when still slightly warm. The longer you wait to peel and slice the potatoes the colder the salad will be.
Prepare the dressing in a separate bowl. Don't add the dressing ingredients directly to the potato salad individually. You will end up with some slices tasting like mustard and others super salty and others super oily. Instead, mix the dressing ingredients in a separate bowl with a whisk and then pour over the potatoes so the flavor distributes evenly.
Mix carefully to keep the potato slices somewhat intact and let sit for a couple of minutes so the potatoes can absorb the dressing.
Frequently Asked Questions
Is it better to boil potatoes whole or chopped or cut up for potato salad?
It's always better to boil them whole and peel and then slice. When you boil them unpeeled they absorb way too much water and become all mushy. The skin protects them from absorbing excess water.
What is the difference between a German potato salad and an American potato salad?
American potato salads are generally prepared with a mayonnaise-based dressing, just like the potato salads from Northern Germany. Southern German Potato Salads are more like my grandma's. Of course, there exist a million different varieties for this recipe. Some like adding bacon fat and vinegar to theirs but none of them have mayonnaise and all of them have a broth-based dressing.
What To Serve The Salad With
It's is most often a side salad for any barbecue so it's great for any steak or sausages. I love serving it with Flank Steak, or a perfectly pan-fried pork chop.
I count this salad as my carbohydrate on the plate so I always make some roasted vegetables or salad on the side as well.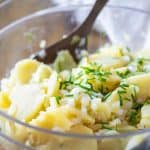 Grandma's German Potato Salad
This authentic German Potato Salad is my grandma's original recipe. It is a traditional recipe made year-round in Southern Germany. The potato salads in Northern Germany are prepared differently.
Print Recipe
Pin Recipe
Ingredients
2

lbs

waxy potatoes

1

small

white onion

1

cup

beef broth

-

or chicken or vegetable

1/3

cup

avocado oil

-

or sunflower oil

1

Tbsp

Dijon mustard

1

tsp

sea salt or more if needed

chives
Instructions
Wash and boil potatoes in abundant water for 20-40 minutes depending on the size. Keep checking them often to ensure you remove them from the water when they are barely finished cooking through.

While potatoes are boiling, peel and finely chop onion and add to a large salad bowl.

Peel the potatoes while still hot or at least warm. Then slice them into about 1/5" thick slices and add them to the onions.

Prepare the dressing by adding Dijon mustard, sea salt, oil, and broth to a bowl and whisk until well combined.

Add the dressing over the potatoes and gently mix to combine.

Use scissors to cut some chives into the salad as garnish.

Let the salad sit for about 5 minutes to absorb the dressing then serve.
Nutrition
Calories:
333
kcal
|
Carbohydrates:
38
g
|
Protein:
6
g
|
Fat:
19
g
|
Saturated Fat:
2
g
|
Sodium:
775
mg
|
Potassium:
1177
mg
|
Fiber:
4
g
|
Sugar:
4
g
|
Vitamin A:
16
IU
|
Vitamin C:
21
mg
|
Calcium:
27
mg
|
Iron:
2
mg
What's your clean eating vibe?
Take this fun QUIZZ and find out in 10 seconds!