Happy Friday lovely readers!! Let's finish the week with an extraordinary Artichoke Mushroom Lasagna with creamy Bechamel Sauce.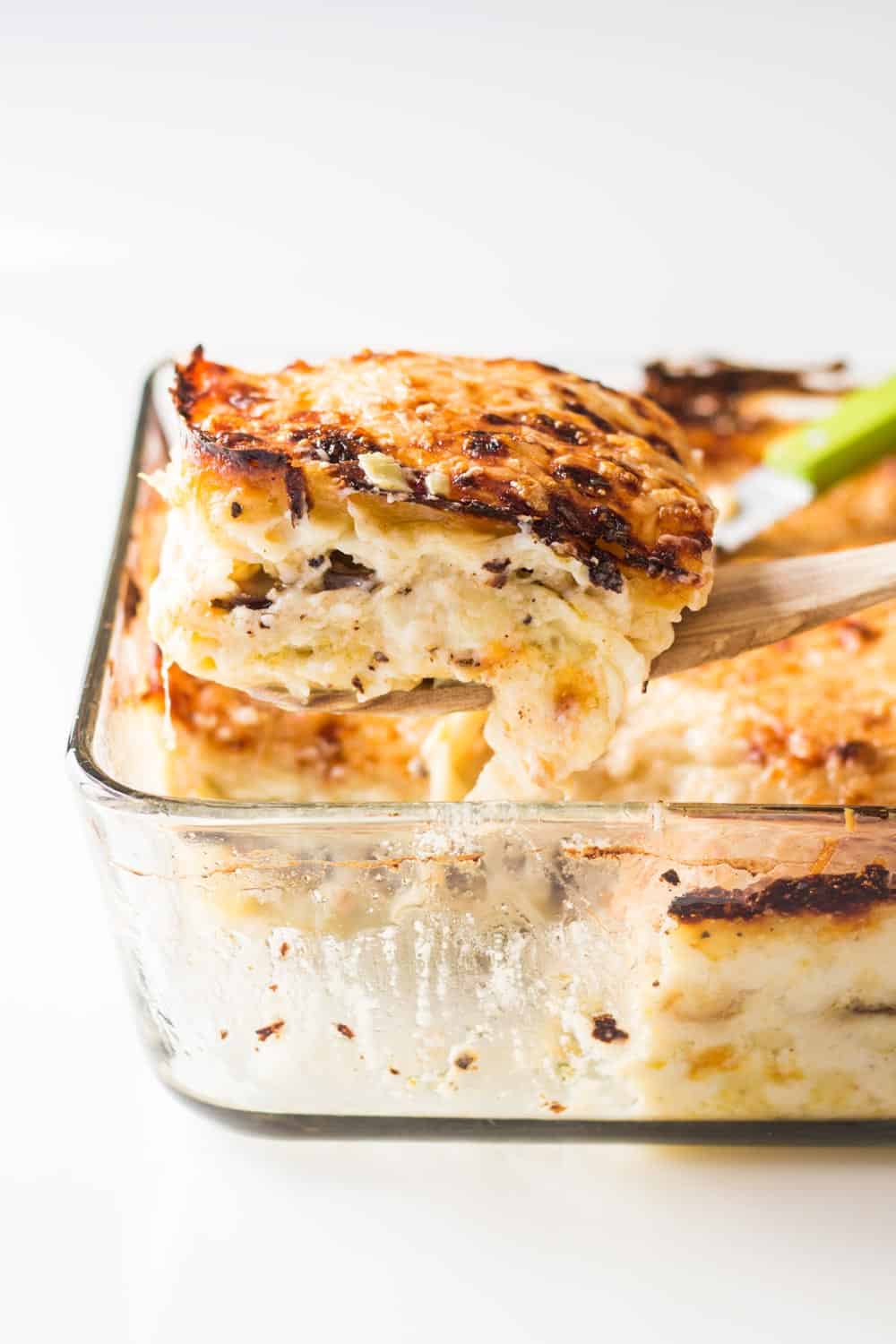 My mother used to make this artichoke mushroom lasagna a lot. Like a lot a lot!  How couldn't she? The lasagna is perfect for preparing ahead. I always choose my menu wisely for dinner parties for example in order to avoid stress. The more you can prepare ahead, the less stressed you will be the actual day.
Stews or Roasts or Lasagnas are the absolute best dishes to share with others. These things take a little longer to prepare. However, you will be totally relaxed and your kitchen will be shining clean by the time your guest arrive.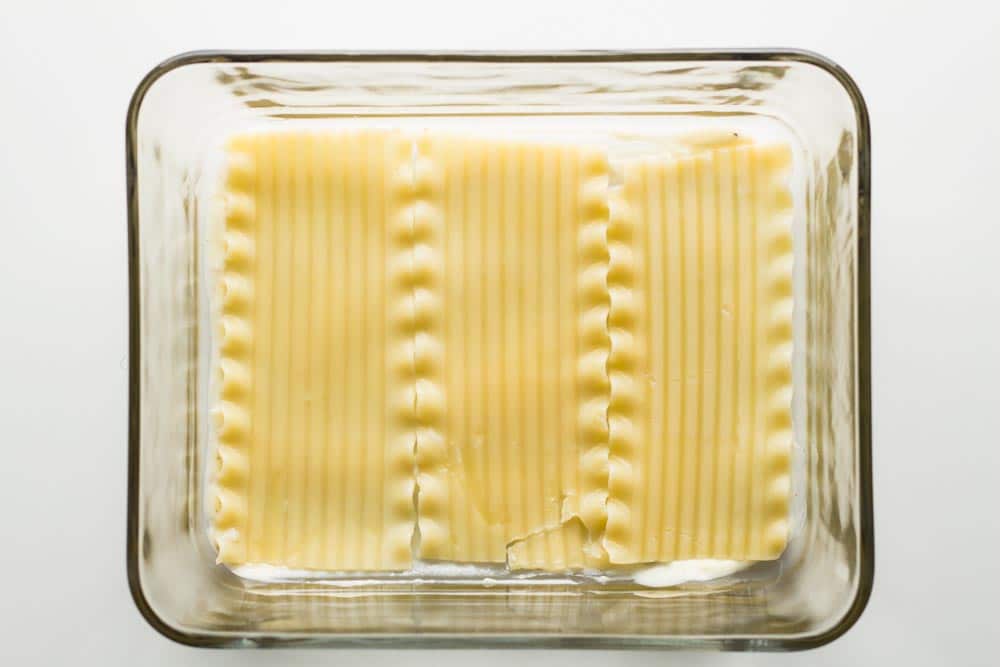 Usually I cook only 2-3 lasagna sheets at a time out of  fear that otherwise they might stick together. This time I risked it and cooked 10 sheets at once. Turns out that if you keep moving them around they don't stick!!! Wheeee!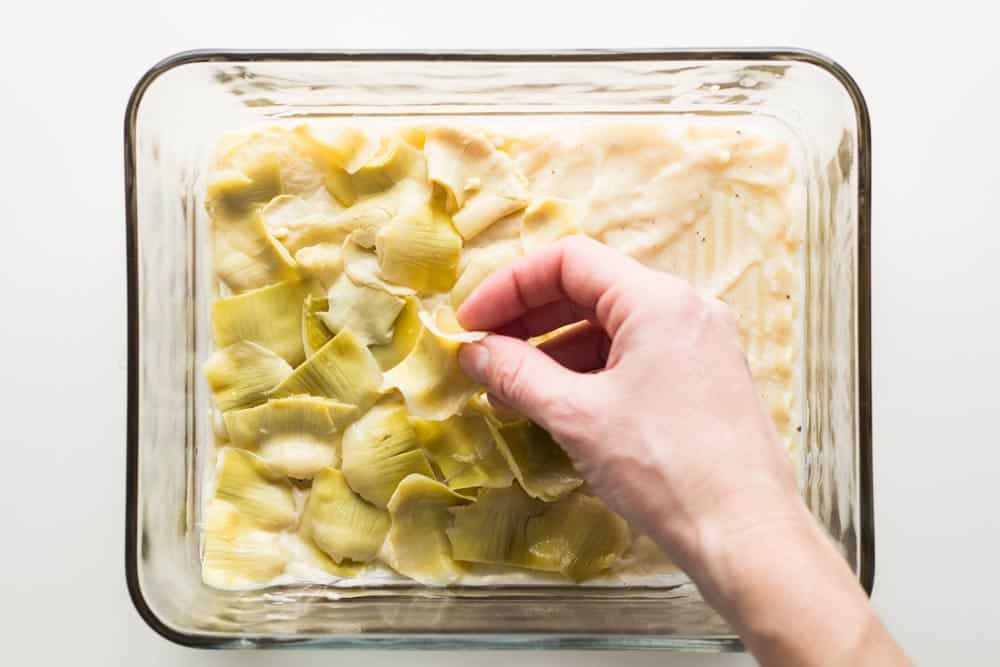 Separate the artichoke leaves carefully and spread them out in a thin layer. The lasagna will only be in the oven for 30 minutes so you can't stack too many artichoke leaves on top of one another. They won't cook through in the short baking time if you do.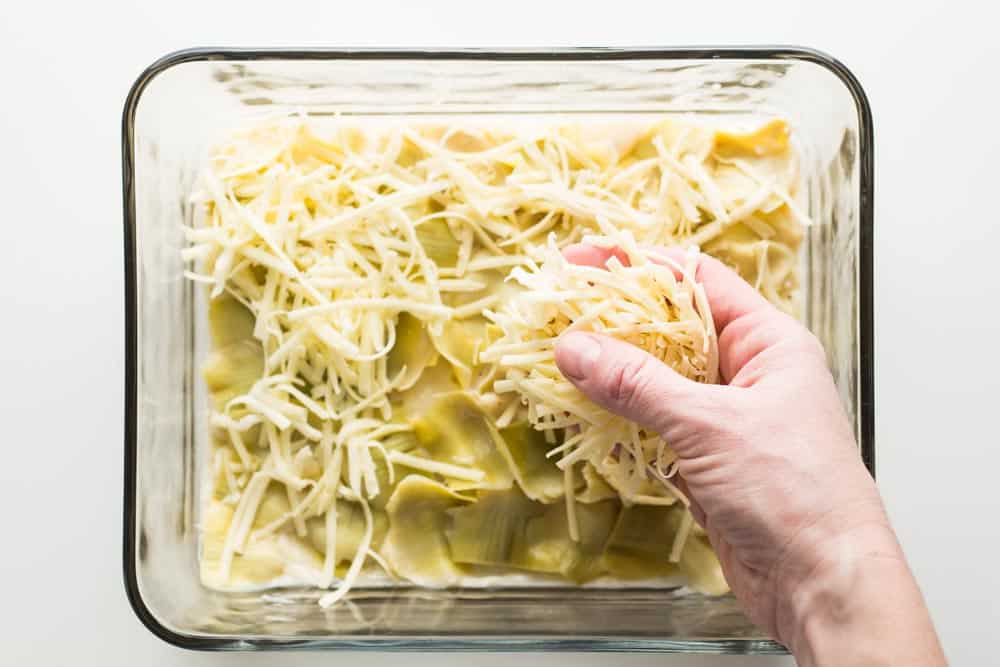 Go easy on the cheese, don't use more than suggested in the recipe. There is cheese on every layer already and if you use too much, the lasagna becomes all greasy and falls apart. Remember, more does not always mean better. The right amount of every ingredient makes the difference between a good and an extraordinary artichoke mushroom lasagna.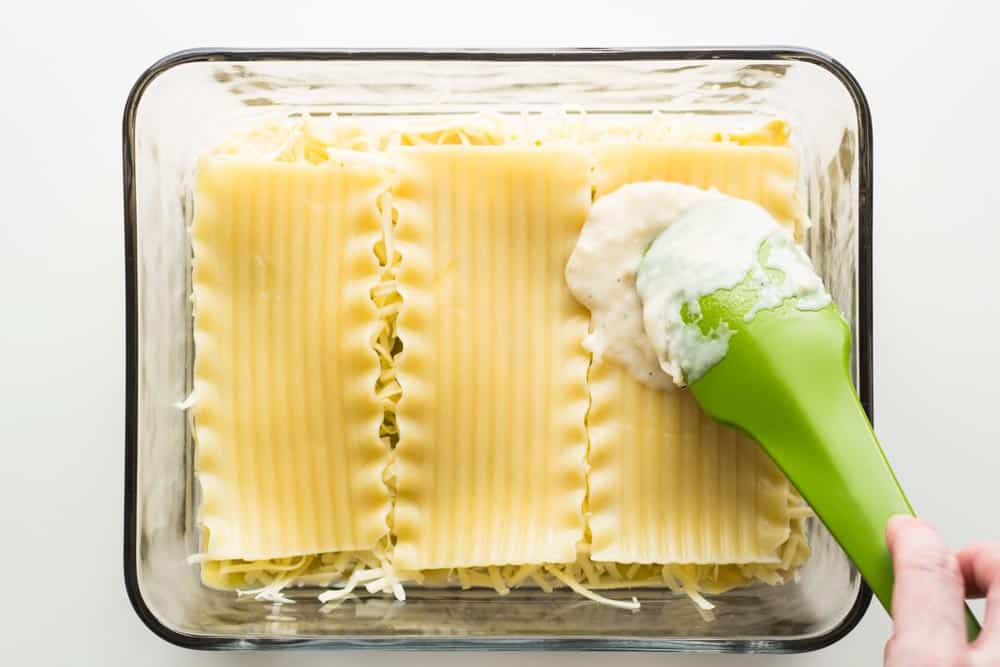 When spreading the bechamel sauce make sure you cover the edges and especially corners really well. Uncovered corners dry out in the oven. All lasagna sheets have to be properly covered with sauce to stay soft.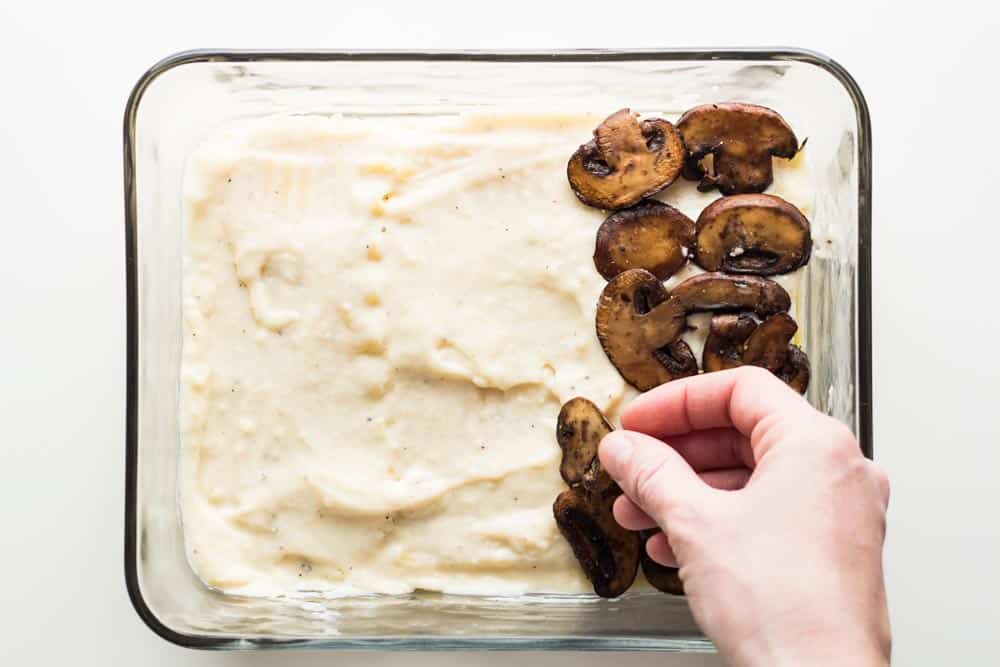 To sauté the mushrooms the pan has to be SMOKING hot! If it isn't hot enough, the mushrooms release a lot of water. Instead of sautéing you end up cooking them in their own juices and they will become extremely soggy. Yuck! You can also sauté them in two parts to make sure they turn out like in the photo above.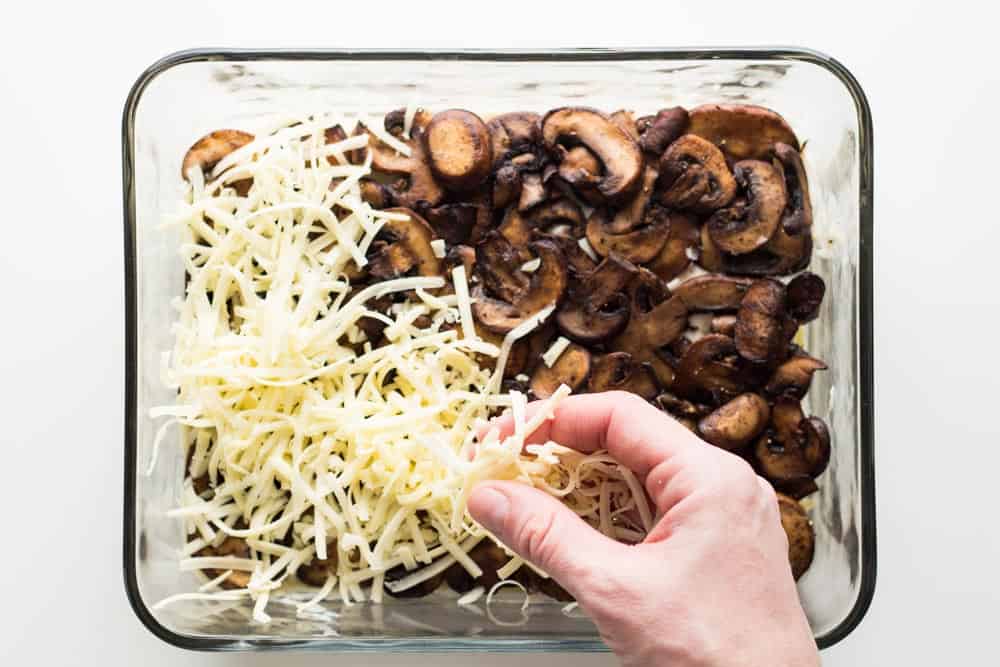 Use a melty cheese like Swiss cheese, Cheddar cheese, Edamer or something along the lines for the middle layers. A cheese that really melts and gets al gooey and delicious.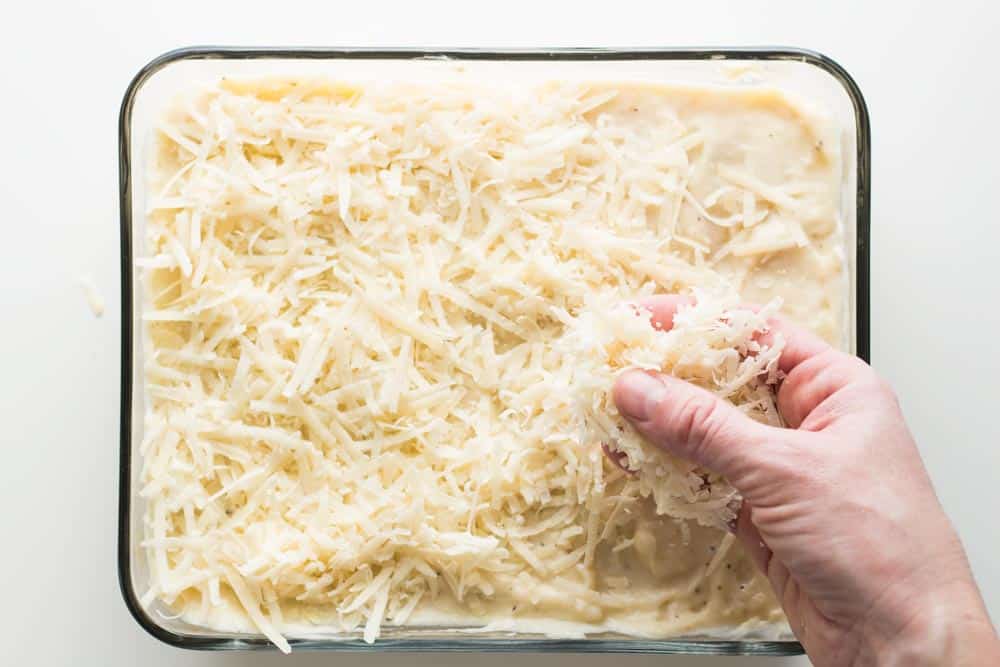 For the last top layer use only Parmesan cheese. Parmesan gets a beautiful color when under the broiler for a couple of minutes and it gets crusty instead of melty and gooey which is exactly what you want for this artichoke mushroom lasagna.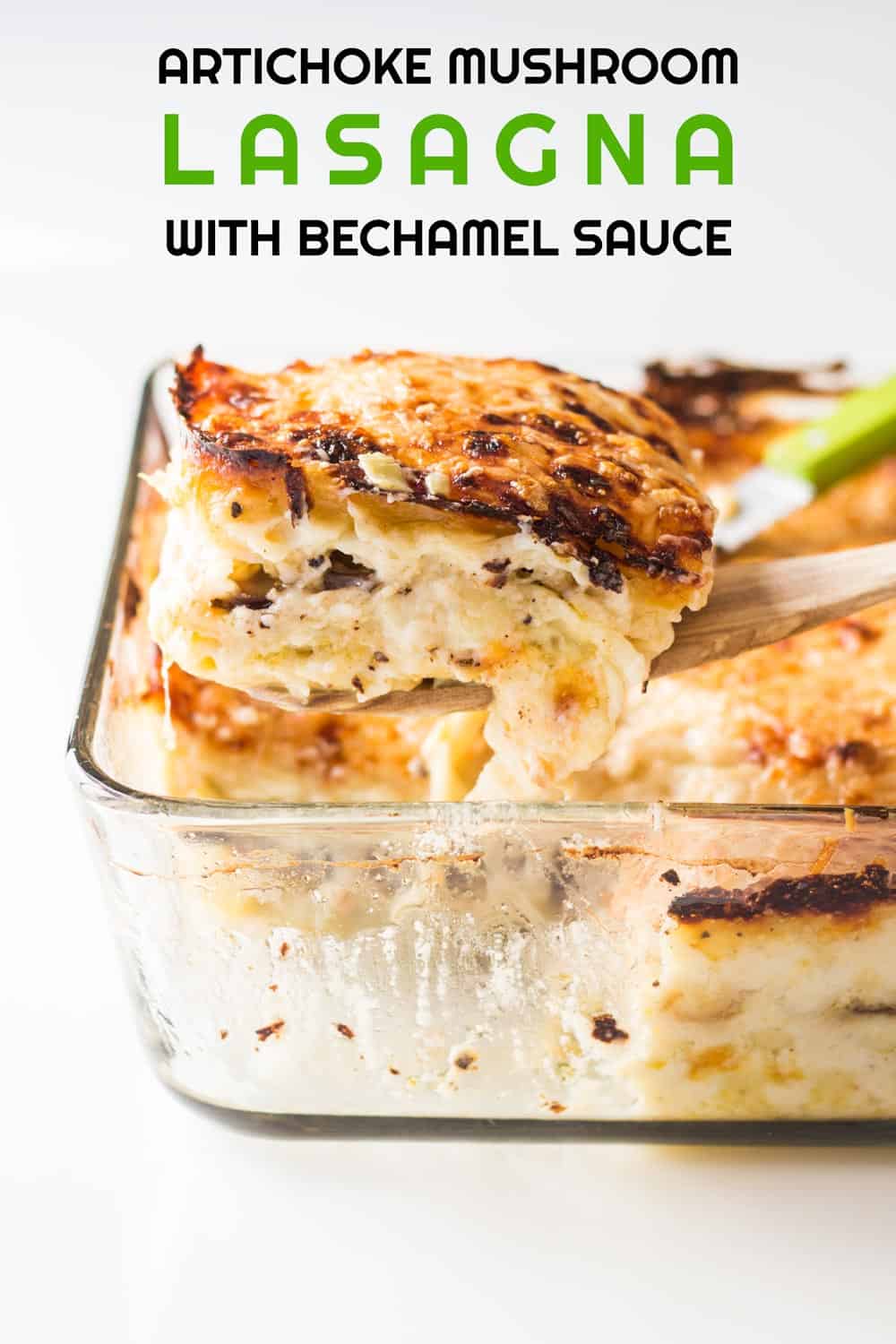 Let the lasagna cool down for at least 10 minutes before cutting. The bechamel sauce and cheese have to harden a little bit so the lasagna doesn't fall apart. Use a sharp and pointy serrated knife and cut the artichoke mushroom lasagna into desired serving size, then use a flat spatula to lift out of the baking dish. Serve with fresh leafy salad and enjoy immediately.
Artichoke Mushroom Lasagna with Bechamel Sauce
Print Recipe
Ingredients
10

oz

lasagna sheets

-

(300g)

1/3

cup

butter

1/3

cup

flour

3

cups

milk

-

(700 ml)

2

cups

artichoke heart leaves

-

(about 10)

2

cups

sliced mushrooms

-

(300 g)

olive oil

10

oz

cheese

-

(300g)

Salt

Pepper

1/8

tsp

nutmeg

1

cup

freshly grated parmesan cheese
Instructions
Bring abundant water to the boil in the biggest pot you own.

In the meantime, if your mushrooms aren't already sliced, slice them now (not too thin).

Cook lasagna sheets in boiling water until al dente, moving them around often with a fork or spoon to avoid from sticking together.

Once lasagna sheets are cooked, don't drain them in a colander but rather fish them out one by one and lay them out on non stick baking sheets or plates or even just on parchment paper laid out on your kitchen counter to avoid from having them stick together.

Preheat oven to 350F (180C)

Heat a large pan over medium high heat.

In a another medium saucepan melt butter over medium low heat. Once melted add flour and whisk until all lumps are dissolved. Add 750 ml milk, 2 tsp salt, 1/8 tsp nutmeg and pepper to taste and stir, and stir some more and some more and some more. Do not stop stirring until the sauce has thickened to about yogurt consistency, then remove from heat and keep stirring until it cools down a little.

Now the large pan should be smoking hot, add a splash of olive oil and then sliced mushrooms, a good amount of salt and pepper and move around quickly to avoid from burning and to ensure all the water evaporates quickly so the mushrooms don't become soggy.

Now it's time to assemble the lasagna. First spread a very thin layer of bechamel sauce on the bottom and then lay out lasagna sheets to cover the whole bottom, cut the sheets accordingly to fit in. The first layer of bechamel is not for taste but to avoid the lasagna sheets from sticking to the bottom so it really only has to be very thin.

Now spread a thicker layer of bechamel sauce on the lasagna sheets covering edges and corners really well, too.

Lay out artichoke leaves in a single layer, then sprinkle a little bit of cheese on top.

Now start your second row by laying out lasagna sheets, spreading bechamel sauce on them, placing sliced and sautéd mushrooms in one layer on top, sprinkling with cheese and top with lasagna sheets.

Another row with artichokes again and one you finish with lasagna sheets again we will just finish off the lasagna with one last layer of bechamel sauce and sprinkle with Parmesan cheesehere again the oder: bechamel-pasta-bechamel-artichoke-cheese-pasta-bechamel-mushroom-cheese-pasta-bechamel-artichoke-cheese-pasta-bechamel-Parmesan

Put in the oven for 30 minutes and finish off with 3-4 minutes under the broiler to get a dark and crispy top.
What's your clean eating vibe?
Take this fun QUIZZ and find out in 10 seconds!