Learn how to make traditional "Versunkener Apfelkuchen". It's a popular German apple cake that looks like the apples are sunken. It tastes even better than it looks. Serve it with a dollop of homemade whipped cream. This is a step-by-step tutorial including video.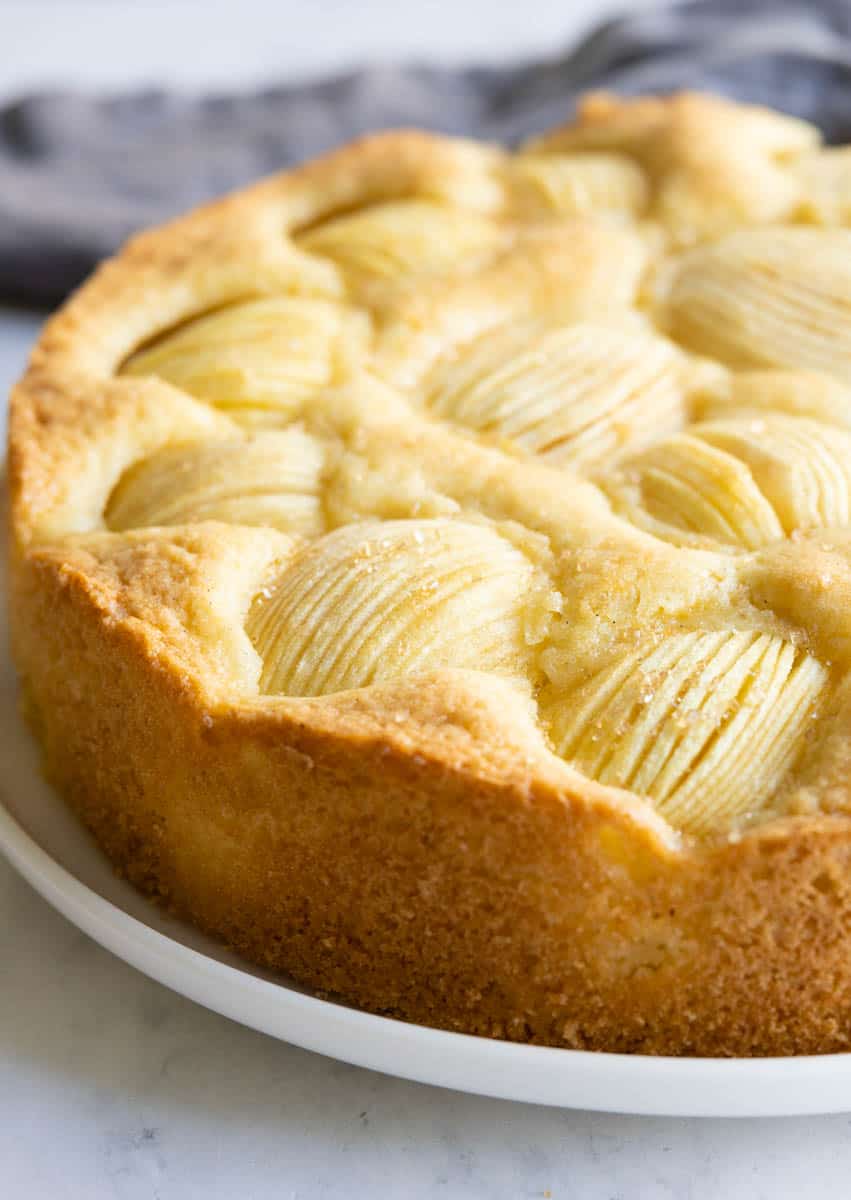 This German Apple Cake does not necessarily fit the Green Healthy Cooking brand but it is my son's birthday cake year after year. He requests it every year, I talk about it on social media every year, and you've asked for the recipe every single year. I figured it was time to venture out into the traditional baking realm and finally share the recipe.
In the end, it is and will always be 100% healthier than any store-bought cake could ever be.
Ingredients & Subsitutions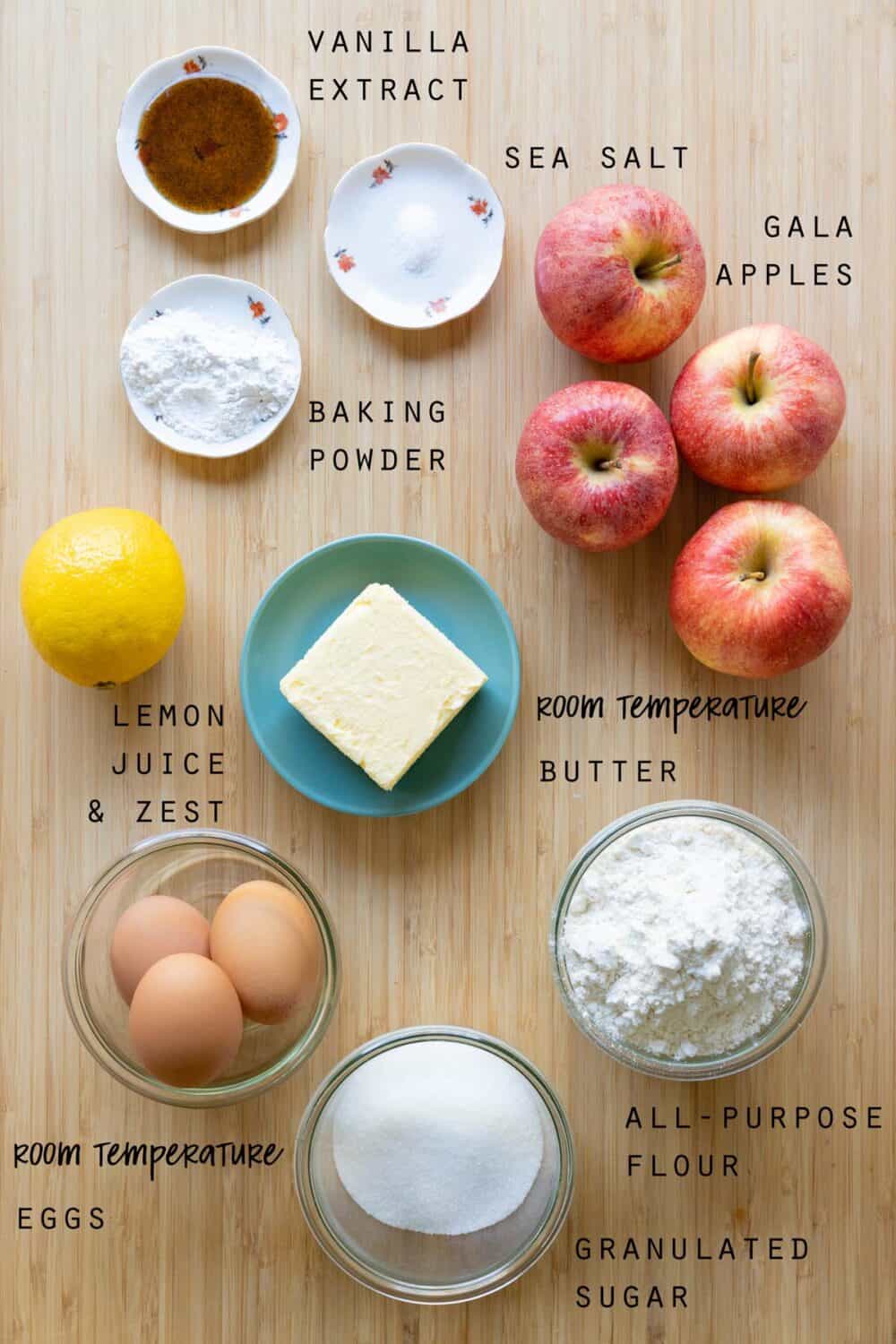 Baking is very different from cooking. Even the smallest changes in a recipe can ruin the end result. I recommend not making any changes other than those suggested in the following list:
Apples – any type of apple will work really. My personal favorite is gala apples because they are nice and small and bake more evenly I find. Whichever type you choose, make sure to choose rather small apples.
Vanilla extract – fresh vanilla seeds, vanilla seed extract, or vanilla sugar all will work.
Sea salt – we just need 1/4 teaspoon of it so if you are using regular table salt instead I recommend adding just a pinch not a 1/4 teaspoon because it's often saltier.
Baking powder – do not mistake with baking soda. They have different chemical compositions and react differently. Make sure you are using baking powder.
Lemon – you will need both the juice and the zest so I recommend buying an organic lemon for this or scrubbing the peel with soap and water to remove all pesticide residue on the bumpy peel. A lime will also work in this recipe but Meyer lemons taste better in a German Apple Cake in my opinion.
Flour – cake flour and all-purpose white flour both work perfectly in this. I've tried it with both and the difference in texture is so mild it really doesn't matter. Whole-wheat flour however will change the structure of the cake completely. I do not recommend it. Also, avoid self-raising flour as this already contains baking powder. I have not tested this recipe with gluten-free flours so I don't know if it works.
Sugar – you have to use fine granulated sugar, a.k.a. caster sugar. Other types of sugars will not work. We need to "cream" the butter and sugar. Creaming is only possible with regular white fine granulated sugar.
Room-temperature butter (a.k.a. softened butter) – use real unsalted butter, no margarine or vegan butter, and make sure it's been out of the fridge 1-2 hours before starting the recipe. This step is crucial! No, you cannot accelerate the process in the microwave or on the radiator. Your butter will start melting from the outside while staying rock-hard in the center. You cannot "cream" butter and sugar unless your butter has the perfect temperature and consistency. See video for consistency requirements.
Room-temperature eggs – if your eggs are fridge-cold you defy the purpose of letting the butter has gotten to room temperature. Cold eggs will harden your butter again. Make sure you get both, eggs and butter to room temperature before starting the recipe.
How To Cream Butter And Sugar – Perfect Sponge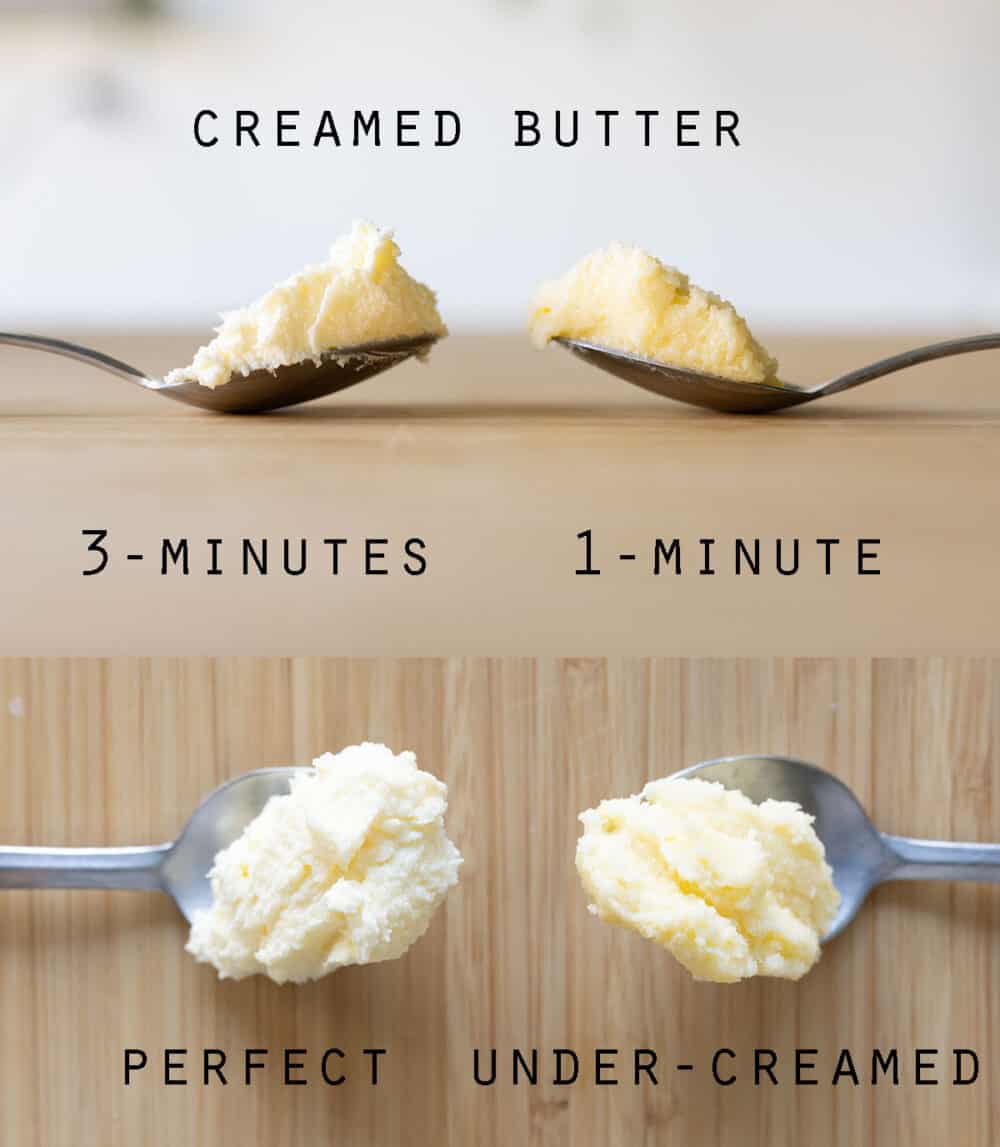 The secret to this German Apple Cake's spongy and airy texture is the creamed butter and sugar. This step is essential and makes or breaks the recipe.
I highly recommend using a stand mixer (this is the one I have) or at least an electric hand mixer (this one has great reviews). Creaming butter and sugar by hand is close to impossible.
Use your mixer on medium and continuously beat until it becomes pale in color and fluffy looking. This takes anywhere from 3-4 minutes of beating time. It'll resemble ricotta cheese somehow. If using a stand mixer, stop the mixer 2-3 times and use a spatula to scrape down the sides to make sure the paddle attachment can reach the ingredients.
Creaming butter and sugar is only possible with room-temperature butter / softened butter. This is why it is so important to let the butter get to room temperature naturally by taking it out of the fridge 1-2 hours before starting the baking process.
If any part of the butter is melted (through a microwave or radiator) the water molecules within the fat molecules start moving freely and the rigid structure unmelted butter offers a cake is lost.
If using fridge-cold hard butter your sugar and butter will never cream. The process would be so long, the mixer would start producing so much heat that the butter would start melting eventually.
Baking is essentially a whole bunch of chemistry, which is why following a baking recipe to a T is so important.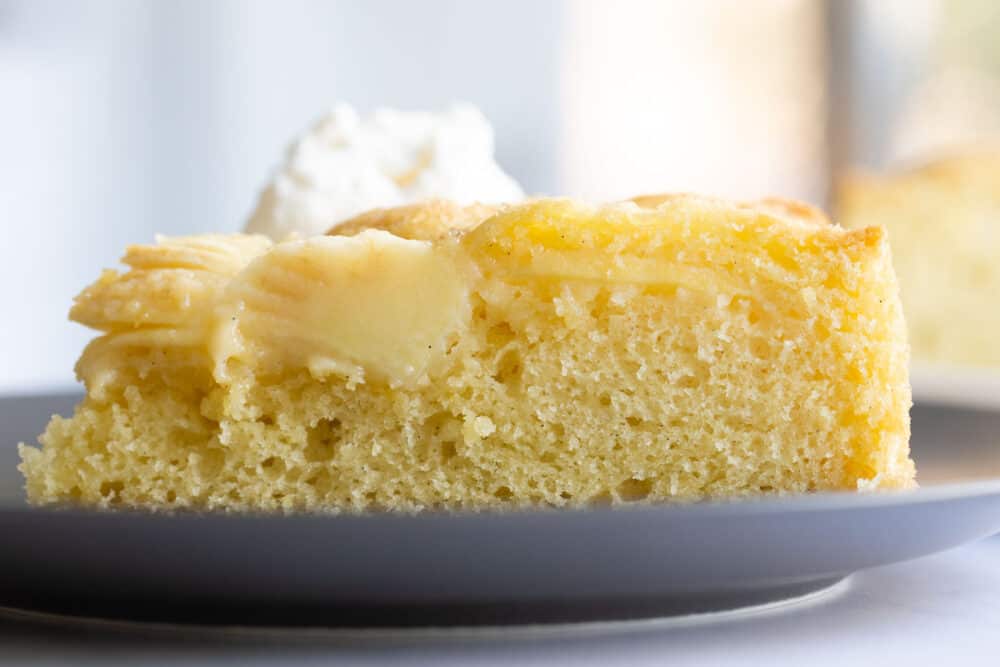 Tips And Tricks For Beautiful Apples
For the German Apple Cake to not only taste amazing but also look incredible it's important to follow these steps precisely: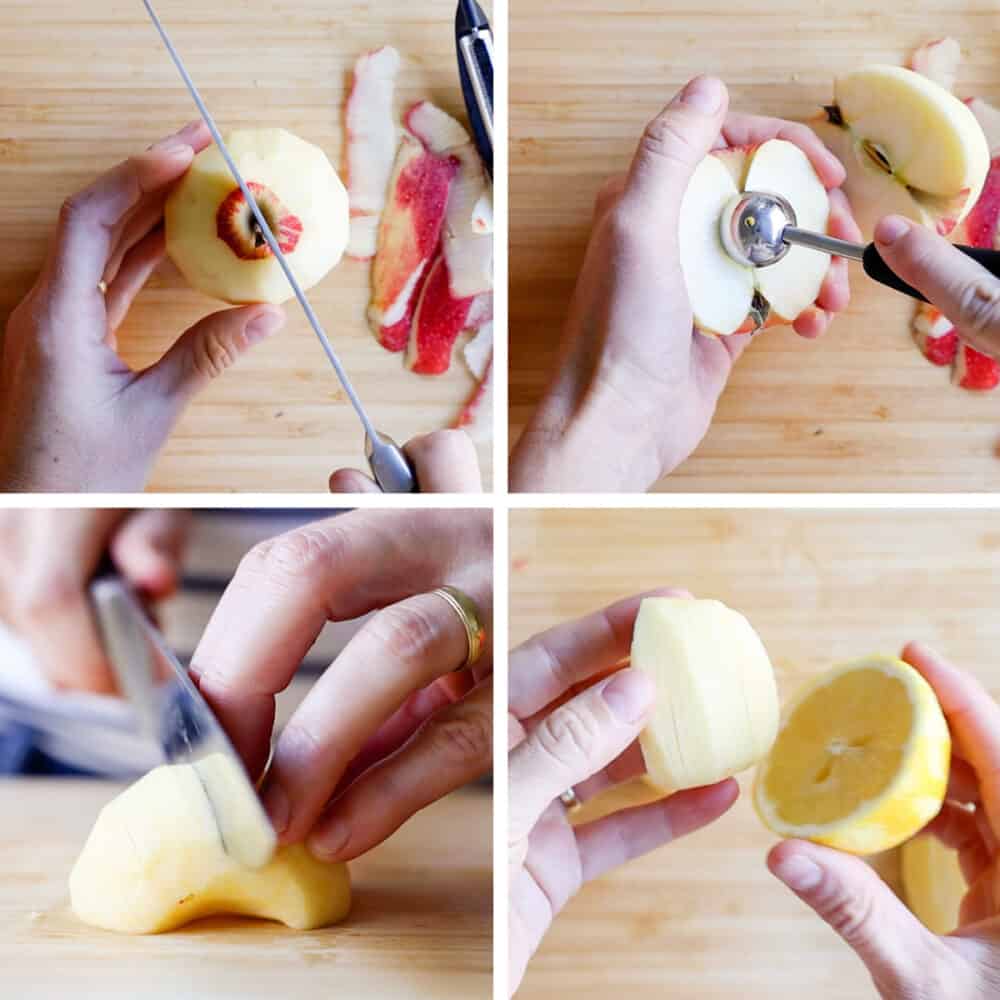 Work on one apple at a time – if you peel all apples first and then start cutting, coring, and slicing them your last apple will be brown before it ever gets smothered in lemon juice. As soon as the apple peel is removed oxidation starts so you have little time to get to the lemon part.
Remove only the core – when using a knife or apple corer you end up taking off the whole center of the apple and that makes slicing it nicely much harder. I prefer using a melon baller (< this is the one I have) for this and then the regular peeler to peel off the root or any remaining peel.
Slice only halfway – make many cuts into the apple but only halfway to keep the apple piece intact. We don't want to end up with sliced apples, just with slit apples.
Coat in lemon juice – it's important to lightly coat the apples in lemon juice as quickly as possible after peeling. You don't want to drizzle it on top though. Just use a cut-up lemon and move it around on the apple without squeezing.
Bonus tip – the cake is called "Versunkener Apfelkuchen" which means "sunken apple cake" because the apples look like they sunk into the batter. However, they actually don't sink in the batter. The batter pushes upward and around the apples. So do not push the apple into the batter, just lay them on top carefully.
How To Make Homemade Whipped Cream
This is easier than many people think. All you really need for this is heavy whipping cream (it should have around 35% fat content). I also like adding a tablespoon of sugar so it gets better structure and a teaspoon or two of vanilla extract to give it that special vanilla flavor. Both sugar and vanilla are optional though.
I like adding 1/2 a tablespoon of sugar and 1 teaspoon of vanilla per cup of heavy whipping cream. For this whole German Apple Cake, I like making whipped cream out of 2 cups of heavy whipping cream to ensure I have enough for every piece to get a nice big dollop of cream.
All you have to do is add the cream, sugar and vanilla if using, to the clean bowl of your stand mixer and then use the whisk attachment to whisk it on medium-high for approximately 5-7 minutes.
At the 5-minute mark, stop the machine often to check how the cream is coming along. If you overwhip cream if becomes butter. Don't miss the critical moment of perfectly whipped cream.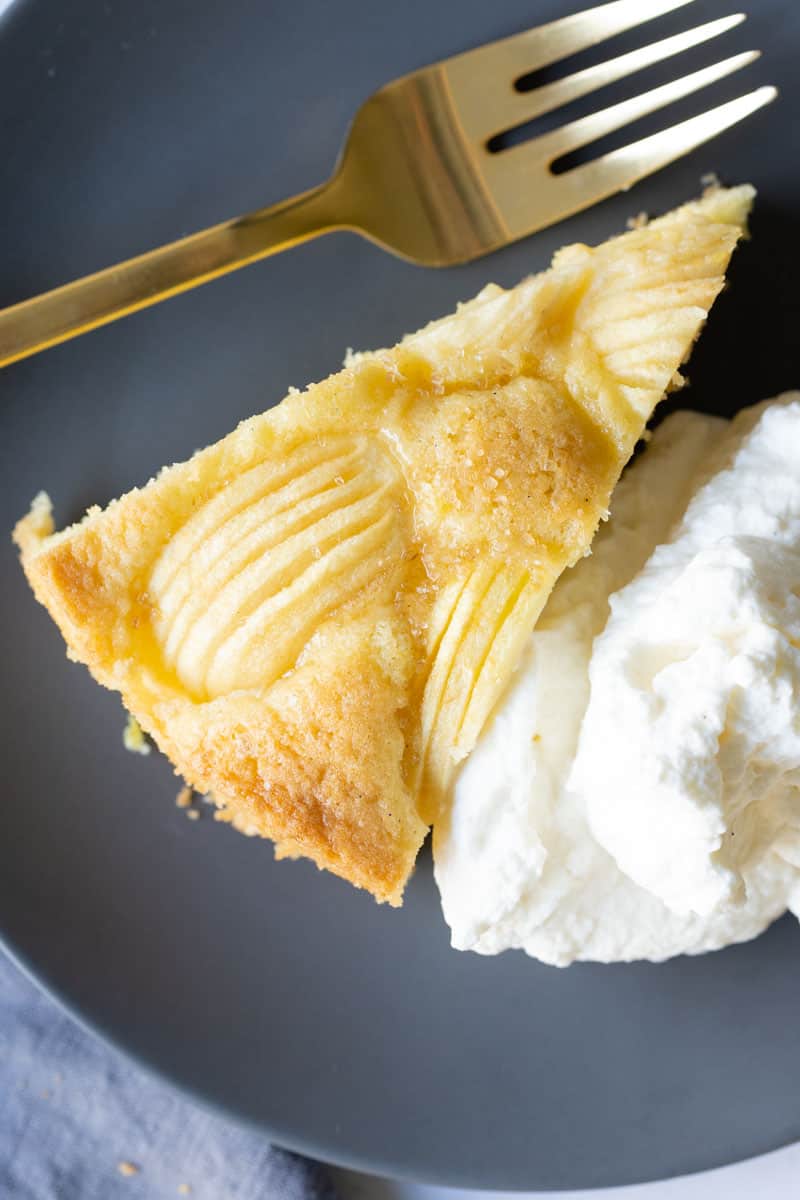 Tips And Tricks For The Best Baking Success
Weight & Volume Measurements
In the recipe card, you will find both volume measurements and weight measurements. While volume measurements are good enough for regular cooking, in baking they can end up being too inexact. Weight-measuring ingredients will always yield the best results.
I understand most North American kitchens don't tend to have digital scales but I highly highly recommend you invest in one if you plan on baking often. This is the digital scale I have. It's great and it's just $14!
If you absolutely insist on measuring ingredients with cups and spoons I recommend you follow this tutorial on how to measure flour accurately.
How To Bake A Flat German Apple Cake
Most sponge cakes end up in the form of a dome. That's because the metal cake pan gets hot in the oven and the heat radiates from the outside inwards where the heat then escapes upward.
If you want your cake to stay flat and not lift in the center I recommend getting cake strips (< these are the ones I have). You wet them thoroughly and then place them in the freezer for a few minutes just before you start working on making your cake.
Wrap them ice cold around your cake pan and then place the cake pan in the oven. The cold strips will help the cake cook evenly and you will have a perfectly flat German Apple Cake, or any other sponge cake for that matter, in the end. I've had my cake strips for well over 6 years now. They last forever.
How To Achieve Even Browning
If your oven is notorious for baking unevenly and burning things in one corner and leaving things unbaked in the opposite corner you might want to give your cake a turn midway.
Simply use your oven gloves after about 20 minutes baking time and give the cake pan a 180-degree turn to make sure the cake browns nicely all over.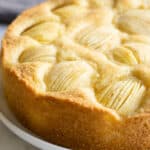 German Apple Cake (Versunkener Apfelkuchen)
Learn how to make traditional "Versunkener Apfelkuchen". It's a popular German apple cake that looks like the apples are sunken. It tastes even better than it looks.
Print Recipe
Pin Recipe
Ingredients
4

small apples

-

gala work best

120

g

butter (at room temperature)

-

1 stick or half a cup

120

g

granulated sugar

-

1/2 cup + 1 Tbsp

1

lemon

3

large eggs (at room temperature)

-

150g excluding shells

2

tsp

vanilla bean paste or vanilla extract

200

g

all-purpose or cake flour

-

1.5 cups, spooned and leveled

2

tsp

baking powder

1/4

tsp

sea salt

1

Tbsp

raw sugar

-

demarara or turbinado work well
Instructions
Butter a 9" round cake pan on the bottom and sides and line the bottom with parchment paper. Set aside.

Peel one apple at a time, cut in half, core without removing too much apple, then lay flat side down and make many slits into the apple without cutting all the way down. Then cut the apple half in half. That way you end up with apple quarters with slits all over. Use a half lemon and lightly coat with lemon juice to avoid browning. Set aside.

Preheat the oven to 350F (180C).

Cream softened butter, sugar, and zest of lemon with the paddle attachment of your stand mixer. (See detailed instructions in the blog post).

Add vanilla extract and eggs one egg at a time, making sure each egg is incorporated into the creamed butter before adding the next. Mix on low, do not beat the eggs.

Place a sieve over the mixing bowl and add flour, baking powder, and sea salt to the sieve and sift into the bowl.

Mix on low until JUST incorporated, then add the batter to your buttered and parchment-paper-lined cake pan. Use a spatula to distribute evenly and flatten.

Place apple quarters on top without pushing into the batter. Sprinkle a little raw sugar on the apples.

Bake for 35-40 minutes or until baked through and golden.

Remove from the oven and place on a wire rack to cool for at least 20 minutes before removing from the cake pan. Sprinkle with a little more raw sugar if you like and serve with homemade whipped cream.
Notes
If you are a beginner baker please read the full blog post and watch the video tutorial. There is a lot of valuable information in there for you.
Nutrition
Calories:
341
kcal
|
Carbohydrates:
50
g
|
Protein:
5
g
|
Fat:
14
g
|
Saturated Fat:
8
g
|
Polyunsaturated Fat:
1
g
|
Monounsaturated Fat:
4
g
|
Trans Fat:
0.5
g
|
Cholesterol:
94
mg
|
Sodium:
195
mg
|
Potassium:
272
mg
|
Fiber:
3
g
|
Sugar:
27
g
|
Vitamin A:
517
IU
|
Vitamin C:
11
mg
|
Calcium:
69
mg
|
Iron:
2
mg
What's your clean eating vibe?
Take this fun QUIZZ and find out in 10 seconds!