This German Goulash is what the Swabians in Germany call "Hungarian Goulash". Ha! A juicy and tender beef stew made with paprika, peppers, and a red wine sauce.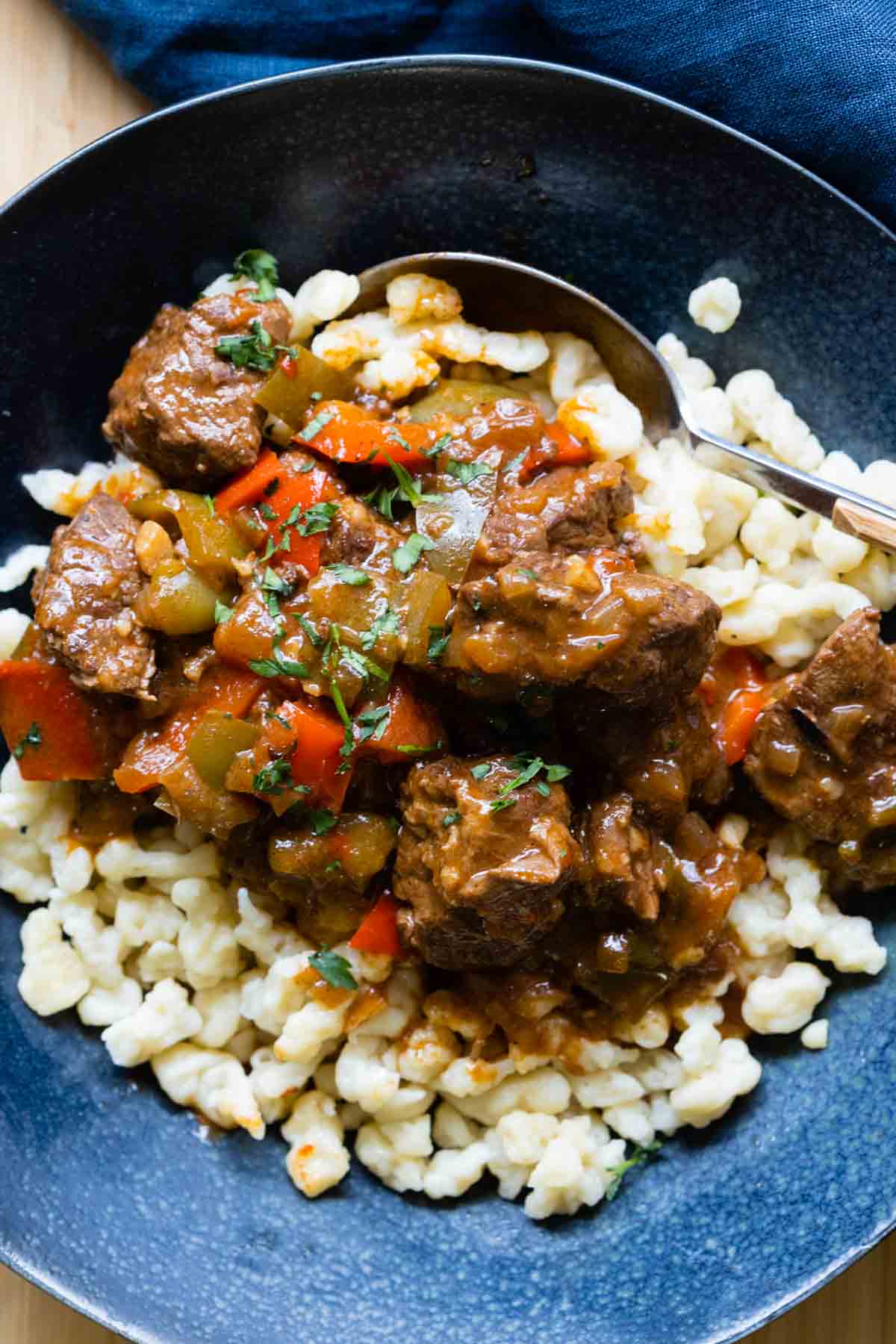 Originally goulash (gulyás) is from Hungary but over the centuries this traditional stew obviously traveled into different cuisines, including German cuisine. Hungarian goulash has potatoes and sometimes carrots, but German goulash does not.
Every culture added its own variations to the recipe. American goulash for example is made with ground beef and pasta. Here I want to share the Southern German recipe my mom used to make me when I grew up.
In Germany, goulash is an absolute crowd-pleaser and is on the menu very often in fall and winter. It's often served on its own with a piece of bread to dunk into the sauce, with egg noodles, with Knoedel, or over German Spaetzle.
Ingredients for Authentic German Goulash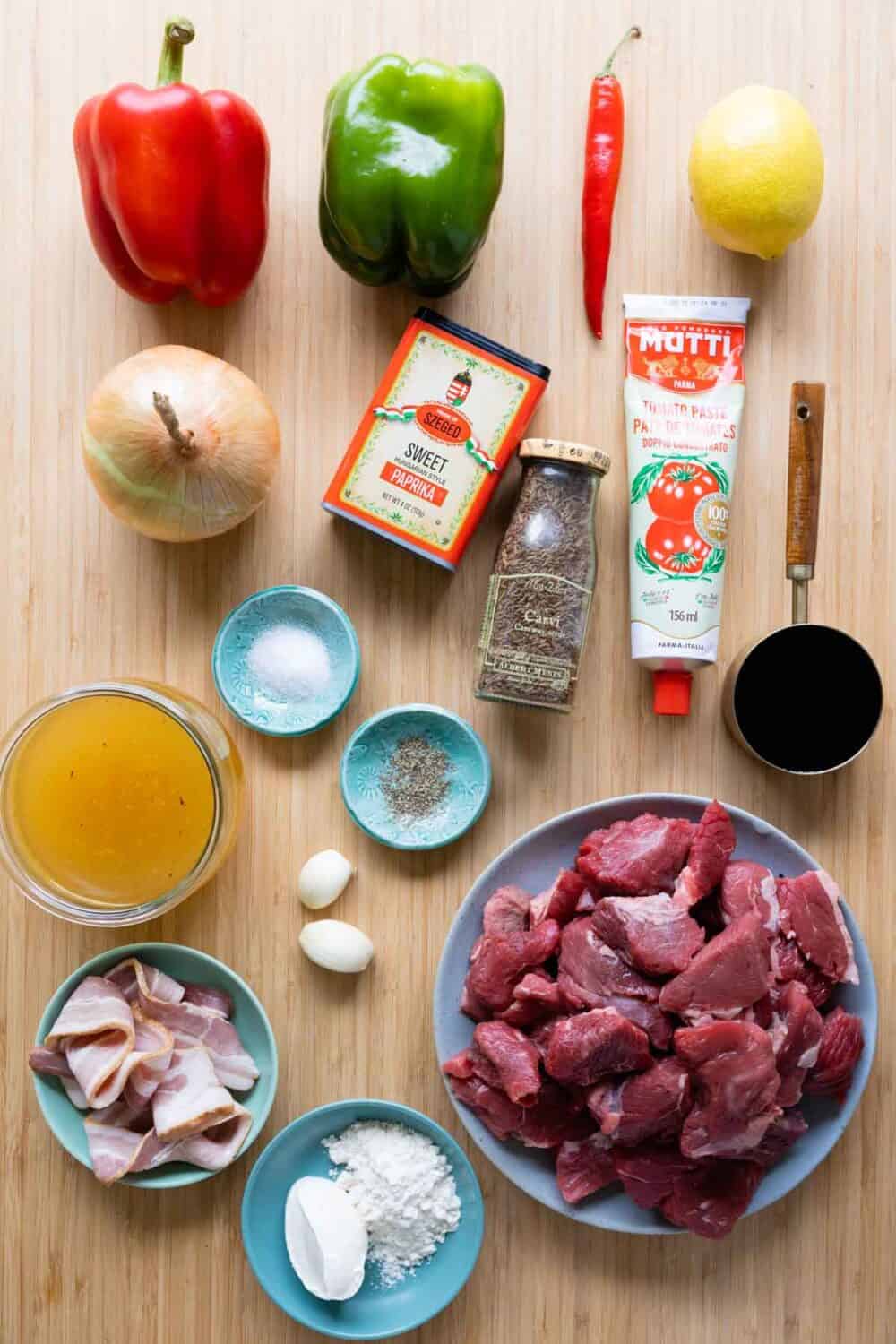 Chuck Roast – any stewing beef will work but make sure it has lots of marbling. You need the fat and cartilage so the beef becomes tender. If you use the incorrect cut the meat will dry out and become very tough to chew.
Onion & Garlic – obviously a great stew can't be made without these two. Definitely use fresh.
Bacon fat – you can obviously use oil instead of bacon fat to brown the meat in and stir-fry the onions but bacon does give pretty amazing extra flavor.
Paprika – you will need "sweet" paprika. It's not actually sweet but it's essentially a word to differentiate from the "spicy" paprika. I always like to use Hungarian-style paprika.
Caraway Seed – some like to add it, some don't. The original Hungarian gulyás has it so I swear by it for the German Goulash, too. Many Hungarian goulashes have marjoram in them as well but I've never added any to mine.
Bell Pepper – Some like adding different colored peppers, others swear it can only be green, others say you shouldn't add any. This is Green Healthy Cooking you're landed on so add plenty of veggies to the stew ;)
Beef Broth & Red Wine – the liquid we're cooking this in is a mix of beef and red wine. You can of course omit the wine and simply add more broth. The important part is that the meat is fully submerged when you simmer it.
Tomato Paste – I love buying tomato paste in tubes because then I can just press it into the pot.
Chili – a red chili gives German Goulash a nice kick. You can also use a pinch of spicy paprika instead or leave it out completely if you don't like eating spicy.
Lemon Zest – this isn't very traditional but my mom always added it, so that's what I do, too. Just a little bit.
Crème fraîche or sour cream and flour – this is optional but it makes the stew a lot creamier. The roux you make with the flour helps thicken the liquid so it isn't as soup-like so I strongly recommend it.
How To Make The Best German Goulash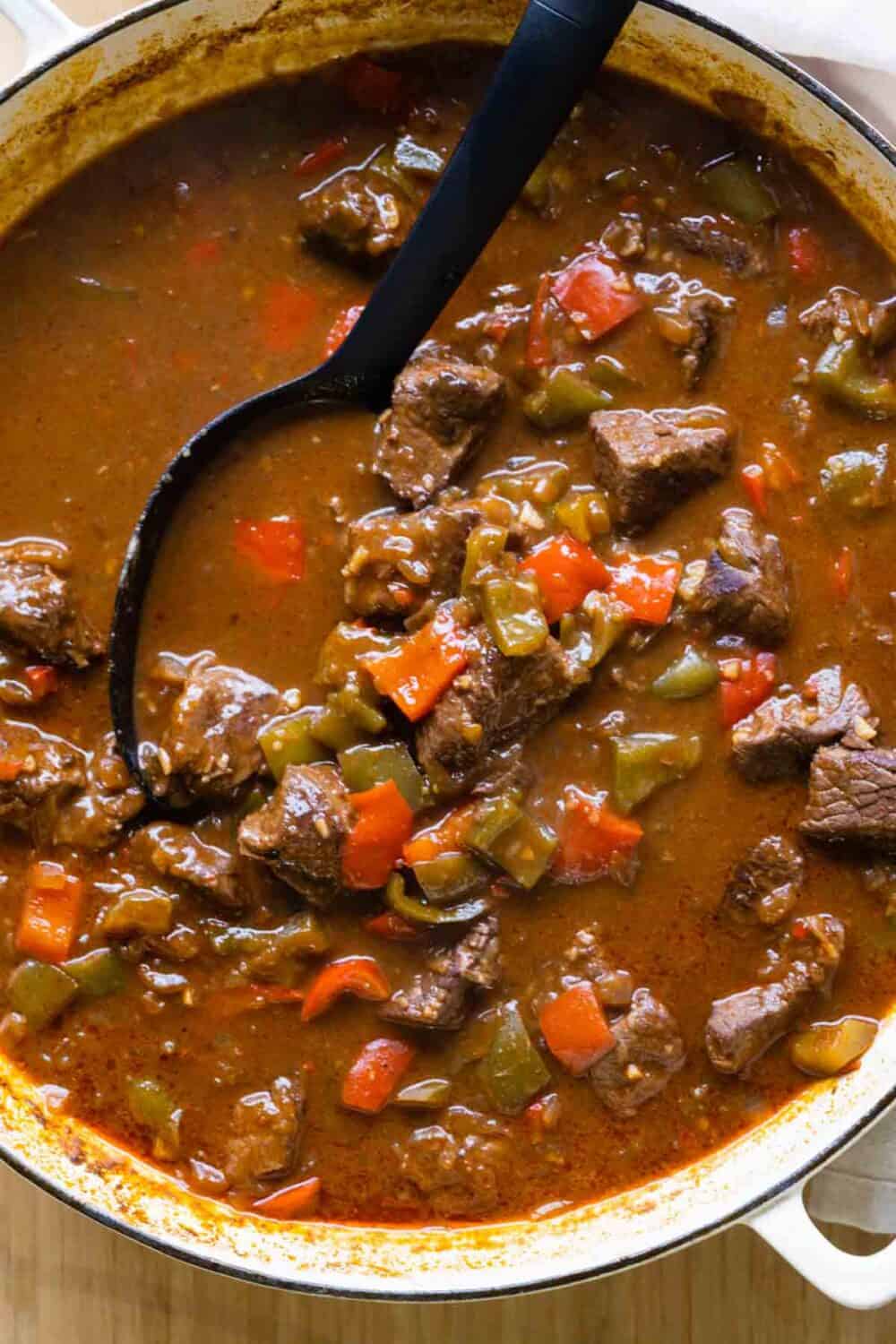 There are certain tricks that apply to pretty much any beef stew and especially to this German Goulash. Probably THE most important thing is to make sure your meat is tender once the goulash is finished.
How To Make Sure Beef Goulash Is Tender
Use high-quality meat with lots of marbling such as chuck roast. If you don't know what cut the "stewing beef" is sold in the grocery store then skip it and buy a big piece of chuck roast and cut it into cubes yourself.
Brown the meat in a hot (not burning) heavy-bottomed pot such as a cast iron pot in batches (!). There is no worse mistake than adding too much meat and then instead of it searing, it releases all its liquid and the cubes cook in their own juice and never get the nice deep brown color. The beef cubes should never touch when they are in the pan. There has to be air circulation from all sides.
Brown each cube from all sides. Use tongues to turn them and ensure they brown all over. I know this is time-consuming but it's 100% worth it. Don't take a shortcut here. You want tender meat, not dry leather-like meat you can hardly chew later.
Make sure all beef is submerged in liquid when you simmer it and make sure the liquid is only simmering, not boiling.
Give it time! Some beef cut cook faster than others but generally stewing beef needs at the very least 90 minutes of low simmering until it gets tender. Yes, there is such a thing as overcooking stewing beef but in 95% of the cases, when your beef is chewy it's because it wasn't cooked long enough. Anywhere from 1.5-2 hours on LOW is the sweet spot in my opinion.
Add Bell Pepper Later In The Cooking Process
Bell pepper cooks much faster than stewing beef of course. If you add it at the beginning it will completely dissolve and lose all its color. 45 minutes of low simmering is plenty for the peppers.
Color is one of the things that makes this German Goulash Recipe different from those from other countries. The longer you cook vegetables the more color they lose.
Season The Beef Separately
It's not enough to add salt and pepper to your sauce and hope the beef absorbs some of it. Each piece of beef has to be seasoned separately. I like adding it to the bacon fat in the pan, then add sea salt and pepper at that point.
Depending on how salty your broth is you might not even have to add more salt or pepper later in the process.
Frequently Asked Questions
How long can I store German Goulash in the fridge?
This stew stays fresh in the fridge for up to 4 days. If you need to store it longer, freeze it.
Can I freeze Goulash?
Yes! Simply add to an air-tight freezer-friendly container and freeze for up to 3 months. To defrost place in the fridge for 24 hours prior to reheating. Do not defrost in the microwave, the meat will dry out that way.
Can I Make German Goulash ahead?
Absolutely. You can make it a day ahead. To reheat make sure you heat on low and never hard-boil so the meat doesn't dry out.
Can I make This German Goulash Recipe In The Slow Cooker?
Yes! Start with a large pan on the stove for the meat-browning and onion-frying part, then add everything but the bell pepper to the slow cooker and set it to 4 hours on high or 8 hours on low and add the bell pepper mid-way.
Can Goulash Be Made In The Instant Pot?
Yes! However, you will have to leave out the wine because under pressure it cannot evaporate and instead of improving the sauce's flavor it has a strong alcoholic taste. Brown the meat and fry the onions using the sauté function. You will also have to add the bell pepper from the start because you can't add them mid-way. Pressure cook on high for 60 minutes, then wait for full natural pressure release.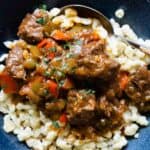 German Goulash
This German Goulash is what the Swabians in Germany call "Hungarian Goulash". Ha! A juicy and tender beef stew made with paprika, peppers, and a red wine sauce.
Print Recipe
Pin Recipe
Ingredients
1

onion

2

cloves garlic

1

red chili

1

Tbsp

bacon fat

-

or any other flavorless high-smoke point oil.

1.5

lbs

stewing beef

2

Tbsp

tomato paste

1

tsp

caraway seeds

1/2

tsp

lemon zest

2

Tbsp

sweet paprika

1/2

cup

red wine

1.5

cups

beef broth

1

red bell pepper

1

green bell pepper

sea salt

pepper

parsley for garnish
Instructions
Peel and finely chop onion and garlic. Destem and deseed chili and chop finely as well.

Preheat a large braiser over medium heat. Add bacon fat or oil to a large braiser and brown beef in batches. For a nice sear working in batches is essential. Sear on all sides until dark brown. Then set aside.

Add chopped onions, garlic, and chili to the braiser and stir-fry until brown. Then add tomato paste, caraway seeds, lemon zest and paprika, give a quick stir and then immediately add red wine to deglaze the bottom.

Add beef broth and return the browned beef to the braiser. Make sure all beef is submerged in the broth. Reduce heat to low, cover the braiser and let the meat simmer for 1 hour and 15 minutes.

In the meantime, deseed peppers and cut them into bite-size pieces. After the 1:15 hours simmering time add the peppers to the beef, give it a quick stir then put the lid back on and let simmer for another 45 minutes.

Serve over egg noodles or German Spaetzle, sprinkle with fresh parsley and enjoy!
Nutrition
Calories:
234
kcal
|
Carbohydrates:
8
g
|
Protein:
28
g
|
Fat:
8
g
|
Saturated Fat:
3
g
|
Polyunsaturated Fat:
1
g
|
Monounsaturated Fat:
3
g
|
Cholesterol:
73
mg
|
Sodium:
225
mg
|
Potassium:
776
mg
|
Fiber:
2
g
|
Sugar:
4
g
|
Vitamin A:
1999
IU
|
Vitamin C:
55
mg
|
Calcium:
43
mg
|
Iron:
3
mg
What's your clean eating vibe?
Take this fun QUIZZ and find out in 10 seconds!