Cucumber salad offers a cool and refreshing side dish with few calories. It's easy to prepare and packs a punch of bright flavor and color to add to any meal.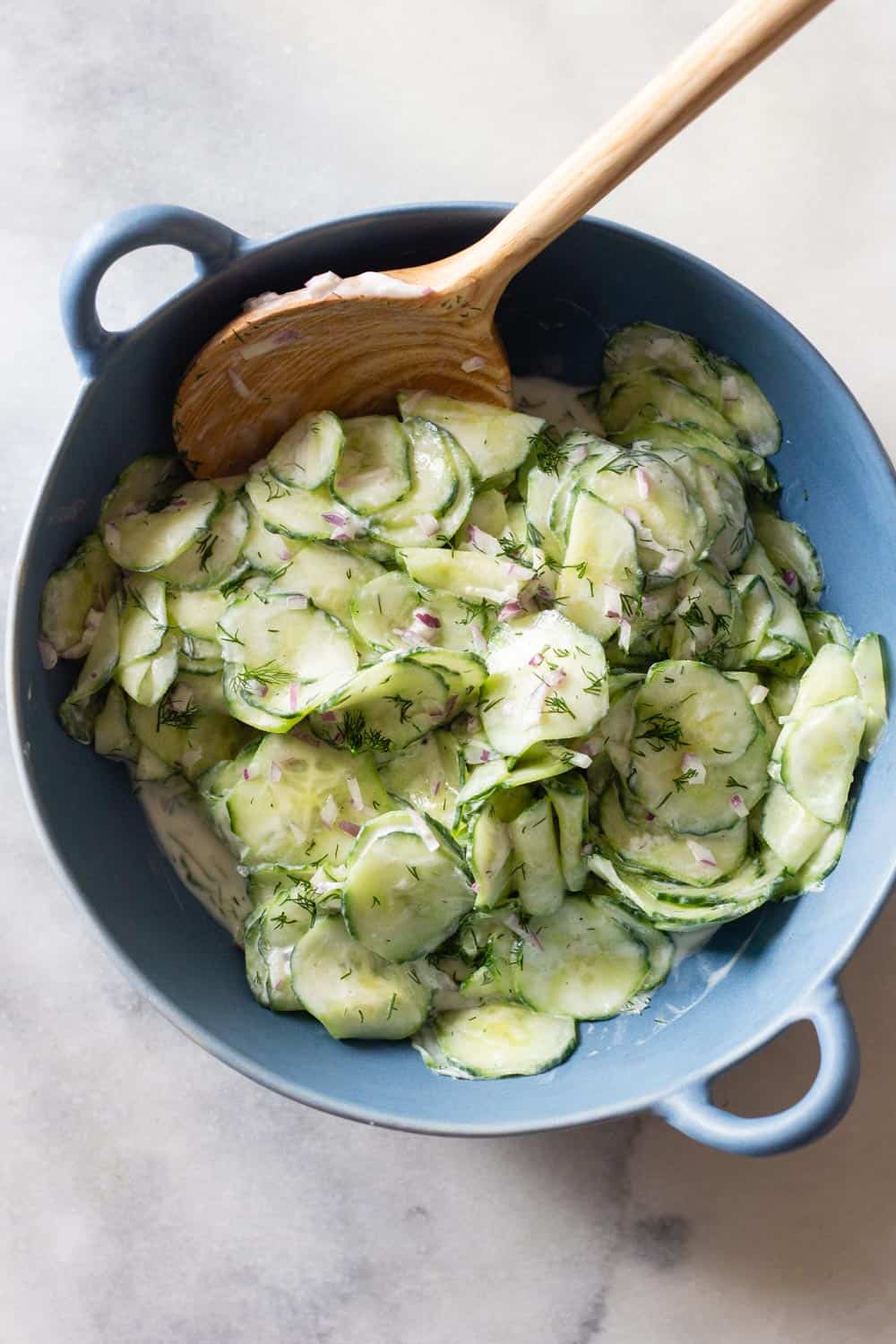 Cucumber salad is a low-carb side that tastes indulgent. The creamy sauce nicely complements the sweet taste of the cucumber. This salad is a great match for the keto diet plan. This recipe is also gluten-free.
Cucumbers have a lot of fiber with very few calories. Since they are mostly water, they also help keep you hydrated. This delicious salad can be enjoyed by guests on nearly any eating plan so it's a safe bet to take to a potluck or serve for a party.
What's the difference between an English cucumber and a regular cucumber?
English cucumbers are also called seedless or greenhouse cucumbers. They are longer and more narrow than regular cucumbers. Sometimes as long as twelve inches.
They have very thin skin and underdeveloped seeds. This means that the seeds are not as noticeable as in a regular cucumber, and they do not need to be seeded in recipes such as this cucumber salad. They also do not need to be peeled. Many of a cucumber's nutrients are in the peel. Being able to easily eat the peel of an English cucumber will deliver more vitamins and minerals.
The shape of an English cucumber is uniform for its entire length, making them ideal for slicing into salads. They have a sweet mild flavor that pairs well with almost any toppings.
They are typically sold wrapped in plastic at the grocery store (booo). Always choose cucumbers that are firm, which indicates that they are fresh.
If you buy regular cucumbers from the grocery store, they may have wax on them to keep them fresh. If so, you always want to them peel before preparing.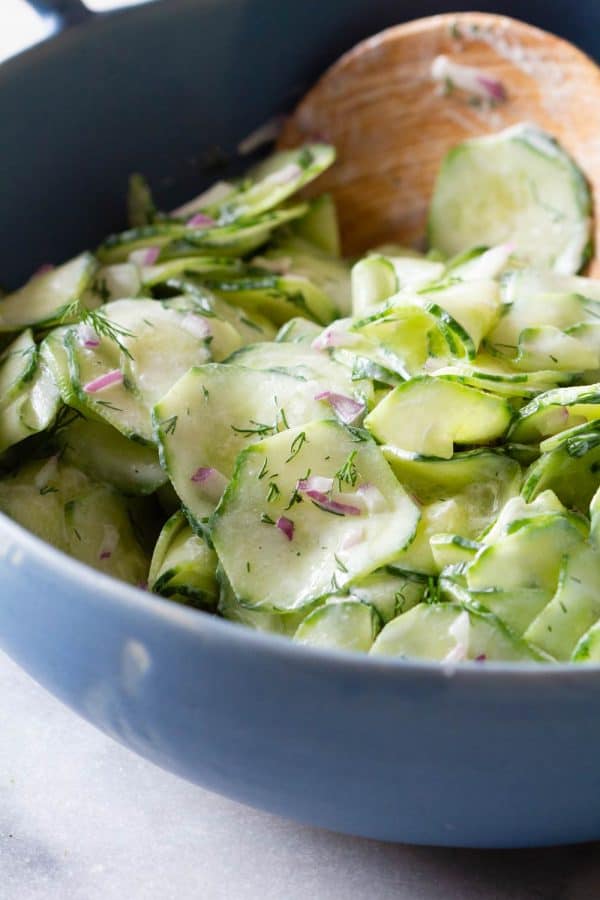 How do you drain cucumbers for cucumber salad?
The secret to a fantastic cucumber salad is salt and time.
Cucumbers are mostly water. By sprinkling them with salt, the excess water will be drawn out. The salt flavors them at the same time, so letting them sit increases the flavor as well.
Generously salt the cucumber slices and let it sit for at least 15 minutes. Don't be afraid to let them sit longer than that. The more water that is drawn out, the thicker your dressing will be.
You can drain the water off the cucumbers by tipping the bowl.
Another option would be to salt the cucumbers in a colander. Leave it in the sink and let the water run out.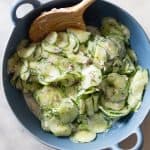 Creamy Cucumber Salad
Cucumber salad offers a cool and refreshing side dish with few calories. It's easy to prepare and packs a punch of bright flavor and color to add to any meal. 
Print Recipe
Pin Recipe
Ingredients
2

English cucumbers

1/4

cup

finely chopped red onion

1/4

cup

chopped dill

1/3

cup

sour cream

1/3

cup

plain unsweetened yogurt

1

Tbsp

white wine vinegar

1/2

Tbsp

honey

-

optional, leave out for Keto, without honey 9g carbs (8 net)

1-2

tsp

sea salt

pepper
Instructions
Wash cucumbers and peel lengthwise in zebra patterns (see video).

Use a mandoline to slice the cucumbers into about 1-2 mm thick rounds into a large bowl(see video).

Add sea salt to the cucumber slices and mix well with your hands, then set them aside in the bowl for at least 15 minutes (up to 30) until they release most of their water.

In the meantime, finely chop red onion and destalk dill and chop up dill leaves.

Mix the salad dressing by adding sour cream, honey, vinegar, and yogurt to a bowl and whisk.

By now the cucumber should have released most of its excess water. Tip the bowl to a side and pour the liquid out of the bowl while holding the cucumber slices with your hands. If you leave the water in there, it will water down your dressing and it will eventually become more of a soup than a salad.

Add chopped onion and dill to the cucumber, pour dressing over it, give it a good stir and enjoy!
Nutrition
Calories:
86
kcal
|
Carbohydrates:
11
g
|
Protein:
3
g
|
Fat:
4
g
|
Saturated Fat:
2
g
|
Cholesterol:
11
mg
|
Sodium:
617
mg
|
Potassium:
332
mg
|
Fiber:
1
g
|
Sugar:
7
g
|
Vitamin A:
504
IU
|
Vitamin C:
7
mg
|
Calcium:
89
mg
|
Iron:
1
mg
What's your clean eating vibe?
Take this fun QUIZZ and find out in 10 seconds!