Braised red cabbage is the ultimate side dish for your holiday table! Add some apple and make it extra delicious! An easy "Blaukraut" recipe to impress your guests.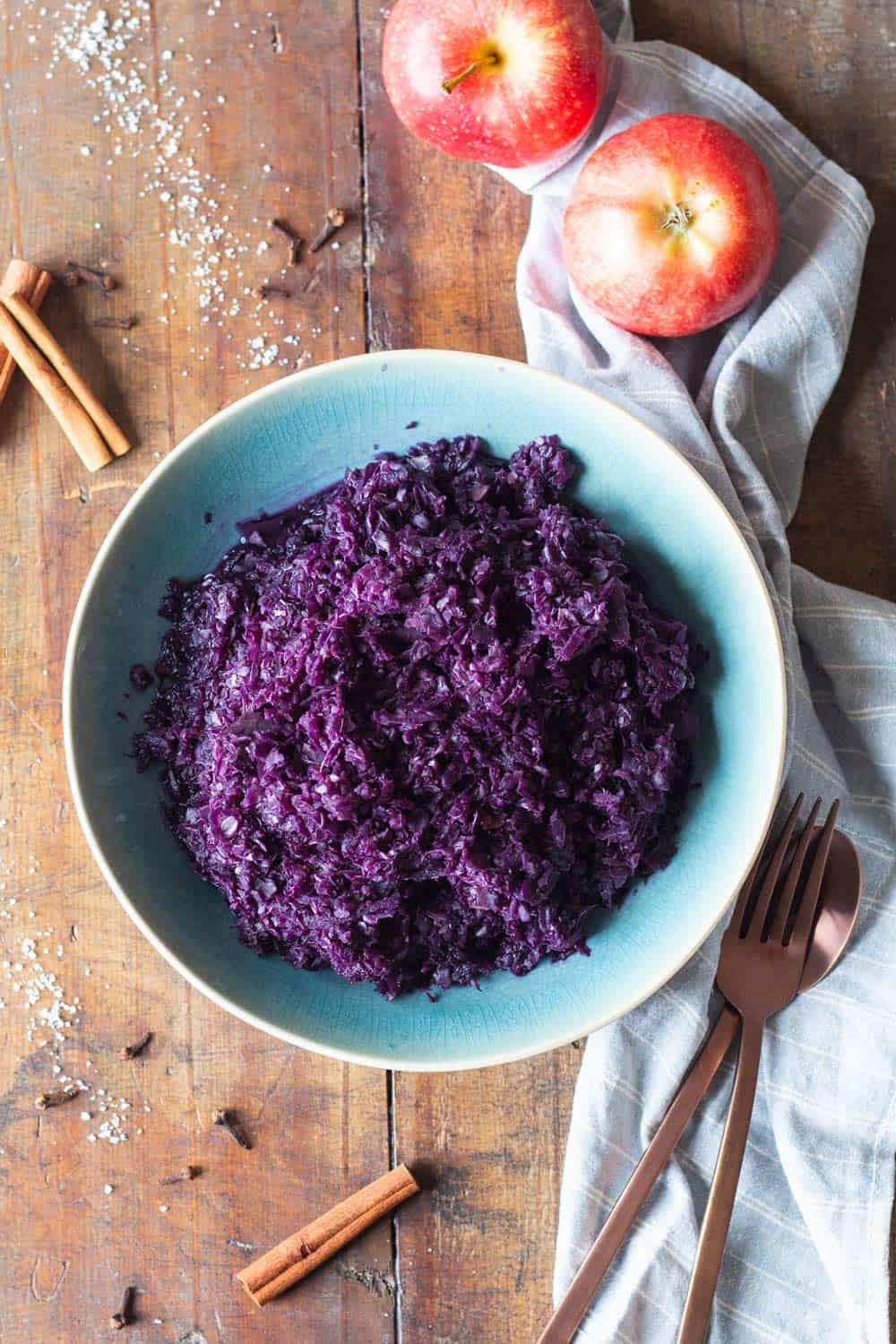 I know this dish as "Blaukraut". A German braised red cabbage so to speak. It's the typical side dish for Christmas or Easter. Contains quite a bit of sugar though so had to adjust the recipe a little to fit Green Healthy Cooking and to grocery store stocks in North America.
Serve it as a side to Roast Lamb Shoulder or Turkey or Two Roasted Chickens if you prefer.
Originally Blaukraut contains currant jelly which, so far, I've never seen on this side of the Atlantic.
Alternatives for Currant Jelly in German Braised Red Cabbage
I would suggest making your own, it's super easy! However, I haven't found it any easier to find redcurrant or blackcurrant at grocery stores or markets around the Montreal area either. And this braised red cabbage recipe is supposed to be easy, right?
So what's the best replacement for currant jelly? Cranberry sauce!! Something that funny enough is rather difficult to find in Europe, ha! It has the same characteristics. It's a sour fruit that mixed with sugar becomes this sweet and sour mixture we all love.
You can use about 1/3 – 1/2 of a cup of your favorite cranberry sauce if you miss the sweetness in your "Blaukraut".
Another alternative to make it sweet is to leave out the red wine and replace it with pomegranate juice. Also, super super yummy.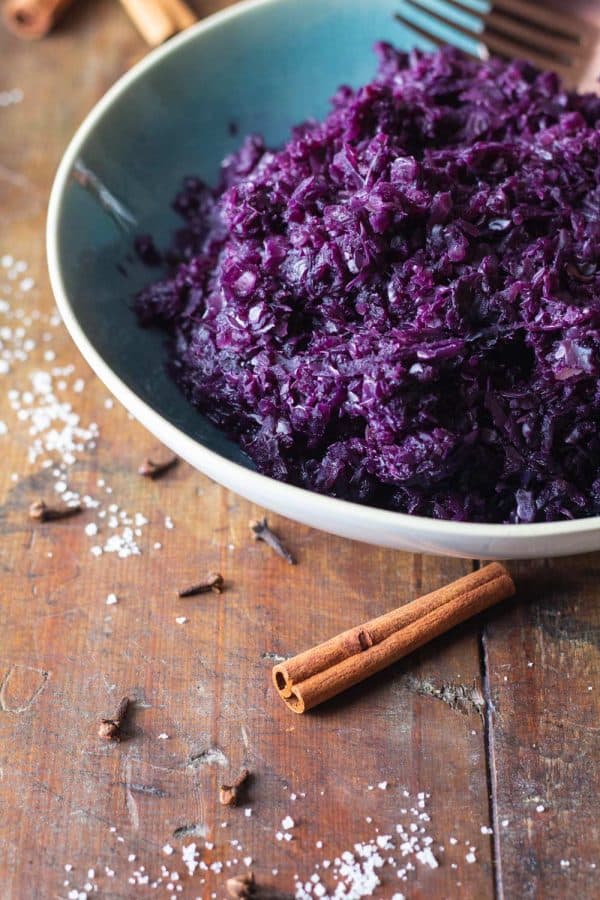 Healthy Braised Red Cabbage
To leave it sugarless and make it rather savory, you can of course simply leave out all jelly and juice.
I do this all the time and still absolutely love the dish. It is more important than ever though to reallly braise your cabbage.
Let it cook for a long time and use red wine that isn't too strong in taste. It can take a good 3hours for a large head of cabbage to become deliciously soft.
If you don't have time to watch your cooking pot that long:
Slow-Cooker Braised Red Cabbage
Use a slow-cooker to make your braised cabbage so you don't have to babysit the pot. Add all ingredients to your slow cooker, put on the lid and walk away for 4-8 hours.
It cooks in 4 hours on high or 8 hours on low and tastes just as delicious if not better than made on the stovetop!
The slow cooker is also a great little tool to keep the cabbage warm for an extended period of time so people can get seconds of still hot braised red cabbage.
For another out of this world side this to make for your holiday table check out these Bacon-Wrapped Green Beans, I start drooling as soon as I just think about it.
Braised Red Cabbage
Braised red cabbage is the ultimate side dish for your holiday table! Add some apple and make it extra delicious! An easy recipe to impress your guests.
Print Recipe
Ingredients
1

large

red cabbage

2

red apples

2

small

onions

5

cloves

2

cinnamon sticks

1.5

cups

vegetable stock

1

cup

red wine

-

(alternatively pomegranate juice)

salt

pepper

1/3-1/2

cup

cranberry sauce

-

(optional)
Instructions
Shred cabbage, apples and peeled onion if you have a herb infuser. If you don't have a herb infuser (see video) cut the onion in half to press in cloves.

Add all shredded ingredients to a large heavy bottomed pot or slow cooker and pour vegetable stock and red wine into it.

Add cloves and cinnamon sticks to herb infuser or press cloves into halved onions and press into the pot until submerged in the liquid at the bottom.

Bring to a boil and then immediately reduce heat to a low simmer, cover and let simmer for about 3 hours or until the cabbage is nice and soft and reduced in amount to about half.

Alternatively, turn on the slow cooker for 4 hours on high or 8 hours on low.

Remove lid and let most liquid evaporate while constantly stirring in oder to prevent from burning (this only takes about 10 minutes).

This is where you want to add the cranberry sauce if you're adding any.

Season to taste with salt and pepper and serve hot.
Nutrition
Calories:
104
kcal
|
Carbohydrates:
20
g
|
Protein:
2
g
|
Sodium:
217
mg
|
Potassium:
456
mg
|
Fiber:
4
g
|
Sugar:
11
g
|
Vitamin A:
1700
IU
|
Vitamin C:
84.2
mg
|
Calcium:
82
mg
|
Iron:
1.4
mg
What's your clean eating vibe?
Take this fun QUIZZ and find out in 10 seconds!