THIS POST IS SPONSORED BY MANN'S
The most delicious veggie pizza of all time! Vegetables of all the colors of the rainbow on authentic Italian homemade pizza dough. Air-filled edge but crispy thin crust. A real dough topped with the best vegetables.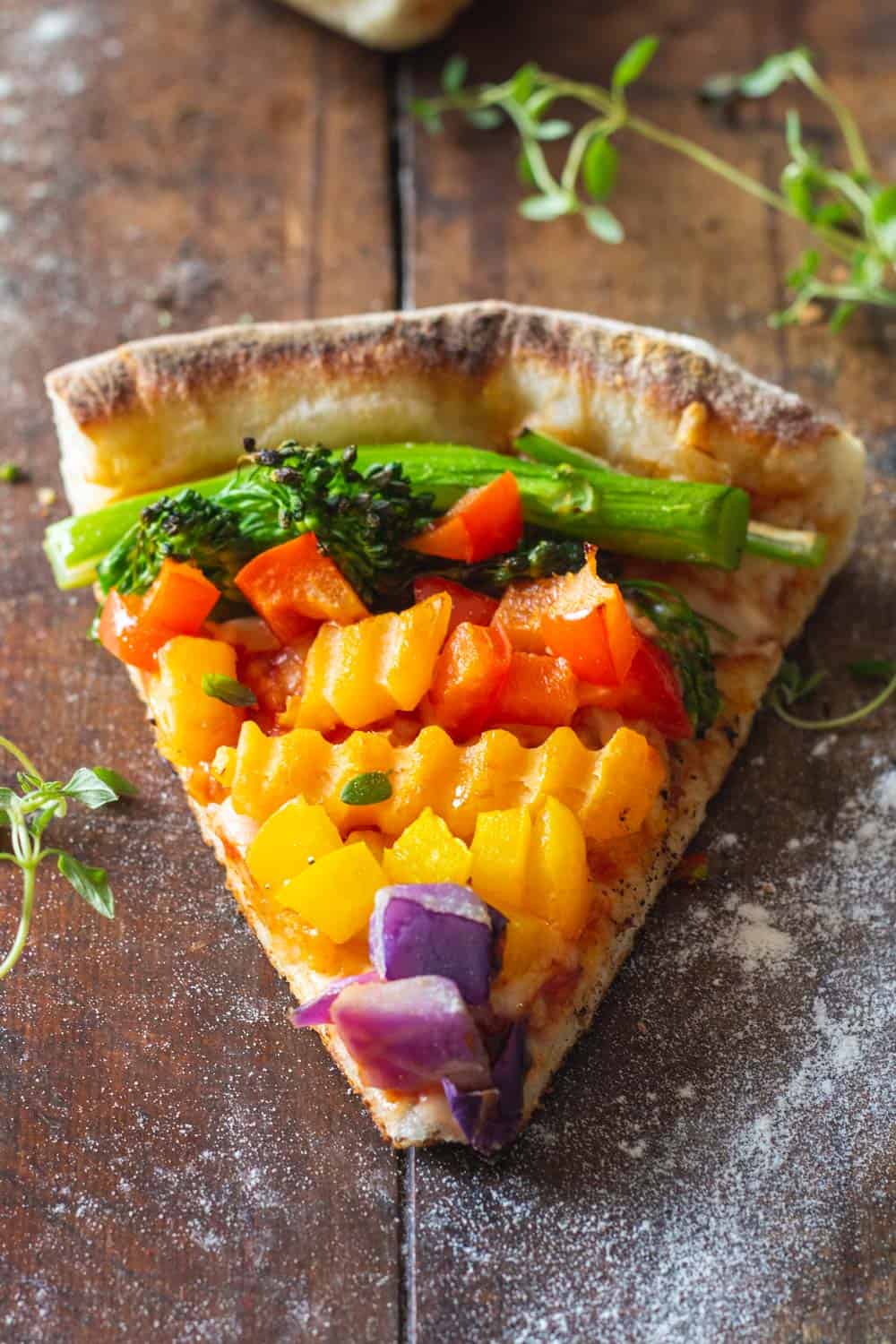 I've made pizza dough SOOO many times and followed sooo many recipes and was never happy with the results of the pizza dough. Why did my dough always taste so floury? Why was it so hard and never airy?
Test after test after test I finally found out what it takes to make authentic Italian pizza dough. There is basically just a few steps that have to be considered:
How To Make Authentic Italian Pizza Dough
don't be intimidated by the long prep time, active work is minimal, the majority of the "prep time" is just passive waiting.
use 00 flour (a.k.a doppio zero flour). It is essential for great pizza dough. It's very very finely ground flour.
use about 100F warm water not lower than 90F and definitely not higher than 120F (you'll kill your yeast and you can basically toss everything then)
let your dough "slow-rise" in the fridge for at least 8 hours and up to 72 hours. (48 hours being the sweet spot for best bubble formation in my opinion).
let your dough rise at room temperature, after the fridge period, for at least 4 hours.
Use a cast-iron pan (or a pizza stone) and preheat before adding raw pizza.
Use a broiler on high for fast rise of the edges and bubble formation in the edges.
Finish off cooking the veggie pizza dough on the stove if necessary for extra crispy crust.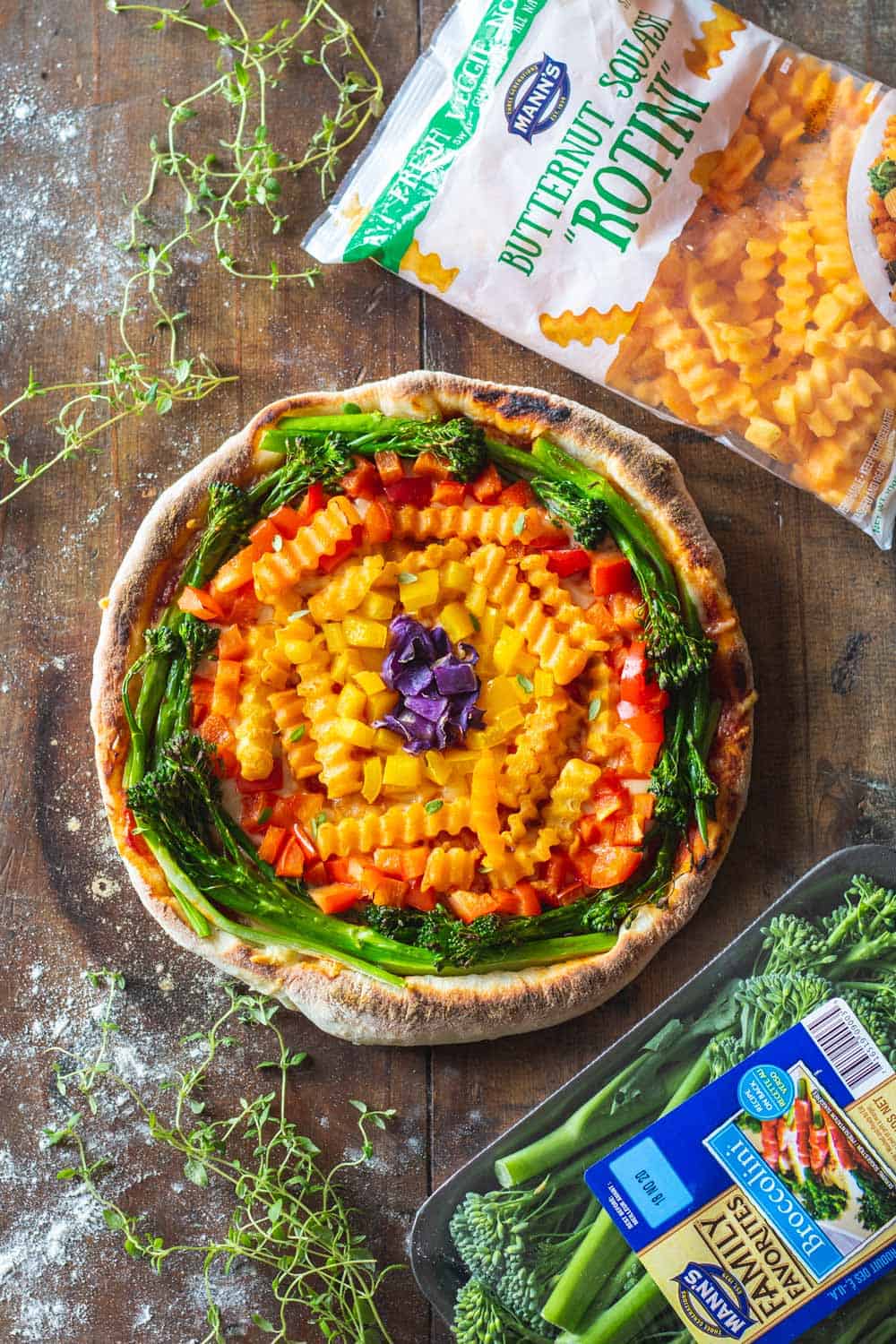 The Best Veggie Pizza Toppings
The possibilities are ENDLESS of course. As a general rule though, stick to veggies that don't take too long to roast and taste great even when raw.
If you want to add root veggies that usually take way too long to roast, choose some that are already cut into fast-roasting shapes such as Mann's Butternut Squash Rotini.
Also, choose veggies for your veggie pizza that don't have too much water content and take long enough to roast. By adding veggies with high water content you risk your crust getting soggy instead of crispy. A good way to still add these veggies is by grilling them first.
I'm talking about zucchini and eggplant for example. Those are veggies that would have to be grilled first before adding to a veggie pizza.
My favorite way is adding veggies in a rainbow pattern so it looks super pretty. Mann's Brocoolini®, red bell pepper, Mann's Butternut Squash Rotini, yellow bell pepper, and red cabbage.
Those 4 types of vegetable roast to perfection in the short pizza baking time. Make sure you cut the Broccolini® stems in half lengthwise so they roast more evenly.
The Most Amazing Veggie Pizza Recipe
The reason this veggie pizza recipe is so amazing is that every detail plays a big role in the taste department.
A pizza with a bad crust can have the best toppings and will still taste meh. The best tasting crust can be ruined by wrongly chosen toppings.
Both, the crust and the veggie pizza toppings have to complement each other for the best results.
At first glance, it looks like it's complicated to make your own dough, but trust me, please. It's really easy. Pinky promise.
Let me guide you through each step so you get to taste the most amazing veggie pizza: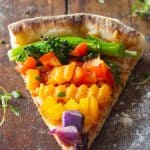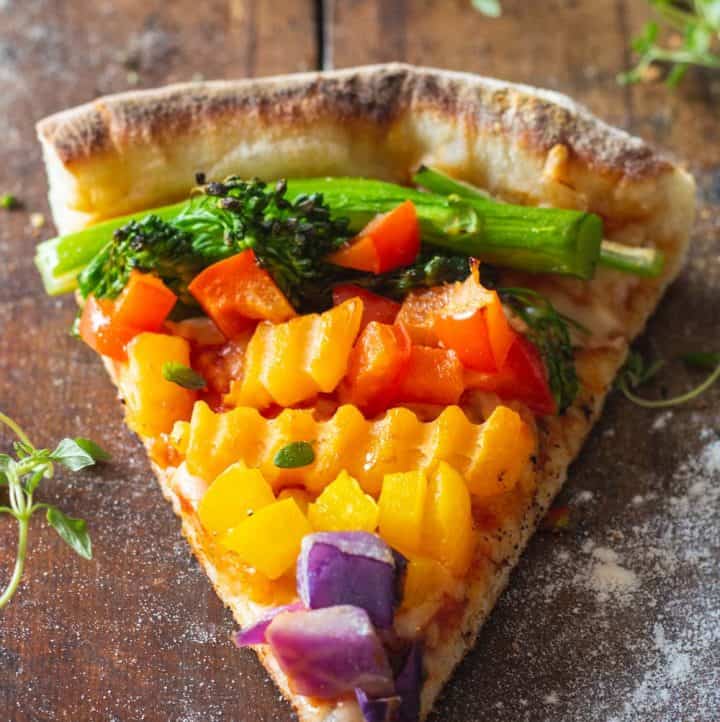 Veggie Pizza
Servings:
2
9-inch pizzas
The most delicious veggie pizza of all times! Vegetables of all the colors of the rainbow on authentic Italian homemade pizza dough. Air-filled edge but crispy thin crust.
Print Recipe
Pin Recipe
Ingredients
1/2

tsp

active dry yeast

1/2

tsp

sugar

-

(white refined)

1

tsp

sea salt

280

g

00 flour

-

(aprox. 2 cups, weigh for best results)

3/4

cup

100F water

1

bag

Mann's broccolini®

1

red

bell pepper

1

bag

Mann's butternut squash rotini

1

yellow

bell pepper

1

hand-full

red cabbage

1/2

cup

pizza sauce

100

g

Swiss cheese

-

(or other melty cheese)

1/2

Tbsp

olive oil

sea salt

pepper
Instructions
Add yeast, sugar, sea salt, 00 flour and luke warm water to the bowl of a stand mixer attached with the dough hook and stir until all ingredients are just combined. Then turn the mixer off and let the dough rest for 10 minutes.

Turn the mixer on again and let it knead the dough on low until it becomes smooth and elastic (see video for consistency). This will take approximately 10 minutes. If kneading by hand it will take more like 20 minutes.

Add the smooth dough to a dry large sealable container in which the dough has enough space to expand and place in the refrigerator for 8-72 hours. (8 hours absolute minimum and up to 72).

4 hours before planning to eat, remove the dough from the fridge and place in a large olive oil oiled bowl and swish around so all sides are lightly covered in oil (see video).

Cover the bowl with cling film or bees wax wrap and let stand in a warm spot so the dough can get to room temperature and start rising. You want the dough to double in size! This can take anywhere from 3-4 hours (A way to accelerate this process is to put the bowl on the radiator, the radiator should not be warmer than body temperature though or you risk the yeast dying if it is too hot on the lowest position don't risk it).

About 1/2 hour before baking prepare your toppings to have them on hand. Wash and dry your vegetables, cut the broccolini stems in half lengthwise so they roast more evenly. Chop the bell pepper and cabbage. You will have to work fast once you have the dough in the cast iron pan so you want to have everything ready to place on the pizza.

Once the dough doubled in size, place your oven rack at the highest position possible so your cast iron pan still fits in it, place your cast iron pan on it and turn on the broiler on high.

Flour your work surface and the surface of your doubled dough and divide in half.

Form two flat 9-inch circles with the dough making sure the edges are higher than the center (see video). And if you have an electric stove, turn on your stove at medium heat at this point so it can start getting hot.

Carefully take out the hot cast iron pan from the oven (leaving the broiler on) and place on a heat proof surface, sprinkle with a little flour and add one of your flat pizza dough rounds and swiftly add your toppings. Start with adding half of the pizza sauce, sprinkle half of the cheese on top and then place your veggies in a rainbow pattern on top. Drizzle everything with a little olive oil and season with sea salt and pepper if you wish and immediately return the pan with the pizza into the oven under the broiler.

Keep an eye on your pizza at all times. The edges will start bubbling up and burning within a couple of minutes (3 minutes at the most). As soon as they start burning, carefully remove the cast iron pan from the oven and transfer to the hot stove to finish off baking the crust from the bottom without risking veggies and edge burning.

Once the bottom is nice and brown (this takes at the very very most 5 minutes), remove from the pan and repeat the whole process with pizza #2.

Now enjoy your beyond delicious labor of love!
Notes
Be VERY careful with the cast iron pan, it will be very very hot.
Nutrition
Calories:
753
kcal
|
Carbohydrates:
114
g
|
Protein:
29
g
|
Fat:
18
g
|
Saturated Fat:
9
g
|
Cholesterol:
46
mg
|
Sodium:
1583
mg
|
Potassium:
391
mg
|
Fiber:
4
g
|
Sugar:
4
g
|
Vitamin A:
735
IU
|
Vitamin C:
6
mg
|
Calcium:
424
mg
|
Iron:
7.2
mg
What's your clean eating vibe?
Take this fun QUIZZ and find out in 10 seconds!