Zimtsterne – cinnamon stars – are typical German Christmas Cookies. Here are three ways to prepare them: regular or traditional, paleo, and vegan. All three ways are absolutely incredible and require only 4 ingredients!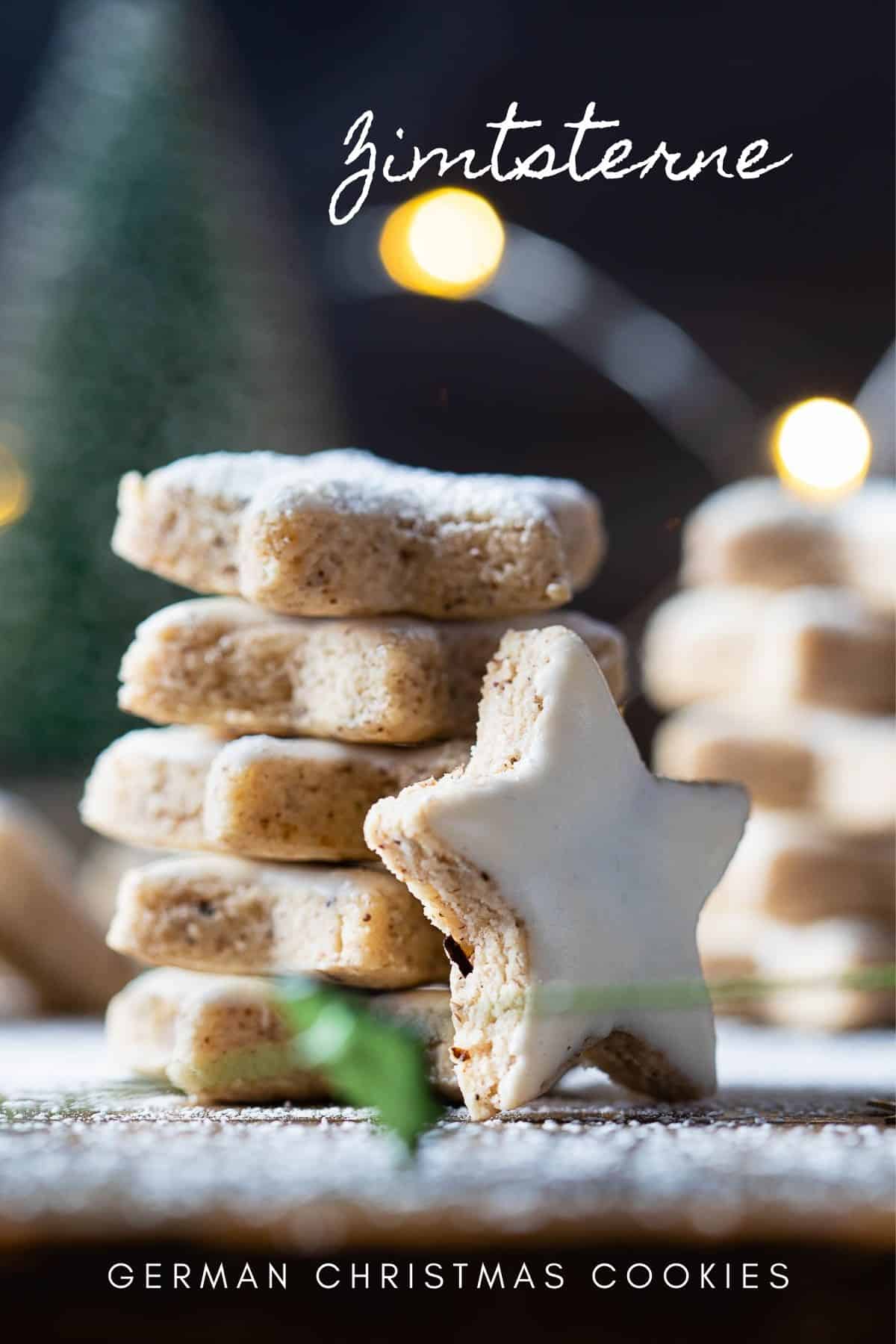 The whole entire world loves my 2-Ingredient Almond Cookies so how about we make something similar but take it up a notch?
Ingredients
Nut meal – what all three Zimtsterne recipes have in common is the essential and main ingredient: nuts. The traditional recipe is made with almond meal or hazelnut meal or a combination of both.
Because I couldn't find almond meal anywhere right now and hazelnut meal is absurdly expensive I opted for a mix of almond flour and hazelnut meal. You can mix and match any way you like. You can also make your own nut flour or nut meal.
Cinnamon – another ingredient all three recipes have in common is cinnamon. "Zimt" means cinnamon in German and "Sterne" means stars. So obviously, the recipe contains cinnamon and cannot be replaced.
You can however add some extra spices if you fancy. None of the extra spiced are meant to overpower the cinnamon though so make sure you don't add more than 1/4 tsp of each or any of these: clove, anis, ginger, cardamom.
Egg White or Aquafaba – the traditional recipe for Zimtsterne has stiff egg whites to make them soft and fluffy. The paleo ones can obviously contain egg white, too. For the vegan ones, I had to find a replacement and after much experimenting, I found that aquafaba is the best replacement.
Aquafaba is the liquid you find in cans of chickpeas. The water the chickpeas have been cooked in. The liquid of home-cooked chickpeas does not do the trick. It has to be the liquid from a can. I promise it doesn't taste weird.
Powdered Sugar – the traditional German Christmas cookies are obviously made with powdered cane sugar but the recipe really works with any kind of powdered sugar. You can make your own powdered sugar by simply adding sugar to a blender and blend until it's powder. Simple as that.
For the paleo version of the recipe, I made powdered sugar out of maple sugar. Maple sugar is a lot less processed and a more natural sugar than white cane sugar.
For the vegan Zimtsterne, I used coconut powdered sugar but only to easily differentiate between the other 2 versions. Any kind of sugar will work for these.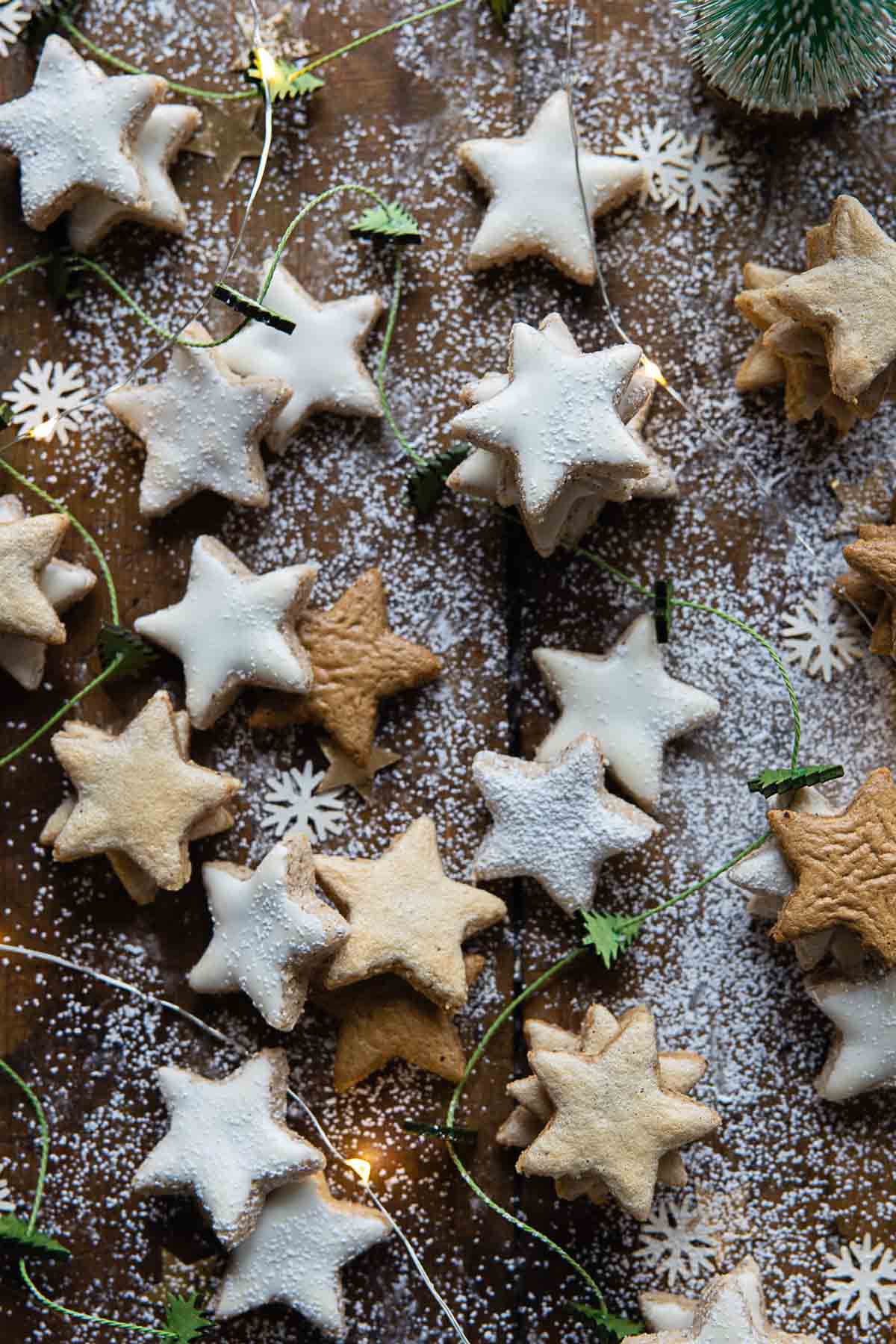 Measurements
For the best Zimtsterne use a digital kitchen scale (affiliate link) so you can use the exact measurements.
Imperial measurements will yield different results every time because the measurements are not very consistent but I measured 3 times and on average I got 100g of flour into 1 imperial cup and 110g of hazelnut meal into a cup.
90-95g of egg whites ended up being 3 large egg whites. And 90g of aquafaba ended up being 1/3 cup + 1 Tbsp.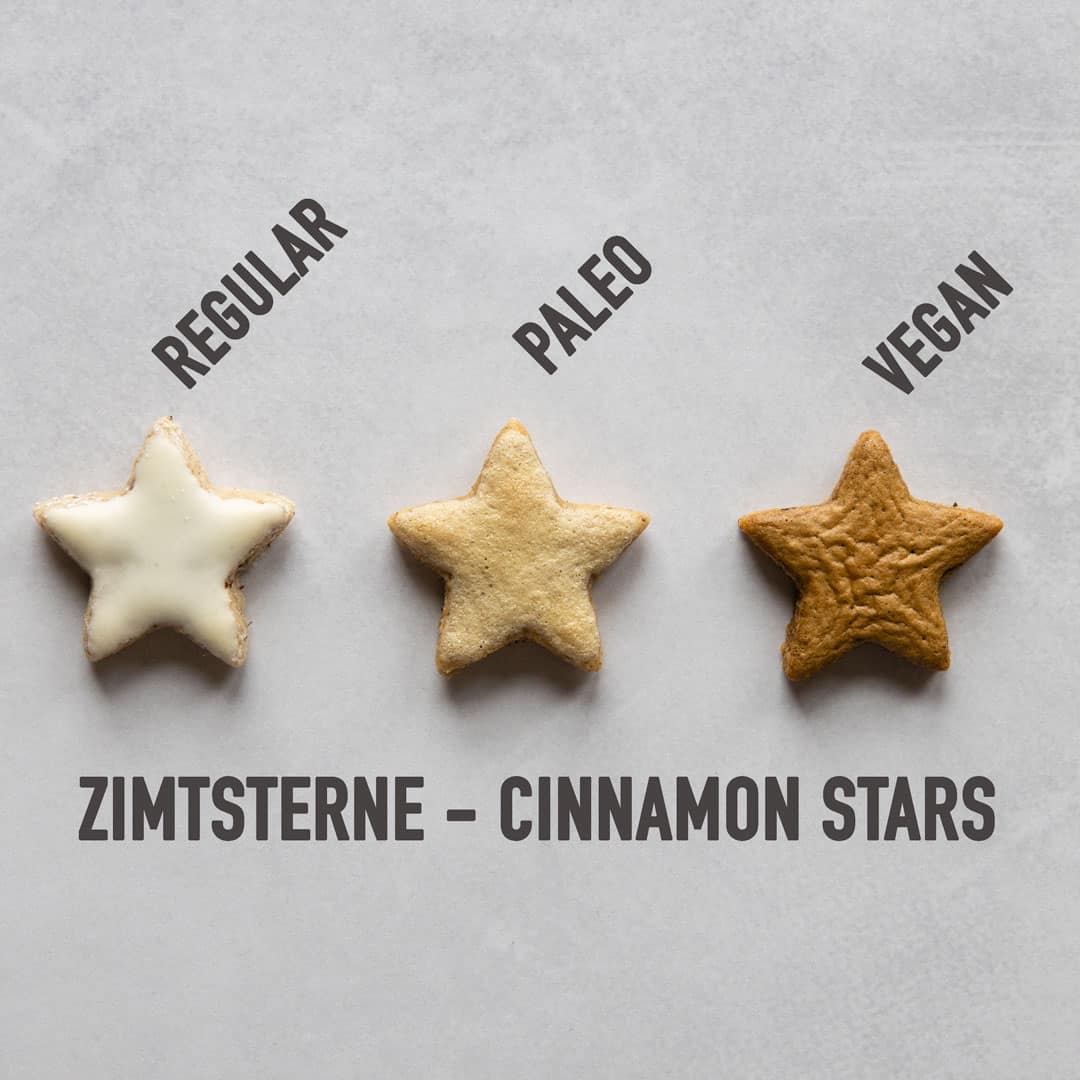 Special Tips & Tricks
Best Whipped Egg Whites
For the best "stiff peaks" in egg whites use room temperature egg whites. The easiest way to separate eggs is by separating egg whites and yolks when the eggs are cold, so you can separate right out of the fridge and then let the egg whites come to room temperature.
Add a pinch of sea salt to the egg whites and use either a stand mixer or an electric hand mixer to beat the egg whites. Do not attempt to do this by hand. I promise your arm will fall off before you get to the perfect consistency. Now beat the egg whites for 5-8 minutes until you reach stiff peaks.
Shake the whisk attachment with the eggwhite stuck to it and if the peak doesn't lose shape it's perfect. Do not "over whisk" though and the egg whites will then start becoming more like cotton balls instead of a homogenous mass. If you don't reach perfect stiff peaks the texture of your Zimtsterne will be either hard or tough and gummy.
Make sure your bowl and whisk are 100% oil-free and egg yolk-free or else your egg whites will never reach stiff peaks.
Best Whipped Aquafaba
Just like with the egg whites you want to make sure to use room temperature aquafaba. Just drain a can of chickpeas through a sieve into a bowl and collect the liquid of the can. Then measure out 90g or 1/3 cup + 1 Tbsp as a replacement for 3 egg whites.
You will need at least 1/3 cup + 1 Tbsp for your stand mixer to be able to do the trick.
Aquafaba takes longer to beat to stiff peaks than egg whites so don't give up. 8-10 minutes is usually what it takes my stand mixer on medium-high to get to the best result. Shake the whisk attachment with the stiff aquafaba stuck to it to see if the peak maintains its shape.
If you make your cookies with whipped aquafaba and regular cane powdered sugar I promise nobody will even notice the difference from the traditional German Christmas cookies.
Best Airy Consistency
You want to use a hand whisk to whisk or fold in the powdered sugar until you reach a glossy goey consistency with which you can fold ribbons. This is necessary to achieve that the Zimtsterne taste soft and airy. But do not over whisk, which is why we are not using the electric mixer anymore.
Then use a spatula to just gently fold in the nut meal. You fold it in until it's barely combined. Immediately stop folding and mixing when you formed a ball and all nut meal is wet or else the dough will become very dense and your cookies hard.
How To Best Apply Icing
For the best and prettiest results, use a silicone brush to brush on the icing. Add a dollop of icing to the center of the cut-out star and then brush from the center outwards to the tips of the star.
How To Achieve Sharp Edges When Cutting Out Stars
The dough of the Zimtsterne is fairly sticky so naturally, the star cookies constantly get stuck in the cookie cutter. The best way to avoid that is to dip it in powdered sugar every time you cut out a star and also clean your cookie cutter every 5th or 10th star very well with water and a toothbrush to get into the tips.
Alternatively, dip your cutter in water every time before cutting out each star. Make sure to shake the cutter well before cutting out the next star so you don't add too much water to your dough.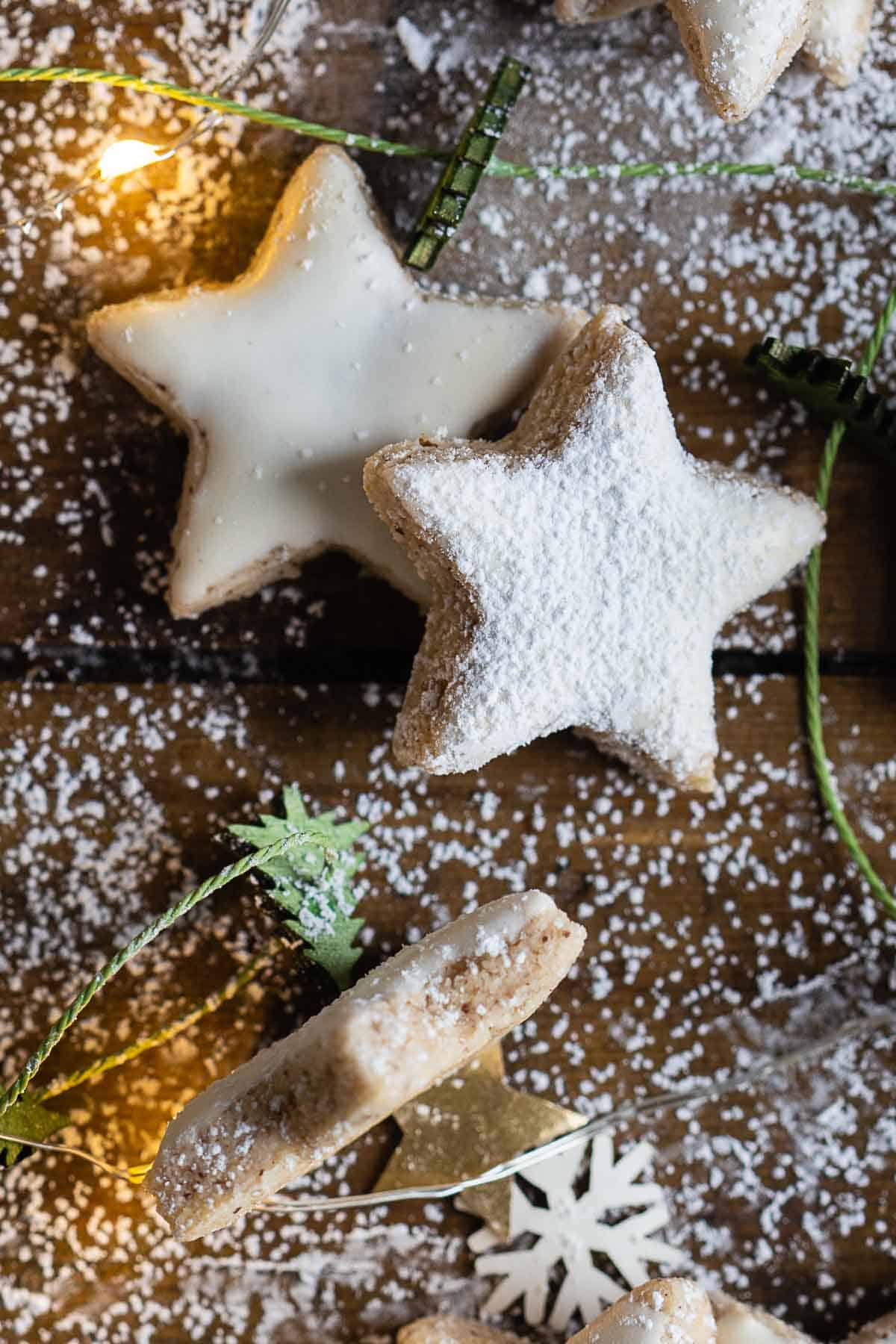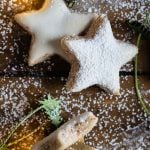 Zimtsterne
Zimtsterne - cinnamon stars - are typical German Christmas Cookies. Here are three ways to prepare them: regular or traditional, paleo, and vegan. All three ways are absolutely incredible and require only 4 ingredients!
Print Recipe
Pin Recipe
Ingredients
225

g

almond flour or almond meal

-

2 1/4 cups almond flour or 2 cups + 2 Tbsp almond meal

125

g

hazelnut meal

-

1 cup + 1 Tbsp

200

g

powdered sugar

-

of cane sugar, maple sugar, or coconut sugar

1

tsp

cinnamon

90-95

g

egg whites or aquafaba

-

3 large eggs / 1/3 cup + 1 Tbsp aquafaba

pinch of salt for egg whites or 1/2 tsp cream or tartar for aquafaba
Instructions
Add egg whites and a pinch of salt (or aquafaba and 1/2 tsp cream of tartar) to the bowl of a stand mixer and beat on medium-high until you reach stiff peaks (see video).

Sift powdered sugar into the beaten egg white / aquafaba in 3 parts and fold in each part with a hand whisk until the mix is glossy and gooey and it's easy to form ribbons (see video).

Measure out about 1/3 cup of this egg white sugar mix and store in an airtight container in the fridge. This is your icing.

Add cinnamon and then nut meal in 3-4 parts to the remaining egg white sugar mix folding in carefully with a spatula. Stop folding as soon as a sticky ball forms. Do not overmix.

Wrap the dough in cling film or add to an airtight container and refrigerate for 1 hour.

Preheat the oven to 325F.

Roll out the dough in between two pieces of parchment paper to 1/4" thickness then press out stars with a star cookie cutter.

Place the cut-out stars on a parchment-paper-lined heavy-duty baking sheet and then brush on the icing on each star.

Bake for 8 minutes, remove from the oven, and after about 2 minutes on the baking sheet carefully move onto a cooling rack and let cool completely.

Store in a tin box or other storage container on the kitchen counter for up to 4 days. For longer storage add to the fridge for up to a week or freeze up to 3 months.
Nutrition
Calories:
72
kcal
|
Carbohydrates:
7
g
|
Protein:
2
g
|
Fat:
5
g
|
Saturated Fat:
1
g
|
Sodium:
4
mg
|
Potassium:
4
mg
|
Fiber:
1
g
|
Sugar:
5
g
|
Vitamin C:
1
mg
|
Calcium:
16
mg
|
Iron:
1
mg
What's your clean eating vibe?
Take this fun QUIZZ and find out in 10 seconds!