I can still smell it and feel and taste it in my mouth. This Perfect Flank Steak was indeed PERRRFECT and the Argentinan Chimichurri….what can I say? You will dream about it, just like I do right now. My husband said: "I will probably smell like garlic for three days but this was SO worth it", ha! Chimichurri is definitely worth even the worst body odor or breath. It is H.E.A.V.E.N.L.Y.!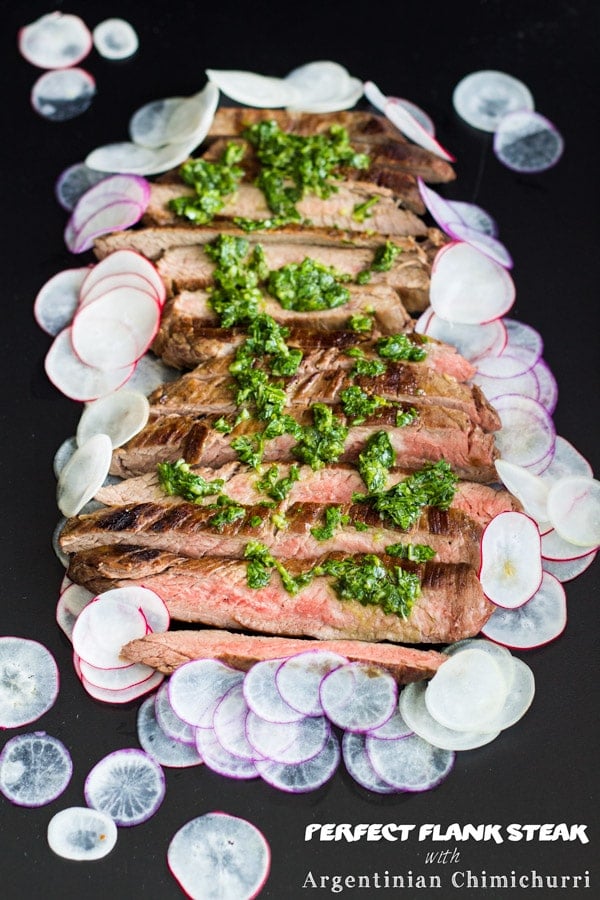 Did you notice already that I not only love green but also garlic? And the combination of both makes my mood go like up to the moon? Check out my Out of this World Tahini Herb Sauce as another example of an extraordinary marriage of garlic and green.
The best part about the whole Perfect Flank Steak with Argentinian Chimichurri recipe is that it takes 15 minutes to make (including pan heating time) and an additional 6ish minutes per extra steak.
How to Cook Flank Steak in a Skillet
Take the flank steak out of the fridge at least 1 hour before cooking to get it to room temperature (If you are like me and hardly ever plan ahead and happen to be hungry right.that.moment. and simply cannot wait any longer to start cooking….Preheat your oven to 300F (150 °C), place your steak(s) on a baking sheet and warm to up to 100F,

use a thermometer to not go over that temp

)
Heat your skillet until it's VERY hot over medium-high heat. We are talking smoking hot pan!
Salt and pepper your flank steak generously. This is not a stewing meat that will soak in marinade or sauce for hours while cooking. All the seasoning is exclusively on the outside so be generous.
Don't overcook your flank steak. The longer you cook it the drier and tougher it becomes. Remember that if your steak is at room temperature before placing in the pan it will cook much faster and there won't be any chewy tough uncooked meat in the center, that only happens when the steak was thrown in the pan fridge cold. If you want it "pink" but not raw cook for 3 minutes per side.
The Chimichurri is whipped up in 10 minutes and you can make it while waiting for the cast iron pan to heat up properly. The first time I ate Chimichurri was in Mexico. Mexican Pizzerias tend to serve it with Pizza. In general, Mexican Pizzerias serve Pizza with all kinds of Sauces and ever since living there for a couple of years I am completely incapable of eating pizza without a sauce anymore, when all my life before I just ate it just like that. Plain and simple. Chimichurri I learned later, is used as a meat sauce in Argentina and after trying that combo for the first time I felt like fainting. It is so darn good you'll end up licking the plate. I'm still a lady folks, I just couldn't leave the sauce on the plate!! But I'm still a lady. If I were invited to eat something like this I….would volunteer to wash the dishes all by myself in the kitchen so I could lick my plate clean.
If you need a guide on how to tell your red meat is done check out THIS post from lifehack.org. There is no better way to know than this one and if you've ever wondered why some chefs press their thumb into a steak…well, now you know it :)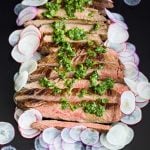 Perfect Flank Steak with Argentinian Chimichurri
Ingredients
Instructions
Preheat a cast iron skillet until it starts smoking.

In the meantime prepare Argentinian Chimichurri by washing parsley and oregano, desteming and adding the leaves to a food processor.

Peel and crush garlic and add to food processor together with salt, too.

Process until all leaves are small (this might require scraping down sides).

While running, add oil and vinegar and process until well combined.

Spread room-temperature butter onto one side of the steak and salt generously.

Place room-temperature (important!) steak buttered side down in smoking hot pan and cook for 3-5 minutes pressing down the sides to sear those, too.

Spread a little more butter on the unbuttered side and salt, too.

Turn steak and sear on this side for 3-5 minutes pressing down the sides.

Lift steak out of pan and let rest for at least 2 minutes on a cutting board so juices redistribute.

Pepper to taste.

Wash and shave radishes with a mandolin and spread over meat.

Serve with Argentinian Chimichurri Sauce.
Get all recipes straight into your inbox!