Flank Steak with Argentinian Chimichurri is an easy dinner recipe, taking less than 20 minutes to make.This budget-friendly meal simply bursts with flavor! This recipe is a must-make.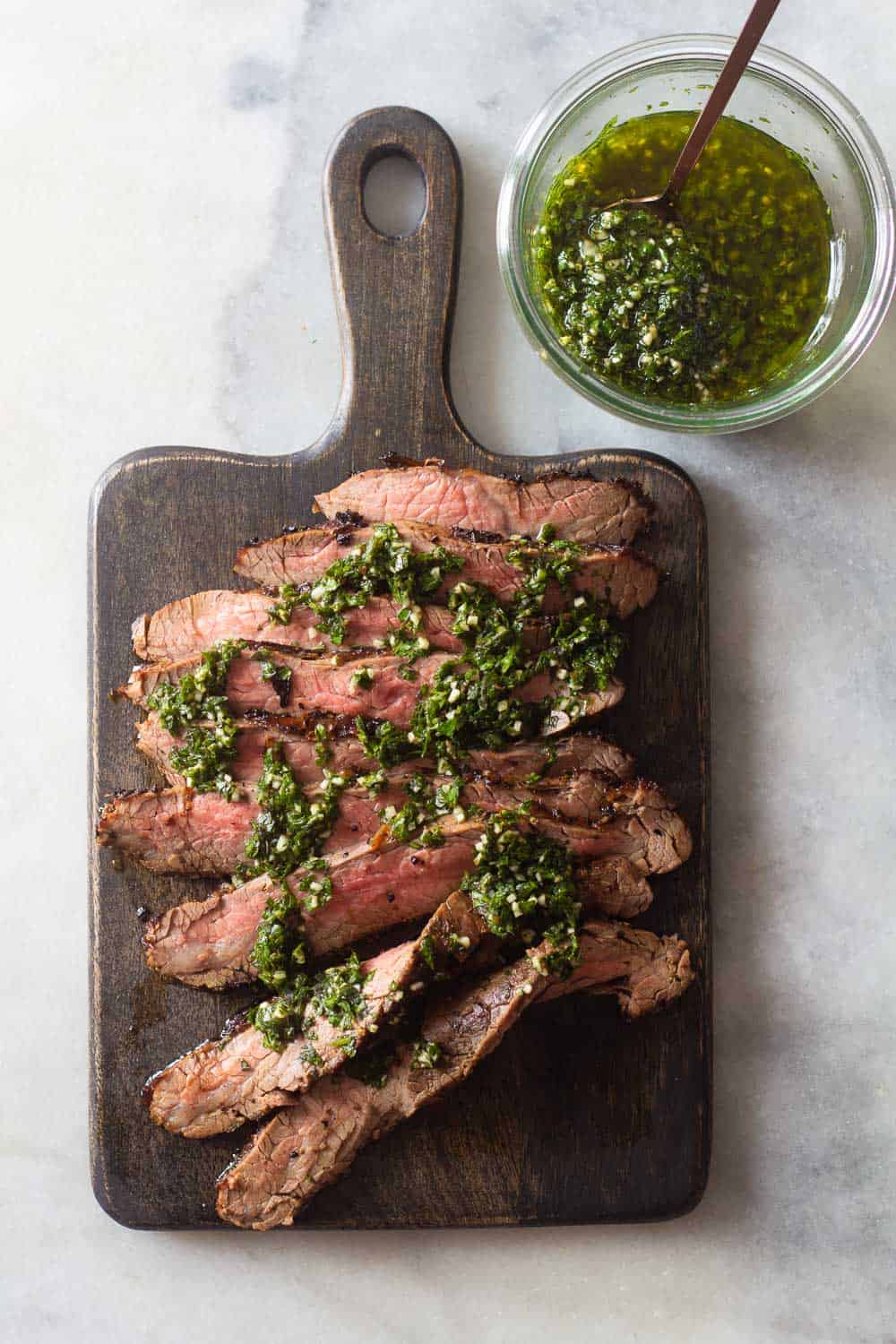 What is flank steak?
Flank steak, also known as London Broil, is a thin, tender, and virtually fat-free beef cut. The flank is located just beyond the steer's abdomen.
It is one of the least expensive cuts of beef available for purchase. Because it's so thin, many people overlook it for the meatier-looking skirt steak. Fortunately, after you learn the secret to making the best flank steak, you can take advantage of the great value.
The best way to assure that what you are buying is flank steak is to know what you are looking for. One end of the flank is thinner than the other. Typically, the thick end will be 3/4 inch to 1 inch thick. The thin end will be approximately 1/2 inch. While there may be some fat on the ends, the flank itself is very lean.
Because of the thinness of the cut, flank is great for slicing to use in fajitas and steak salad.
It also happens to be one of the most tender steaks you will ever eat.
Today's recipe for Flank Steak with Argentinian Chimichurri showcases the versatility of the cut.
Oh, and to clear up any confusion, flank steak and skirt steak are not the same thing. Although they are often substituted for one another in recipes, skirt steak is a fattier cut, coming from a different part of the steer. However, this Skirt Steak with Basil Cream and Grilled Tomatoes proves that fattier cuts of beef are also delicious.
Does flank steak need to be marinated?
While it is not a set-in-stone requirement, many chefs opt for marinated flank steak to produce the best flavor. Aside from that, marinating is the perfect excuse to use this amazing chimichurri sauce recipe.
Since it's a thin cut and there is a lot of surface area available, flank absorbs a marinade quickly. All that's needed is to marinate the steak at room temperature for up to one hour. Even in that short time, flank steak takes on immense flavor.
If you prefer to plan ahead, allow the steak to marinate in the refrigerator for six to twelve hours. Just remember to return the steak to room temperature before cooking it. A cold steak will burn outside and never cook inside.
Why is my steak tough and chewy?
Cooking a steak to perfection isn't always as easy as you may think. Because it's so thin and tender, flank steak should not be cooked to more than medium rare. Otherwise, it will become chewy.
You can cook the steak in one of two ways- hot and fast, or low and slow. For the best flank steak, I prefer to use a hot and fast cooking method, like I do in this recipe.
Using a cast iron pan or grill helps to speed up the cooking process as well. Generally, cast iron heats up faster than stainless steel or copper cookware. Also, cast iron holds in the heat for a longer period of time. As a result, meals made in cast iron generally take less time to cook.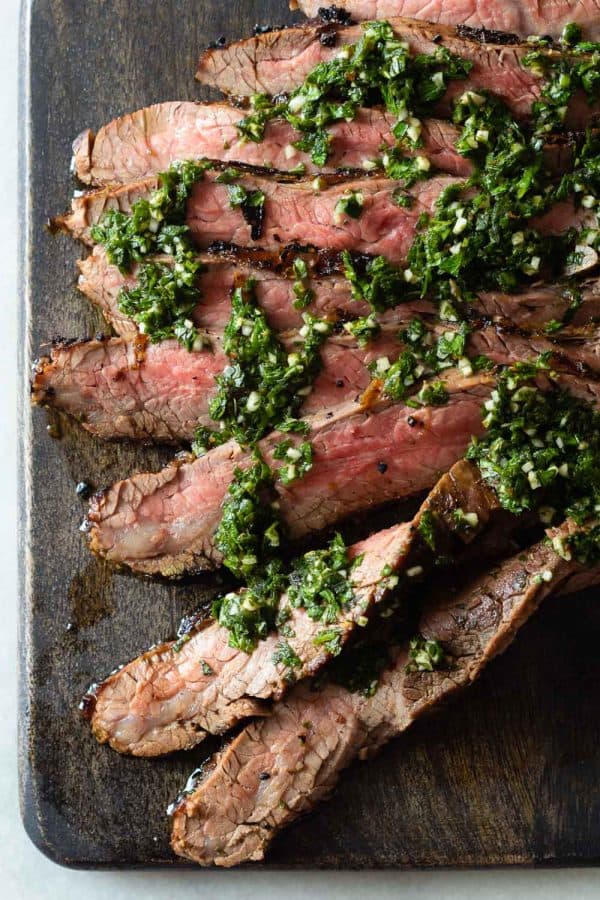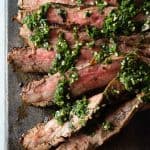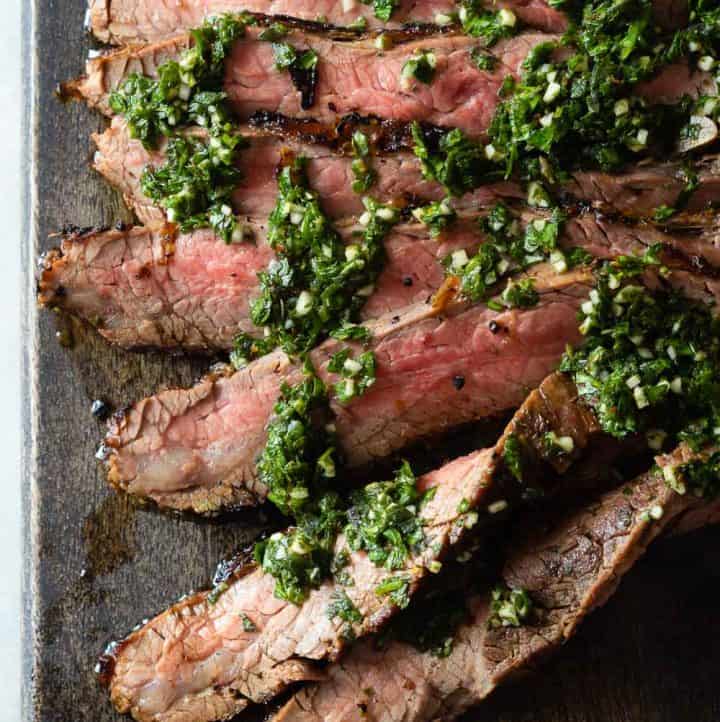 Flank Steak
Flank Steak with Argentinian Chimichurri is an easy dinner recipe, taking less than 20 minutes to make. This budget-friendly meal simply bursts with flavor! This recipe is a must-make.
Print Recipe
Pin Recipe
Ingredients
1/2

cup

Chimichurri

10

oz

Flank Steak

-

or skirt steak (300g)

1

tsp

avocado oil
Instructions
Add 3 Tbsp Chimichurri and flank steak to a freezer bag (I love using silicone bags), close, and swoosh around until the steak is well coated with the marinade.

Leave steak on the kitchen counter for up to an hour to marinade and then cook, OR, put in the fridge to marinade for 6-12 hours or overnight and take out of the fridge to bring to room temperature about 1 hour before cooking. Never cook fridge-cold steak as it just burns from the outside and never cooks from the inside.

Cook steak in either a cast iron pan or on the grill.

Preheat cast iron pan or grill to as hot as possible over medium heat. Never preheat over high heat, only medium heat, but for a considerate amount of time to ensure pan/grill is REALLY hot.

Add a little avocado oil to pan if using pan and place steak on it and pan fry or grill for 6-8 minutes on one side without touching of flipping, THEN flip and cook for a further 6-8 minutes on the other side. I cooked mine (shown in photo) to 130 degrees Fahrenheit internal temperature. For bloodier steak cook less time and for more done steak cook longer.

Remove steak from the heat source and place on a cutting board but do NOT, I reapeat: DO NOT, cut into the steak right away. Cover the steak with a stainless steel or glass container or aluminum foil and let steak rest for at least 10 minutes so all juices can reincorporate into the meat.

After 10 minutes cut steak against the grain into thin stripes (see video). Drizzle with Chimichurri and enjoy!
Nutrition
Calories:
453
kcal
|
Protein:
30
g
|
Fat:
36
g
|
Saturated Fat:
7
g
|
Cholesterol:
85
mg
|
Sodium:
76
mg
|
Potassium:
483
mg
|
Calcium:
30
mg
|
Iron:
2.3
mg
What's your clean eating vibe?
Take this fun QUIZZ and find out in 10 seconds!