This naturally vegan Coconut Chickpea Curry is a heart-warming dinner full of flavor and body. Add sweet potato, cauliflower, or simply baby spinach to it to make it even more delicious. A bowl of pure bliss!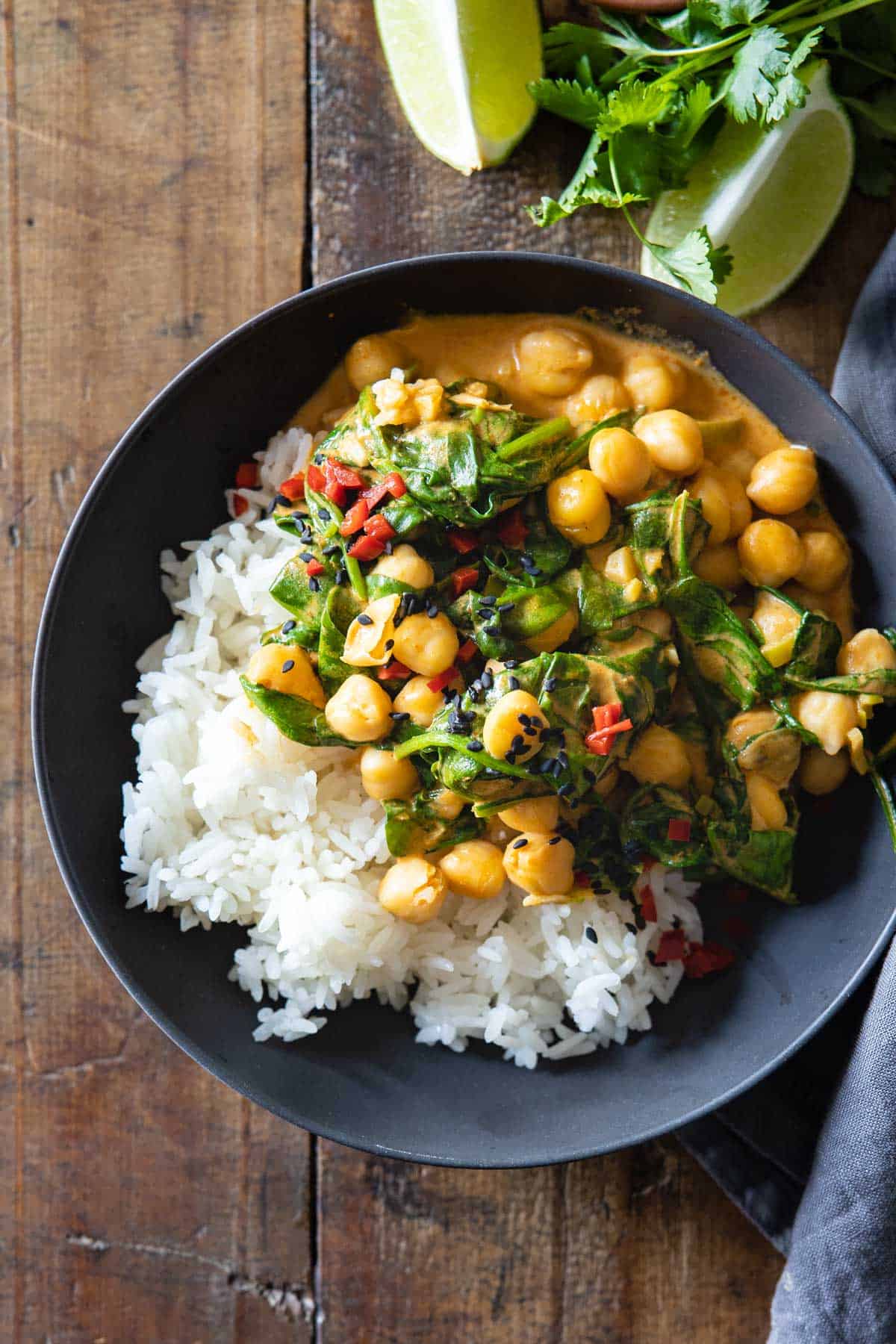 My Thai Green Curry was such a hit I couldn't help but share my Coconut Chickpea Curry recipe with you. It's my kids' favorite of all. They love chickpeas so so much.
Ingredients
For the base Coconut Chickpea Curry you will only need the following:
Scallions – you can also use any other onion really. Just make sure you use little.
Ginger – ginger paste works, too. It doesn't have to be fresh ginger. You can accelerate the whole prep process by using jarred ginger paste.
Garlic – garlic is a must in any flavorful recipe. I prefer finely chopping the cloves but you can also crush them.
Thai curry paste – you can choose amongst 3 different kinds. Yellow is the mildest. Red is moderately spicy. Green is the spiciest, though the ones from the brand Thai Kitchen aren't very spicy to be honest. I like this brand specifically because it has nothing but clean ingredients. You can also make your own paste if you have easy access to the ingredients where you live. (Galangal and lemongrass are two common ingredients you need access to).
Coconut milk – if you are trying to gain weight you can use full fat canned. Else, I recommend using "light" but still canned coconut milk to keep the calories at an acceptable level while still achieving a nice and creamy consistency. Do not use the carton kind. It contains too much water and will leave you with a very soupy chickpea curry.
Chickpeas – the chickpeas have to be cooked so use either canned, jarred, or homecooked. Do not add dried chickpeas to your broth they will need at least an hour to cook through and by then all your sauce will have evaporated. Drain the chickpeas well before adding to the sauce.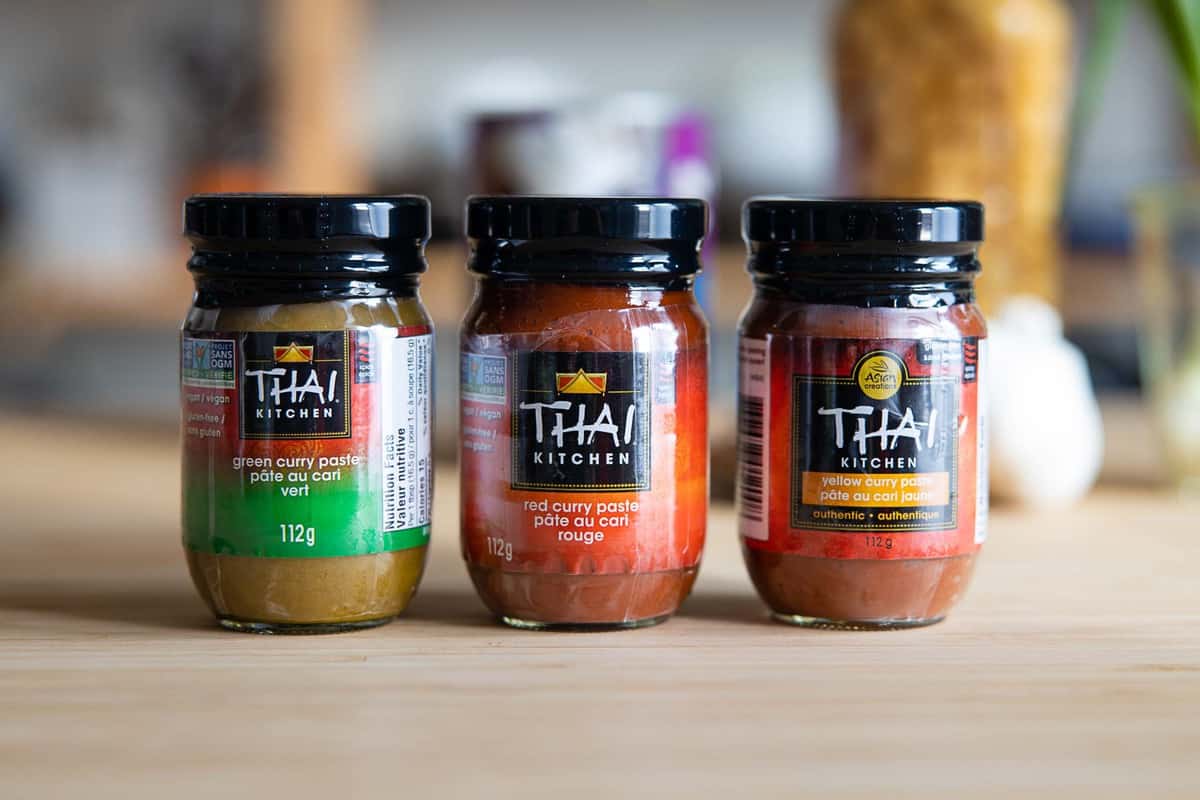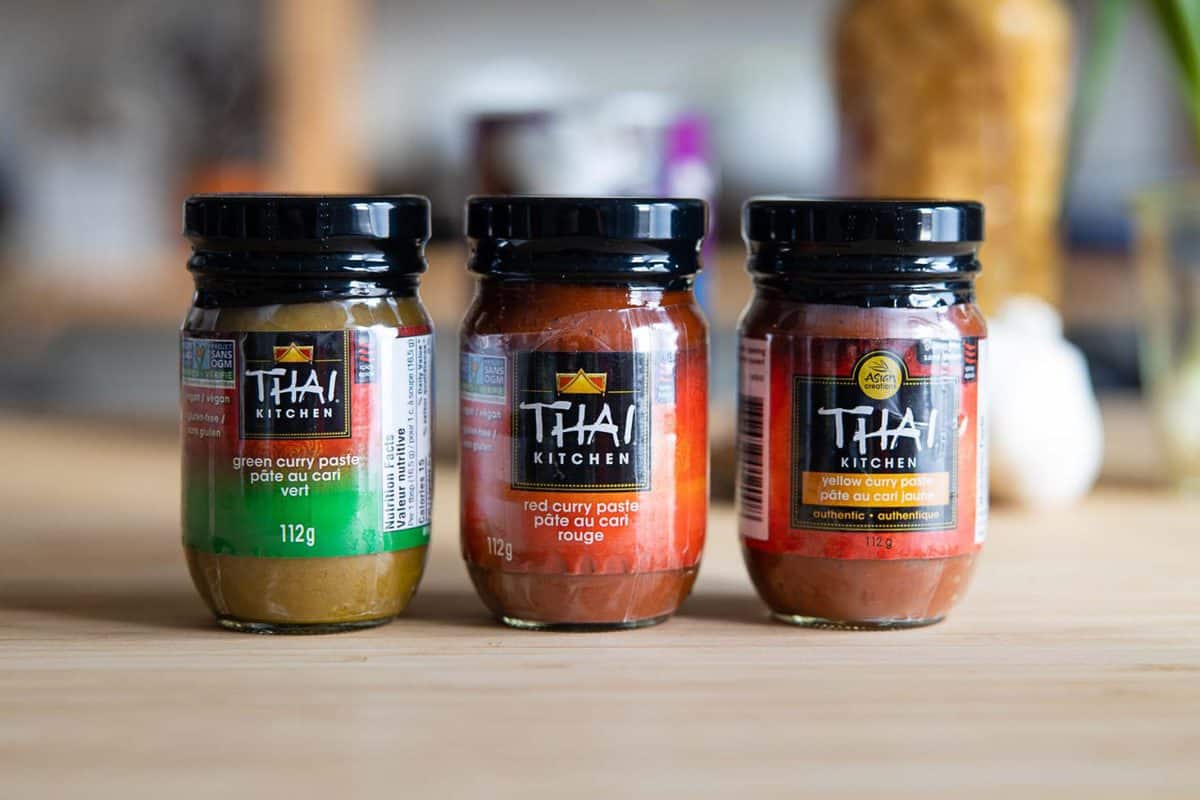 Vegetable Add Ons
To make the curry a full meal I recommend adding some vegetables to it. Here I show you three options but really, the sky is the limit.
Sweet Potato Chickpea Curry
It's the most time elaborate but sweet and delicious. You will need a peeled and diced sweet potato for this and some kale. In the video I served this over rice for consistency but, honestly, we rarely eat this with rice because the sweet potato offers plenty of carbohydrates already.
It's important that the sweet potato cubes stay submerged in the sauce at all times so they cook through properly. Alternatively, you can boil them in a large pot of boiling water first for 20 and then add to the Thai curry sauce.
Add the kale in the last 2-3 minutes of cooking time so it barely wilts.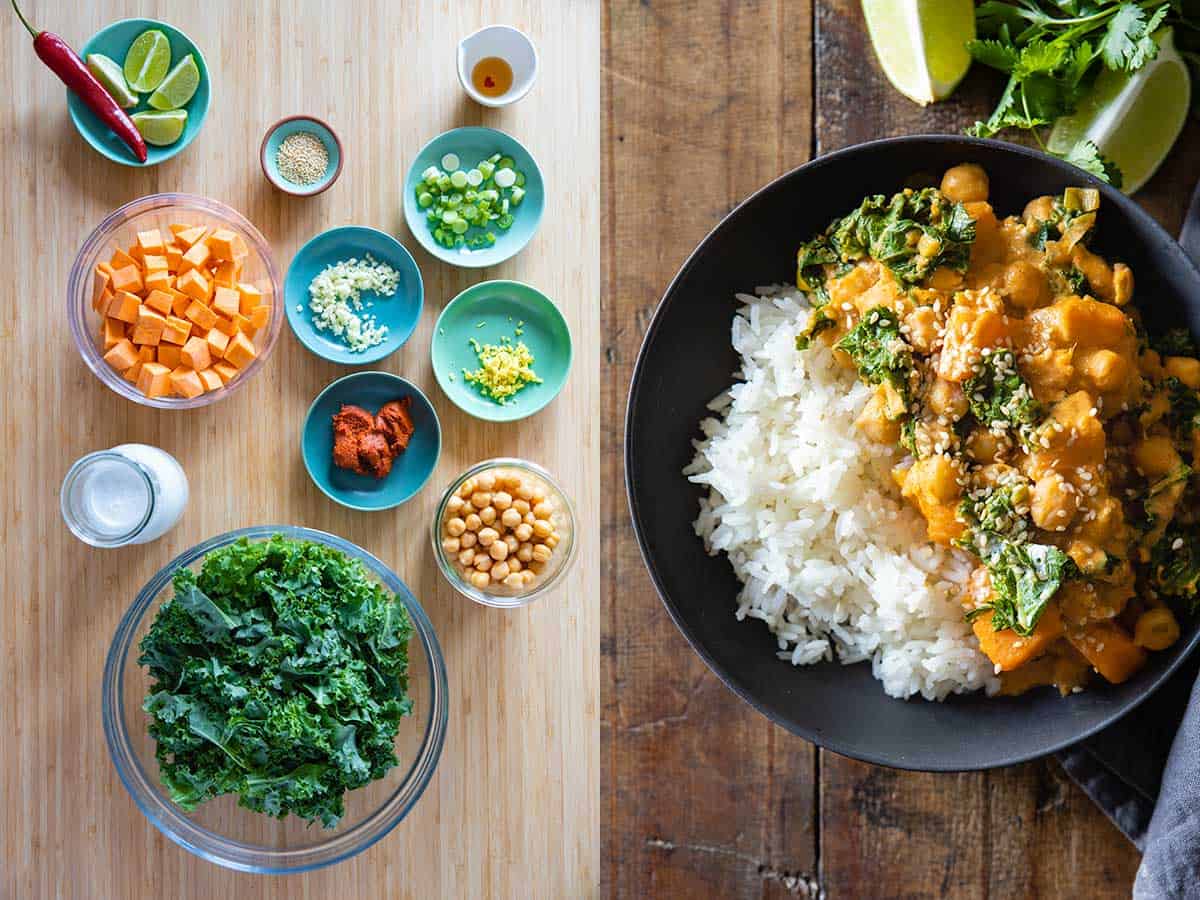 Cauliflower Chickpea Curry
Cauliflower is a great add on because it cooks so fast. Just 5 minutes pre-cooking in the sauce is required for it to become nice and soft. Make sure you cut it into fairly small same-sized florets so they cook evenly and can be submerged properly in the sauce.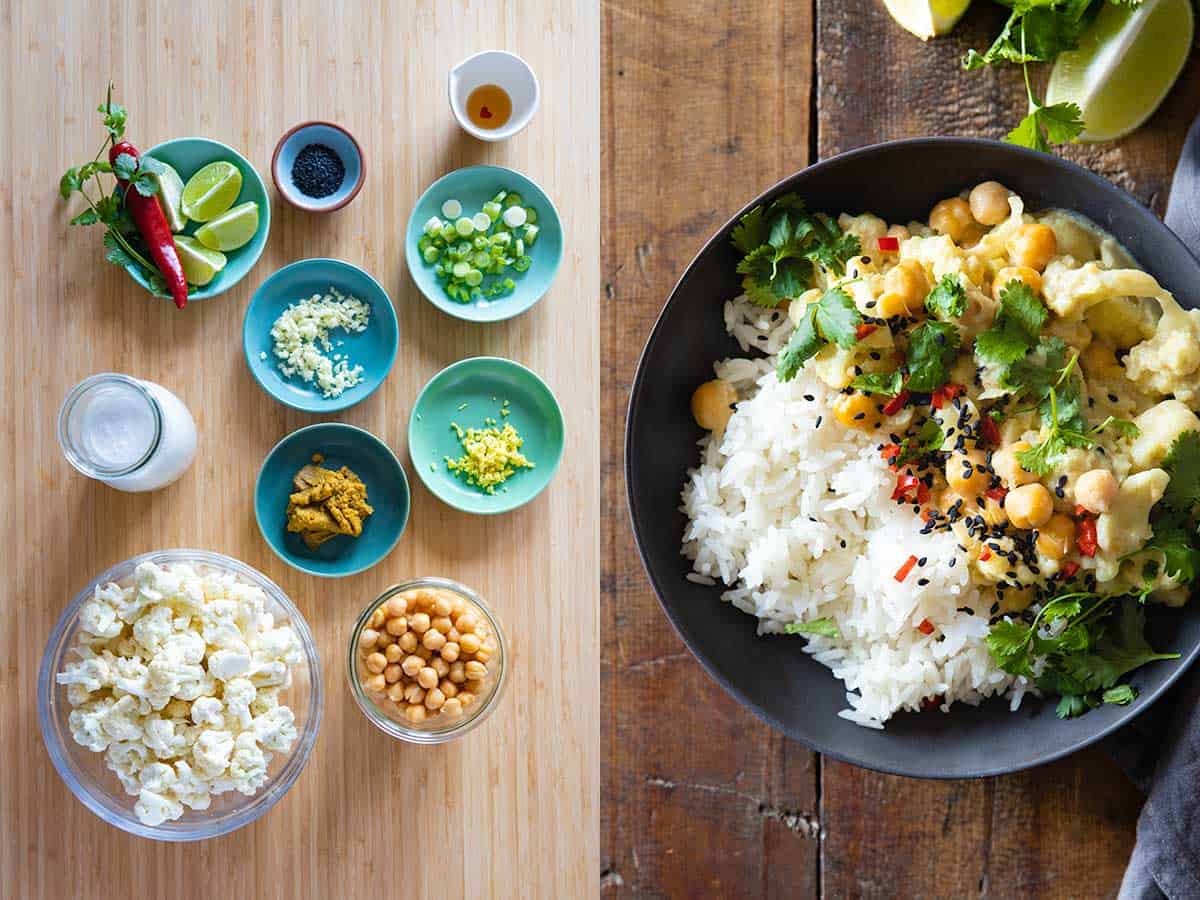 Chickpea Spinach Curry
This is my favorite when I'm in a rush. If I use jarred ginger and crushed garlic instead of fresh I'm able to make this recipe in 20 minutes flat start to finish and 15 of those minutes are hands-off.
Make sure you use baby spinach instead of regular because it doesn't require any cooking.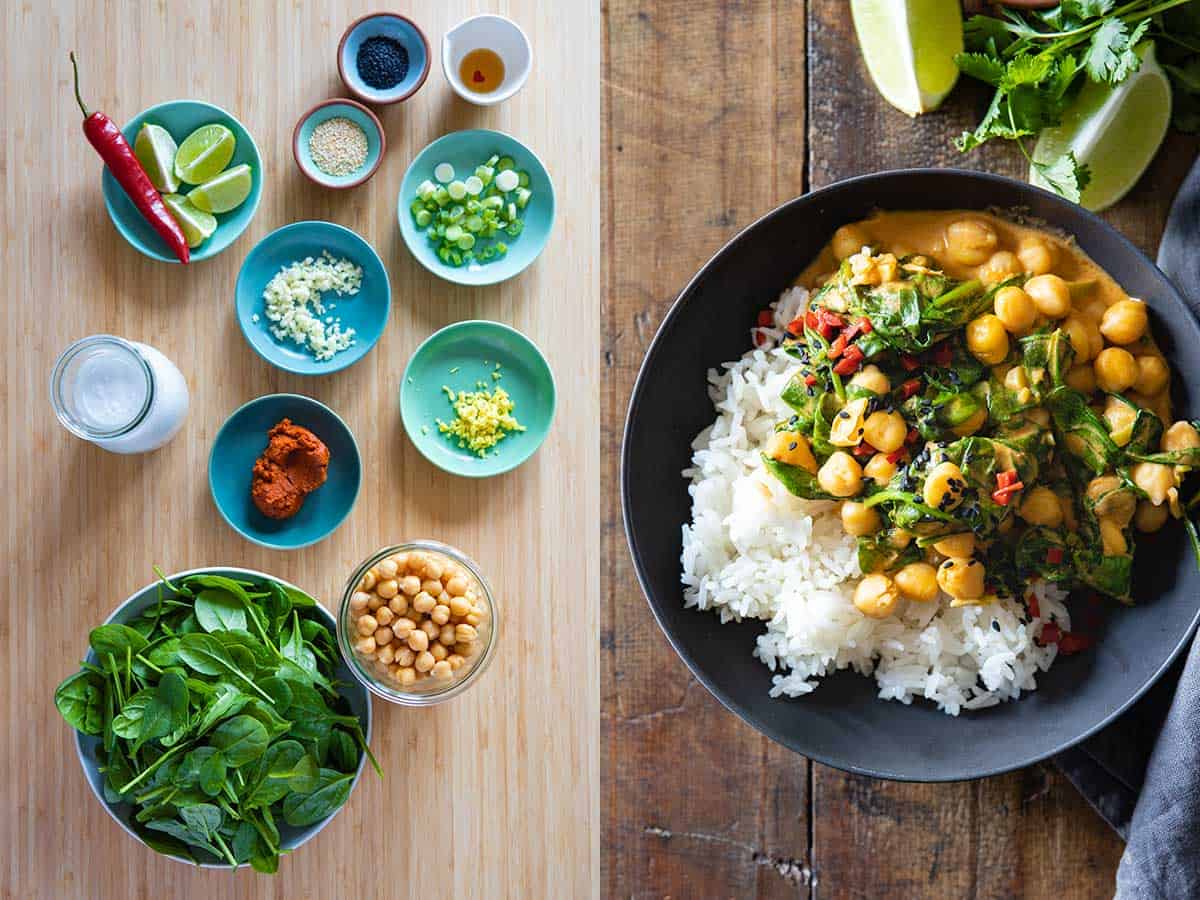 Frequently Asked Questions
Can I freeze the curry?
Yes! Thai curries are great for freezing. To defrost simply place in the refrigerator overnight and let thaw slowly. The coconut milk might separate during the thawing process but don't worry. Once you reheat and stir it, the coconut fat will incorporate nicely again.
How can I cook chickpeas from scratch?
To add them to your coconut curry you have to cook the chickpeas separately ahead of time. I recommend soaking overnight in abundant water on the kitchen counter. The next day drain and rinse them, then pressure cook for 15 minutes on high pressure plus full pressure release. Alternatively, boil for 30-45 minutes on low.
Does coconut curry taste like coconut?
Not really. I mean if you don't like the taste of coconut milk at all you might be able to tell it has coconut. Coconut is not the predominant flavor though. The Thai curry pastes are strong in flavor and overpower the coconut for the most part.
How long does chickpea curry last?
In an air-tight container in the refrigerator for up to 4 days. That makes it an amazing meal prep recipe.
How can I make the curry thicker?
The thicken the curry you simply have to let it simmer a little longer on low. The more water from the coconut milk evaporates the thicker it becomes. By using full-fat canned coconut milk you reduce the thickening process some more because there is less water in that milk.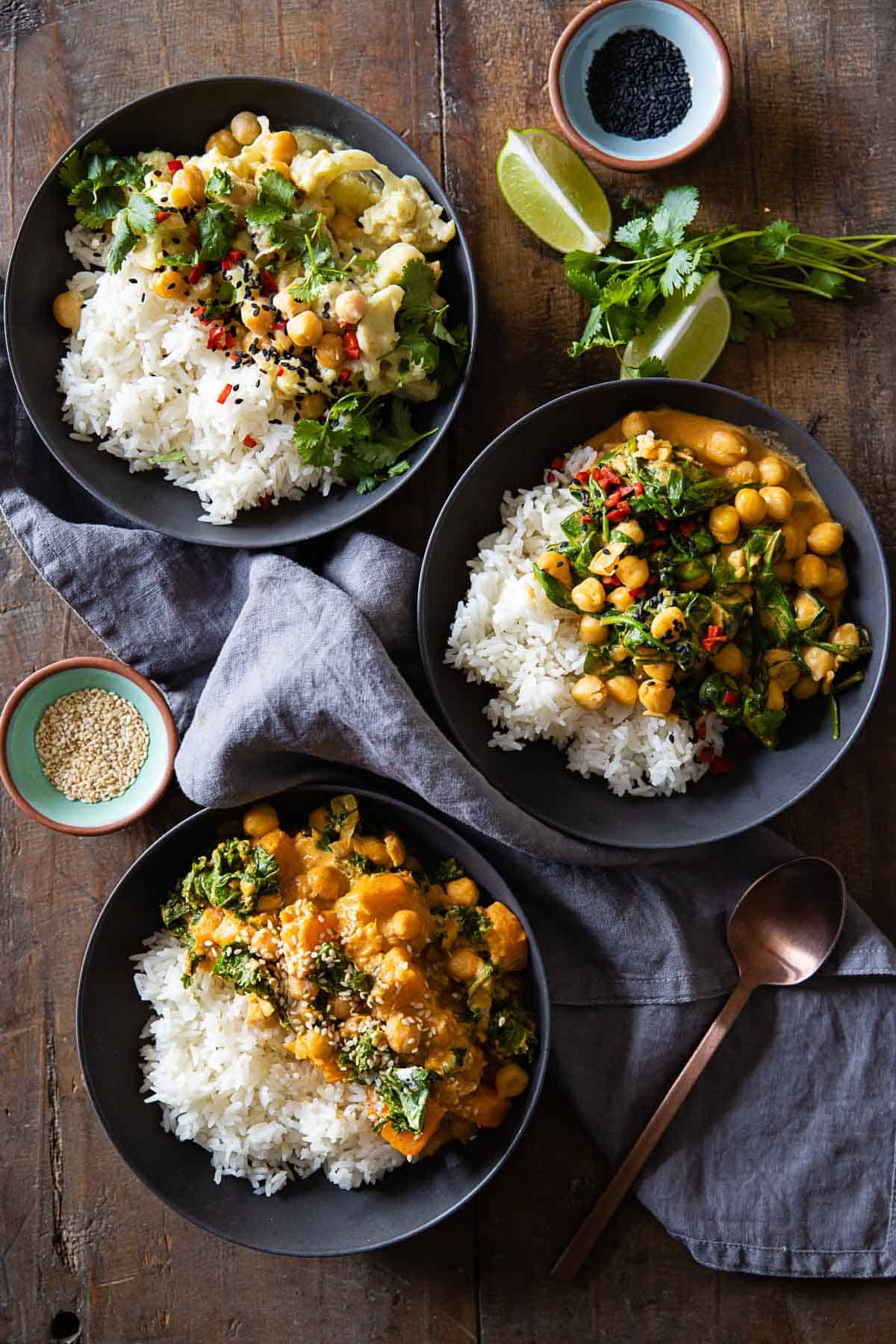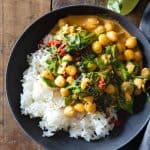 Coconut Chickpea Curry
This naturally vegan Coconut Chickpea Curry is a heart-warming dinner full of flavor and body. Add sweet potato, cauliflower, or simply baby spinach to it to make it even more delicious. A bowl of pure bliss!
Print Recipe
Pin Recipe
Ingredients
2

scallions

2

cloves garlic

1

inch ginger

3

Tbsp

Thai curry paste

-

yellow, red, or green

1

can

light coconut milk

3

cups

cooked chickpeas

-

canned, jarred, or homecooked

1

sweet potato

-

optional

3

cups

kale

-

optional

1

cauliflower

-

optional

5

oz

baby spinach

-

optional

sesame seeds for garnish

-

optional

cilantro for garnish

-

optional

red chili for garnish and heat

-

optional

1

lime
Instructions
Slice the white part of the scallions, peel and chop the garlic, and peel and chop the ginger and set aside.

Prepare your other vegetables if you want to add any.

For the sweet potato curry: peel and dice sweet potato and destalk and coarsley chop kale and set aside.

For the cauliflower curry: cut the cauliflower into bite size florets

Preheat a large pan over medium heat and once hot add a drizzle of avocado oil, then add the sliced scallions, chopped garlic, and chopped ginger, as well as the Thai curry paste and sauté until fragrant (about 1 minute).

Add the coconut milk to the pan and stir until the curry past is well combined with the milk.

If you want to make the sweet potato curry add that to the sauce and submerge well, bring to a boil, then cover with a lid and let simmer on low for 15 minutes.

If you want to make the cauliflower curry do the exact same, only simmer for 5 minutes instead.

For the spinach curry there is no need to cook any vegetables ahead.

Add the chickpeas to the sauce, submerge in the sauce, bring to a boil then reduce heat to low, and let simmer uncovered for approximately 10-15 minutes.

Add baby spinach or kale and mix only for a few minutes until the greens start wilting.

Serve in a bowl over rice or alone and garnish with either sesame seeds, cilantro, chopped fresh chili, or a combination of them. Then drizzle with fresh lime juice.
Notes
Nutritional information for 1 serving of Spinach Chickpea Curry without rice.
Nutrition
Calories:
313
kcal
|
Carbohydrates:
42
g
|
Protein:
12
g
|
Fat:
11
g
|
Saturated Fat:
7
g
|
Sodium:
118
mg
|
Potassium:
589
mg
|
Fiber:
11
g
|
Sugar:
7
g
|
Vitamin A:
5188
IU
|
Vitamin C:
19
mg
|
Calcium:
124
mg
|
Iron:
5
mg
What's your clean eating vibe?
Take this fun QUIZZ and find out in 10 seconds!