You want a crispy and juicy and literally skillet-licking delicious Easy Roast Chicken for dinner? Look no further. You found a fool-proof recipe just now! This is BY FAR my favorite chicken recipe. You can pretty much use any of your favorite herbs or spices just as long as you follow the roasting instructions to get that nice and crispy skin but juicy and soft flesh. If you roast a chicken on too high temperature it burns from the outside and stays raw in the middle. If you cook it too long it becomes super dry. You have to roast it at the perfect temperature for the perfect amount of time to get chicken that tastes TO-DIE-FOR.  Every time I make this my son exclaims. Mmmmm mommy I want to take this as snack tomorrow to school. As snack? Really? Roasted Chicken? Yes! It is THAT good. You will want to eat this for breakfast, snack, lunch, another snack, dinner and another midnight snack maybe. If you have a roasting pan you can put cut up root vegetables at the bottom and have them roast and cook in the juices that run out of the chicken but roasting it in a cast iron skillet with just onions and garlic at the bottom gives you a sauce that is so incredibly delicious you will want to dive lick the skillet at the end. And in case you were wondering, yes I do that almost. I take a rubber spatula and scrape out even the last drop and then lick the spatula.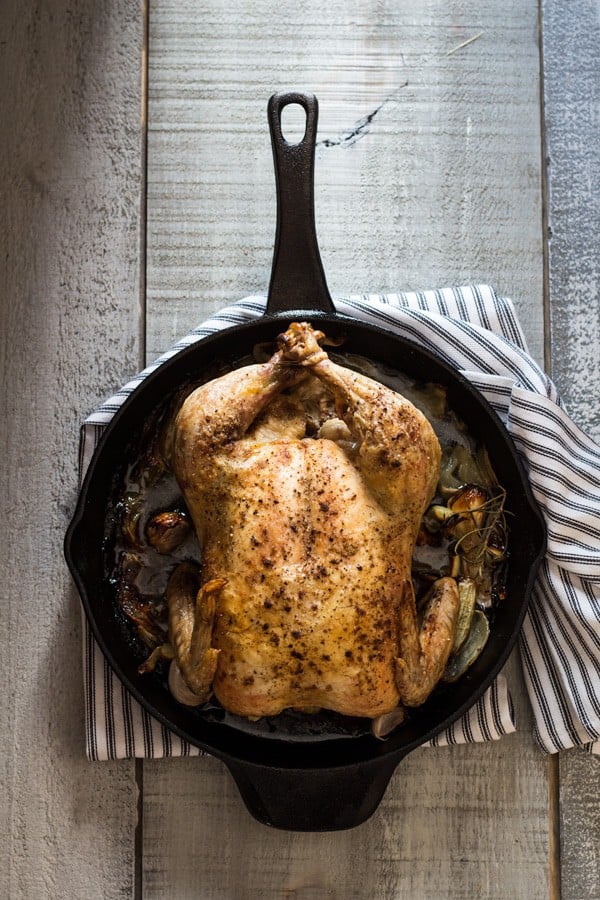 I don't have any pictures of the process to prepare this because there is nothing really to show. It takes less than 10 minutes to prepare the chicken and very, very few steps. It surprises me sometimes how something SO EASY to make can taste SO SO GOOD! I also don't have any pictures of any cut pieces because as soon as I cut into it there was no way to save it anymore. It was immediately attacked by all eaters with bare hands out of the skillet. No time for portioning and cutting into pieces and placing on plates. It was eaten right out of the skillet with our hands. This happens all.the.time. with this chicken.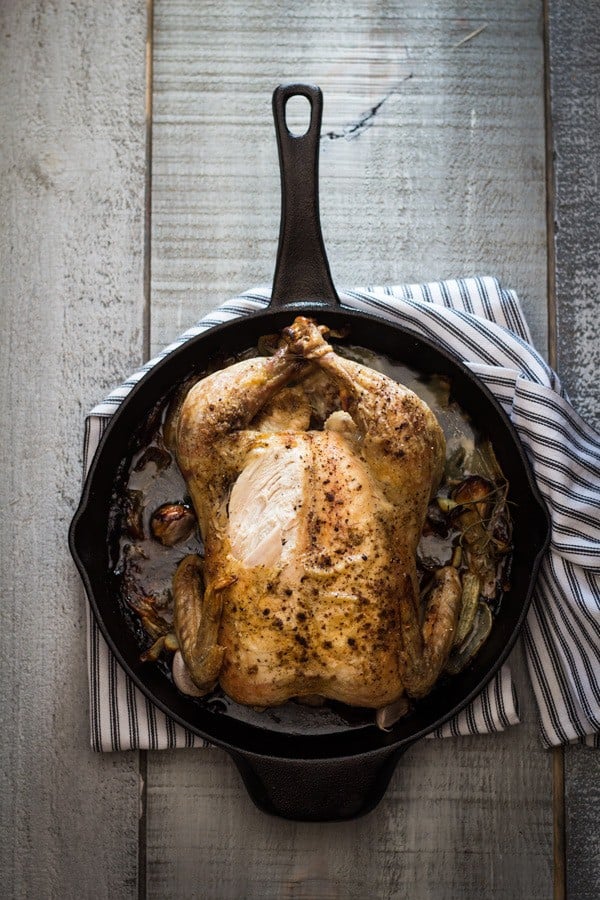 Peel the roasted garlic and eat it whole just like that with your chicken. Roasted garlic is not as strong as raw garlic. It won't leave you with that strong breath raw garlic does. You can happily eat 5 cloves and be just fine in terms of breath and eye-rolling happy while chewing on them. Roasted garlic is DIVINE!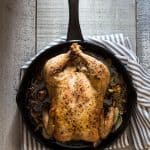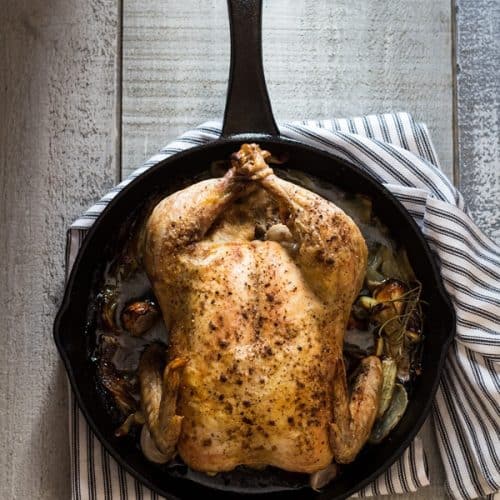 Easy Roast Chicken
Print Recipe
Ingredients
1

higher welfare whole chicken

1

medium

yellow onion

5-10

cloves

garlic

-

(leave in their skin!)

1/4

tsp

cumin

1/4

tsp

coriander

1

tsp

Salt

8-10

rounds freshly ground pepper

1

string rosemary

2

Tbsp

olive oil
Instructions
Preheat oven to 450 F (230°C).

Peel onion and cut into big pieces (about thumb big).

Remove papery skin of garlic but leave the thick skin ON! (if you remove the thick skin the garlic with dry out and become very hard)

In a small bowl whisk together cumin, coriander, salt and pepper.

Whey chicken in it's wrapping or check on the label how much it weighs. (<- this is important!).

Wash and dry chicken with a paper towel. (DO NOT remove skin. If you don't like the skin or are concerned about the extra fat, remove it AFTER roasting. You should NEVER remove the skin before roasting. It serves as a protection for the flesh and without it the flesh will completely dry out.)

Place chicken breast side up in the middle of a cast iron skillet or any other small-ish ovenproof dish.

Pour olive oil over the chicken and with your hands spread it all around so it is completely covered in olive oil from all sides. Make sure it is placed breast side up again.

Now with your finger tips sprinkle the salt/spice mix over the breast, thighs, legs and wings.

Scatter onion pieces and garlic cloves around it.

Place rosemary string to the pan.

Put in 450 F hot oven and IMMEDIATELY TURN DOWN HEAT to 400 F (200°C) and roast for 20 minutes PER pound + an extra 20 minutes. The chickens I tend to get are usually 3 lbs (1.5 kg) and thus need 1:20 hours (3x20min+20min).

Serve with roasted root vegetables or salad.
What's your clean eating vibe?
Take this fun QUIZZ and find out in 10 seconds!
We ate this specific chicken with oven roasted Turnip Fries. I will share the Turnip Fries recipe with you on Tuesday. Pinky promise!
P.S. Happy Halloween to all of you who celebrate that holiday. My kids absolutely love it. I still have to get used to it, to say the least, haha.