Another recipe for the collection of quick and easy healthy meals: Perfect Pork Chops with Mashed Potatoes and Vegetables. 30 minutes of work for a bowl of goodness topped with a finger-lickin' good pork chop.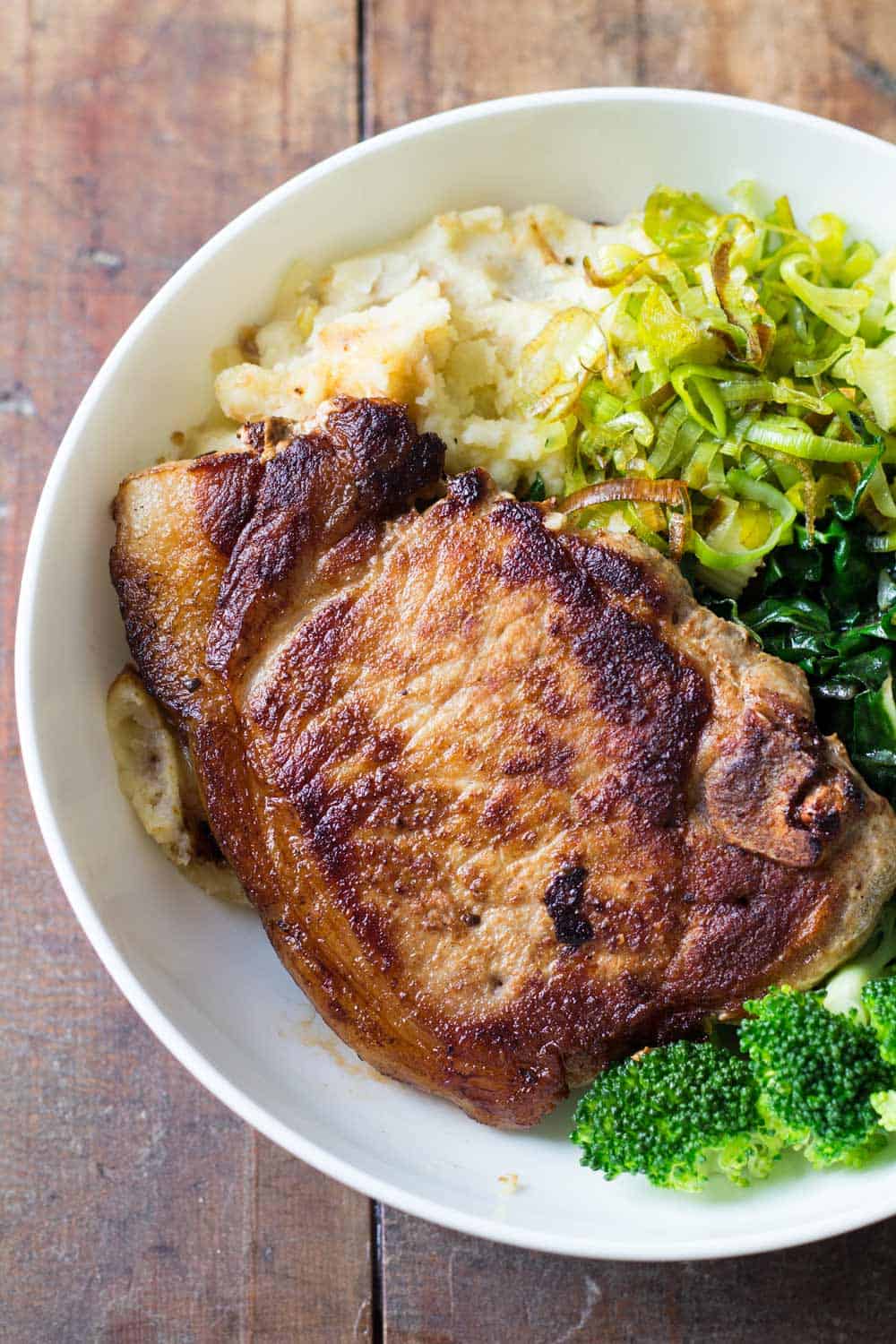 How to Cook Perfect Pork Chops:
Take pork chops out of the fridge at least 30 minutes (better an hour) before grilling it so it reaches room temperature. This for two reasons: a) If a pork chop (or any piece of meat for that matter) is fridge-cold it will basically burn from the outside while still be raw in the center. You have to cook cold pork meat much longer to reach the required 145 F (62 °C) for safe consumption and thus it burns from the outside and becomes alllll dry inside. b) If you place a slice of fridge-cold pork chop in a smoking hot pan, the fat shoots out of the pan in ALL directions but especially on your hands, arms, eyes and your very favorite t-shirt. Believe me. Been there, done that.
Whatever you do, do NOT, I repeat, do NOT trim the fat!!!! You don't have to eat it, you can cut it off and throw it away if you want once you cooked the pork chop but don't trim it before that. You need the fat to grill-fry the pork chop to perfection.

Salt and pepper

the pork chops generously on both sides. And with generously I mean generously. You can only season a pork chop from the outside. It's not like a stew where you cut the meat into bite-size pieces and cook it for hours in a deliciously seasoned sauce. A pork chop doesn't have time to absorb seasoning. You have to season it well so it has enough salt and pepper for the whole thickness of the meat.
Heat the pan over medium-high heat until it is HOT AS HELL! Leave the completely empty and dry pan (preferably cast iron) on the stove for the very least 10 minutes, better 15.
Add only an itty bitty amount of oil with a high smoke point (e.g. avocado oil) to the pan that is already hot as hell,

not before

! Move the oil around with a spatula.
Reduce heat to medium and immediately place the seasoned pork chops gently in the pan. Then take a step back to avoid burning yourself with any fat shooting out of the pan. (It will be minimal compared to throwing in a cold pork chop, though!).
Grill for 2-3 minutes, then turn around and grill for another 2-3 minutes. Now, the time obviously always depends on the thickness of the pork chops. The very best way to tell if a pork chop is cooked through is to use a meat thermometer. Once it reaches 135-ish degrees, take a pair of tongs and stand it up on the fat side to render the fat for maybe 1 minute. Use the released fat as your sauce it is the tastiest part of the dish. Take the pork chop out of the pan and place on a board.
Leave your perfect pork chops untouched for at least 5 minutes. If you cut right into it, all its juices will run out and leave you with a dry pork chop. Let it rest so it can reincorporate all its juices.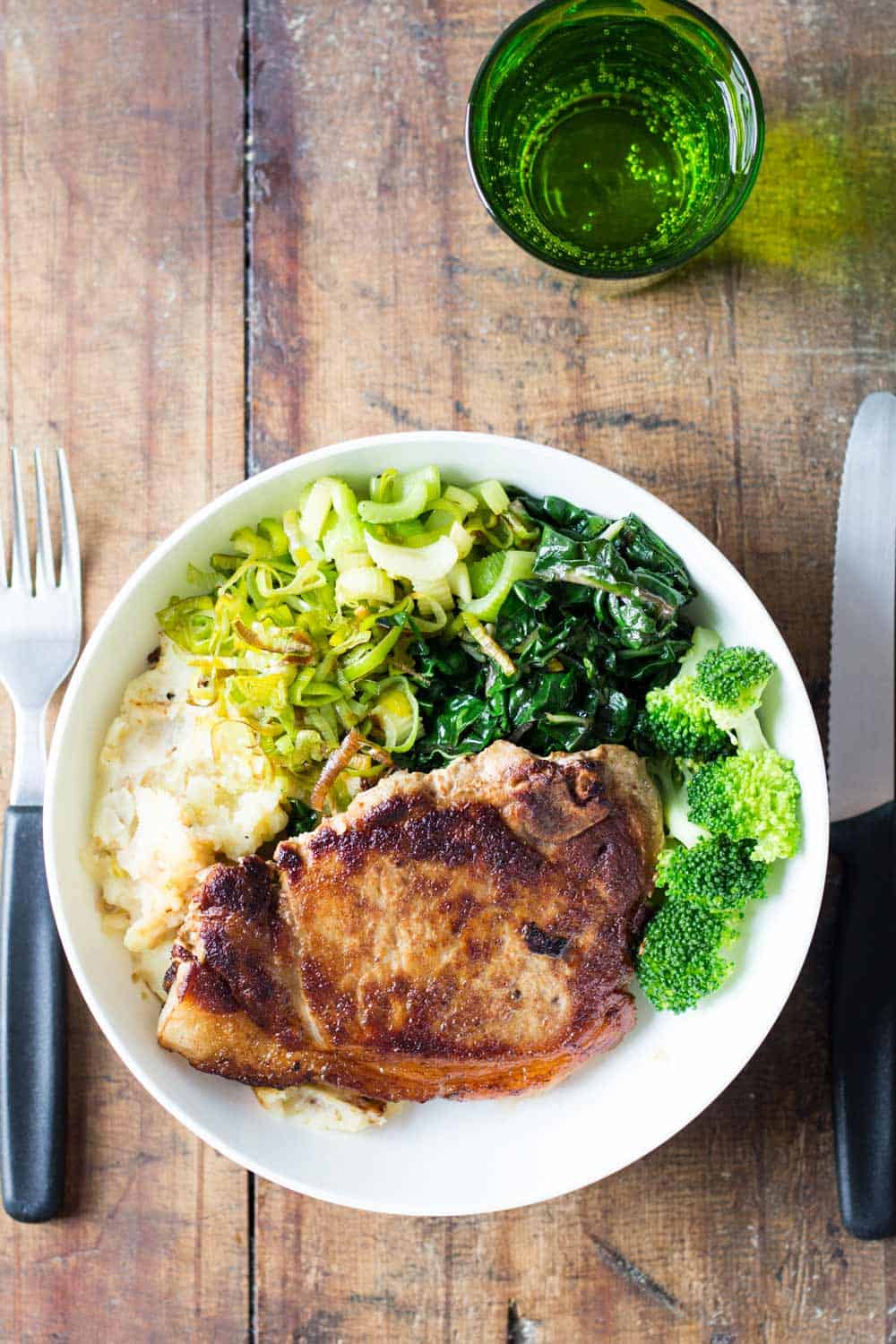 What To Serve Perfect Pork Chops With
The best combo HANDS DOWN Perfect Pork Chops with Mashed Potatoes and Green Vegetables.
Use the rendered pork chop fat to caramelize the leek and celery in and to soften the chard. It turns your already delicious greens into to-die-for vegetables!
All this plus the potatoes makes the most Perfect Pork Chops of your freakin' life!
P.S. The best and easiest way to clean a stove top and kitchen countertop and floor and everything covered in fat (in case you dared not listen to me and put the pork chop too cold into your smoking hot pan …. whyyyyy would you do that?!), is to soak a paper towel in a bit of vinegar and then wipe it all down.
Psst…..if you're not afraid of eating too much fat make some Garlic Herb Butter and put a little on top of your mashed potatoes and perfect pork chops.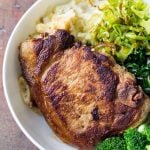 Perfect Pork Chop with Mashed Potatoes and Green Vegetables
Print Recipe
Ingredients
2

pork chops

1.5

lbs

white potatoes

-

(700g)

1/2-3/4

cup

whole milk

1

Tbsp

butter

8

small

broccoli florets

4

large

celery stalks

1

leek

4

large

Swiss chard leaves

Salt

Pepper
Instructions
Take pork chops out of fridge at least 30 minutes before starting anything else.

Bring 3 liters of water to the boil in a big pot.

Peel and quarter potatoes and put in a large pot, no need to wait for the water to boil. Just through in little by little as you quarter them.

Boil potatoes until tender (approx. 20 minutes once water is boiling). Use a wooden pick to proof if they are tender.

In the meantime, wash all vegetables and dry chard, leek and celery (no need to dry broccoli).

Thinly slice the round part of the leek, discard the green leaves at the top.

Cut celery into little moons about 1/4" (0.5cm) thick.

Destalk chard and cut leaves only into about 1/2" (1cm) thick stripes.

Heat a cast iron pan or heavy bottomed stainless steel pan over medium-high heat until VERY HOT! (at the very least 10 minutes, dry, no oil).

About 7 minutes before the potatoes will be cooked through, throw in the broccoli florets into the boiling water.

Drain potatoes and broccoli in a colander and then transfer potatoes only back into the pot (set broccoli aside), add milk, butter and salt and pepper using either an electric hand mixer (not a blender, a mixer) or a potato masher and mix all ingredients together. Cover and set aside.

Generously season pork chop with salt and pepper.

Once pan is hot like hell, reduce heat to medium, add a few drops of oil to the pan and gently place pork chop on oil, then take a step back to avoid fat shooting out of the pan.

Fry for 2-3 minutes on each side depending on thickness (until it reaches 135F/57ºC), then stand up the pork chop on the side with the fat with a pair of thongs and render the fat for about 1 minute.

Place pork chop on a cutting board and let rest for at least 5 minutes without touching and especially without cutting into it.

In the meantime, add leek and celery to the fat in the pan and fry until translucent. About 5 minutes. Add chard and fry for another minute or two until soft.

Salt and pepper vegetables.

Serve immediately.
What's your clean eating vibe?
Take this fun QUIZZ and find out in 10 seconds!