Here are a lot or Christmas Dinner Ideas to make life easier on you. Delicious Christmas recipes your family will love and Christmas Dinner Menu Ideas for 10-20 people, 4-10 people and 2-4 people.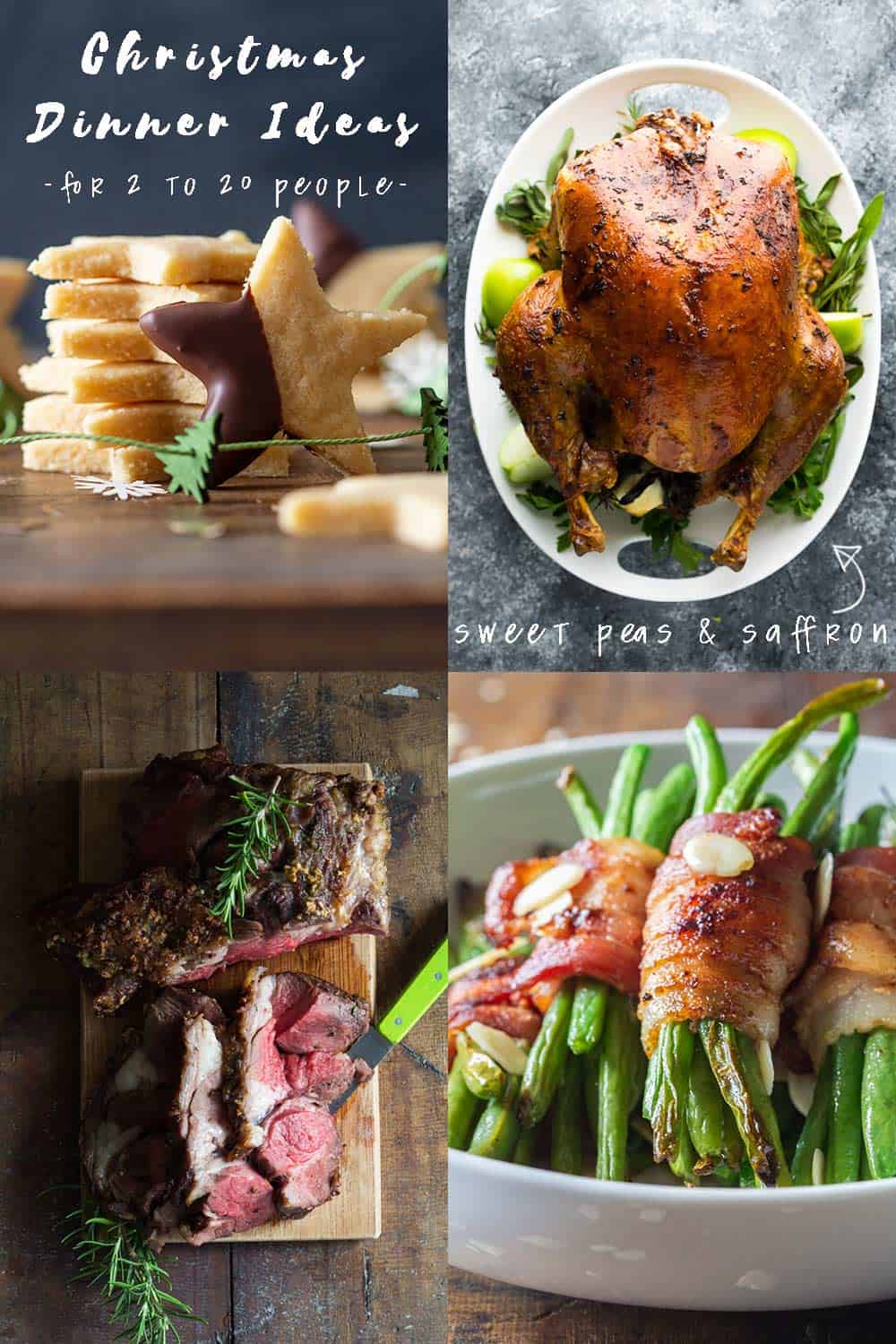 There are two types of people it seems when it comes to cooking Christmas Dinner.
Type A is all organized and has a plan that just needs to be executed. Type A receives guests in a tidy and clean kitchen, with the table set and in a relaxed manner.
OR:
Type B decides the day before what to cook, starts on the day of and is extremely stressed throughout the process. Type B typically receives guests unshowered with grease stains on the shirt and a kitchen that looks like a bomb exploded in it while frantically working on the last dishes. Soooo stressful!
Who are you and who do you want to be?
If you plan everything to the T and don't add any last minute extra things (*cough* am I the only one suffering from megalomania?) you can have a wonderful Christmas Dinner cooking itself in a clean kitchen while you take the time to get ready yourself.
You will EVEN have time to pour yourself a glass of wine or hot coco (just put on an apron just in case!) before your guests arrive so you can receive them in a relaxed manner.
So let's get right into all these Christmas Dinner Ideas, shall we?
5 Brilliant Ideas for Christmas Dinner
1. Choose desserts that can be made the day before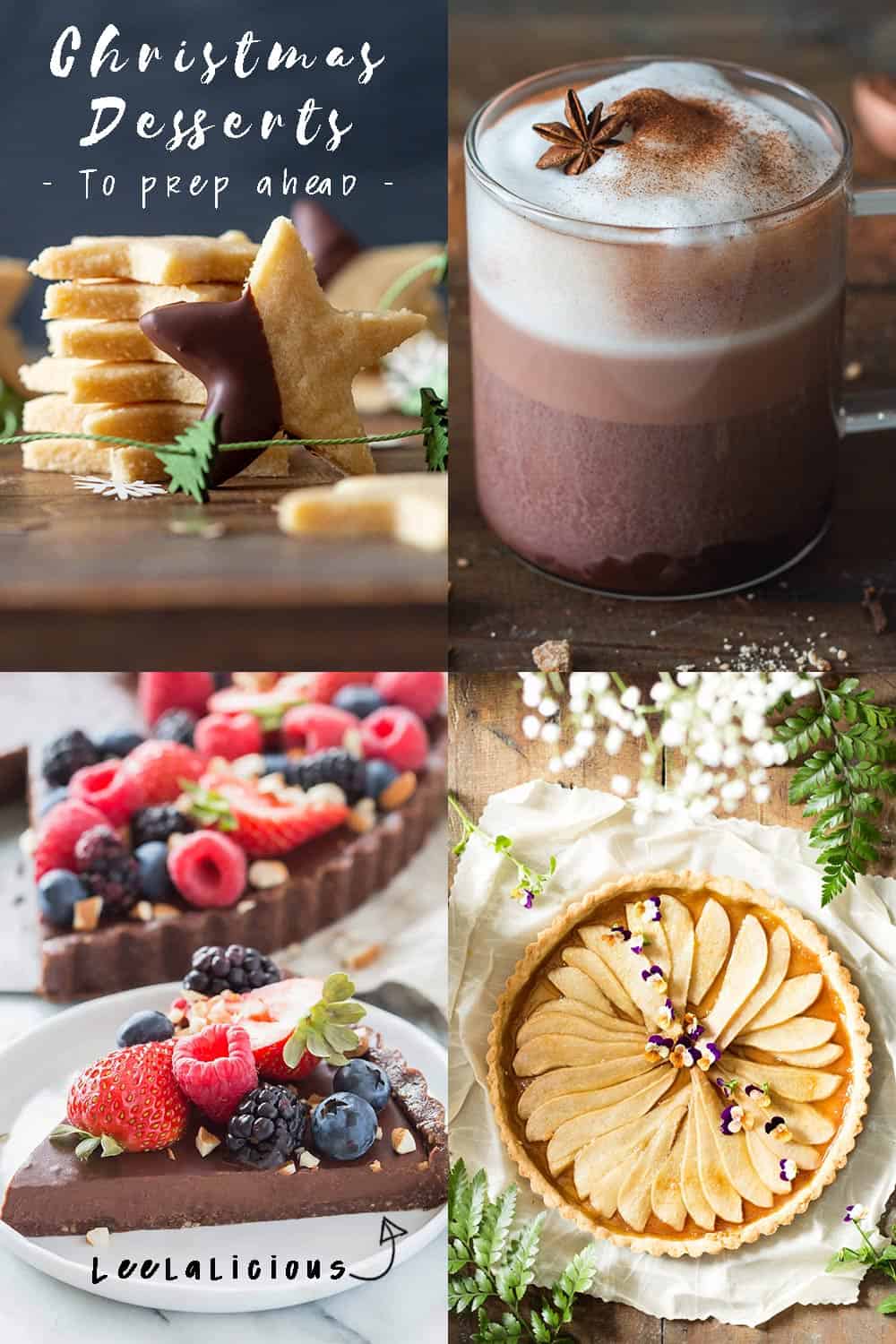 If you don't want to add a hint of turkey or ham or lamb flavor to your dessert you really don't want to bake your dessert in the oven after roasting your meat!
There are plenty of desserts suitable for a wonderful Christmas dinner that can be prepared way ahead of time so you can check that completely off your list.
Almond Cookies can be made even 3 days in advance! Mexican Hot Chocolate in syrup form to then mix with hot milk on the the day of can be prepped the day before and stored in the fridge.
Leelalicious' No-Bake Chocolate Tart can easily be prepped 1-2 days ahead of time. I've made this tart at least 5 times and leftovers where still like on day 1 after 3 days. The best part about this tart is that it is vegan, paleo and gluten-free so perfect if you yourself of any of your guests have dietary restrictions. Everybody can share the same dessert!
My simple Pear Tart can be prepared the night before as it needs time to set in the fridge anyway. It takes only 20 minutes to prep and tastes suuuper delicious! It does contain wheat flour and butter though so not vegan, paleo or gluten-free.
2. Set the table the night before
I don't have a photo for this one because I'm a minimalist expat and have all different plates, lol. Still, I try to set the table as beautifully as I possibly can with what I have because I believe this is probably one the most stress-relieving Christmas Dinner Ideas of all.
What I absolutely love to do is browse Pinterest for ideas to decorate my table that don't require me buying expensive things by a multiple and then need to be stored for a year.
I love simple centre pieces that can be made with plants and herbs and flowers and stuff that I already have at home or can get from somewhere for inexpensive and that are not terrible for the environment.
I've made a Pinterest Board for Table Setting Ideas for you so you can get some inspiration.
If you have little children that will tear down all your decor: still set the table the way you want it the next day. All the details, moving everything around until you like the result. Snap a picture with your phone so you remember where everything goes. Then store everything out of reach for the kids but in reach for you so you can set the table in 10 m–inutes flat the next day.
3. Make use of your electric kitchen appliances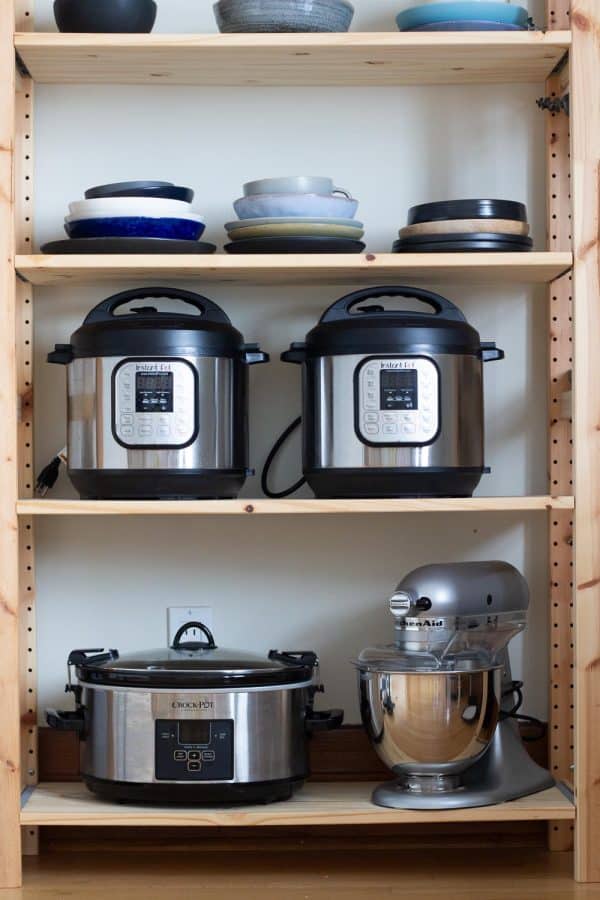 Use your slow-cooker, instant pot or both to keep the oven and stove-top free for the things that can't be made any other way.
You can make Braised Red Cabbage in a slow cooker as a side dish. You can make Instant Pot Mashed Potatoes. Even ham in the slow-cooker and honey sweetened Instant Pot Cranberry Sauce are possible!
4. Plan nothing but your main for the oven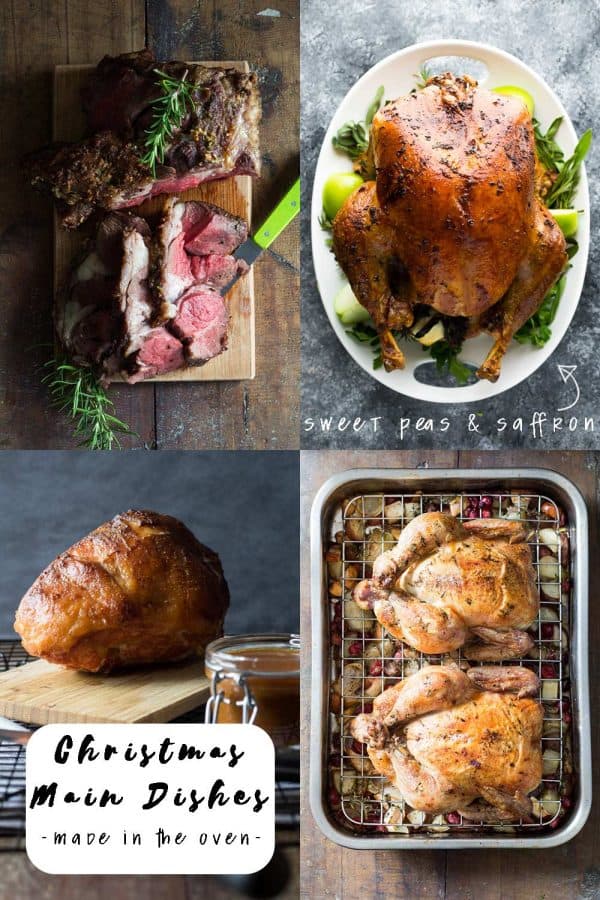 Plan only your Dry Brined Turkey or a Maple Mustard Ham for your oven. Excuse the writing in the Maple Mustard Ham Post I was an inexperienced blogger when I wrote that. The recipe is still delicious and totally worth it.
Alternatively, you could try something new for Christmas and make the most delicious Roast Lamb Shoulder (my favorite) or Two Roasted Chickens instead of a turkey.
I know with a plan you're supposed to be able to make several things in the oven, for example while your turkey is resting, or your favorite tart right before roasting the turkey.
The problem with this, however, is: what if your tart takes longer than expected? What if you turkey takes longer than expected? What if your tart burnt but you HAVE to put that turkey in right now or it won't be ready for when it's supposed to be ready?
Don't risk it. Plan nothing but your main for the oven (unless your main is made in an electric kitchen appliance of course). Everything else can be prepared in advance or in electric appliances or on the stove-top.
5. Pick no more than 2-4 side dishes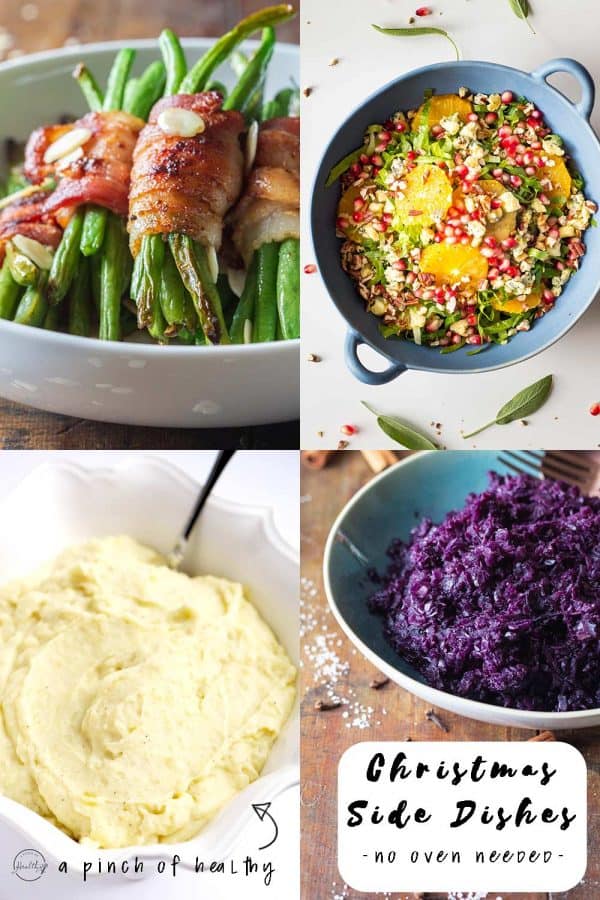 Don't overwhelm yourself with 10 different side dishes. Your main should be the focus of the meal. That's what people come for!!! Normal serving sizes for mains don't count this day. Make sure you have more than enough of the main dish! And then plan regular or small serving sizes for your sides.
Many Christmas Dinner Ideas Round-up posts suggest sooo many things that you feel like you have to make them all but don't! Just choose your favorites and stick to those.
The biggest hit at any of my dinner parties are always Bacon-Wrapped Green Beans. Another hit is a colorful Winter Salad with delicious sage vinaigrette.
Other than those you should probably offer everybody's favorite: Mashed Potatoes. And another one that's vegan and low carb and paleo and all the things so everybody no matter what dietary restriction can eat it, such as Braised Red Cabbage. The best cranberry sauce to put in your braised cabbage is this one by the way :)
Christmas Dinner Menu Ideas
For 10-20 people
1. More Traditional Healthy-ish Turkey and/or Ham Christmas Dinner Menu 10-20 people
2. Less Traditional let's-try-something-new Healthy-ish Christmas Dinner Menu 10-20 people
For 4-8 people
3. More Traditional Healthy-ish Chicken and/or Ham Christmas Dinner Menu 4-10 people
4. Less Traditional let's-try-something-new Healthy-ish Lamb Christmas Dinner Menu 4-10 people
For 1-4 people
5. More Traditional Healthy-ish Turkey Christmas Dinner Menu 2-4 people
 6. Less Traditional let's-try-something-new Healthy-ish Lamb Christmas Dinner Menu 4-10 people
Turn Christmas Dinner Ideas Into Real Dinners
Here are all the kitchen tools I use to make any and all of the recipes mentioned above. You all know I am a huuuuge fan of my Instant Pot. So much so that I have two of them, lol
There are more amazing things in my kitchen though that make my life easier and I could not live without. Not for making amazing Christmas Dinners and not for any other day in the kitchen.
The following are affiliate links and I earn a small commission at no extra cost to your if you buy through the link: