Looking for a simple and easy pear tart? Search no further, you found it! 7 ingredients (if you don't count the pinch of salt). 20 minutes preparation time. 30 minutes in the oven. No special equipment needed. No special ingredients needed. What else can one wish for?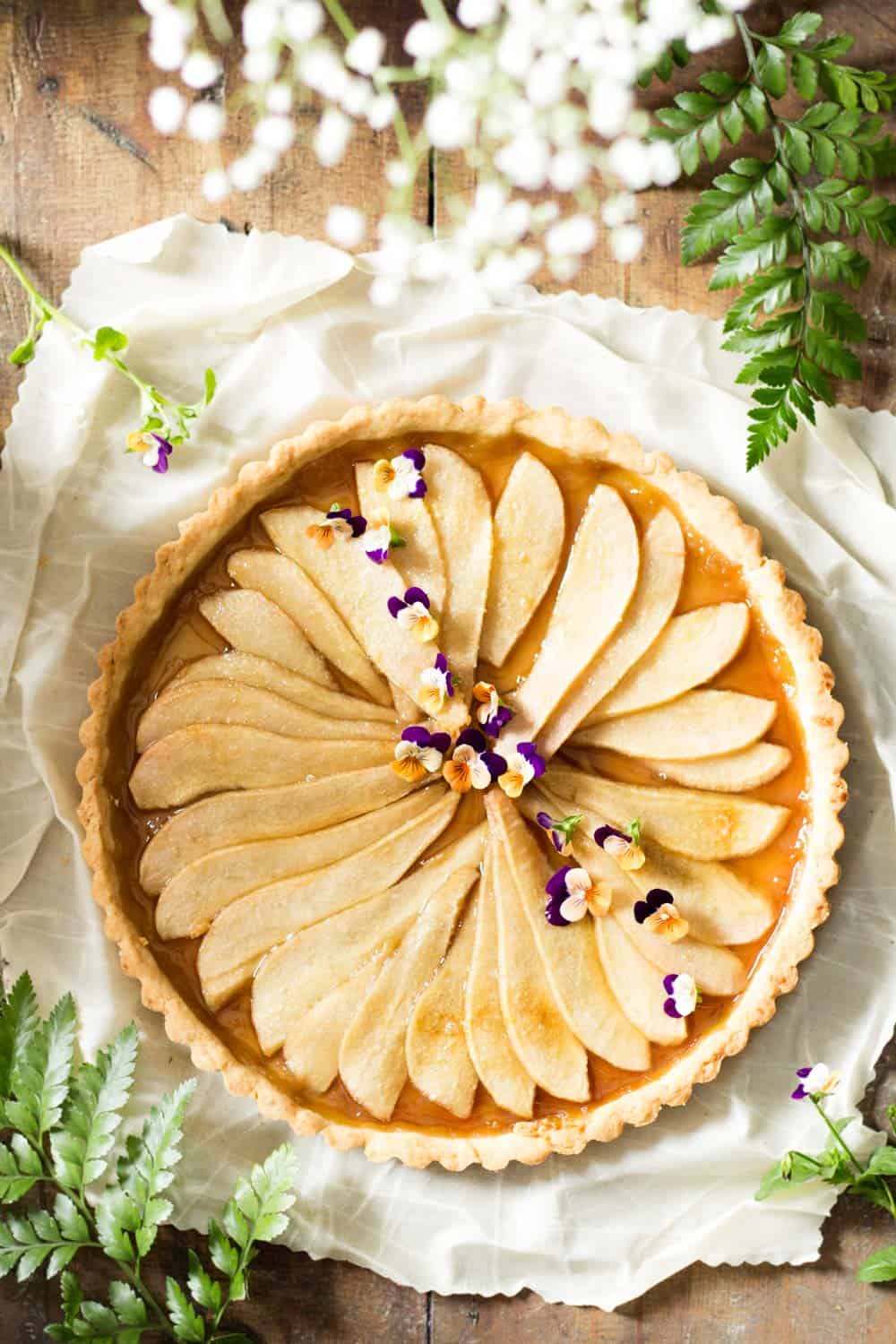 The best part about this simple pear tart is not even the simplicity but the fact that it is refined-sugar-free. Yes, you read that right. It doesn't mean it's not sweet. It doesn't mean it contains no sugar at all. However, it is made with maple sugar which is much healthier and in my opinion also muuuch more delicious than refined sugar.
To give you an idea of how easy and simple this pear tart is, here you can watch a 60-second instructional video before continue scrolling to read the details of the process.
Recipe Video for this Simple Pear Tart
Best crust for a simple pear tart: shortcrust or puff pastry?
To keep prep time short and the recipe simple and easy and the crust absolutely delicious I believe a "butter crust" is the best option. It is basically a mix between a shortcrust (but not as crumbly) and puff pastry (but not as time consuming). You will only need flour, very cold butter, a pinch of salt, an egg yolk, ice cold water and a tiny bit of maple syrup. That's it. Making the crust takes 10 minutes max. Promise!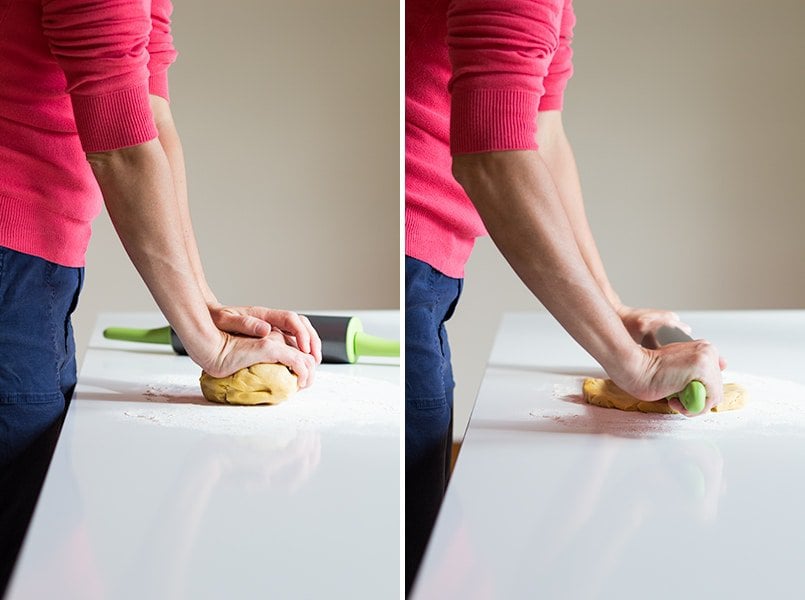 What's the best pear to make pear tart?
I've tried this tart with Bosc pears, Bartlett pears and Anjou pears and I found each of them to work just fine. However, the Bosc was probably the easiest to handle while peeling and slicing because it holds really well together. The most important when choosing the pears is its firmness. They can't be all ripe and mushy. They should be firm enough to thinly slice without breaking apart.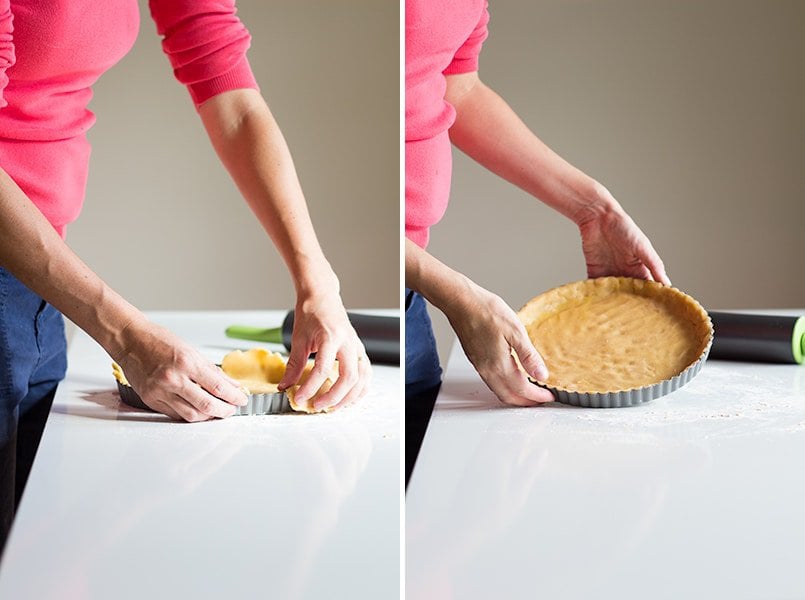 Can pears be substituted by apples in this pear tart recipe?
Absolutely! I made this exact same recipe only with sliced apple instead of pear and sliced almonds sprinkled on top and it tastes amazing! I wouldn't use another fruit though. If the fruit contains too much water the crust might not harden and instead become mushy in the center. Stick to either pears or apples.
For a twist on an apple tart check out this Simple Apple Tart on the blog. It's got a oatmeal pie crust instead of a flour butter curst and it's just as amazing as this pear tart.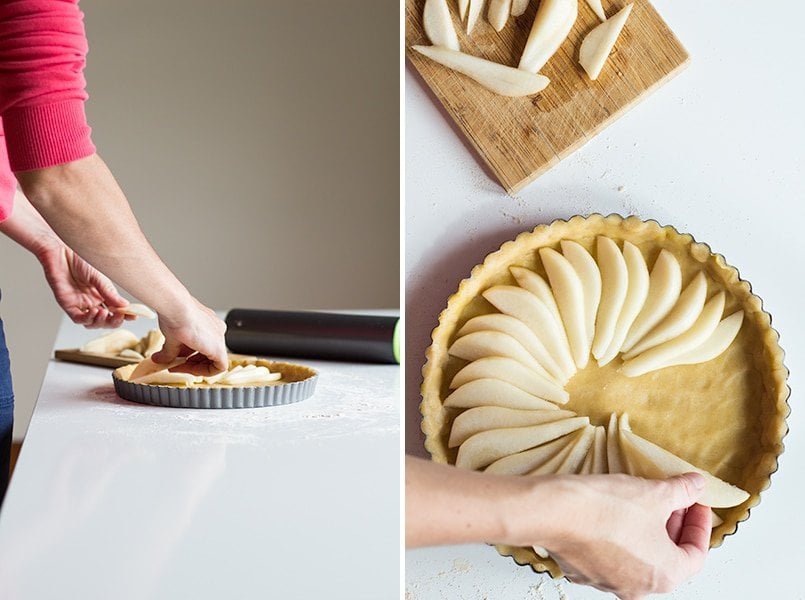 Best refined sugar substitute in apple or pear tarts
Hands down, maple flakes! When I first tested the recipe I didn't know if maple flakes were going to melt away on top as sugar does. The pie could very well have broken apart or be all soggy in the center. The crust turns out perfectly golden and crisp though. The center cooks through wonderfully and the maple sugar melts beautifully and gives the pear tart that extra special deliciousness and color.
I know it is hard or very expensive to get maple flakes in other countries than Canada but I really believe it's worth to try and get some. Otherwise I guess coconut sugar might do the trick. Maple Syrup or honey will NOT be suitable because they are liquid and would probably make the tart soggy. If coconut sugar isn't easy to get where you live either, just use regular brown sugar (<- last resort).
It is the best pear tart I have EVER made. I really, really, really liked it and the funniest part is, it was invented in about 10 seconds and doomed to be a failure because of that. My husband called in at around 4 pm to ask if it was ok to bring over 3 dinner guests. OF COURSE!!! We love to have people over and I wouldn't say no to socializing even if I were only able to serve boxed pizza and tap water. YOU won't even have to consider pizza and tap water though because now you've got the best and easiest pear tart recipe ever to come to the rescue.
If you are on a gluten-free diet check out this beyond amazing Simple Apple Tart. If you are more of a pie person, you HAVE to make this Healthy Pumpkin Pie.
Now go get out your ingredients and let's get started :)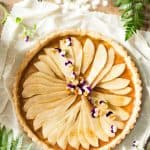 Simple Pear Tart
Looking for a simple and easy pear tart? Search no further, you found it! 7 ingredients (if you don't count the pinch of salt). 20 minutes preparation time. 30 minutes in the oven. No special equipment needed. No special ingredients needed. What else can one wish for?
Print Recipe
Ingredients
1.5

cups

unbleached white sifted pastry flour

-

(I've done it with unsifted all-purpose white flour, too and it came out alright, but the sifted pastry flour is better)

1/2

cup

very cold butter

-

(120g)

1/4

tsp

Salt

1

egg yolk

1

Tbsp

maple syrup

1

Tbsp

very cold water

2

pears

1

cup

maple flakes

-

(or 1/2 cup maple sugar or 1/2 cup brown sugar)
Instructions
In a food processor mix flour and salt together.

Cut in out-of-fridge-cold butter, add egg yolk, maple syrup and very cold water and process by pulsing and pausing in order not to overheat the processor (this can also be made in a bowl and with a spoon and then hands but make sure to keep the dough as cold as possible at all times. If you knead it too much with your warm hands, the dough will be oily. Put the bowl in the freezer every 3 minutes maybe for 5 minutes).

Once dough is well combined, put it in a sealable glass container (or cling film) and place in the freezer.

Preheat oven to 400 F (200 C).

In the meanwhile, peel pear, core them and cut into thin stripes (as seen on pictures above). Set aside.

Generously flour your work surface, take out dough of freezer and press down on floured work surface. Make sure not to touch the dough too much. Your warm hands warm it up very fast.

With a floured rolling pin, roll out the dough big and round enough to cover a 9" (23cm) tart pan. If the dough sticks to the rolling pin put it back in the freezer and wait another 15 minutes. A very cold dough will not stick to a floured rolling pin.

Lay rolled out dough in the pan and trim the edges to place them where there is not enough to cover the sides. Use your fingers to press all into place. This should be done fast, again, to avoid overheating the dough.

Place pear stripes like a fan all around the bottom of the pan.

Cover pear stripes with maple sugar.

Bake at 400 F for 30-32 minutes keeping an eye on it the last minutes to avoid the sides to burn.

Wait for the tart to cool down completely before cutting, to avoid breaking.
Nutrition
Calories:
652
kcal
|
Carbohydrates:
103
g
|
Protein:
7
g
|
Fat:
25
g
|
Saturated Fat:
15
g
|
Cholesterol:
109
mg
|
Sodium:
359
mg
|
Potassium:
458
mg
|
Fiber:
7
g
|
Sugar:
60
g
|
Vitamin A:
795
IU
|
Vitamin C:
3.8
mg
|
Calcium:
129
mg
|
Iron:
2
mg
What's your clean eating vibe?
Take this fun QUIZZ and find out in 10 seconds!