Bacon-Wrapped Green Beans are the most PERFECT quick and easy stove-top side dish. Leave the oven free for the main dish and dessert by making these bundles in a pan!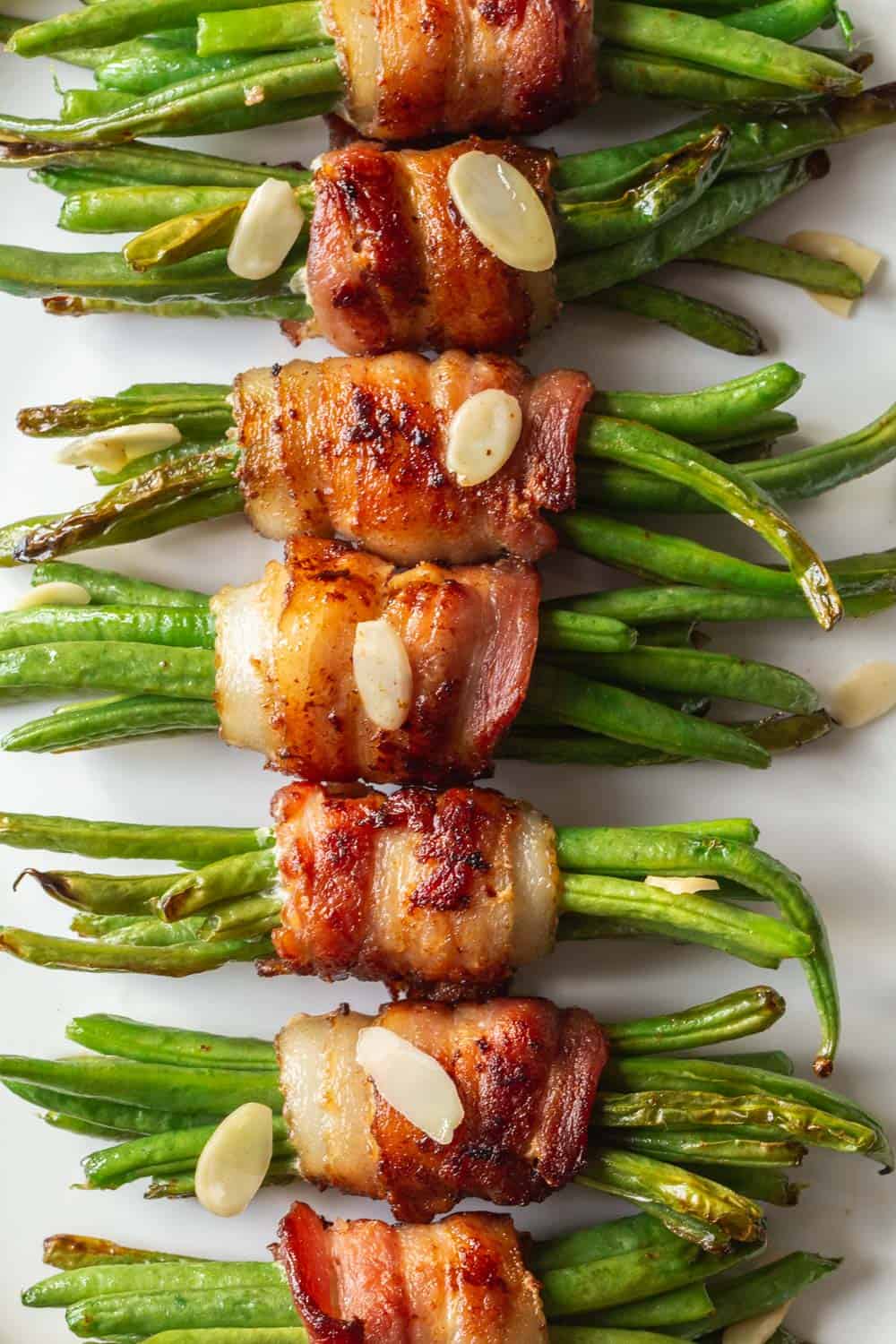 Stove-top side dishes are perfect for Thanksgiving, Christmas, New Year's, or any other festive dinners or family get-togethers. If your oven is blocked for mains and desserts, choose sides that can either be made in a pot or pan / slow-cooker / pressure cooker or served raw, such as these Avocado Salads.
This recipe is spectacular and an absolute show-stealer on the dinner table. There is no other way to describe it. I mean, say it, just say it: Bacon Wrapped Green Beans! *angelical ahhhhh* Are you drooling yet?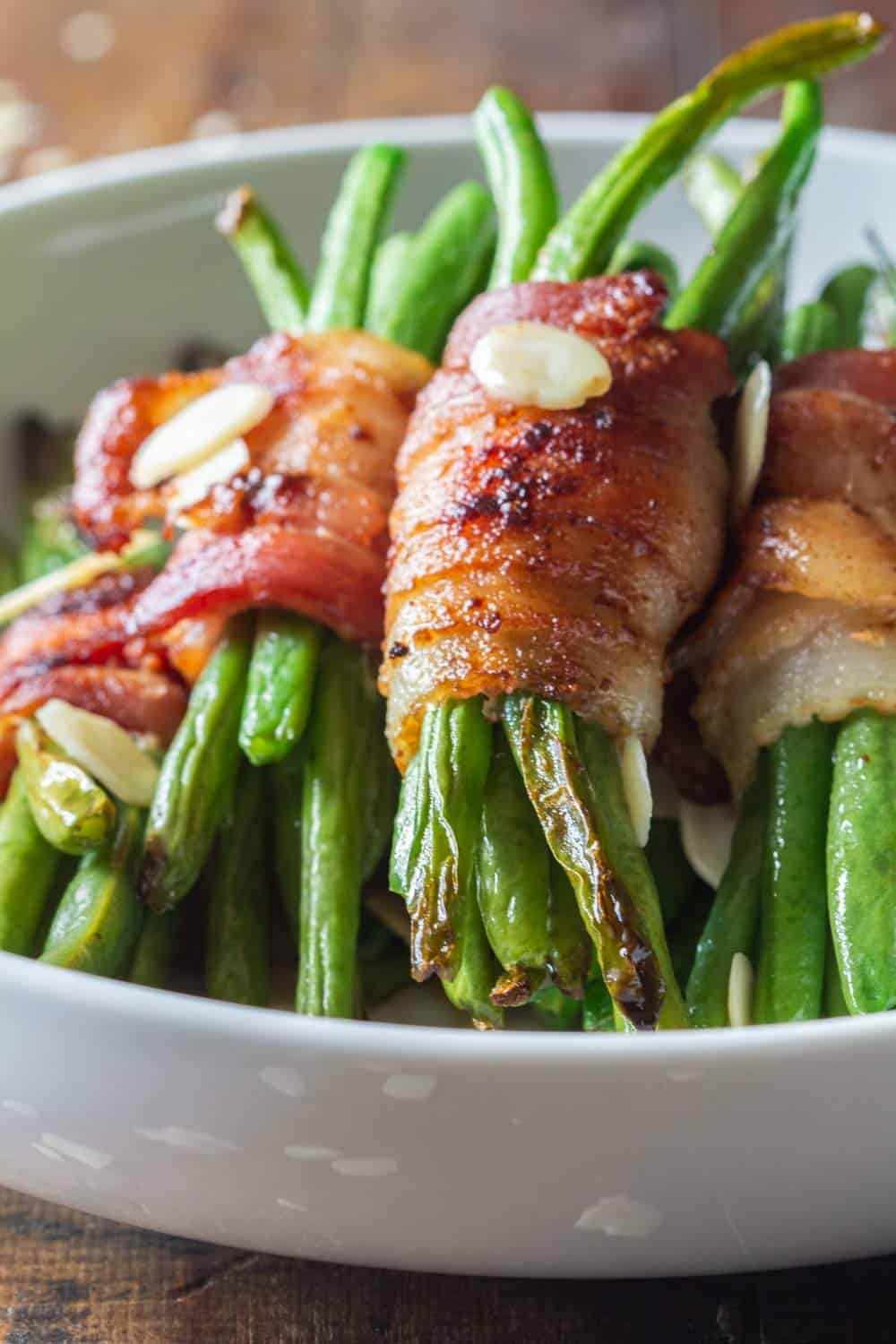 What Are The Best Green Beans?
There are different kinds of green beans and the best for these bundles are "French Green Beans" or often called by their French name "haricots".
They are thin and delicate and long as opposed to thick and short. They will cook more evenly and are 100% worth the higher price tag.
Some brands sell them already snapped and washed, that way you save some time making this dish. Else you can wash them yourself and cut off the ends. Make sure you cut off only the very tip.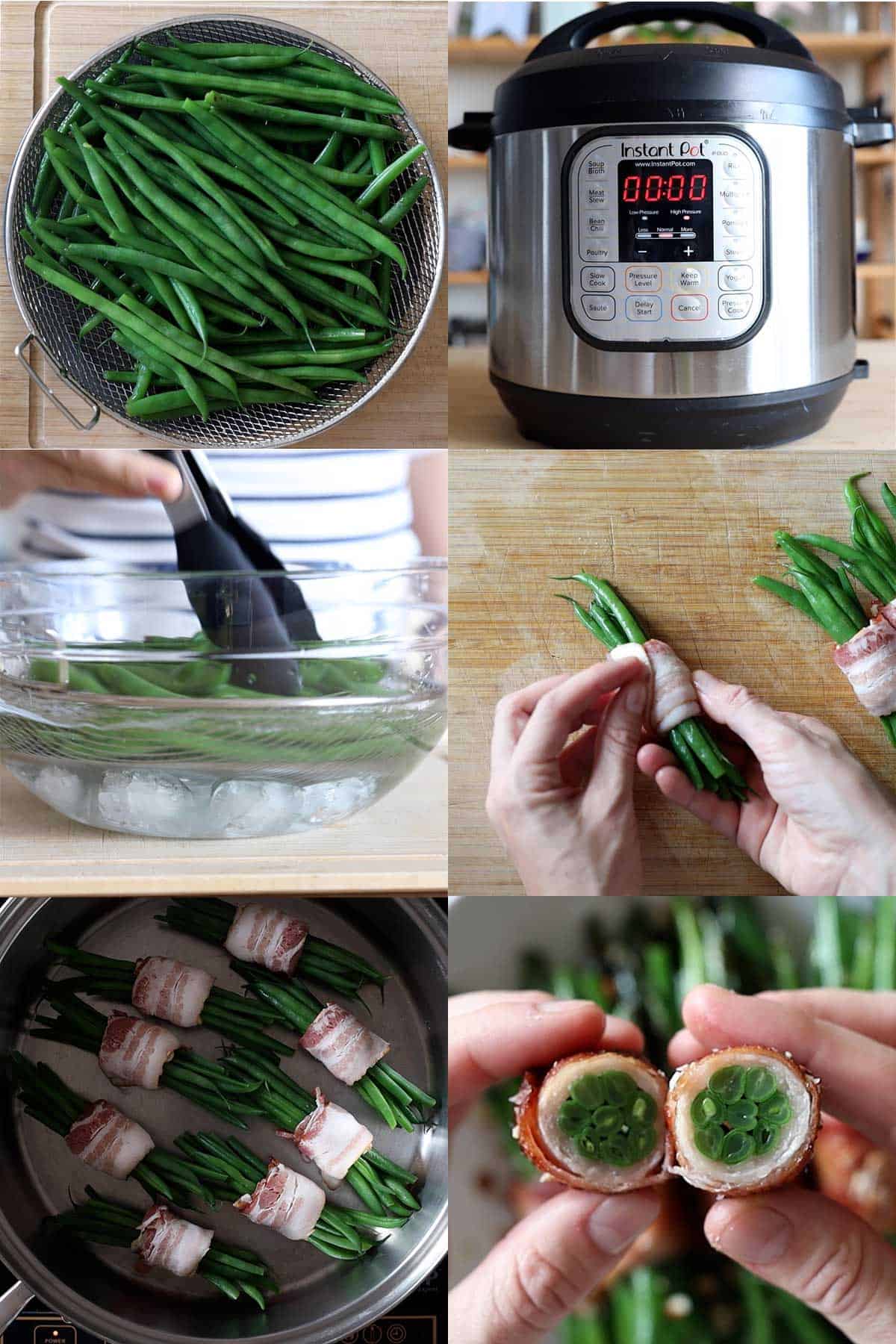 How To Ensure The Green Beans Are Tender?
To ensure the bacon is crispy but doesn't burn you can't fry it for much more than 7-8 minutes in a pan while turning often and that's not enough for the green beans to become tender.
That means you need to "blanch" your green beans. Blanching is basically cooking for just a little bit and then placing in an ice bath to stop the cooking process.
You have two options for blanching. Either get water to a boil in a large pot and once boiling add the beans for about 4-5 minutes and then remove and add to an ice bath. OR, you can use the Instant Pot, which is what I prefer to do.
I add the beans to a steamer basket and place on top of the trivet that sits in 1 cup of water. Then set the pressure cooker to just 0 minutes, which means it comes to pressure and then immediately shuts off. It takes about 5-7 minutes for that to happen. Then release pressure immediately, remove beans and add to ice bath. Make sure you drain the beans well before adding to the bacon.
You could also bake the green beans in the oven for a few minutes to cook them, but the idea is to keep the oven free for your main dish or dessert, plus the Instant Pot will save you time.
Tips To Make Bacon-Wrapped Green Bean Bundles
It's super easy to make your little bundles. You just lay out the rasher of bacon on a cutting board, pick 8-10 beans and then wrap them as tightly as possible (see video). Not too tight for the bacon to rip but tight enough so no bean can fall out.
I've tried wrapping with just half a rasher so it gets crispy closer to the beans as well but they always end up rolling open so I don't recommend it. The bacon will still be perfectly cooked through in the center and absolutely delicious.
Some people use a toothpick to prevent the bundles from unwrapping, however if you place your bundle with the seam down on the pan first, the heat will act as glue and stay wrapped. That way you can roll it around the pan to get all the sides nice and crispy without having the toothpick in the way.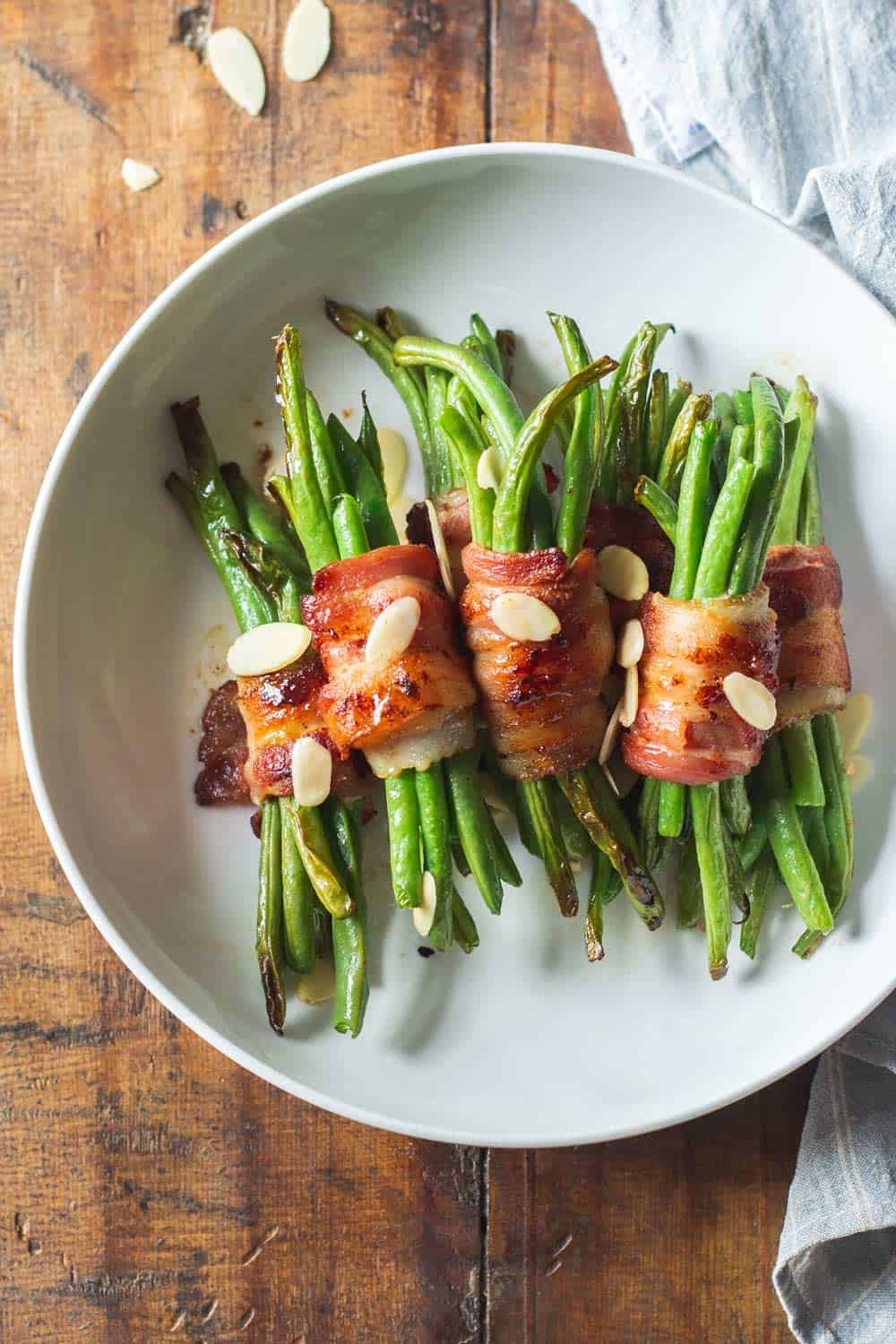 Can I Bake Bacon-Wrapped Green Beans?
I do not recommend baking your green beans bundles in the oven. The bacon crisps up in the pan thanks to the direct contact with the high heat of the pan. If you place them in the oven, the all-around heat will just cook the bacon without browning it and it will turn out soft.
Can I Make These Ahead Of Time?
Yes! Believe it or not, they hold their shape really really well. I tested this by making them in the morning, storing in the fridge all day, and reheating in the evening.
Just preheat a pan over medium-low heat, put the bacon-wrapped green bean bundles in the hot pan, put on the lid for 2-3 minutes and then they are warm.
The best part about this is that if you don't have a gigantic pan but want to make loads of bundles you can make them in batches and then store in the fridge. Once it's time to serve you can add a lot more to the pan because #1 they reduced in size and #2 they don't need to be placed with a lot of separation of each other into the pan anymore.
When frying at first you have to make sure the bacon part of the bundles don't touch each other. Once crisp, for warm up, they can touch.
If you're still unsure what to make as a main, check out this amazing Pot Roast or this Canadian Meat Pie that are both out of this world!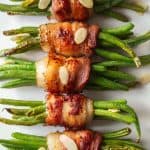 Bacon-Wrapped Green Beans
Bacon-Wrapped Green Beans are the most PERFECT quick and easy stove-top side dish. Leave the oven free for the main dish and dessert by making these bundles in a pan!
Print Recipe
Pin Recipe
Ingredients
1

lbs

French green beans

8

thick higher-welfare pork bacon rashers

1/4

cup

sliced almonds or chopped almonds

coarse sea salt
Instructions
Blanch green beans by either adding to a large pot of boiling water for 4-5 minutes and then transferring to an ice bath OR use the Instant Pot set to 0 minutes on high pressure + manual pressure release and immediate ice bath.

Preheat a heavy bottomed skillet over medium-low heat.

In the meantime, roll 8 beans into each rasher of bacon. Make sure you wrap them tightly so the beans don't fall out.

Add the bacon-wrapped green bean bundles to the pan with the crease down so they seal well and don't roll open later. Leave space in between the bundles and make sure the bacon doesn't touch.

Fry for about 2 minutes per side until golden and crispy all around.

Sprinkle with sea salt and sliced almonds or chopped almonds and serve.
Nutrition
Calories:
152
kcal
|
Carbohydrates:
6
g
|
Protein:
5
g
|
Fat:
13
g
|
Saturated Fat:
3
g
|
Cholesterol:
15
mg
|
Sodium:
149
mg
|
Potassium:
215
mg
|
Fiber:
2
g
|
Sugar:
2
g
|
Vitamin A:
399
IU
|
Vitamin C:
7
mg
|
Calcium:
40
mg
|
Iron:
1
mg
What's your clean eating vibe?
Take this fun QUIZZ and find out in 10 seconds!