Ever searched for a 3 ingredient cookie recipe? I've got something better for you!! Melt-in-your-mouth 2 Ingredient Almond Cookies to be precise. The most amazing deliciousnesses of all times!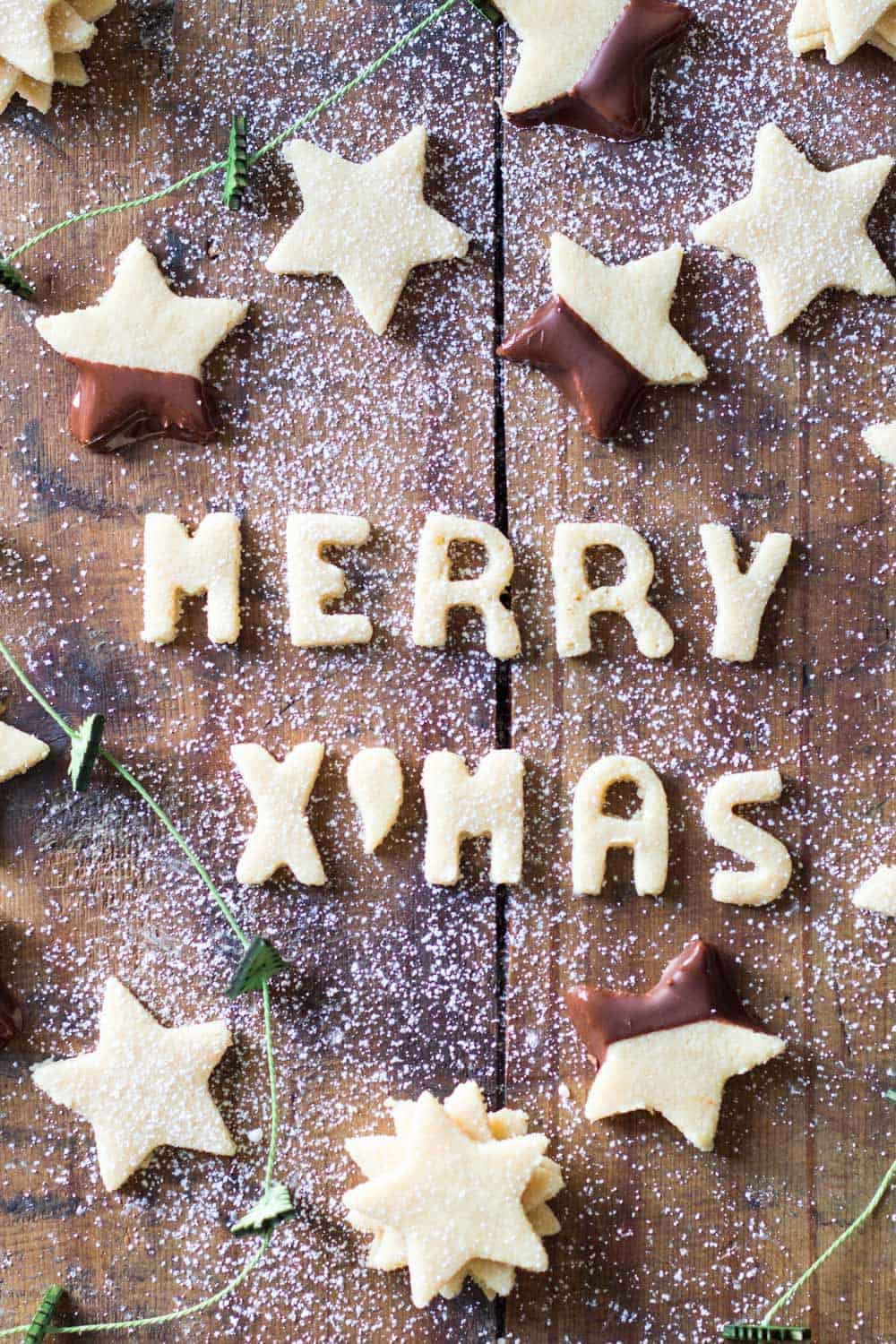 After scrolling through an endless Pinterst feed of Christmas cookies I couldn't help but think the world needs quick and easy to make, healthy Christmas Cookies! I've been testing around with coconut flour and coconut oil and eggs and flour and and and ended up SO FRUSTRATED! Why do simple cookies need sooo many ingredients? Why do simple cookies take so long to prepare? And why do simple cookies need such a high percentage of sugar? *scream*
Why not keep it simple my friends? I still can't believe how only 2 ingredients can be enough to make melt-in-your-mouth cookies. These 2 Ingredient Almond Cookies will knock your feet. They are gluten-free, dairy-free, vegan, mapely sweet, nutty, soft, and simply amazing!
How to make 2 Ingredient Almond Cookies
Ok, so let's get to the nitty gritty details. There are 4 very simple steps to success:
Mix almond flour and maple syrup until you have a dough like consistensy. Make sure you count your ingredients. It's almond flour (1) plus maple syrup (1) equals two (2) ingredients :P
Put in the freezer for 15-20 minutes to make rolling out easier but it'll also work with non-chilled dough. Roll out the dough with a rolling pin in between two large pieces of parchment paper the size of your baking sheet to avoid from sticking to the rolling pin. Roll out to about 1/4″ (0,5 cm) Bonus tip: Use your hip to squeeze the ends of parchment paper between you and your work surface so the parchment paper doesn't swish around.
Remove the upper parchment paper and leave the rolled out dough on the bottom layer of parchment paper and cut out stars or whatever shape cookie cutter you have on hand, then remove then dough in between the stars. This is the magic trick to get pretty shaped cookies. Most people cut out the cookies and then try to move the cut-out-cookie-dough onto a baking sheet but it gets all distorted in the process. It's much easier to just leave the cut-out part on the parchemnt apper and use a flat knife or even tooth pick to remove the excess dough around the shape. Then transfer the parchment paper full of stars onto a baking sheet.
Bake your almond cookies for 15 minutes at 250 F (120 C). Remove from the oven and take the edges of the parchment paper to tranfer onto a cooking rack. Let cool down completely.
Important notes: you will feel very tempted to eat the dough and that's ok, it's fine to eat "raw". YAY! However, remember, that the more dough you eat the less almond cookies you will end up. Uh-oh!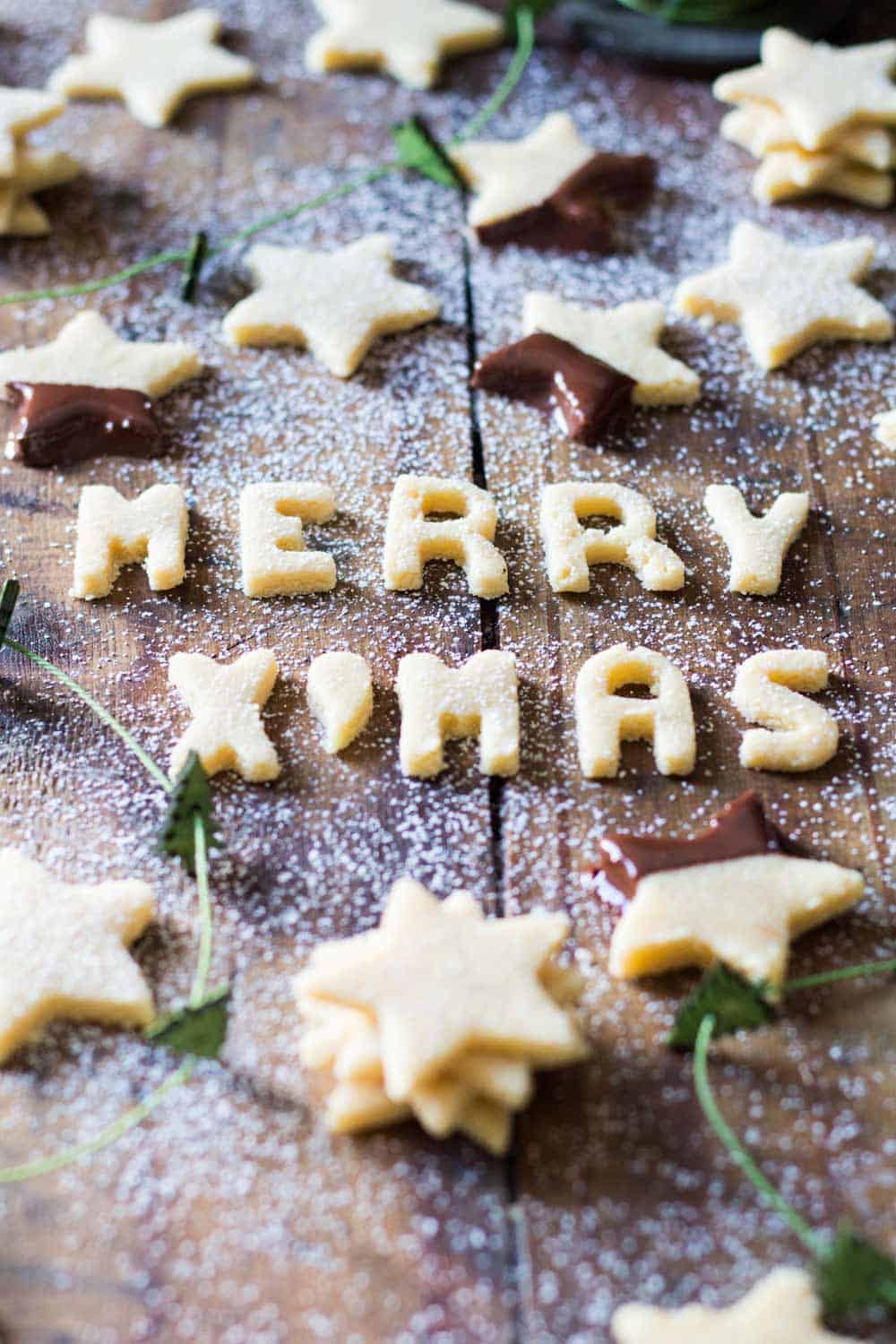 Make 3 Ingredient Almond Cookies a.k.a. Chocolate Almond Cookies
So absolute mega bonus tip is to transform these melt-in-your-mouth almond cookies into Chocolate Almond Cookies. It's a 3-ingredient cookie then but hey, still pretty good, eh? So, what's the best way to dip them into chocolate? There is quite an art to it, you know?
First, you will want to put your completely cooled cookies in the freezer in a single layer. Use a baking sheet for this. Freeze them for quite a while. Like an hour maybe. Then, melt your favorite chocolate in a double boiler over veeeery low heat stiring constantly. If you use high heat or stop stiring the chocolate starts to clump and becomes all yucky. Be patient. It only takes a couple of minutes.
Once the chocolate is nice and runny, remove from the heat. Take out your ice cold cookies and dip into the chocolate, lift up and let excess chocolate drip back into the bowl. The chocolate should harden pretty fast due to the coldness of the cookies.
Once the cookie stops dripping, lay on the cold baking sheet on which it was in the freezer. Repeat this with all frozen cookies. Once you are finished, return to freezer for about 10-15 minutes and they're good to eat. Make sure you keep the chocolate covered cookies in the fridge when not eating, otherwise the chocolate melts and the cookies stick together.
There you have it! How to make 2 Ingredient Almond Cookies and how to convert them into Chocolate Almond Cookies. What a great start into the holidays, right? These are an AWESOME edible gift, too by the way. The almond cookies without chocolate are probably better as a gift. You can pack them in a nice celophan bag without risking the chocolate to smear all over it. Put a pretty bow around it, pair it with a jar of this uuuuh-mazing Cashew Chocolate Spread that takes only 5 Minutes to make and off your go make someone extremely happy :)
Almond Cookies Video
WHAT CAN BE PRESSURE COOKED WITH WHAT?
Get access to my FREE cheat sheet to help you mix and match ingredients.
2 Ingredient Almond Cookies
These are the most amazing melt-in-your-mouth 2 Ingredient Almond Cookies you will try in your life! Almond flour, maple syrup, a cookie cutter and go!
Ingredients
2

cups

almond flour

(exact amount will depend on almond flour brand)

1/2

cup

maple syrup
Instructions
Add both ingredients to a bowl and mix with your hand until you have dough-like consistency. Depending on how fine your almond flour is ground you may have to add a tiny bit more almond flour or a tiny bit more maple syrup to get to the right consistency. It should be the same as any other sugar cookie dough.

Preheat oven to 250 F (120 C).

Put the dough in parchment paper or cling film and freeze for approximately 15 minutes.

Roll out dough in betweet two pieces of parchment paper the size of your baking sheet to about 1/4" (0,5 cm). Remove top layer of parchment paper

Cut out cookies and remove excess dough in between shapes witha knife or tooth pick. NOTE: To avoid dough from sticking to the cookie cutter, dunk it in water before you cut out the next one.

Lift up parchment paper full of cut-out cookies at edges, place on baking sheet.

Repeat the rolling out and cutting out and placing on a second baking sheet until all dough is used up. (Use left over dough to form little balls of about 1 tsp dough and place on free space on the baking sheet).

Bake cookies for 15 minutes.

Remove from the oven, lift the parchment paper on the edges and place all the cookies on a cooling rack this way. Let cool completely. Then store in an airtight container.

To make Chocolate Almond Cookies refer to instructions given further up in the blog post.
Recipe Notes
Bonus Tip: dip your cookie cutter in water and it won't stick ;)
Nutrition Facts
2 Ingredient Almond Cookies
Amount Per Serving
Calories 59
Calories from Fat 36
% Daily Value*
Total Fat 4g 6%
Sodium 2mg 0%
Potassium 59mg 2%
Total Carbohydrates 5g 2%
Protein 2g 4%
* Percent Daily Values are based on a 2000 calorie diet.