Only a little over two weeks to go until Christmas and whoever does NOT look forward to turkey might want to rethink Christmas Eve's dinner and plan on making this drool-worthy christmasy Maple Mustard Ham instead. We are about the luckiest people on the planet. We got to eat a full feast already on a random Monday in December: the perks of being a food blogger's folks ;) We ate this juicy delicious thing and its gravy with a cooked Red Cabbage Apple Side Dish (recipe up on Thursday) and with eeevery bite I asked myself why, oh why, would people even consider eating turkey instead of THIS?! Can you tell I'm not a huge fan of Turkey? Yes, I've tried several different recipes, prepared by several different cooks and even once prepared by myself. Turkey just cannot keep up with other feast foods.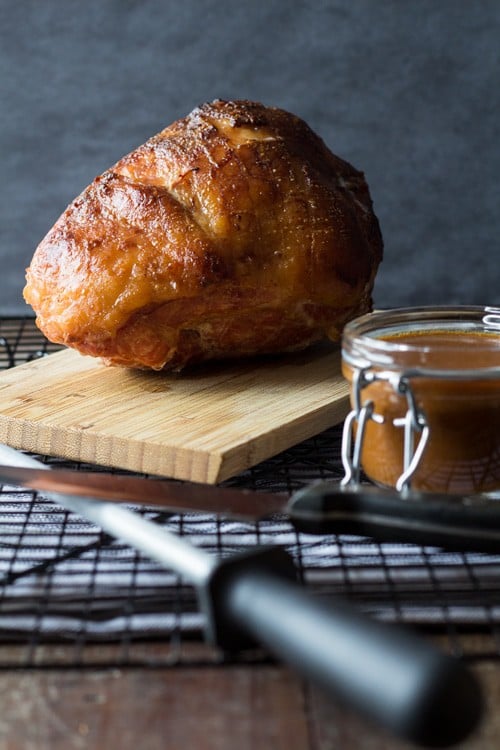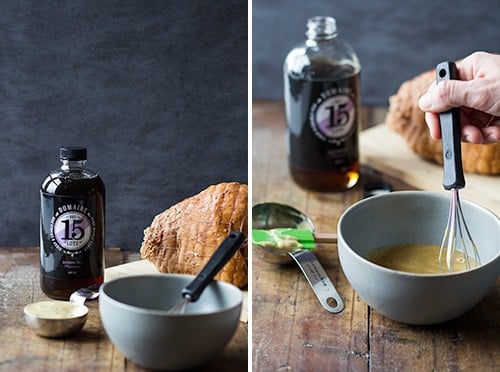 Apart from that, turkey needs soooo looong in the oven and it needs basting and basting and basting to keep from getting all dry. This baby you prepare in 5 minutes and pop in the oven for 45 with one little action after 15 minutes. Then you prepare the gravy in another 10 minutes and voilá a feast that will have all your guests uuuh and aaaah and ask for more, hmmmm…maybe plan on making two of these at the same time….just in case ;)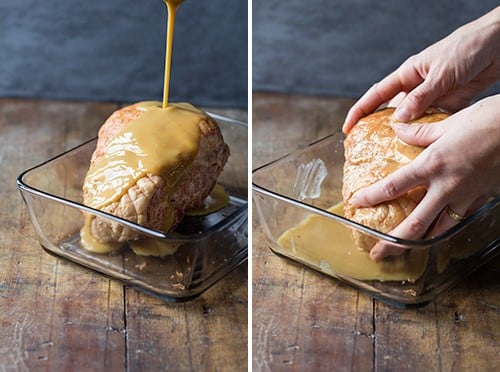 This year, I will be hosting Christmas for our friends here in Montreal. We are many who don't have any family but the partner/children close to us and on Christmas we all tend to become kind of nostalgic and homesick if we don't gather to forget all heart ache for being far from family. I obviously won't be making a Maple Mustard Ham because, well I just had that on my random Monday in December and because at our last gathering we've had Ham already. Instead Green Healthy Cooking's kitchen will serve Meat Pie or Easy Roast Chicken, one for Christmas and one for New Year's Eve.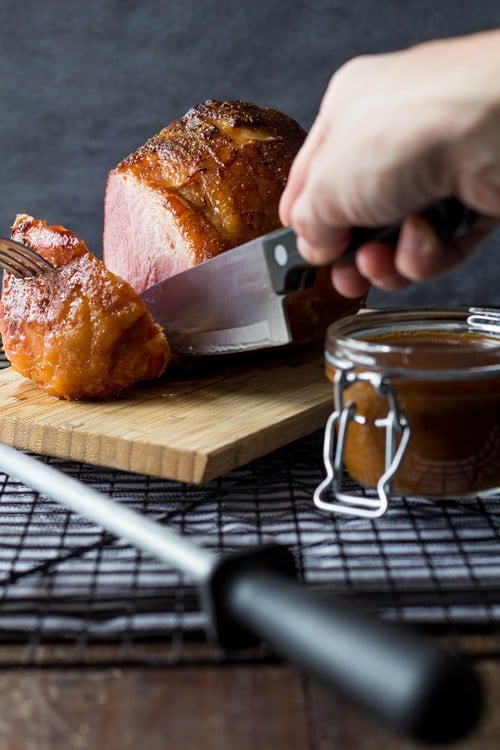 Will you be hosting Christmas or New Year's Eve or both? What's on the menu? I sure hope some Maple Mustard Ham, Meat Pie or Easy Roast Chicken ;)
Maple Mustard Ham
Print Recipe
Ingredients
1 3

lbs

higher-welfare smoked ham

-

(cooked ham works well too, smoked tastes better though)

1/4

cup

high quality dijon mustard

1/4

cup

high quality medium dark or grade B maple syrup

-

(if you don't live in maple land, just look out for "real" maple syrup and if you can choose between several ones choose the one with the darkest color)

1

cup

chicken stock
Instructions
Make sure to take ham out of fridge at least 30 minutes before placing in the oven. Preferably longer for it to reach room temperature.

Preheat oven to 450 F (230°C).

Whisk together mustard and maple syrup until well combined.

Remove net from ham and place in a small oven-proof dish.

Pour maple mustard mix over ham and work in with your fingers until every nook is covered.

Place in oven at 450 F for 15 minutes, then reduce heat to 350 and roast for a further 30 minutes or until the ham reaches an internal temperature of 160 F (70°C).

Take ham out of oven and remove from dish. Put in a pot and cover in order to keep warm.

Pour juices of ham into a small pan or pot, add 1 cup of chicken stock and bring to a shallow simmer. Whisk to get all bits and pieces incorporated into the gravy. Simmer until the gravy reduces to desired consistency. I simmered it for about 10 minutes.

Strain the gravy through a fine mesh sieve and serve immediately with ham.
What's your clean eating vibe?
Take this fun QUIZZ and find out in 10 seconds!
I mean LOOK AT THIS!!!
P.S. if you live in Quebec or around and can ANYHOW get your hands on one of those Domaine Des 15 Lots maple syrup by all means use that one (by clicking on "pointes de vente" you get a list of places where you can purchase it). No, I am not being paid by them to say that. I went to a fair here in Montreal and found them there by coincidence and I'm so glad I did. I had a taste testing of what I believe is THE BEST maple syrup in the world and bought a bottle of what will be my number 1 choice of maple syrup once and for all. For real eh!