THIS POST IS SPONSORED BY MANN'S
Super flavorful Thai Chicken Curry loaded with vegetables and perfect for meal prep! 10 minutes prep time, 20 minutes in the oven and you're done! Dinner or 4 lunches made in the blink of an eye.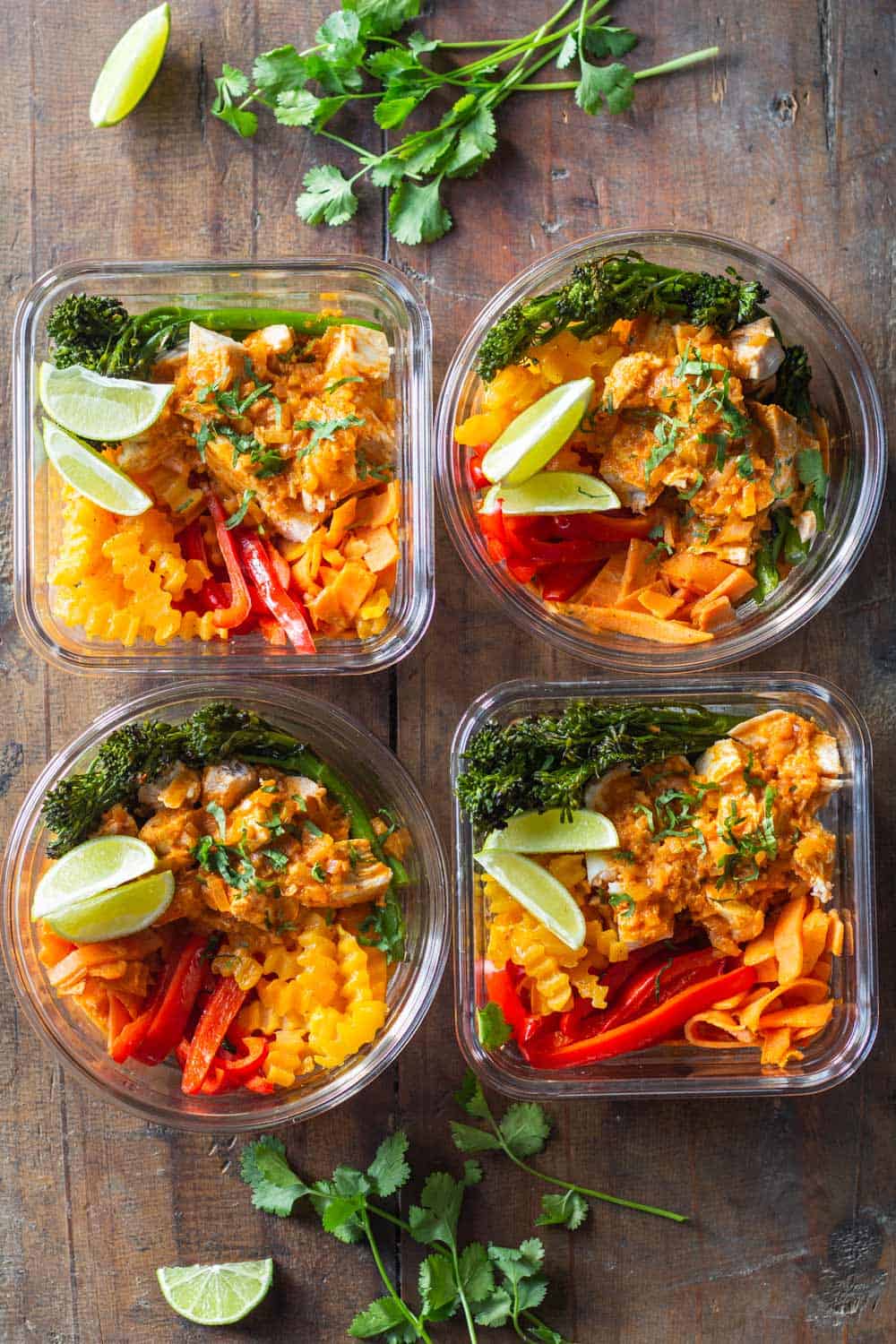 If you've been following along for a while you know about my obsession for Thai Curry anything. One of my favorites is this Coconut Curry Soup. The simple thought of having something Thai curry flavored for lunch every day for a week sounds heavenly!
The objective of this recipe was to be able to prepare it super super fast. Let's face it. Meal prepping isn't necessarily the fun part about meal prep lunches. It's the eating part that's fun, right?
So, how can we efficiently meal prep on a Sunday without spending all day in the kitchen?
There have been more than a couple of weekends this year where I've skipped meal prepping for the week because I simply couldn't find the time for a 2-hour meal prep session.
These Thai Chicken Curry Meal Prep Bowls are prepped in 10 minutes tops. While they are in the oven you don't have to do anything and then it's a matter of 5 minutes to divide everything into 4 containers for the week. Less, if you don't precut the chicken.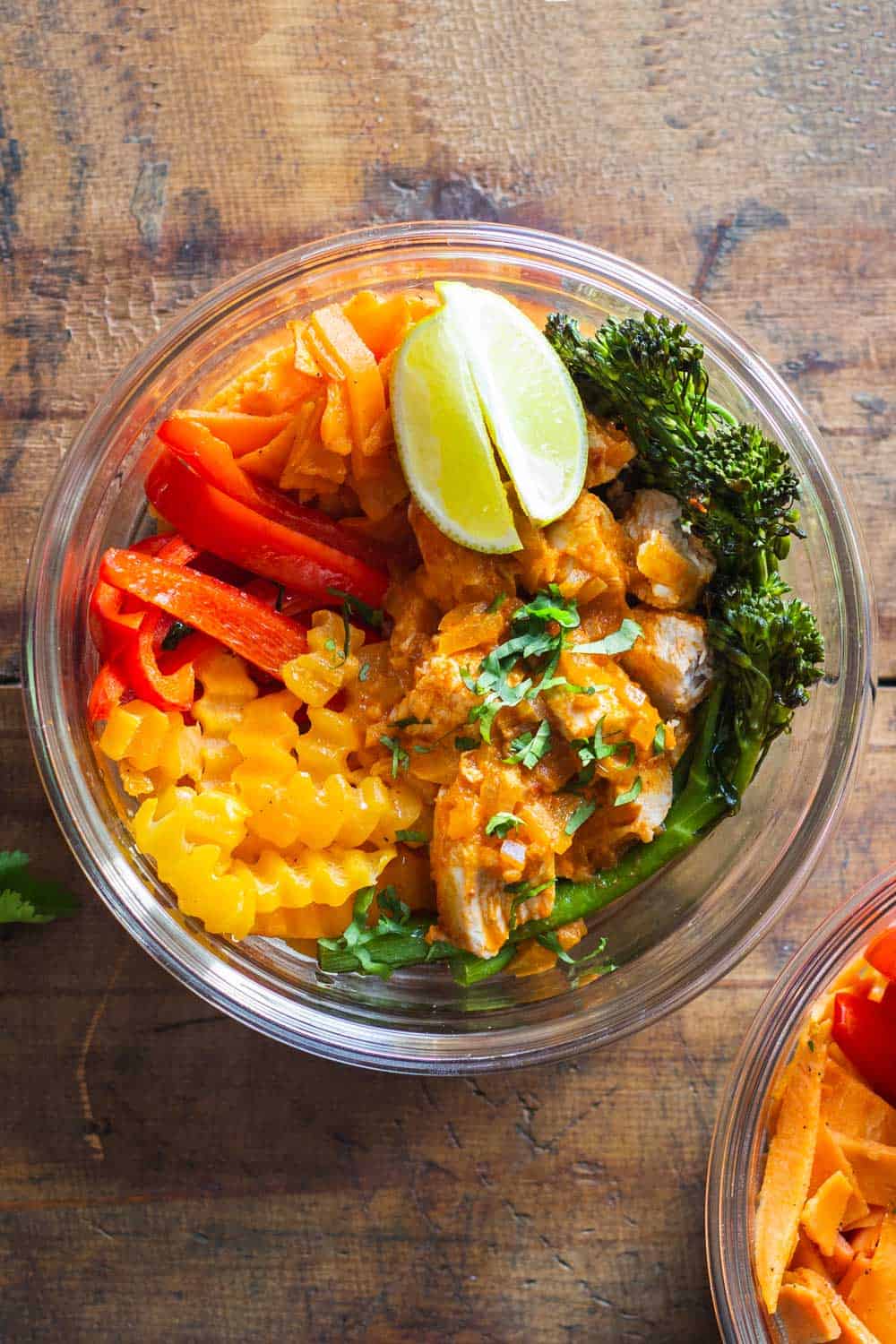 How to make Thai Chicken Curry in the oven
It's so simple you won't believe it. All you have to do is prepare your curry sauce, whisk it all together in a deep baking dish, add your whole chicken breasts and that's it.
I do not recommend cutting the chicken into pieces as #1 that's an extra chopping board your have to wash and #2 the chicken dries out more easily. Keeping the chicken breast whole gives a juicier chicken.
Make sure you do not overcook your chicken. Overcooked chicken tastes incredibly dry no matter how much sauce you pour over it.
For best results use a meat thermometer and pull the chicken out of the oven as soon as it reaches 155F internal temperature. Then let it rest for approximately 10 minutes without cutting into it (important!). During the rest time, the chicken reaches 165F internal temperature which is considered safe for consumption.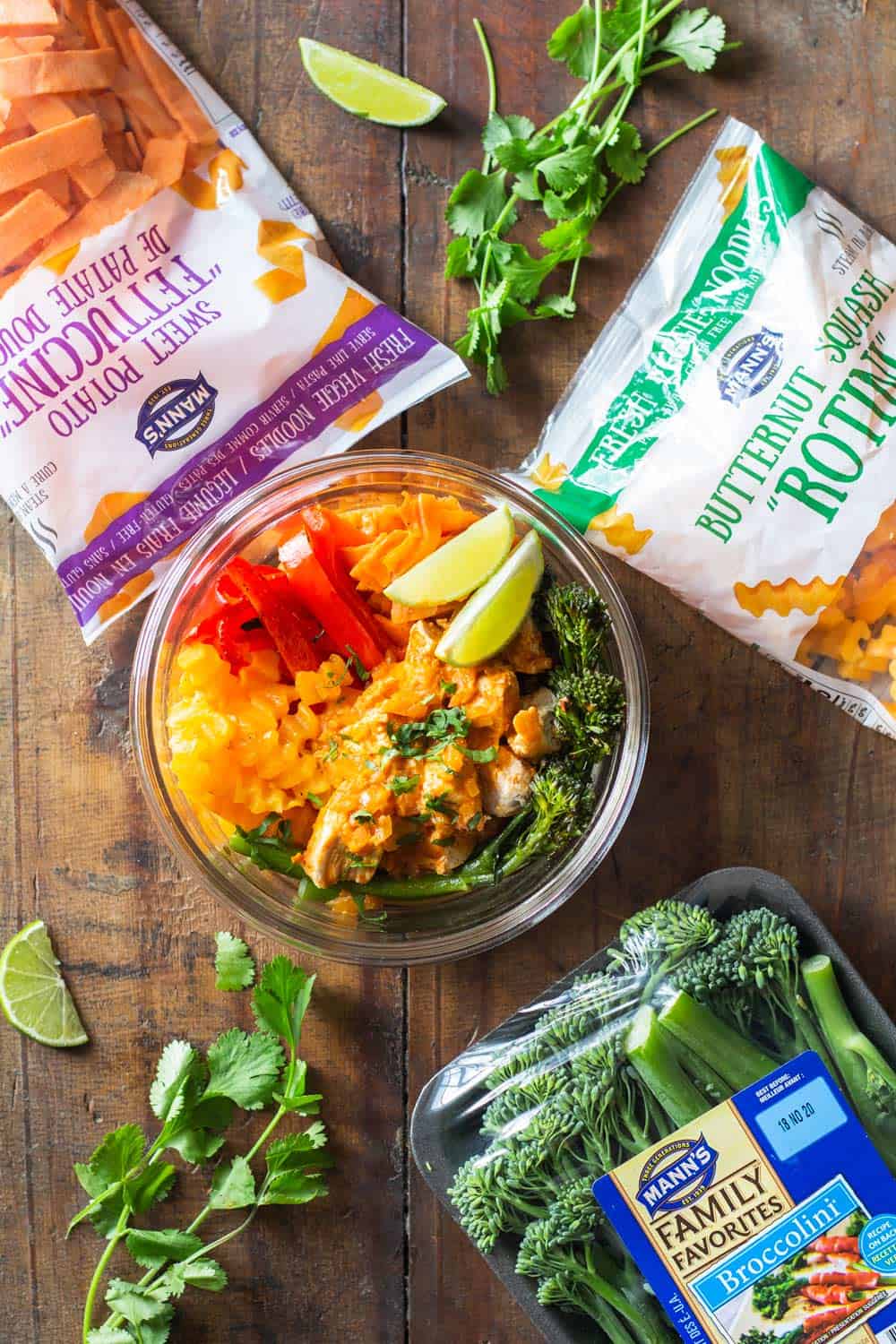 What to serve Thai Chicken Curry with
I'm a huge advocate of filling your plate at least half with vegetables. If at one meal you didn't, then go overboard a the next meal.
Probably the single most important thing when trying to achieve eating a clean and healthy diet is adding vegetables in abundance to each and all your meals.
Today I'm partnering with Mann's because with them eating veggies it made easy!
I tested several different of their veggie varieties and the combo of Butternut Squash Rotini, Sweet Potato Fettuccini, and Broccolini® was by far the very best for this recipe.
The sweetness of the rotini and fettuccini goes soooo well with the Thai Chicken Curry and the Broccolini® gives such an amazing nice crunch to the whole dish.
If you try this recipes pleeeease don't forget to snap a picture, post it on Instagram and tag me @greenhealthycooking
You can also use the hashtag #veggiesmadeeasy to let Mann's know you tried it. They are always super super happy to see people try their recipes :)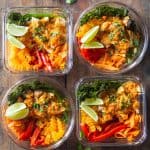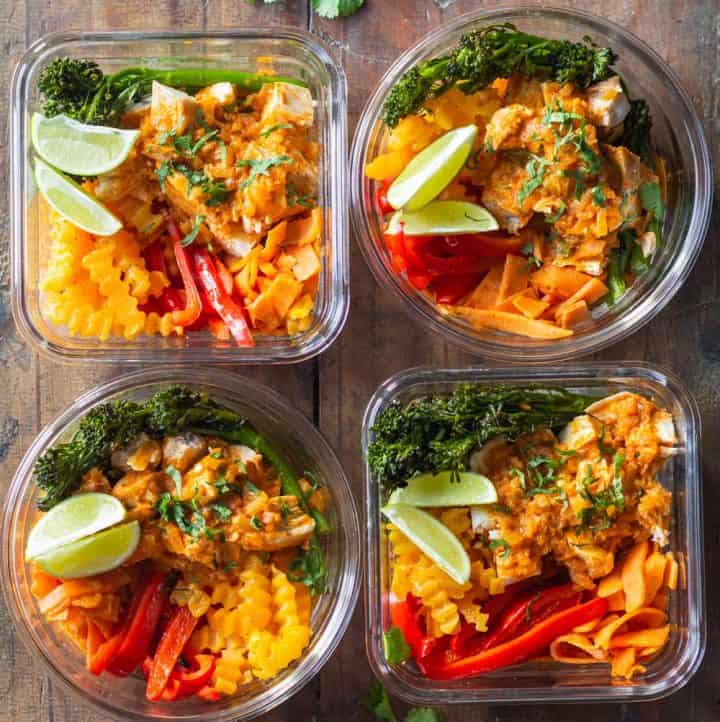 Thai Chicken Curry Meal Prep Bowls
Super flavorful Thai Chicken Curry loaded with vegetables and perfect for meal prep! 10 minutes prep time, 20 minutes in the oven and you're done! Dinner or 4 lunches made in the blink of an eye.
Print Recipe
Pin Recipe
Ingredients
2

chicken breasts

-

(2x10ox / 2x300g)

2

Tsp

red curry paste

2

garlic cloves

1 tsp

fresh ginger

1

small onion

1

cup

coconut milk

1

bag

Mann's Butternut Squash Rotini

1

bag

Mann's Sweet Potato Fettuccini

1

bag

Mann's Broccolini

1

red bell pepper

sea salt

pepper

avocado oil

cilantro

1-2

limes
Instructions
Preheat the oven to 400F.

Add curry paste, crushed garlic, grated ginger, chopped onion, and coconut milk to a small baking dish and whisk until well combined.

Add the chicken breasts and add to the oven until the chicken reaches an internal temperature of 155F degrees (20-25 minutes).

Add Butternut Squash Rotini, Sweet Potato Fettuccini, Broccolini and sliced Bell Pepper to a large baking sheet, drizzle with avocado oil and season with sea salt and pepper. Then massage oil and seasoning into the vegetables.

Add the baking sheet next to the chicken in the oven and roast for 20 minutes.

Remove everything from the oven, dice your chicken, if desired, and divide into 4 meal prep containers. Pour curry sauce over everything, sprinkle with fresh cilantro, add a couple slices of lime and store in the fridge for up to 4 days.
Nutrition
Calories:
442
kcal
|
Carbohydrates:
54
g
|
Protein:
32
g
|
Fat:
10
g
|
Saturated Fat:
4
g
|
Cholesterol:
72
mg
|
Sodium:
275
mg
|
Potassium:
1416
mg
|
Fiber:
9
g
|
Sugar:
15
g
|
Vitamin A:
31490
IU
|
Vitamin C:
293.1
mg
|
Calcium:
202
mg
|
Iron:
3.5
mg
What's your clean eating vibe?
Take this fun QUIZZ and find out in 10 seconds!