A fail-proof guide for Instant Pot Pot Roast and comparison to slow-cooker version. The easiest pot roast recipe with the best gravy ever! Make it for Thanksgiving, Christmas or because it's simply a good day for pot roast.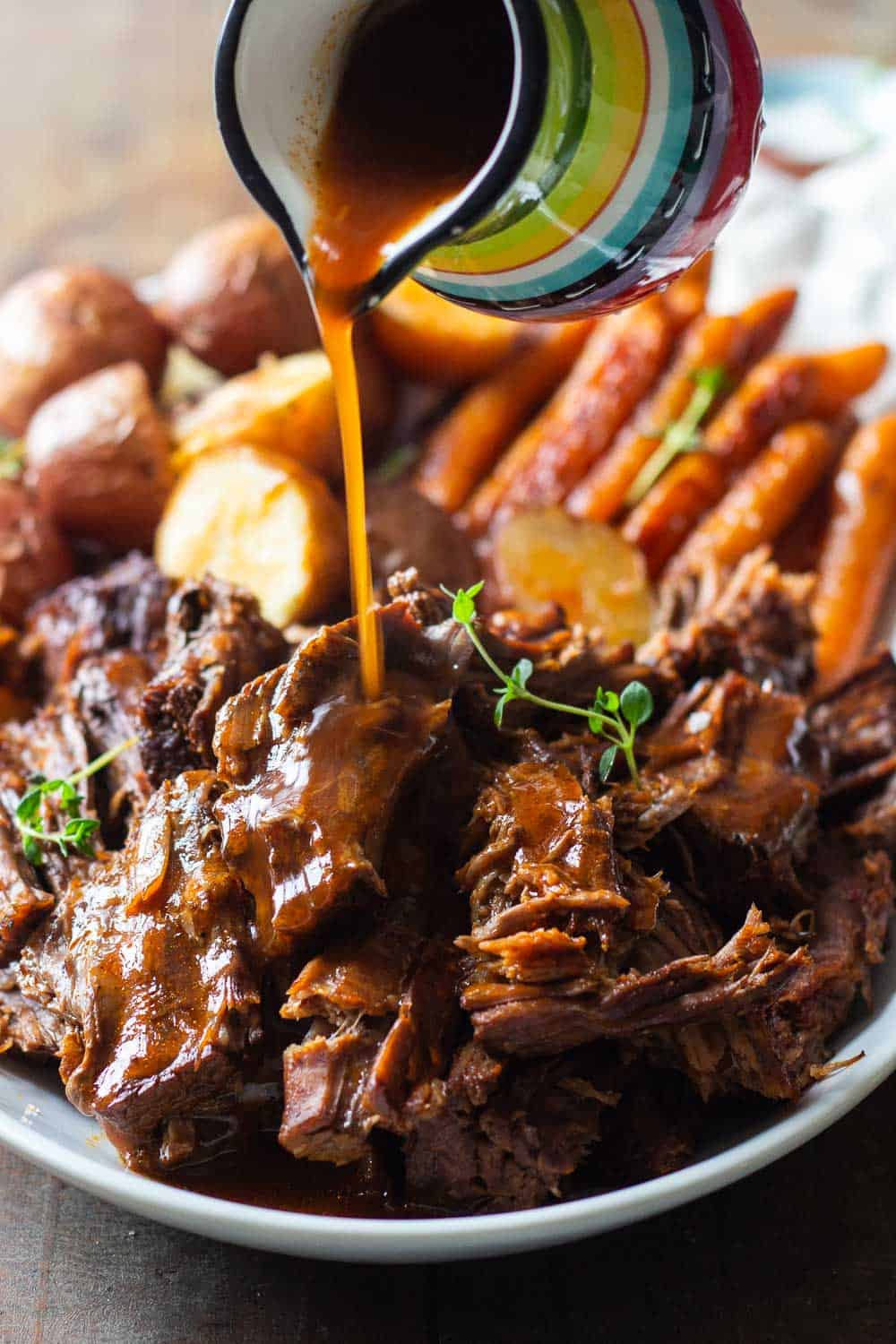 I am obsessed! I am obsessed with my Instant Pot and I am obsessed with Pot Roast and I never want to eat anything else again! Well, at least until I get sick of pot roast of course. Duh!
The one thing I am incredibly happy about is that this Instant Pot Pot Roast tasted EXACTLY the same, if not better than the Slow-Cooker Pot Roast.
Yes! I can almost not believe it myself. I honestly expected that the time efficiency of the pressure cooker was going to make us compromise on taste.
We do NOT have to compromise on taste for time saving. Not even a little!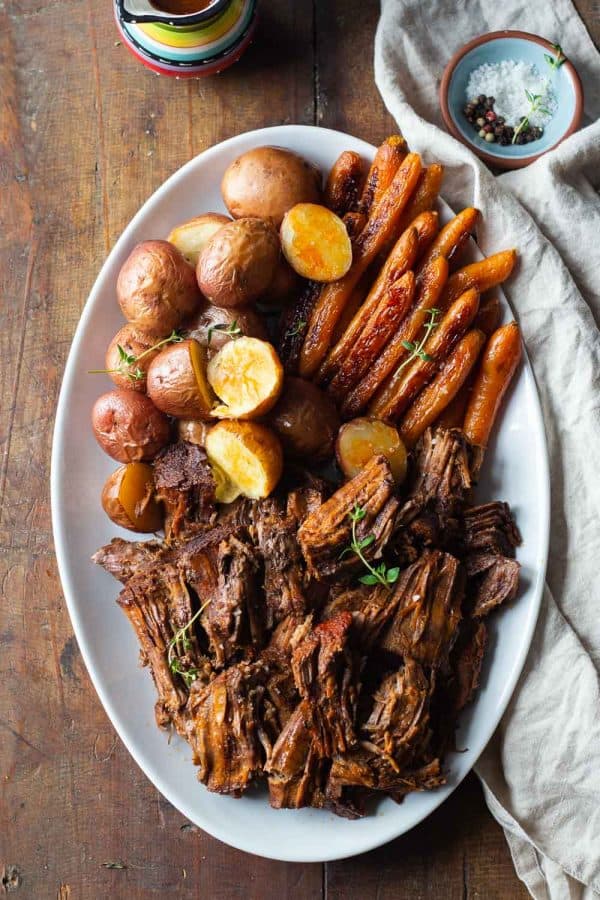 Instant Pot Pot Roast vs. Slow-Cooker Pot Roast which is better?
Re taste: both are the same. FOR REAL!
Re time: One takes 8 hours the other takes 1 hour so what's better will depends on your schedule, your personality, what else you're cooking with it….
So here is the thing. Since both versions taste equally delicious it basically just comes down to how you want to plan your day and dinner.
Are you a morning person and totally drenched after work not wanting to do absolutely anything at all? Do you have dinner guests at night and don't want to mess up your kitchen shortly before they arrive? Do you want to cook everything in the same pot with the roast because you want less dishes and less time spent in the kitchen?
Well then use the slow-cooker and make everything in the morning before going to work. The advantage of the slow-cooker is that you can add the veggies with the meat and they won't become mush.
Are you not a morning person and don't understand the term "good morning" because there is nothing "good" in a morning (hello friend!)? Do you have to leave the house super early and in a rush and have more time and energy in the afternoon/evening? Do you not mind cooking side dishes separately?
Then use the Instant Pot for your pot roast. It takes less than 2 hours start to finish and the best part: WAY LESS MESS when browning your meat. The pot is so high that the fat splashing is well contained.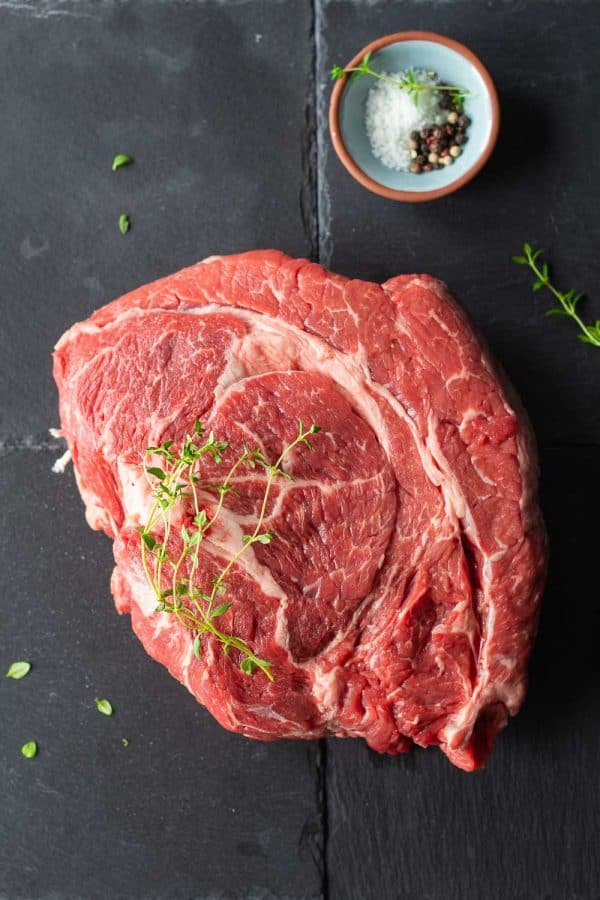 What's The Best Meat For Roast? Instant Pot Chuck Roast!
For pot roast chuck or round are the best pieces of meat – regardless of if you're cooking it in the instant pot, slow-cooker or stove-top. My absolute favorite hands down is chuck roast.
The important part to look out for when choosing your meat is the marbling. Marbling refers to white parts of fat within the meat. It's also called intramuscular fat and is super important for flavor.
Also, the meat will cook for a long time so you really don't want a lean piece of meat. It will just become incredibly dry.
Make sure you choose a piece of chuck that has the most beautiful marble pattern.
How Long Do You Cook Instant Pot Pot Roast?
I've experimented with three different size chuck roasts one of 1.5 lbs, two of 1.5 lbs at the same time and a big single piece 4 lbs. They ALL cooked in 60 minutes on high plus natural pressure release.
It seems like the size doesn't really play that big of a role but rather the thickness. Regardless of that, however, I'm confident your roast will be perfect and fall-apart tender within 60 minutes no matter how big or thick it is.
You may want to add another 20 minutes if you are cooking a gigantic chuck roast of 6 lbs or something like that.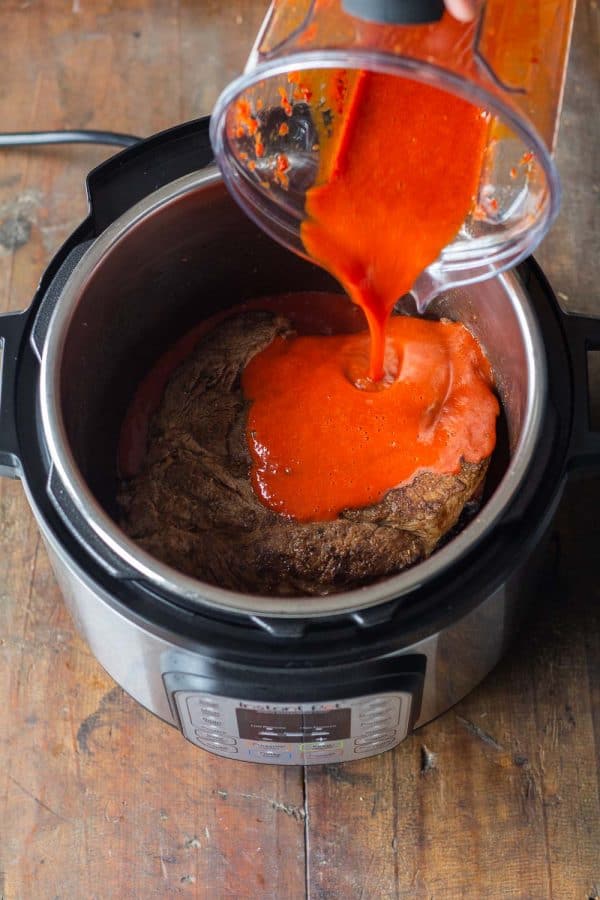 Can I cook frozen roast in the Instant Pot?
Short answer: yes you can!
How? Just follow the same instructions except browning and increase high pressure cooking time to 90 minutes.
Long answer: don't do it! It won't turn out the same! It's worth postponing your pot roast dinner to the next day while you wait for the roast to thaw in the fridge. I mean it.
I have experimented with this a couple of times. Believe me, I GET IT, when you say "I keep forgetting to place my meat in the fridge to defrost". I'm the most forgetful person on the planet. I keep forgetting stuff like that, too.
However, the few experiments I did led me to less delicious results and in the end I felt unhappy. Such a beautiful and delicious piece of meat prepared in a meh way just doesn't give it its due respect.
Refrigerator thawing is really slow BUT when meat is defrosted slowly the moisture is slowly reabsorbed by the muscle fibers. Quick thaw methods result in drier and tougher meat once it's cooked because the moisture just flows off and away from the piece.
So, if you are forgetful like me, plaster your kitchen with post its, set alarms in your phone, add reminders to your google calendar. Ask a friend to call you and remind you. Do whatever it takes to remember to place that beautiful piece of meat in the fridge 24 hours earlier or just go to the store and buy a fresh or already thawed one in the first place.
This Instant Pot Pot Roast recipe deserves GOOD meat.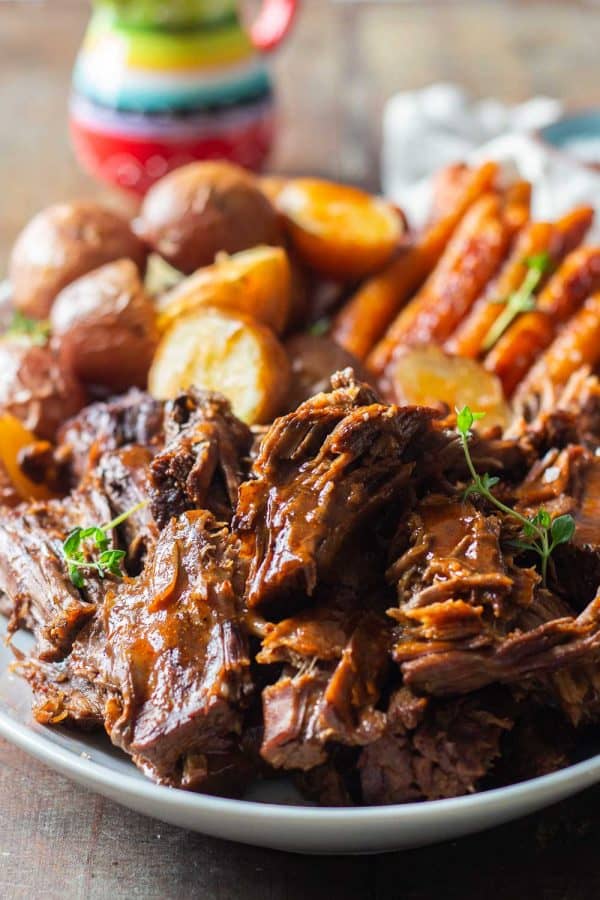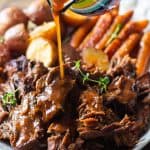 Instant Pot Pot Roast
A fail-proof guide for Instant Pot Pot Roast and comparison to slow-cooker version. The easiest pot roast recipe with the best gravy ever!
Print Recipe
Ingredients
4

lbs

chuck roast

-

(or round)

sea salt

pepper

cajun seasoning

1

cup

roasted red bell peppers

1

cup

beef broth

1.5

lbs

red potatoes

1.5

lbs

small carrots

1/2

Tbsp

avocado oil

sea salt

pepper

thyme

2

Tbsp

corn starch

2

Tbsp

cold water
Instructions
Press sautée button to preheat instant pot.

Season roast generously with sea salt, pepper and cajun seasoning on both sides.

Add a little avocado oil to instant pot and then brown roast for 2 minutes on all sides.

Remove roast from pot and add a splash of water to deglaze.

Add roasted bell peppers and broth to a high speed blender and blend until smooth.

Return pot roast to instant pot and pour bell pepper sauce over it.

Put on the lid and turn valve to sealing position.

Set to 60 minutes on high pressure and then let pressure release naturally. This can take anywhere from 20-40 minutes.

When high pressure cooking time is over, prepare red potatoes and carrots by adding to a baking sheet, drizzling with avocado oil and sprinkling with sea salt and pepper. Massage oil into each vegetable and then place fresh thyme on top of all. Then roast at 400F for 30-40 minutes or until potatoes are cooked through.

Remove meat from instant pot and shred and serve on a serving plate with potatoes and carrots.

Now prepare the gravy. You may want to strain the gravy and separate the fat with a fat separator, if so, now is the time. Then return the less-fat sauce back into the instant pot and press the sauté button to bring to a boil

Add cornstarch and cold water to a small bowl and mix well until all lumps are gone. Then add slurry to sauce and stir until desired thickness.

Pour gravy over pot roast and enjoy!
Nutrition
Calories:
523
kcal
|
Carbohydrates:
24
g
|
Protein:
46
g
|
Fat:
27
g
|
Saturated Fat:
11
g
|
Cholesterol:
156
mg
|
Sodium:
609
mg
|
Potassium:
1453
mg
|
Fiber:
4
g
|
Sugar:
5
g
|
Vitamin A:
14330
IU
|
Vitamin C:
20.5
mg
|
Calcium:
84
mg
|
Iron:
5.8
mg
What's your clean eating vibe?
Take this fun QUIZZ and find out in 10 seconds!