If you are looking for a delicious and beautiful carrot salad, I've got you covered. This Turmeric Carrot Salad tastes heavenly! Fruity, crunchy, sweet and fresh.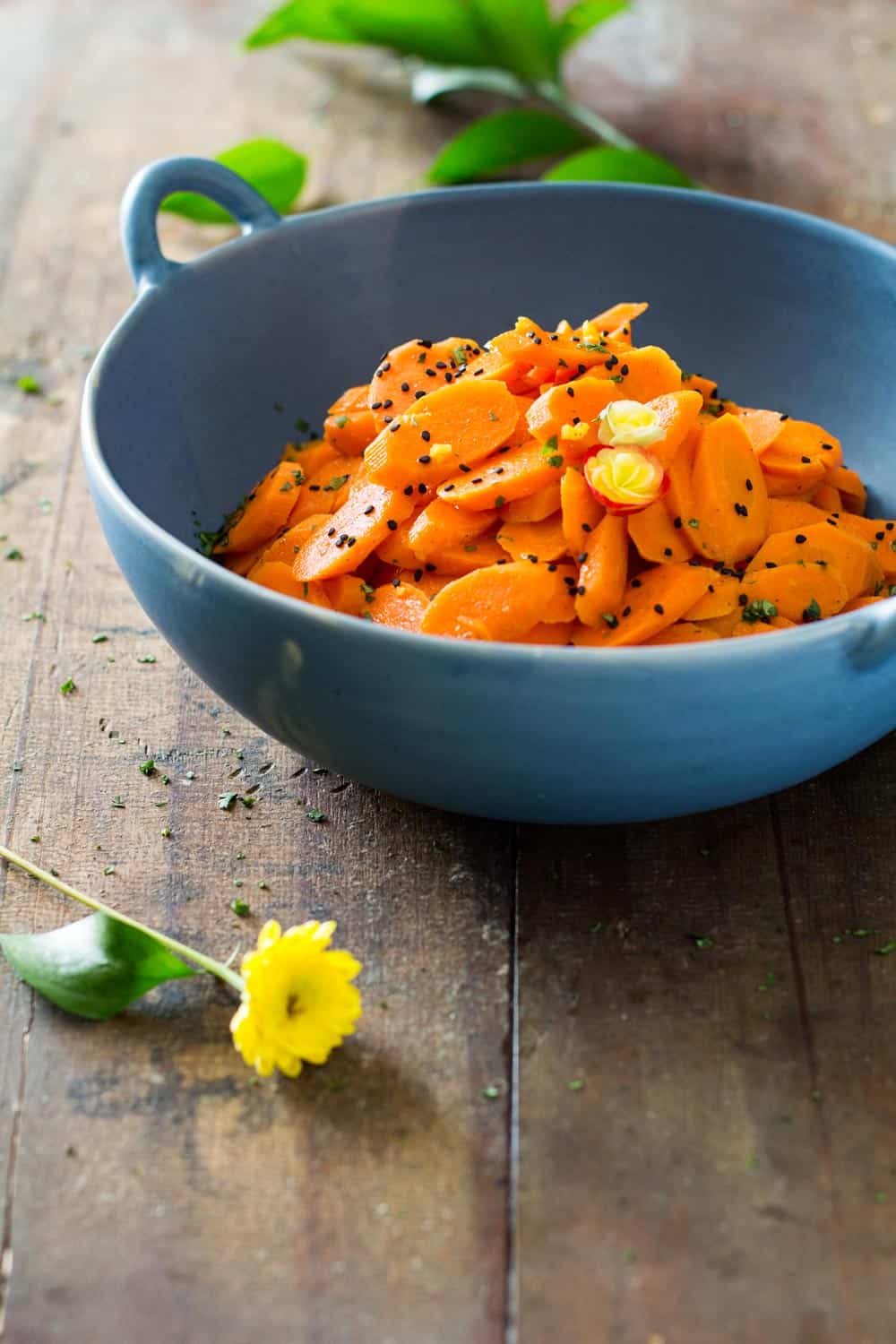 Before anything, all credit for this carrot salad recipe goes to the person that thought me how to cook: My mommy! She developed the recipe and she prepared it. I simply took care of food styling and photography. I call that extraordinary team work :)
My mom came visit us for several weeks here in Montreal. If you have been following along for a while you know I'm German, my husband is Mexican and we've been living in Montreal for 3 years now. Before that London, UK. And before that Mexico City.
We don't have family around and it always takes a good year to make good enough friends to start a new "tribe" whenever we move to a new place. It's hard when you move and have only each other to rely on at first. Visits from our moms and siblings are obviously a godsend.
Now that my mom is here, I have help with the kids, with clean up after cooking, with cooking itself! Everything is easier as a tribe. Everything. Thank you mom for being here!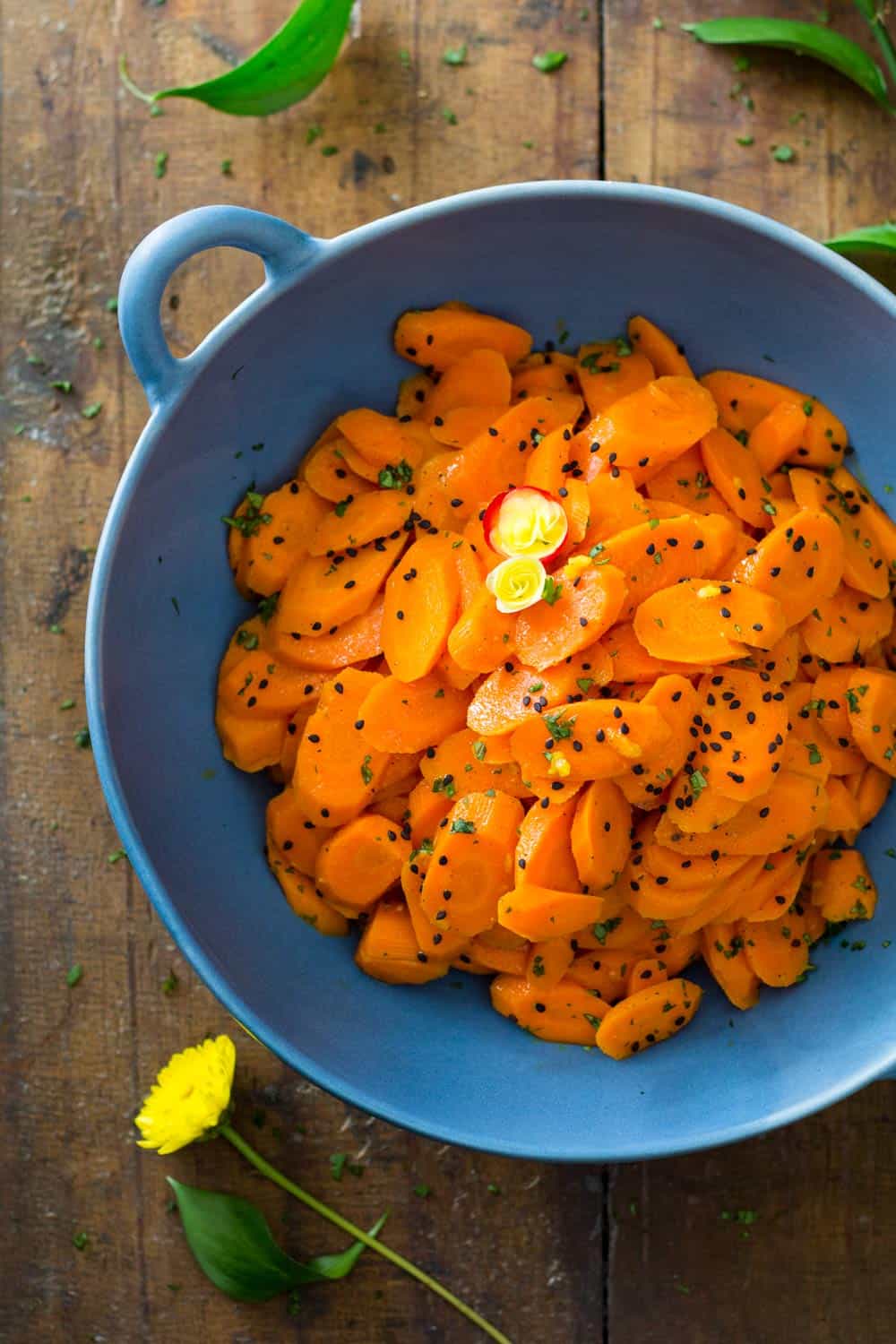 Now back to what you came for here:
How to make a delicious Carrot Salad
The most time consuming part is cutting the carrots into even pieces. If you are lucky enough to own a good quality mandoline this shouldn't take more than 5 minutes though. Peel the carrots, use a knife to cut the ends diagonal and then start using your mandolin to cut your carrots into about 1/4″ thick ovals.
If you cut them by hand it's going to take you a little longer but after the first carrot you will have the swing to do it fast. Make sure all pieces are about the same thickness so they cook evenly. Blanch the carrot pieces, add the dressing, give it a good stir, sprinkle with black sesame and chopped coriander and tadaaaaa. Dig in!
What dressing goes best with Carrot Salad?
Most carrot salads call for a yogurt based salad dressing. WHY!?!? My mom created this beyoooond amazing orange juice turmeric dressing that makes this carrot salad the best carrot salad I've tried in my life. Yes, I'm biased, I know. It's my mom and I grew up with her cooking style and seasoning but you HAVE TO BLIEVE ME!!! It is the best of all times.
Orange juice, flavorless oil, garlic, cinnammon, turmeric and cumin. That's it. Each of the ingredients are nothing special in itself, except the turmeric of course, but mixed together they become a dressing for kings and queens, a.k.a. you.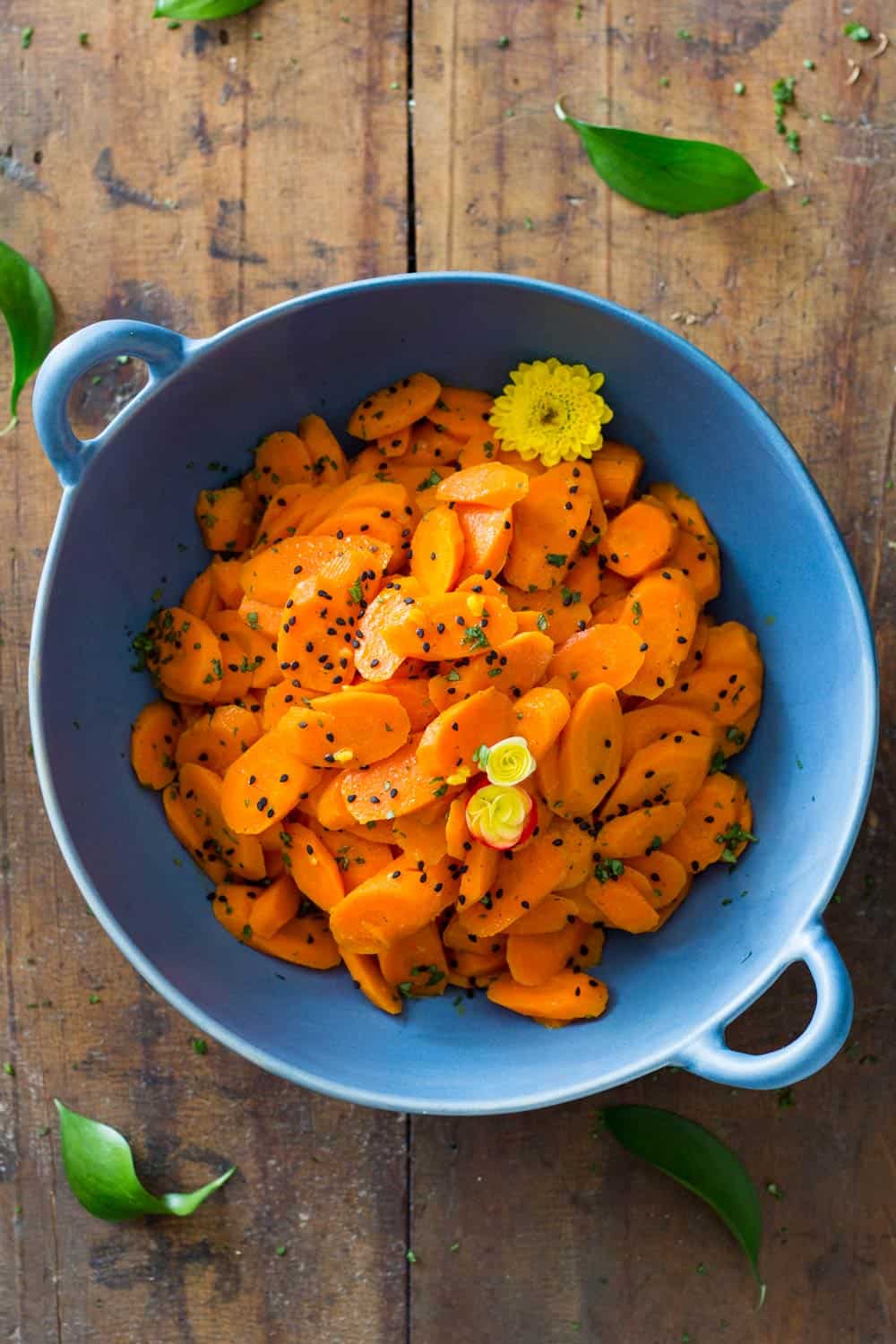 If you love Turmeric, you are also going to love this gorgeous Turmeric Quinoa Salad, which is full full full of nutrition.
Now off we go to the store because grocery shopping is so much easier when mom is around to help carry the 10,000 bags and storing everything at home. Yes, even grocery shopping becomes easy when mom is around. Anyone else feel they will never grow out of needing mommy?
Turmeric Carrot Salad
If you are looking for a delicious and beautiful carrot salad, I've got you covered. This Turmeric Carrot Salad tastes heavenly! Fruity, crunchy, sweet and fresh.
Print Recipe
Ingredients
1.5

lbs

carrots

-

(650g)

3

Tbsp

flavorless oil

-

(I used avocado oil, sunflower or grape seed will be fine, too_

1

medium

orange

1

clove

garlic

1/4-1/2

tsp

sea salt

-

( start with 1/4 tsp and then add more to taste)

1/4

tsp

cinnamon

1/4

tsp

turmeric

1/8

tsp

cumin

1.5

Tbsp

black sesame seeds

1

small hand full

chopped fresh coriander
Instructions
Bring about 2 liters of water to the boil in a large pan.

In the meantime peel and slice carrots diagonally into about 1/4" thick ovals. Make sure they are all about the same thickness. If you have a mandoline, USE IT!

Add sliced carrots to boiling water and cook for 5 minutes max. Set a timer.

Put a strainer in the sink.

Strain 5-minutes cooked carrot slices and immediately run cold tap water over them to stop from cooking further and maintain crunchiness. Then add to a medium salad bowl.

In a small bowl whisk together freshly squeezed juice of orange, oil, crushed garlic, salt, turmeric, cinnamon and cumin.

Add dressing to carrots and taste to adjust salt if necessary.

Sprinkle with black sesame seeds and freshly chopped coriander. Enjoy!
Nutrition
Calories:
184
kcal
|
Carbohydrates:
17
g
|
Protein:
2
g
|
Fat:
12
g
|
Saturated Fat:
1
g
|
Sodium:
263
mg
|
Potassium:
560
mg
|
Fiber:
5
g
|
Sugar:
8
g
|
Vitamin A:
28435
IU
|
Vitamin C:
10.2
mg
|
Calcium:
89
mg
|
Iron:
1.1
mg
Have you tried this recipe?
Take a picture and tag @greenhealthycooking Can't wait to see your version!