The most delicious Mexican Quinoa Salad of all time. Healthy avocado, protein-rich black beans, a boatload of cilantro, and a little heat make this Mexican quinoa recipe more than complete.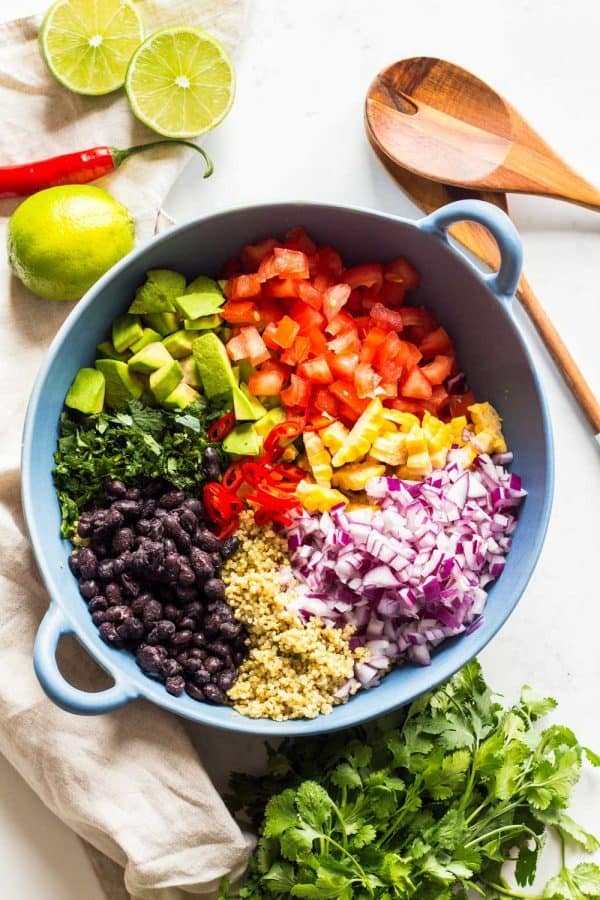 So let's start this with "yes, I know quinoa isn't Mexican". I'm half Peruvian, believe me, I know where Quinoa comes from.
I'm still going to call this Mexican Quinoa Salad because it's prepared Mexican-style ;) For non-Mexican-style quinoa recipes check out this Instant Pot Quinoa Bowl or this Turmeric Quinoa Salad. If there is one ingredient that I use A LOT in my kitchen, it's hands down Quinoa.
Full of cilantro, black beans, fresh tomatoes, red onion, avocado, a little chili and plenty of lime juice all mixed into a bowl of freshly cooked quinoa. It's amazing! I'm serious!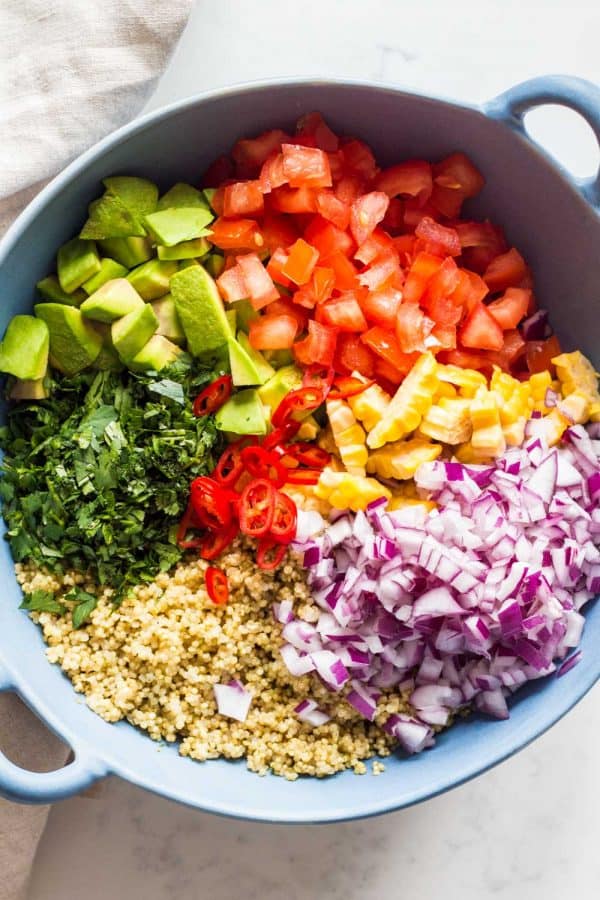 How to make Mexican Quinoa Salad
It's super easy.
To cook the quinoa you can either add 1 cup of quinoa and 1.5 cups broth into a small pot, bring to a boil and once boiling immediately cover and reduce the heat to low. Let simmer for 12-15 minutes and you're done!
Alternatively, you can use an Instant Pot or any other electric pressure cooker for that. I prefer this method because it's a more hands-off approach AND I prefer the texture of the quinoa this way.
Add a cup of quinoa and a cup of broth to the Instant Pot, put on the lid, make sure the valve is in the sealing position, and set it to 1 minute on high pressure. Then let the pressure release naturally until the pin drops. That takes about 10 minutes.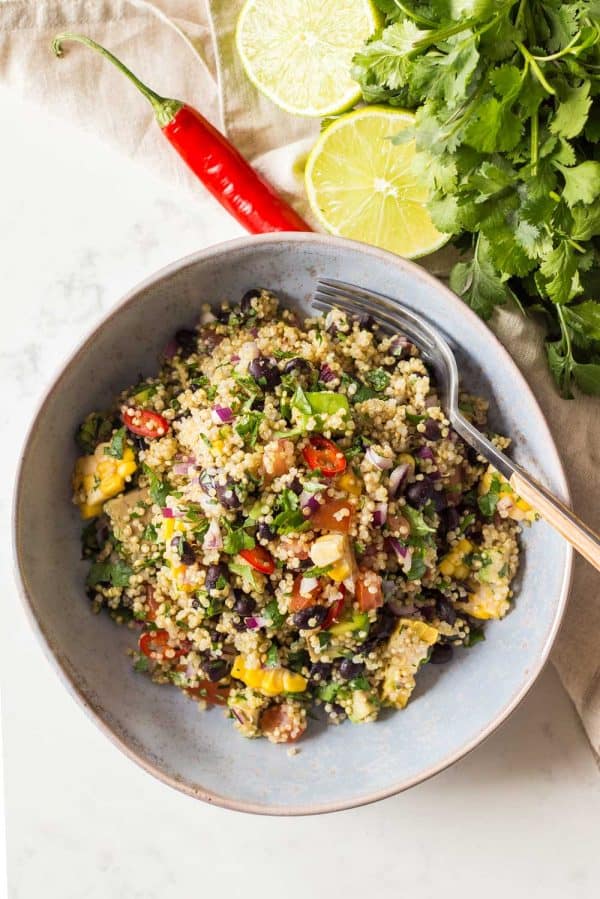 Mexican Quinoa Salad with Corn and Black Beans
Yes, not only is quinoa not Mexican, yellow sweet corn isn't either but but but it's soooo good in salads.
Don't skip the corn kernels. They look pretty, they taste amazing and they are just overall a good friend of mine ;P
For black beans I highly recommend home cooked. If you're in a rush or didn't plan ahead canned works, too of course but if you can anyhow fit it into your schedule, take the time and soak 12 hours and then pressure cook for 20-ish.
Mexican Quinoa Salad with Avocado
If you've been following along for a while, you already know all about my obsession for Avocado Toast.
Well, this recipe isn't complete without avocado. It's so hard to pick good ones but once you practice you get better every time.
My experience with small Mexican avocados is much better than the giant Brazilian ones. I always feel attracted to buying the big ones. They look so impressive. It's always a bummer though when they're black and rotten inside despite being firm.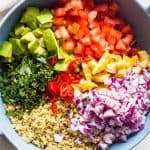 Mexican Quinoa Salad
The most delicious Mexican Quinoa Salad of all times. Healthy avocado, black beans, a boat load of cilantro and a little heat make this Mexican quinoa recipe more than complete.
Print Recipe
Pin Recipe
Ingredients
1

cup

quinoa

1-1.5

cups

vegetable stock

1/2

red onion

1

cup

cooked black beans

2

tomatoes

1

cob

cooked corn

2

small

avocado

-

(ripe but firm)

2

hands full

cilantro leaves

1-2

red chillies

2

limes

Salt

Pepper
Instructions
Add quinoa and stock into a pot and bring to the boil. Once boiling reduce heat immediately to low and cover tightly with lid. Cook for approx. 15 minutes or until done. OR add 1 cup quinoa and 1 cup broth to Instant Pot. Turn valve to sealing. Set to 1 minute on high pressure and then let pressure release naturally (takes about 10 minutes).

Wash and deseed tomatoes and dice into corn-size pieces.

Wash and peel onion and chop VERY finely.

Peel avocado and dice into corn-size pieces.

Wash and chop cilantro leaves. Add to bowl.

Rinse beans and add to bowl.

Cut off kernels from ear of corn.

Once quinoa is cooked, fluff with a fork. Add to bowl with all other ingredients.

Season with salt, pepper and a lot of lime juice. Stir and serve.
Nutrition
Calories:
350
kcal
|
Carbohydrates:
49
g
|
Protein:
11
g
|
Fat:
14
g
|
Saturated Fat:
1
g
|
Sodium:
412
mg
|
Potassium:
973
mg
|
Fiber:
13
g
|
Sugar:
4
g
|
Vitamin A:
870
IU
|
Vitamin C:
44.1
mg
|
Calcium:
64
mg
|
Iron:
3.7
mg
Have you tried this recipe?
Take a picture and tag @greenhealthycooking Can't wait to see your version!