This is the fastest way to make juicy baked chicken breast in the oven. 10 minutes of prep work, 10 minutes of baking. Perfect chicken breast every time!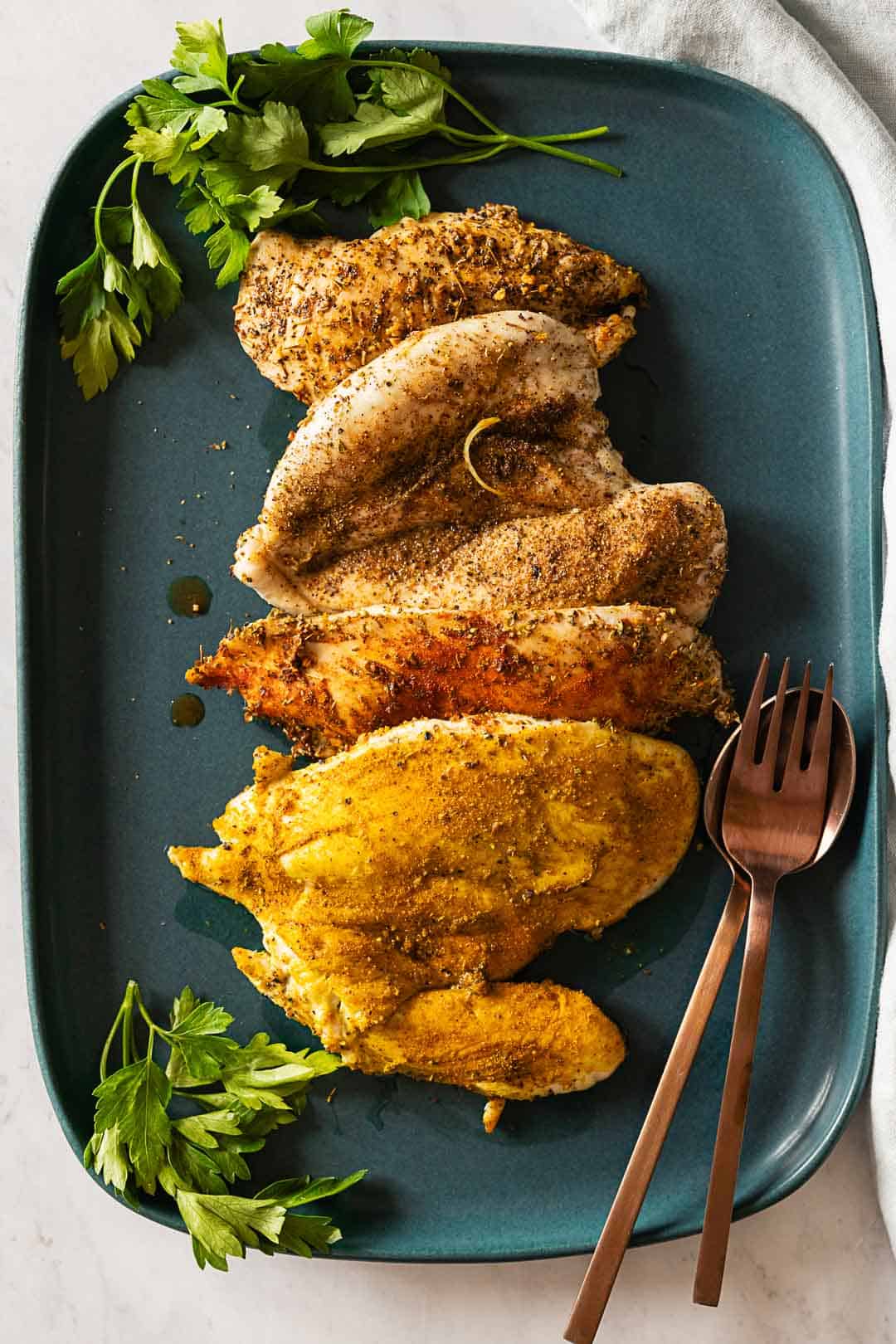 Now, I know this is probably not the tradition way to make baked chicken breasts but it for sure is the fastest. I for one am as busy as never lately and dinner often needs to be on the table in 20 minutes flat.
Ever since I discovered this little trick to speed up the chicken breast baking time I've never looked back. 10 minutes prep, 10 minutes baking = 20 minutes, and dinner is done!
While the oven is preheating I prep the chicken and while the chicken is baking I prep something like this Healthy Coleslaw or some Instant Pot Rice and green beans or any other quick and easy vegetable as a side dish.
How To Bake Chicken Breast In 10 Minutes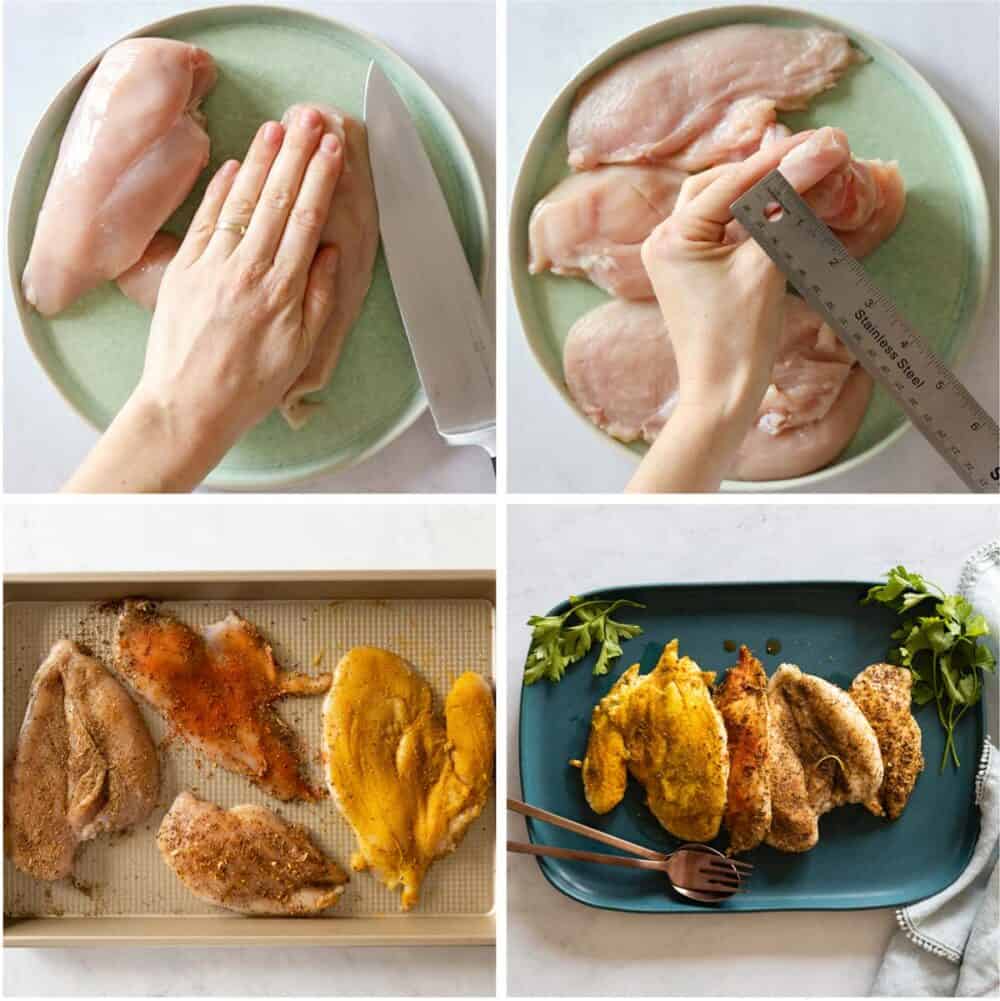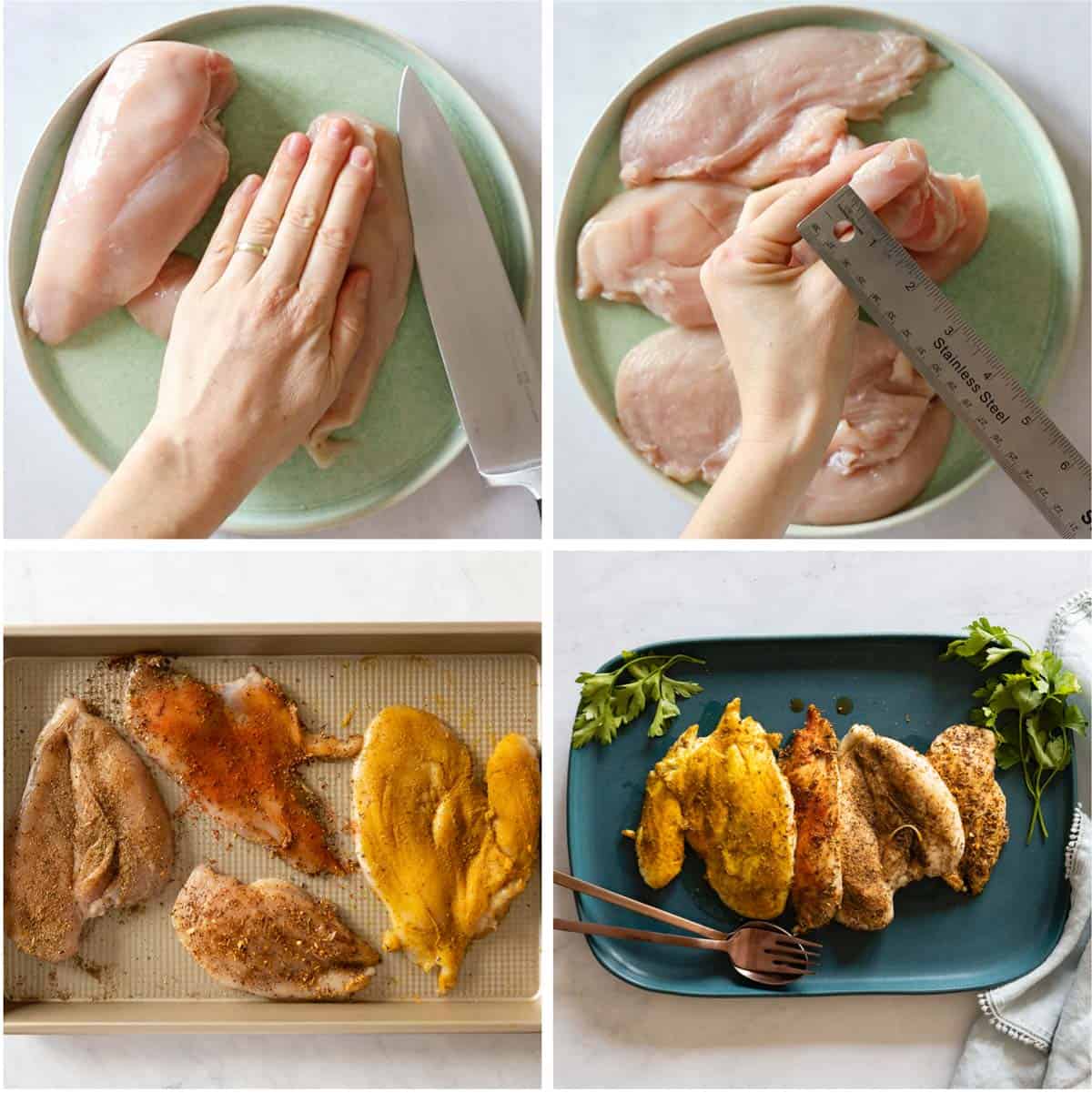 Cut chicken — preheat your oven to 425°F (220°C), then cut the chicken breast lengthwise starting at the thickest part of the breast.
1/2-inch thickness — ensure the thickest part is no more than 1/2 an inch. If it is thicker pound the chicken a little to get it to 1/2″.
Season — drizzle each piece of chicken breast with a few drops of avocado oil (or any other high smoke point oil), then season with your favorite spices (see examples further down).
Bake — bake for 10 minutes at 425°F (220°C), then let rest 5 minutes on the baking sheet. Serve.
Best Seasoning For Chicken
The sky is the limit but here are my personal favorites:
sea salt & pepper
poultry seasoning
cajun rub
sea salt, pepper, paprika, and oregano
sea salt, pepper, Ras El Hanout
sea salt & four spices
sea salt & garam masala
How Do I Bake Chicken Breast Without Drying it out?
The #1 complaint of people who say they don't like chicken breast is because it's dry and lacks flavor.
For juicy chicken breast you need to pay close attention to one little crucial trick: DO NOT OVERCOOK!
The safe internal temperature for chicken breast as per the FDA is 165°F (74°C), which means if you take the chicken out of the oven at 155-160°F internal temperature that's more than enough because during the 5-minute resting time the internal temperature will still rise another 10°F.
I highly recommend a meat thermometer for anyone taking cooking seriously. No matter how experienced a cook you are, you will always get the very best results by measuring. I love this digital thermometer (<< affiliate link).
To counteract the "blandness" I love cutting my chicken breast in half lengthwise because that way I can add more seasoning per chicken volume.
If you leave the chicken breast as a whole you can season it as much as you want from the outside, the inside will still be a bit bland and the outside maybe over-seasoned. But cutting it into thinner pieces you make sure it's nice an flavorful.
What Is The Best Temperature To Bake Chicken Breast At?
If you are baking chicken breast alone on the baking sheet, the best temperature is 425°F (220°C).
For chicken breast alone you want to bake quick on high so it stays nice and juicy.
If you roast vegetables with it at the same time you might have to adjust the temperature depending on the vegetable.
Hard vegetables like Brussels sprouts, carrots, or celery tend to be able to withstand high oven temperatures. More delicate vegetables like broccoli and cauliflower tend to do better at 350-400°F.
Frequently Asked Questions
Do you cover chicken when baking?
No. Do not cover it because then it will be steamed instead of roasted.
How long should you bake chicken breast at 425°F?
About 10 minutes per 1/2″ thickness. The thickness at the thickest part of the breast (not the weight) is what determines the time.
How long does baked chicken breast last in the fridge?
Chicken that has been baked or cooked to the safe 165°F internal temperature lasts in the fridge for up to 4 days.
Can I freeze baked chicken breast?
Absolutely! Simply place in an airtight freezer-safe container or bag and freeze for up to 3 months. To defrost simply place in the fridge for 12 hours and then reheat.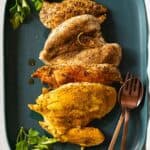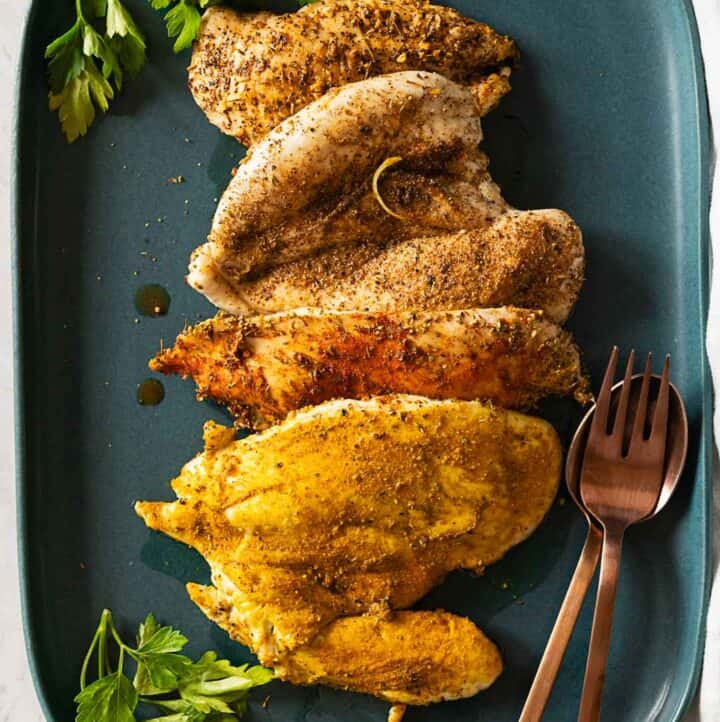 10-Minute Baked Chicken Breast
This is the fastest way to make juicy baked chicken breast in the oven. 10 minutes of prep work, 10 minutes of baking. Perfect chicken breast every time!
Print Recipe
Pin Recipe
Ingredients
2

9-oz chicken breasts

1/2

tsp

avocado oil

seasoning of choice
Instructions
Preheat the oven to 425°F (220°C).

Cut chicken breasts in half lengthwise to make them 1/2" thick at their thickest point. If your chicken breast is thicker, pound it a little to make it thinner.

Drizzle the chicken breast halves with a few drops of avocado oil and season generously with your favorite seasoning. Work oil and seasoning into the breast with your hands.

Place the chicken well-spread out on a baking sheet and bake for 10 minutes.

Remove the chicken from the oven and let rest for 5 mintutes before serving. Serve.
Nutrition
Calories:
150
kcal
|
Protein:
27
g
|
Fat:
4
g
|
Saturated Fat:
1
g
|
Trans Fat:
1
g
|
Cholesterol:
82
mg
|
Sodium:
148
mg
|
Potassium:
472
mg
|
Vitamin A:
38
IU
|
Vitamin C:
2
mg
|
Calcium:
6
mg
|
Iron:
1
mg
What's your clean eating vibe?
Take this fun QUIZZ and find out in 10 seconds!