A fresh, colorful, healthy AND super easy Couscous Salad. It makes a great side salad for a barbeque dinner, potluck, to bring with friends, or simply as meal prep bowls for the week's lunch.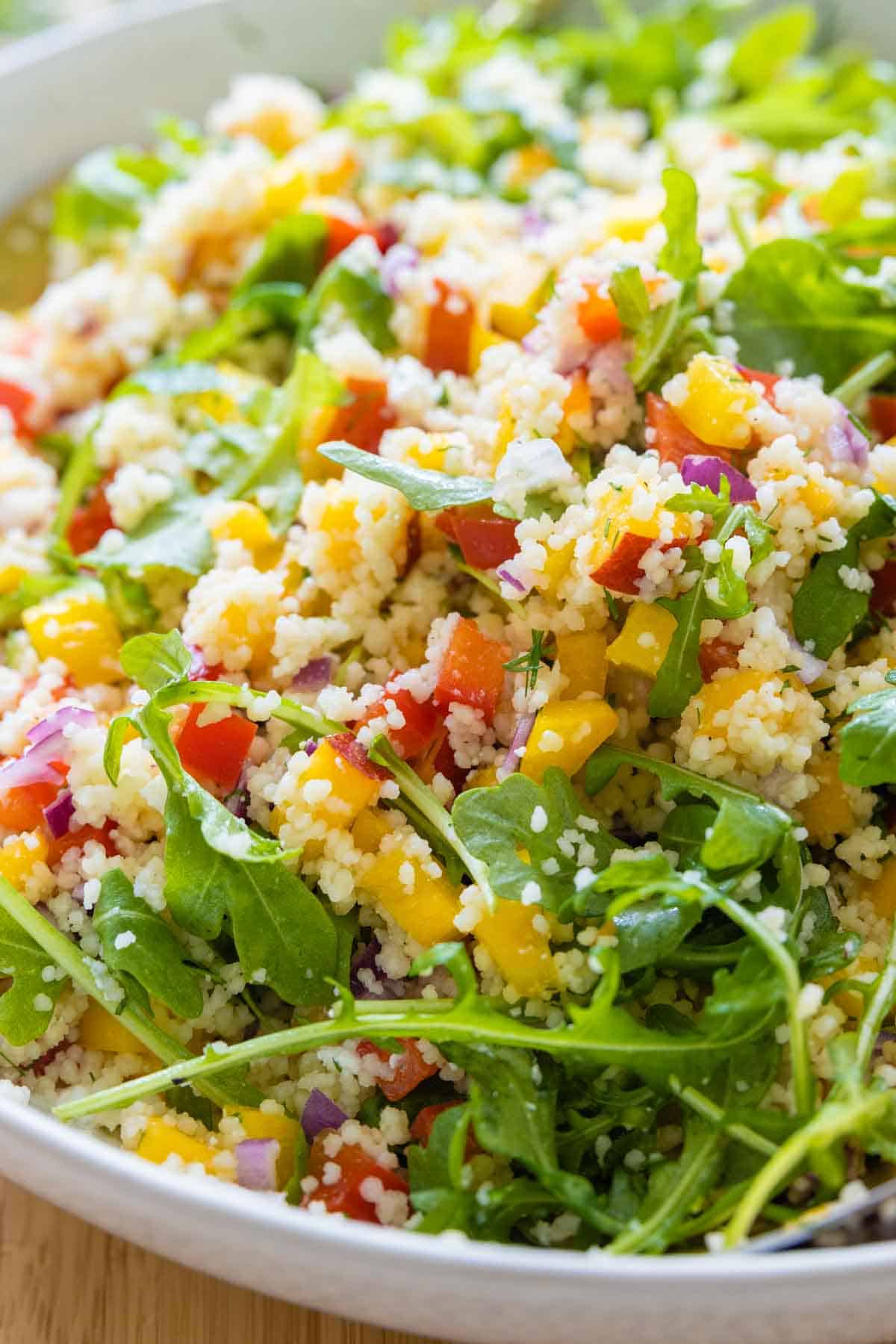 Tender couscous is combined with crunchy bell peppers and onion, sweet nectarine, tangy feta cheese and fresh dill. All these wonderful ingredients are combined with some arugula and seasoned with lime and olive oil. The result is a delicious and filling salad that everyone will enjoy. Let me tell you, my kids LOVE this couscous salad. I've made it like five times in the last two weeks!
Ingredients and Substitutions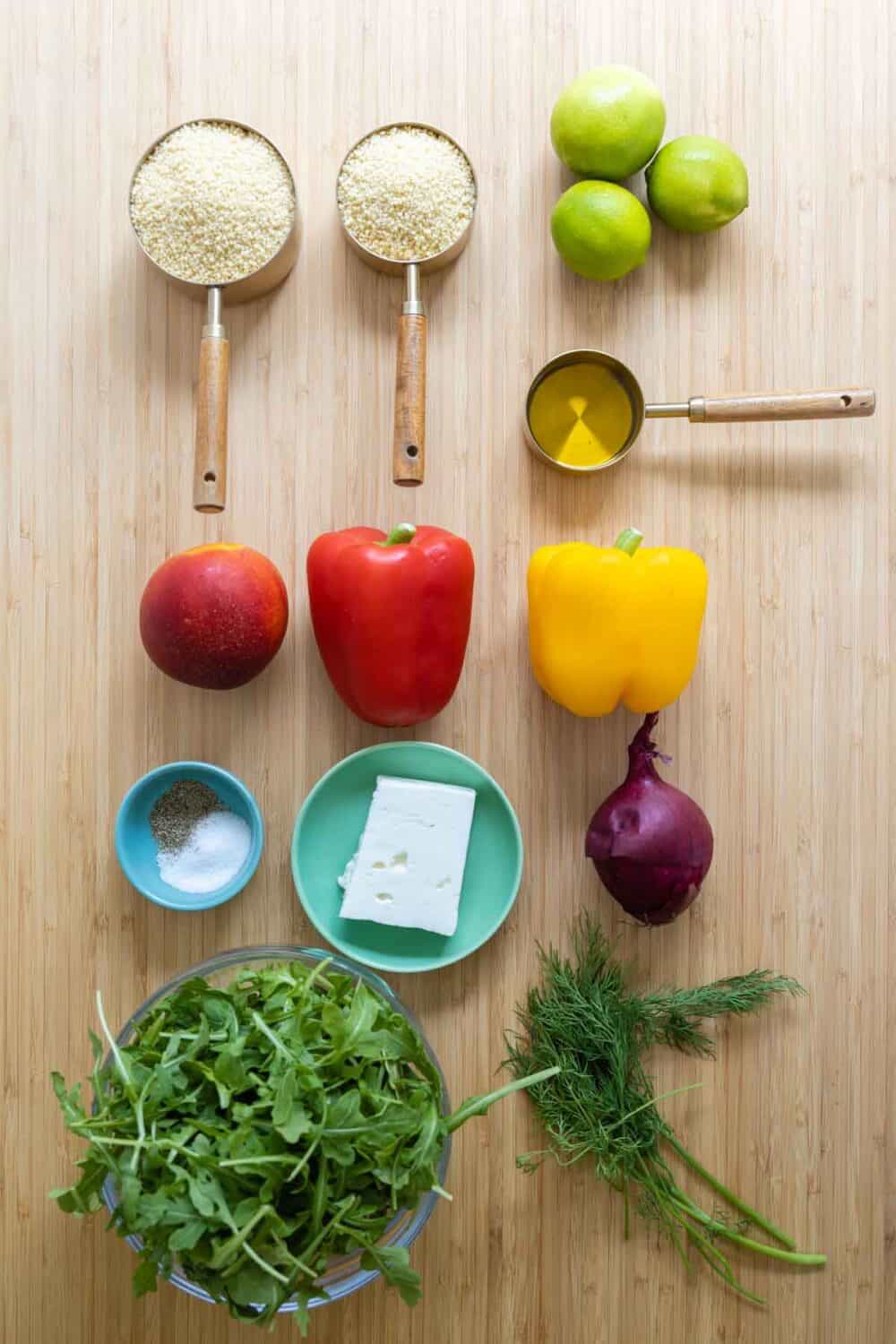 Couscous – for this salad I used Moroccan couscous, the kind that looks like tiny grains. Alternatively, you could also use quinoa. Both taste delicious, however, I recommend using couscous if you don't have much time since it cooks super fast.
Red Onion – I like using red onion when I serve it raw because it has a milder taste. White onion is a good alternative if you need to use a different kind.
Bell Peppers – choose ripe and crunchy bell peppers for the greatest taste. I used red and yellow peppers because they are slightly sweet, but any color of pepper will do.
Nectarine – sweet and juicy, nectarines are a great addition to this couscous salad. Choose a ripe and plump nectarine that is firm but gives slightly when you squeeze it. If you need to replace it, I suggest using peach or apricot instead.
Dill – I recommend using fresh dill as opposed to dry. If you need to replace it, you could use fresh parsley, fennel or tarragon.
Feta Cheese – I like using a block of feta cheese and crumble it all over the salad. Ricotta or Queso Fresco are good alternatives and have a similar texture to feta.
Arugula – I found arugula works best with the rest of the ingredients of this couscous salad. Baby spinach could be used as a replacement if needed.
Olive Oil – is the best and easiest way to bring all the salad ingredients together in my opinion. But any other flavorless oil can be used as well, like avocado or grapeseed oil.
Lime – use fresh limes, the juiciest the better. Depending on the size and how juicy they are, you might need to adjust the number of limes you use.
Salt & Pepper – use sea salt and freshly cracked pepper for the best taste.
How to Make Couscous Salad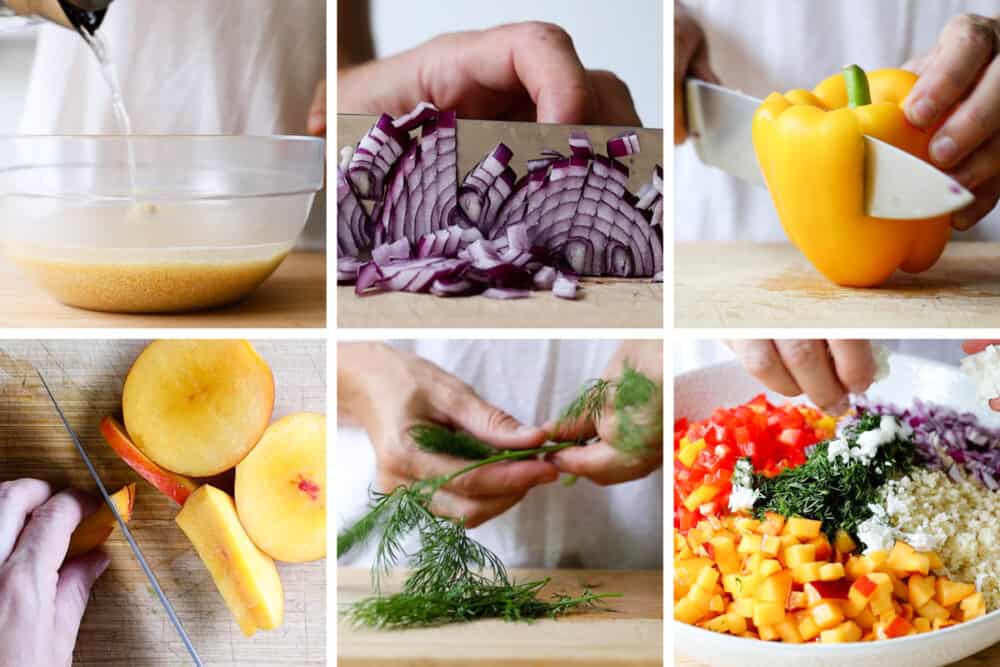 Make Couscous – add couscous to a medium bowl and then add boiling water to cover about 1/4 inch over the grains. Give a quick shake to cover all grains completely and then cover with a plate or cling film. Let it soak in the water for about 10 minutes until water is absorbed and the couscous is fluffy. See my post about how to cook couscous to make it like a pro! If you are using quinoa, follow these instructions about how to cook quinoa.
Chop Veggies – grab a chopping board and finely chop the red onion. Then, deseed and chop the bell peppers into small pieces and set them aside.
Cut Fruit – get the nectarine and cut out the stone. Then cut the rest into small pieces approximately the same size as the bell peppers.
Chop Herbs – grab the fresh dill and remove the stems. Then finely chop the leaves until you have roughly about 3 Tbsp of chopped dill.
Assemble Salad – by now the couscous should be ready. Fluff it with a fork and transfer it to a BIG salad bowl. Add the chopped onion, bell peppers, nectarine and dill. Then crumble 2-3 oz of feta cheese on top.
Season – I recommend seasoning the salad first BEFORE adding the arugula to avoid having the arugula flying all over the place when mixing the seasoning. Add sea salt and pepper to taste, 1/4 to 1/3 cup of extra virgin olive oil, and plenty of lime juice. I used three very juicy limes, but adjust the number to your taste and how juicy your limes are. Give it a good stir to mix it all up.
Add Arugula – at this point, you can add the arugula and just give it a quick stir. Voilà!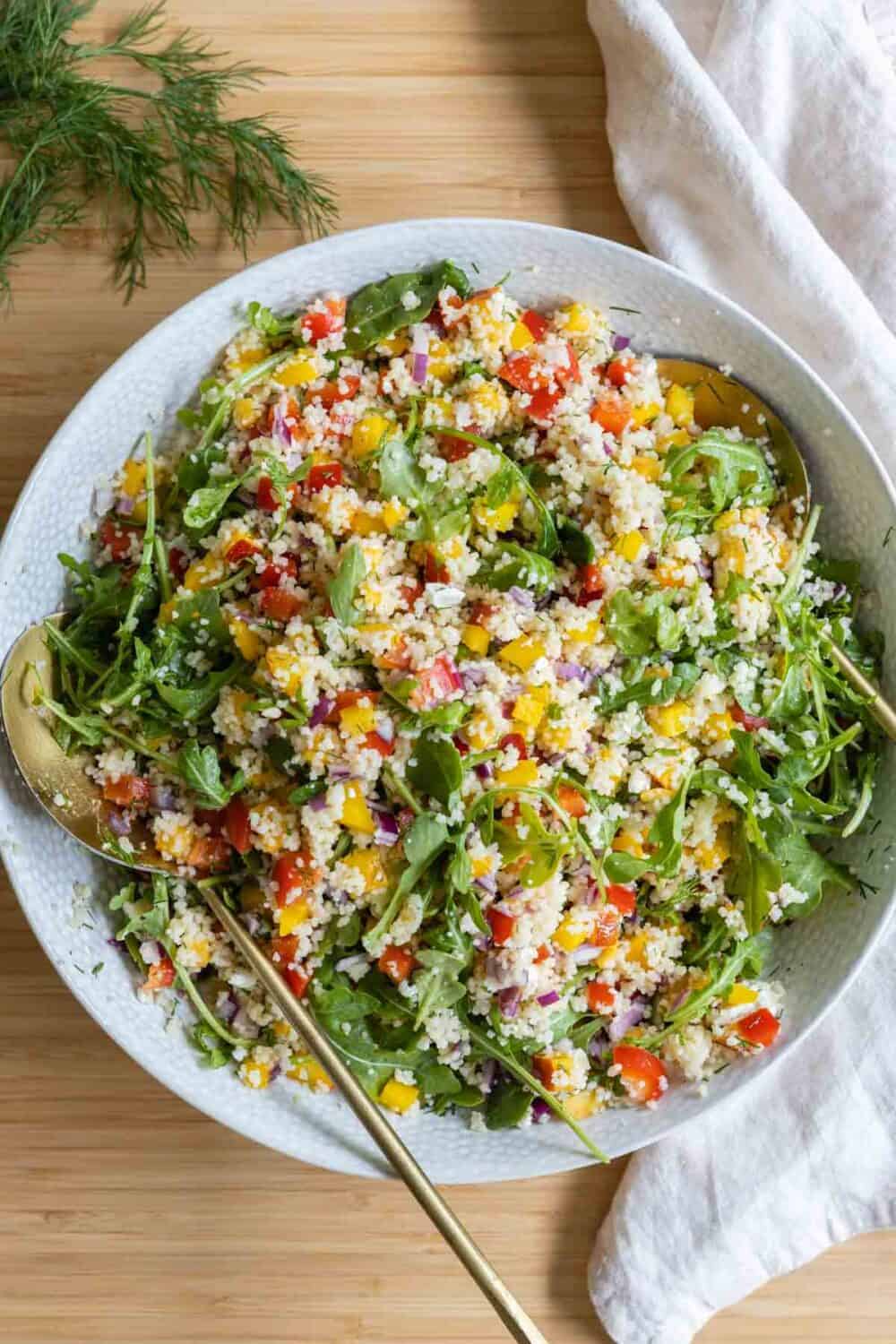 Frequently Asked Questions
What does couscous pair well with?
Couscous salads go really well with grilled proteins. My favorite recipes during barbeque season are these Grilled Lamb Chops, Balsamic Grilled Chicken and Grilled Pork Chops.
How long does couscous salad last?
Couscous salad is fantastic for meal prepping and lunch bowls. It can be stored for up to four days in the fridge in a seal-tight container. The arugula might wilt a little but it will still taste really good.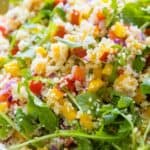 Easy Couscous Salad
A fresh, colorful, healthy AND super easy Couscous Salad. It makes a great side salad for a barbeque dinner, potluck, to bring with friends, or simply as meal prep bowls for the week's lunch.
Print Recipe
Pin Recipe
Ingredients
1.5

cups

couscous

1

small red onion

1

red bell pepper

1

yellow bell pepper

1

nectarine

3

Tbsp

fresh dill

2

oz

feta cheese

1/4

cup

extra virgin olive oil

3

limes

sea salt

pepper

2

oz

arugula
Instructions
Cook the couscous. Add Couscous to a bowl and pour boiling water over it until barely covered. Cover the bowl with a plate or lid and set aside for 10 minutes. Then fluff the couscous with a fork.

Finely chop onion, bell pepper, nectarine, and dill.

Add fluffed couscous, chopped fruits and vegetables, and crumbled feta cheese to a large salad bowl and season with sea salt and pepper to taste, drizzle olive oil and lime juice over everything and mix well.

Add arugula and give the salad a last stir and enjoy.
Nutrition
Calories:
403
kcal
|
Carbohydrates:
66
g
|
Protein:
12
g
|
Fat:
11
g
|
Saturated Fat:
3
g
|
Polyunsaturated Fat:
1
g
|
Monounsaturated Fat:
6
g
|
Cholesterol:
13
mg
|
Sodium:
181
mg
|
Potassium:
435
mg
|
Fiber:
7
g
|
Sugar:
6
g
|
Vitamin A:
1554
IU
|
Vitamin C:
113
mg
|
Calcium:
138
mg
|
Iron:
2
mg
What's your clean eating vibe?
Take this fun QUIZZ and find out in 10 seconds!