An authentic Mexican Pico de Gallo recipe, full of flavor. Use it as a dip for tortilla chips, in or on tacos, and any other Mexican-inspired dish you crave.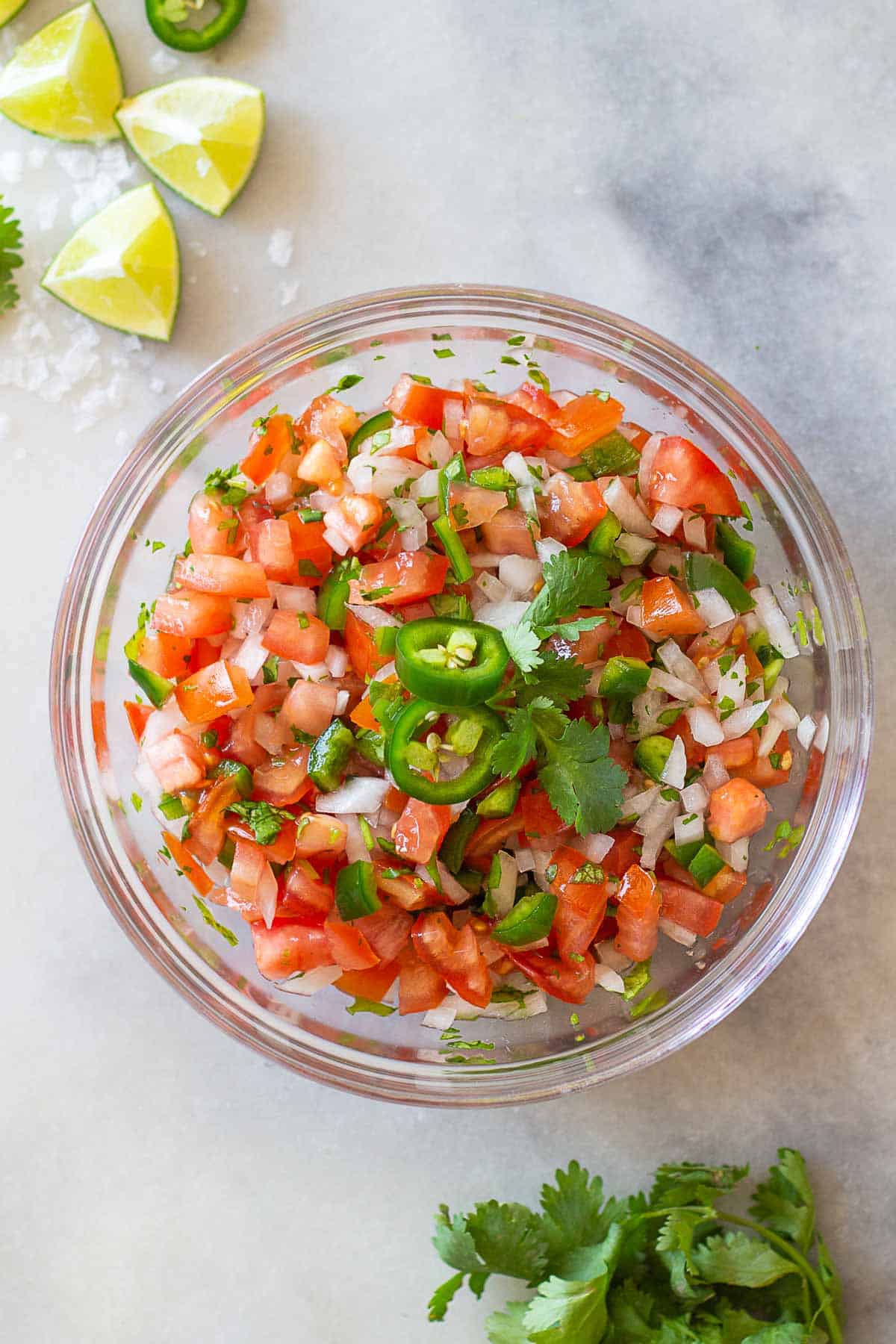 What ingredients do I need?
Green chili – this can either be jalapeño if you want it to be mildly spicy or serrano if you want it to be spicier. The amount will depend on how spicy you like to eat. I like adding either 2 Jalapeños or 1 Serrano. For children, you can replace the chili with green bell pepper instead.
Salt – my favorite is flaky sea salt but any salt will work really.
Lime – the exact amount will depend on how juicy your limes are. You want to add about 1 Tbsp of lime juice for every cup of onion/tomato/chili. You can replace the lime with lemon if you can't get your hands on lime it won't be authentic then though.
White onion – in Mexico city the authentic Pico de Gallo is always prepared with white onion I have seen it made and tried it with red onion as well though and it's delicious, too. The ratio of onions to tomatoes should be about 1:2 or 1:3. Tomato is the bulk ingredient.
Fresh cilantro – cilantro is absolutely essential for an authentic salsa however for some people cilantro tastes like soap. If you are one of these people replace it with basil. Not authentic but better than a "soapy" salsa of course.
Tomato – in Mexico city the least expensive and most abundant tomatoes I always see at the grocery store are Roma Tomatoes. You can also use vine tomatoes if you like. It's important to choose the larger tomatoes as they are less sour or sweet than their smaller cousins.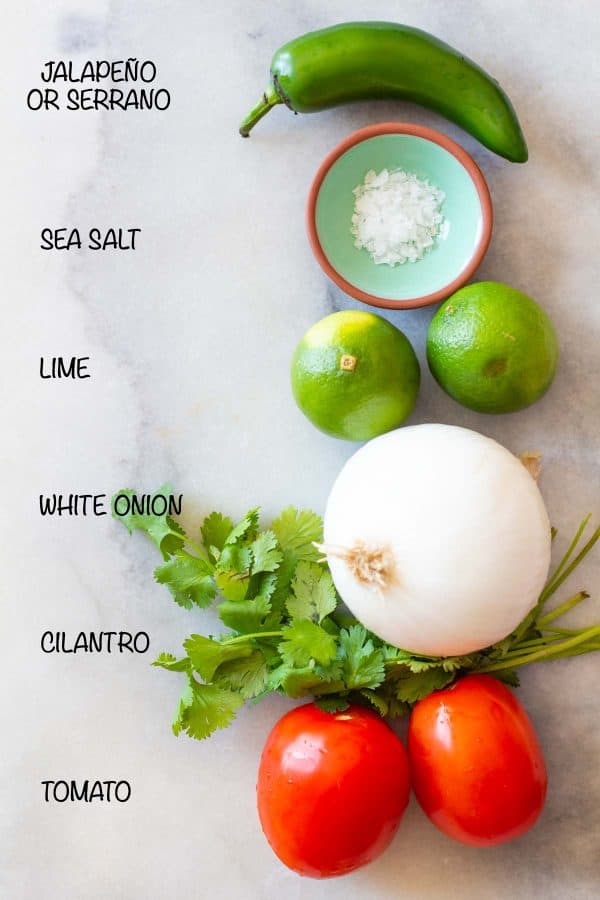 Frequently Asked Questions
What's the difference between Pico de Gallo and Salsa?
Pico de Gallo, which translated means rooster's beak, is sometimes referred to as "salsa fresca" (fresh sauce) or "salsa cruda" (raw sauce). So it basically is a type of salsa. "Salsa" simply means "sauce" and refers to anything you put on top of your food or dish or you use as a dip.
I personally have never heard any Mexican in Mexico refer to this salsa with salsa fresca. Maybe it's used more in the US?
How do you correctly pronounce "Pico de Gallo"
I am a native Peruvian Spanish speaker and my husband is a native Mexican Spanish speaker and I recorded us for you. Here is the audio with the correct pronunciation:
In English spelling, it would be something like "Peko de guyo".
The "i" in "Pico" is pronounced like the "i" in "pick". It's a short "i", lot's of people drag the "i" sound too long" it's not "peeko" it's "piko" or "peko".
The "e" in "de" is like the "e" in "ever". It's not "ey" as many pronounce it.
The "a" in "gallo" is like the "a" in "after".
The "ll" in "gallo" is like the "y" in "yoyo".
How to store it and can I freeze it?
To store this salsa put it in an airtight container in the fridge. You can store it for 3-4 days.
It is not suitable for freezing. I've seen freezing recommendations but after trying all tricks I'm still not satisfied with the results. I don't recommend freezing it. Raw tomatoes simply do not freeze well.
It's so easy and quick to make anyway, make a smaller batch if you don't think you'll finish it.
What size do I cut all ingredients?
The tomatoes into pieces about as big as chickpeas but the onions and chili a little smaller, more like dried black beans. The cilantro in thin stripes, not super minced.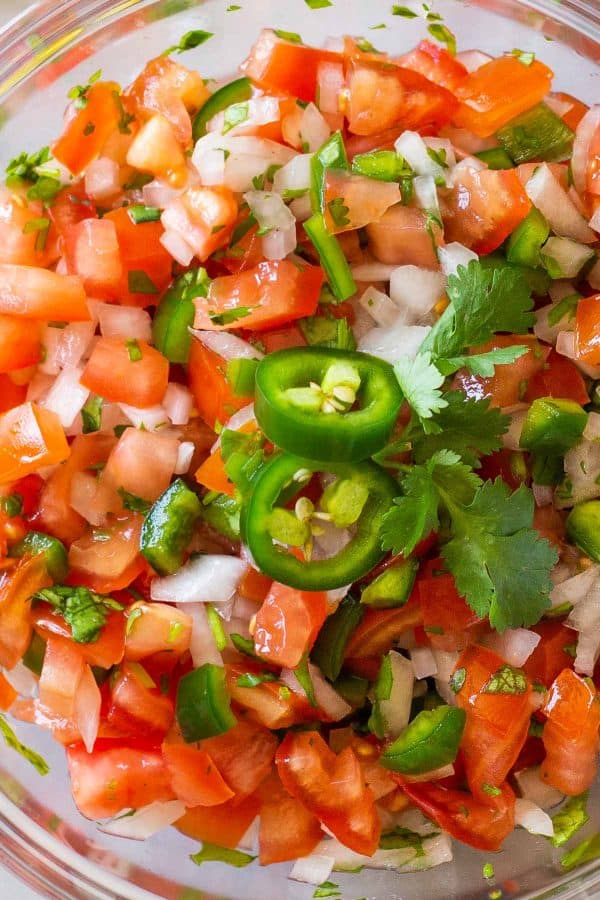 How to use Pico de Gallo
You can either simply eat it with some tortilla chips or you can ladle it on top of molletes made with your homemade bolillos. My absolute favorite way to eat it is on top of a Quinoa Breakfast Bowl.
It's also amazing in a Mexican Meal Prep Bowl because it can be stored so well in the fridge.
Pico de Gallo
An authentic Mexican Pico de Gallo recipe, full of flavor. Use it as a dip for tortilla chips, in or on tacos, and any other Mexican-inspired dish you crave.
Print Recipe
Pin Recipe
Ingredients
1-2

Jalapeño or Serrano chili

1/2

tsp

sea salt

1/2

white onion

2

limes

1

handful fresh cilantro

2-3

roma tomatos
Instructions
Deseed jalapeño, peel and half onion then cut all ingredients into small pieces and add to a bowl. You want to aim for a 1:2 or 1:3 ratio of onions to tomato. Tomato is the main ingredient.

Add sea salt and lime juice to everything, mix, and serve.
Nutrition
Calories:
22
kcal
|
Carbohydrates:
6
g
|
Protein:
1
g
|
Fat:
1
g
|
Saturated Fat:
1
g
|
Sodium:
294
mg
|
Potassium:
128
mg
|
Fiber:
2
g
|
Sugar:
2
g
|
Vitamin A:
313
IU
|
Vitamin C:
19
mg
|
Calcium:
17
mg
|
Iron:
1
mg
What's your clean eating vibe?
Take this fun QUIZZ and find out in 10 seconds!