Making your own homemade Mexican Salsa, also known as Salsa Roja (Red Salsa) is SO easy, you won't eat store-bought salsa ever again!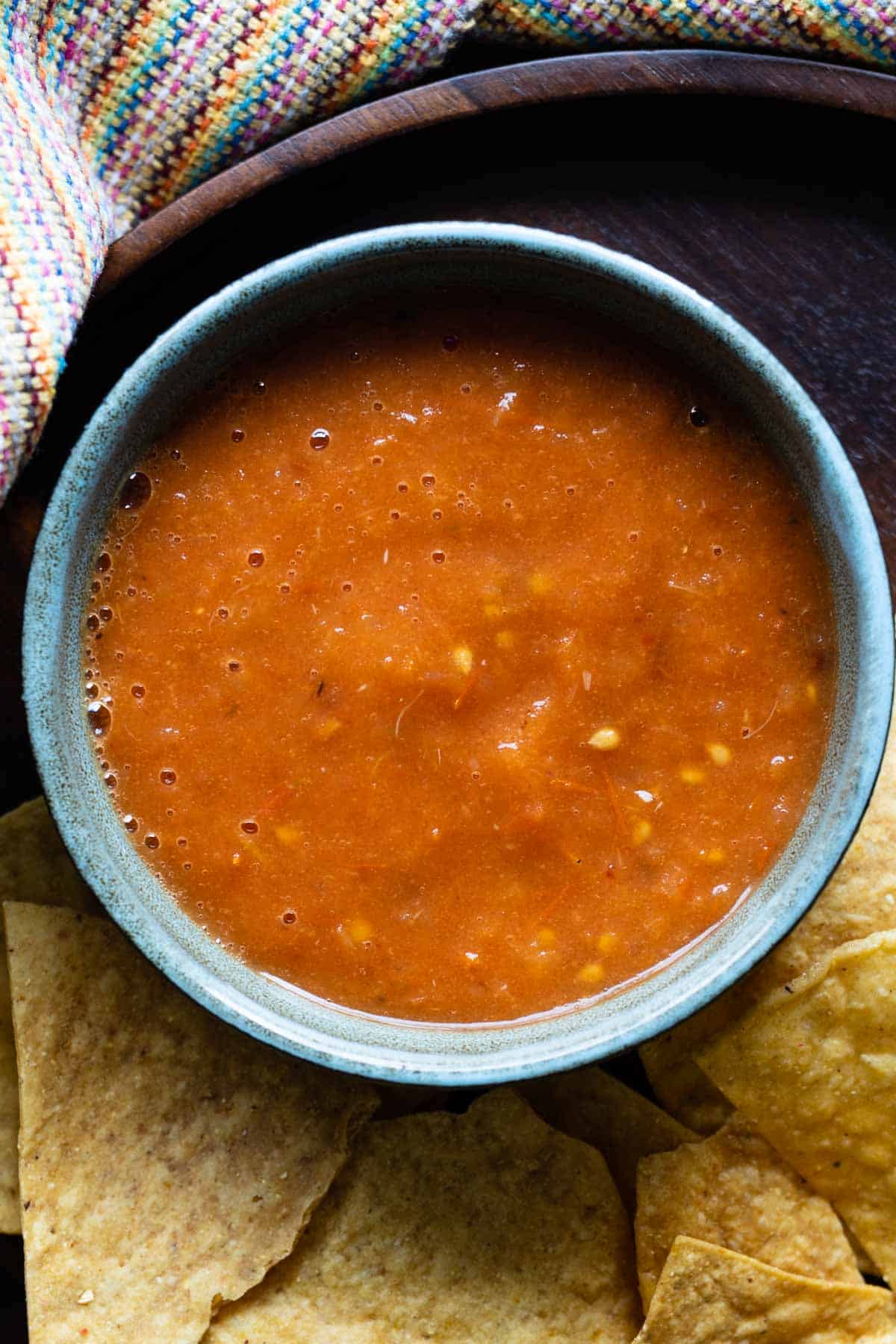 While dipping tortilla chips into this salsa is delicious, I prefer to make Huevo Ranchero, or Huevos Divorciados, or these amazing Tacos with Pulled Pork Made in the Oven. Even add it to a Mexican Breakfast Bowl… the possibilities are endless! I love having a batch of salsa in the fridge at all times to add to our breakfast eggs or spice our lunches.
Made with fresh traditional ingredients, this Mexican salsa is also super healthy, packed with vitamin C. So you can feel good eating it even if you indulge a little, o a lot!
Ingredients and Substitutions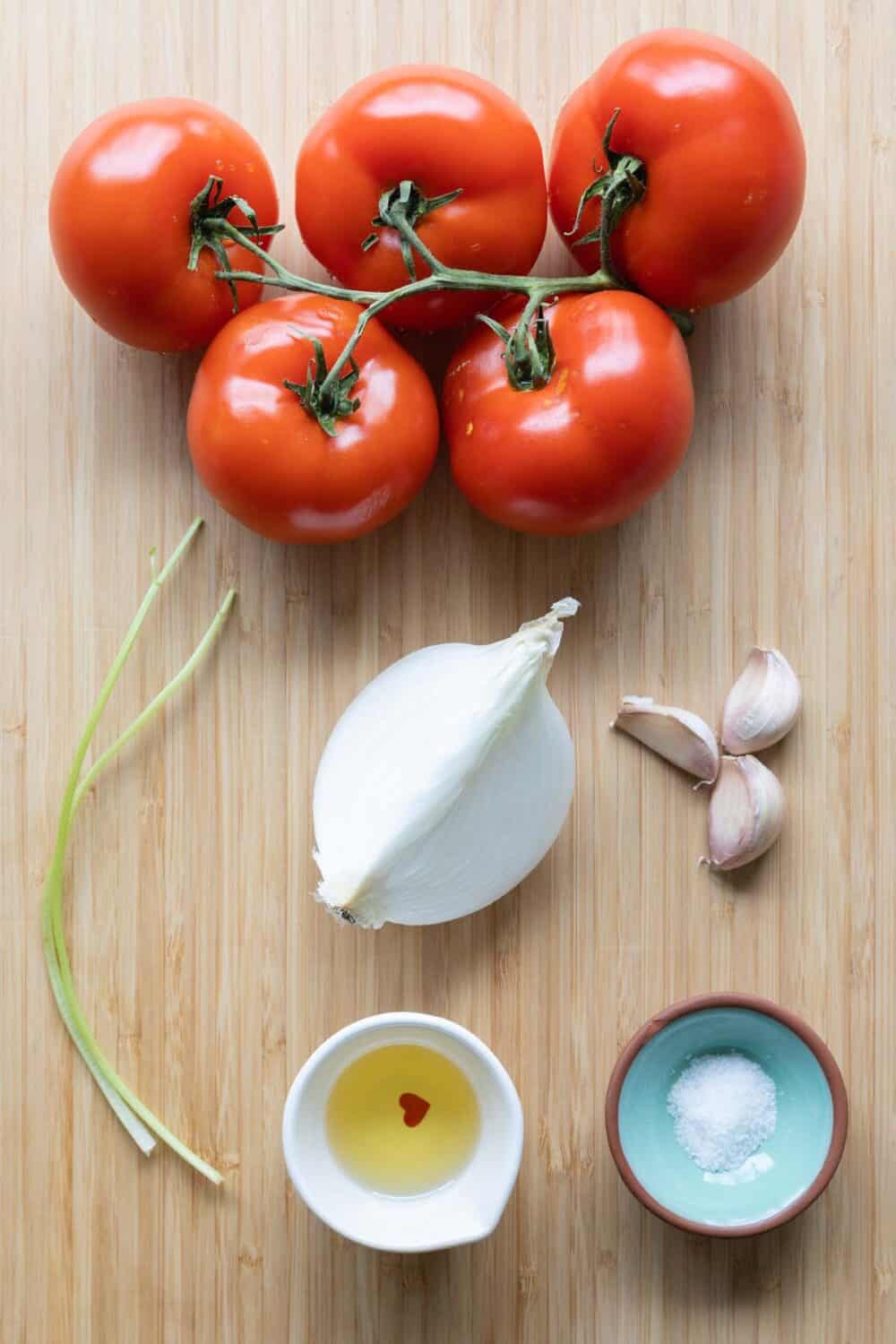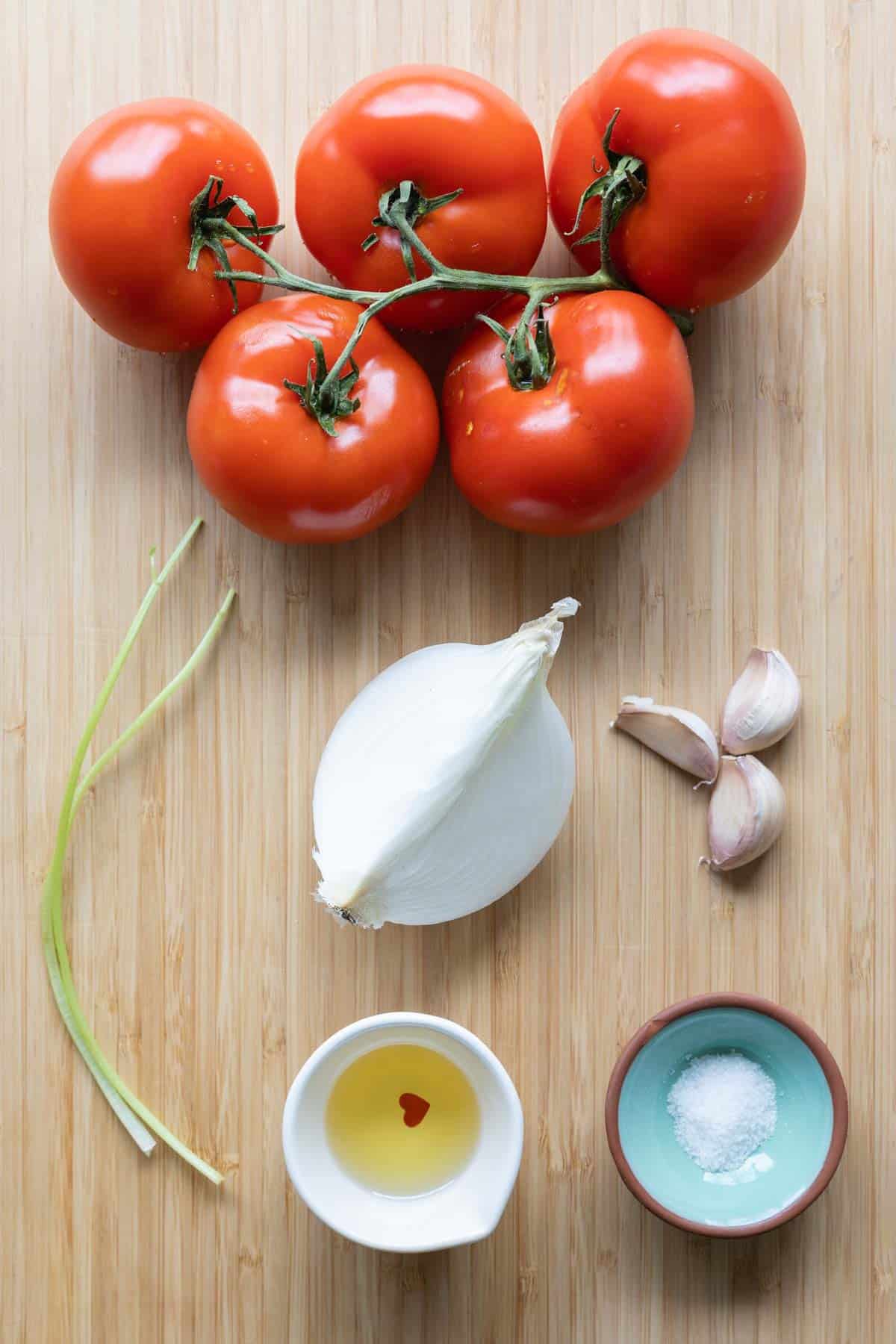 Tomatoes – typically Roma tomatoes are used in Mexico, but the most important thing is that they are very ripe. So choose whichever kind you can find that is the reddest and ripest.
Onion – white onion is the go-to onion for many Mexican recipes, but yellow onion could work well too since you will be roasting it.
Garlic – fresh garlic is another staple for making salsa, so don't skip it.
Cilantro Stems – using cilantro stems only is a little different from other salsa recipes, but the leaves need to be removed so they don't burn while roasting them. You still get the delicious cilantro flavor and you can use the leaves for garnishing your dishes.
Chili Peppers – Salsa isn't salsa without some heat obviously, and there are many options.

Fresh chilies

such as habanero, serrano or jalapeño, and

dried chilies

, including but not limited to chile ancho, chile morita, chipotle, or chile de arbol. They all have very different tastes. My personal favorite is chile morita.
Avocado Oil – any other flavorless oil works well too.
Sea Salt – to taste.
How to Make Salsa Roja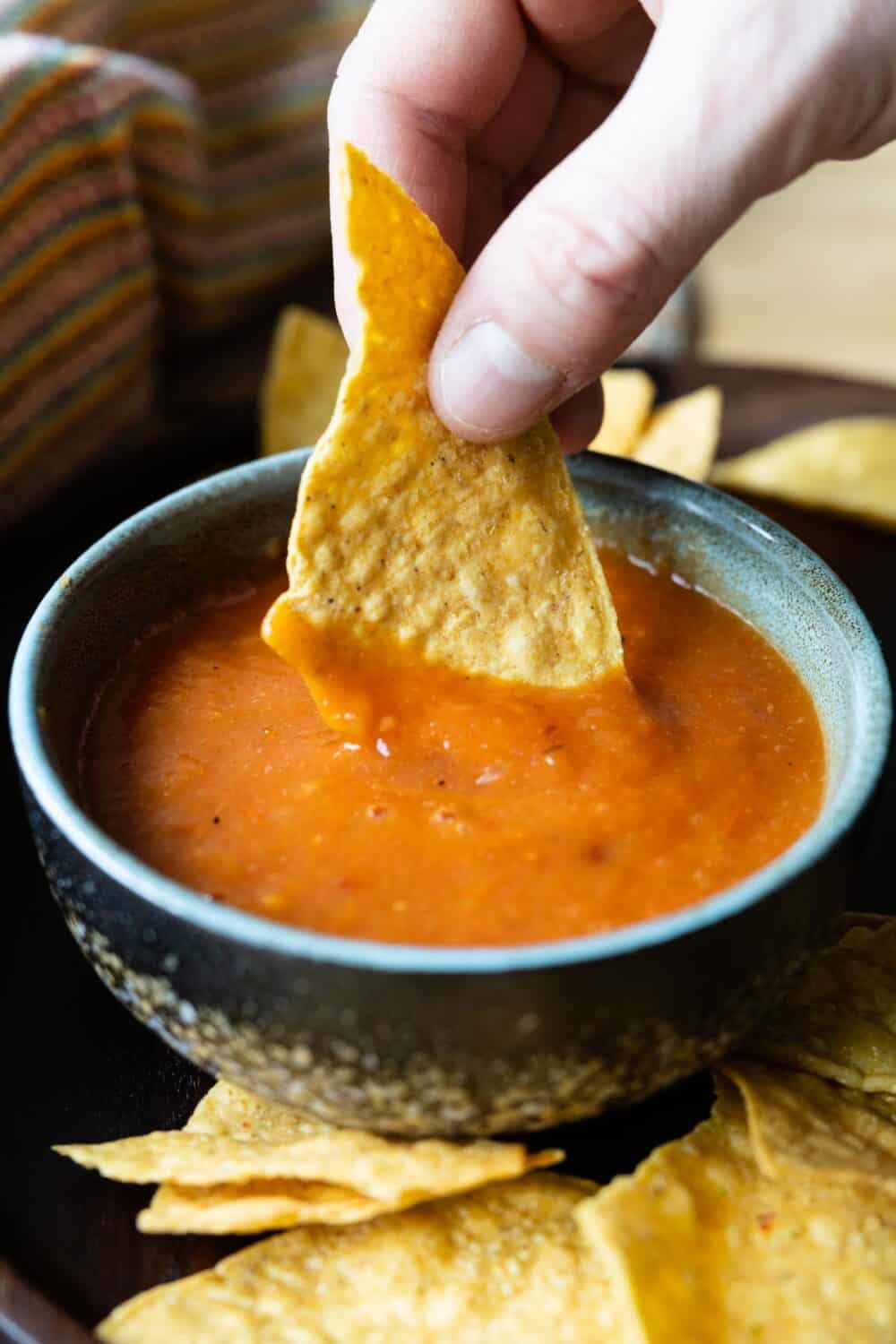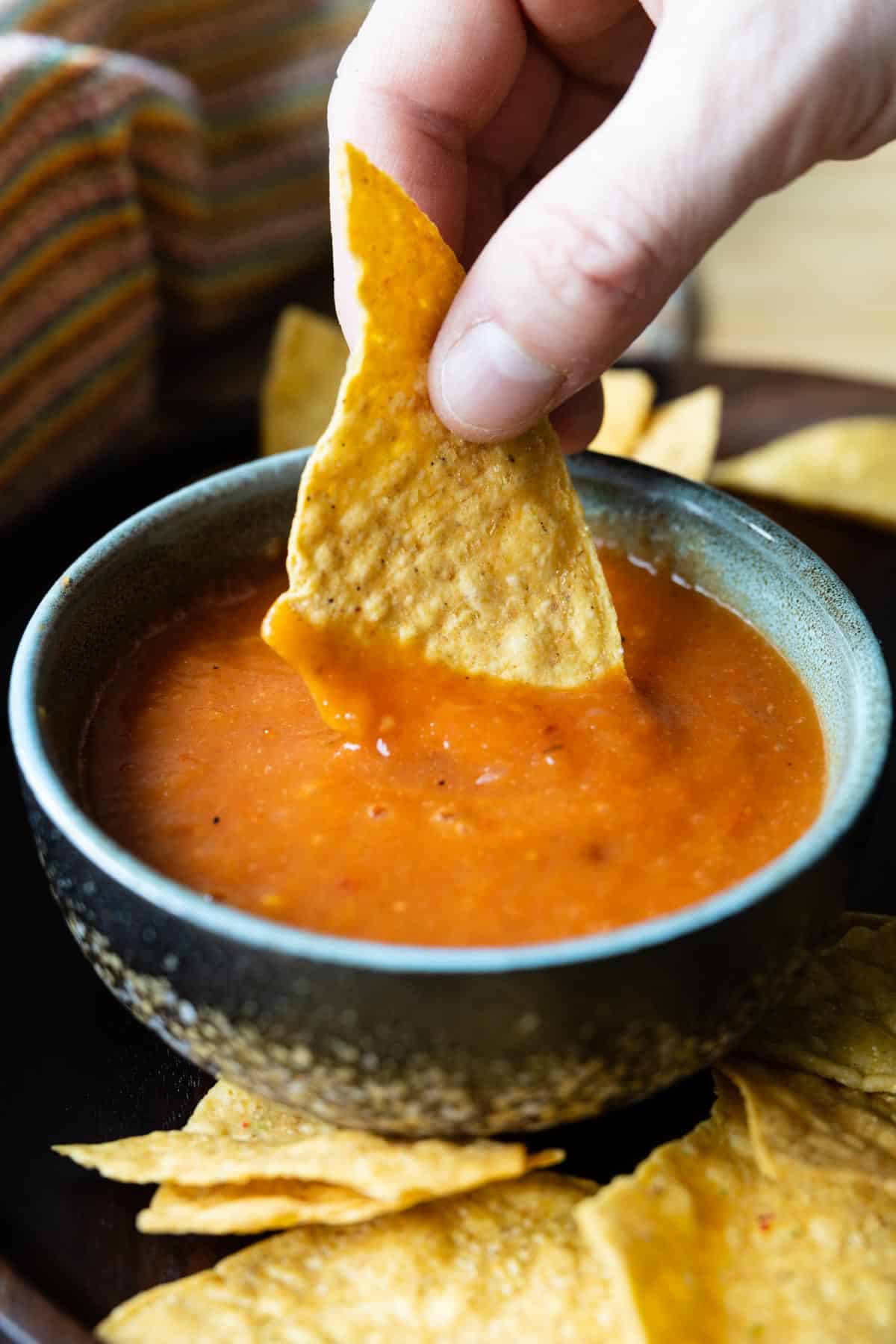 Get six large tomatoes, cut them in half and remove the green part.
Grab three garlic cloves and peel them.
Get one half of a small onion or 1/4 of a big one, peel it but keep the root intact.
Grab two cilantro sprigs and remove the leaves. Keep the stems only.
Prep your chilis – If you are using a fresh chili, cut off the stem and then cut it in half lengthwise. Remove the veins and seeds. I recommend using gloves if you are contact lens wearer.
If you are using a dried chili, preheat a small saucepan over medium heat, then add your chili and toast it in the dry pan for 2-3 minutes or until nice and fragrant. Then lift the pan off the heat and carefully add enough water to cover it. Cover the pan with a lid, reduce the heat to low and simmer the chili for 10-15 minutets.
Now, let's give this Mexican salsa roja a smoky taste. In order to achieve that you need to char the ingredients instead of boiling them. To do this, grab a large baking sheet and add the tomato halves, onion, garlic cloves, fresh chili (if you are using it) and the cilantro stems.
Add a few drops of oil to each piece and use your hands to cover all the ingredients with it. Take your time doing this. I do NOT recommend drizzling the oil over everything because too much will drop onto the baking sheet and create a lot of smoke in your oven.
Place the baking sheet under the oven broiler for 8-14 minutes. Keep an eye on it, every broiler is different.
Once the tomatoes are soft, and the garlic, chili and onion are charred, take the baking sheet out of the oven and let it cool a little.
Get your blender and add the tomatoes, onion, cilantro stems, and garlic. Also add the fresh charred chili or the simmered dried one, or BOTH! Add sea salt to taste and blend until smooth.
Serve it in a bowl so you can dip some tortilla chips in it. Or use it to make this delicious Huevo Ranchero!
How To Make Huevos Rancheros With Salsa Roja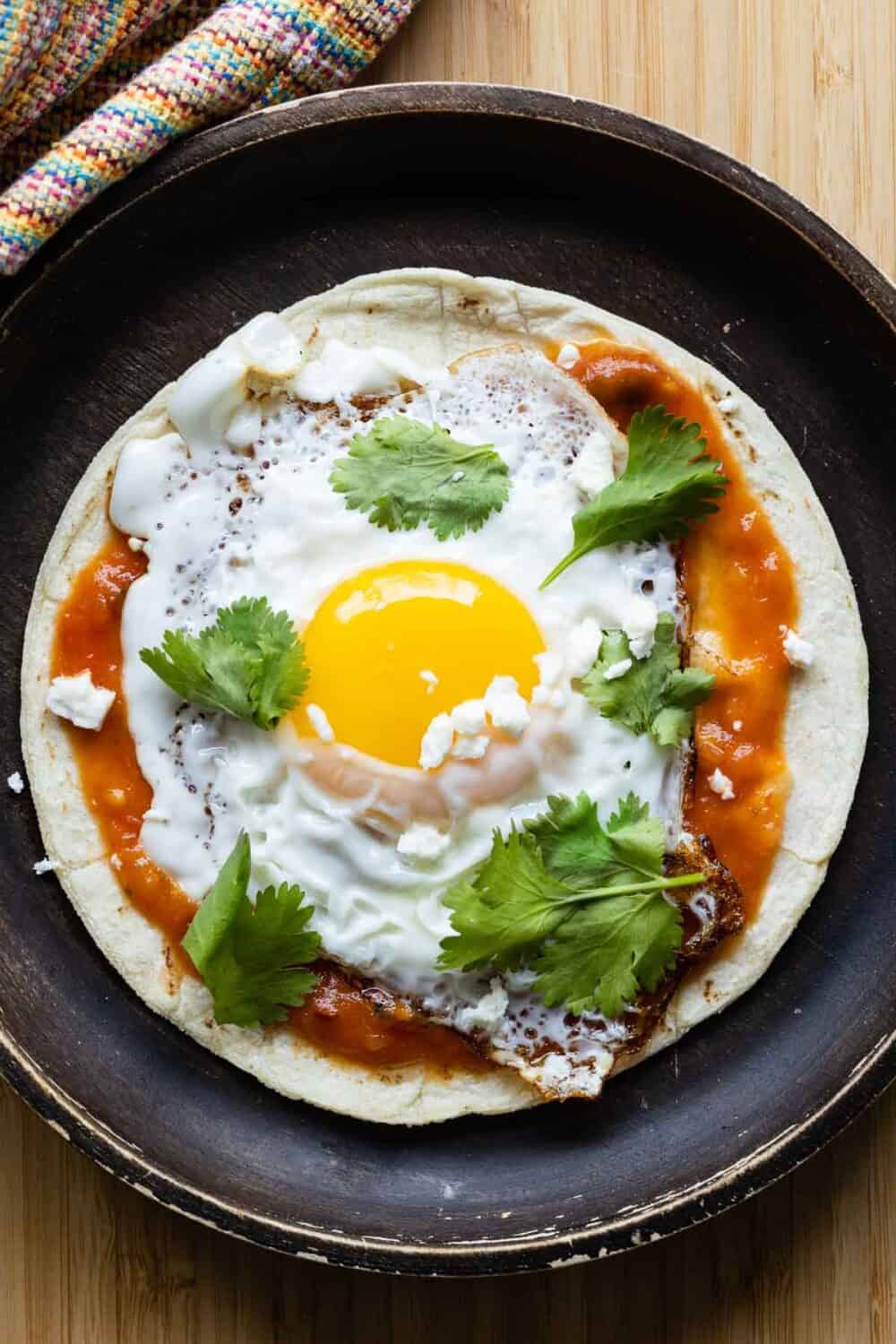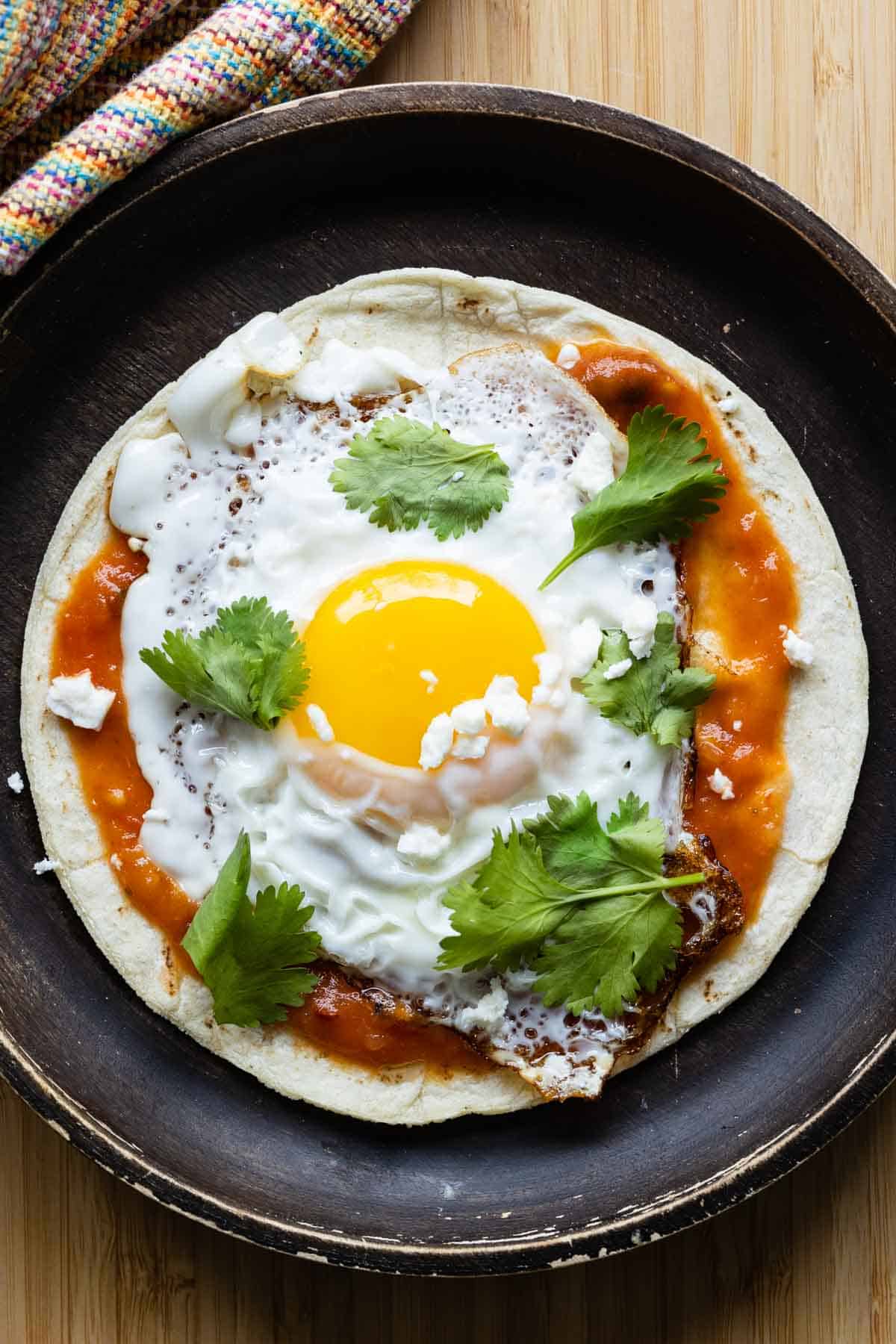 Heat a skillet over medium heat, heat a corn tortilla in the dry pan by flipping it a few times. Remove from pan and place on a plate.
Add a a drizzle of oil to the hot pan and crack an egg into it.
In the meantime, add some of the super delicious Salsa Roja you just made onto the warm tortilla.
Once the egg is cooked, place it on top of the tortilla with salsa, sprinkle some fresh cilantro and crumbled cheese (my favorite is cotija), and breakfast is ready!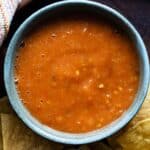 Salsa Roja (Homemade Mexican Salsa)
Making your own homemade Mexican Salsa, also known as Salsa Roja (Red Salsa) is SO easy, you won't eat store-bought salsa ever again!
Print Recipe
Pin Recipe
Ingredients
6

large

ripe tomatoes

3

cloves garlic

1/4

large white onion

2

cilantro stalks

1-4

chilies

-

fresh or dried (see notes)

sea salt
Instructions
Cut tomatoes in half and remove the green part and peel garlic cloves and peel the onion.

Destalk and deseed chilis if using fresh.

Add everything to a baking sheet and add a few drops of oil to everything using your hands to smother it all over. Make sure no oil drops on the baking sheet as it will burn and create a lot of smoke. Place under the broiler for 8-14 minutes or until lightly charred.

If using dried chili(s), preheat a saucepan over medium heat, then toast the chili(s) until fragrant and then carefully cover with water, reduce heat, cover, and simmer for 10 minutes.

Let ingredients cool down slightly and then add to a blender and blend until smooth.
Notes
Fresh chilis in order of heat: Jalapeño, Serrano, Habanero.
Dried chilis in order of heat: Ancho, Morita, Chipotle, Arbol.
Nutrition
Calories:
24
kcal
|
Carbohydrates:
5
g
|
Protein:
1
g
|
Fat:
1
g
|
Saturated Fat:
1
g
|
Polyunsaturated Fat:
1
g
|
Monounsaturated Fat:
1
g
|
Sodium:
6
mg
|
Potassium:
283
mg
|
Fiber:
1
g
|
Sugar:
3
g
|
Vitamin A:
980
IU
|
Vitamin C:
22
mg
|
Calcium:
14
mg
|
Iron:
1
mg
What's your clean eating vibe?
Take this fun QUIZZ and find out in 10 seconds!