These sliced Baked Apples are a simplified version of the German recipe for "Bratäpfel". Almonds, raisins, cinnamon, and homemade maple-sweetened vanilla custard make this an unbelievably delicious dessert. If you enjoy German apple desserts you may also love this German Apple Cake (Versunkener Apfelkuchen).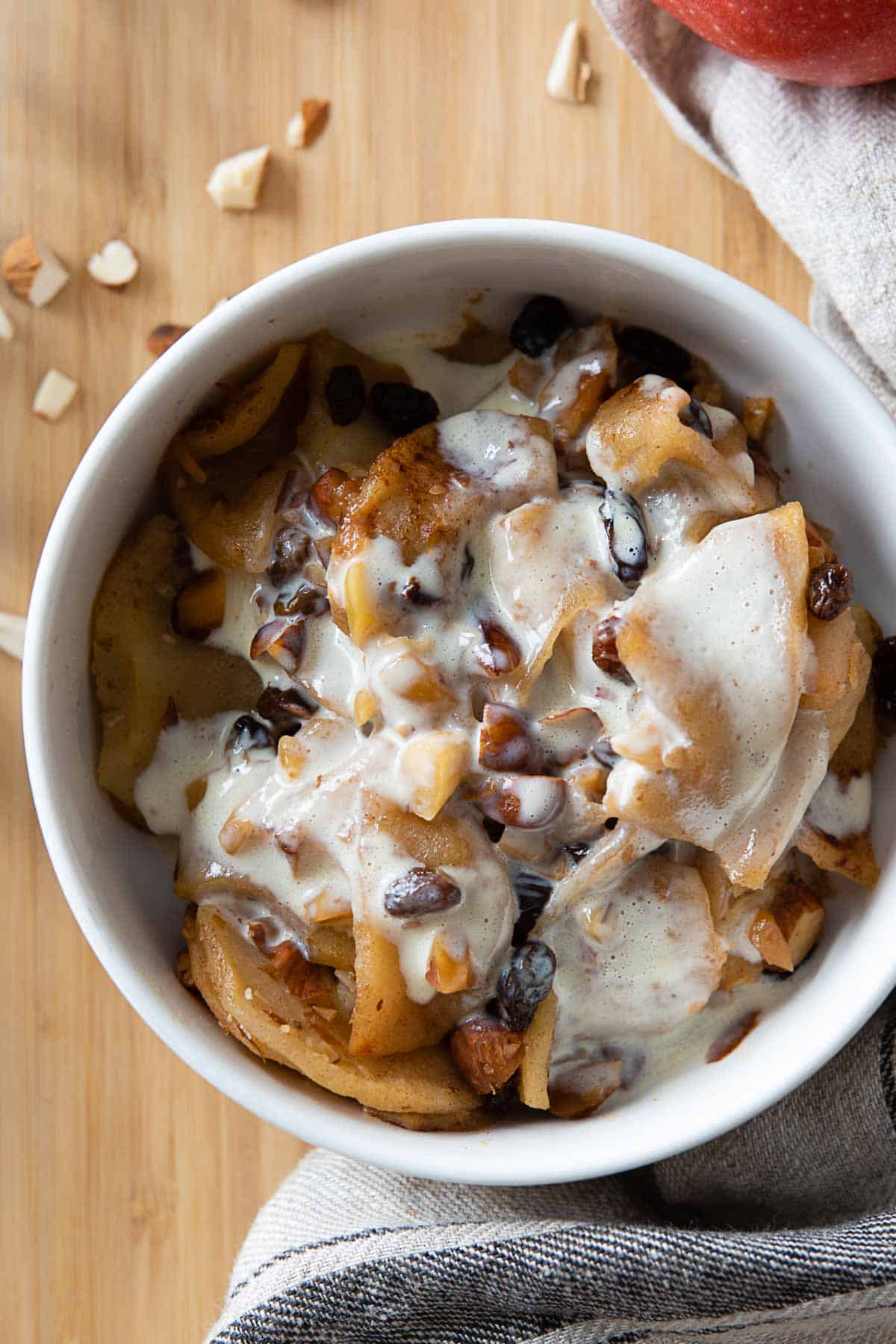 So, I don't know about you but whenever I've had baked apples before I would use a knife and fork and cut everything up and mix it with the stuffing before attempting to dive in. That's when it occurred to me that it's probably much smarter to just slice the apples ahead of time.
By slicing the fruit before baking you not only save time prepping them but also reduce the baking time. Making a raw whole apple hollow and scooping out the core isn't an easy job. If you peel, cut, core, and slice the apples everything gets easier and I dare say MORE delicious.
I am a huge fan of anything apple and chances are you are too if you're here scrolling through this post. So make sure you also check out my apple yeast bread and apple rose tart. You will love them!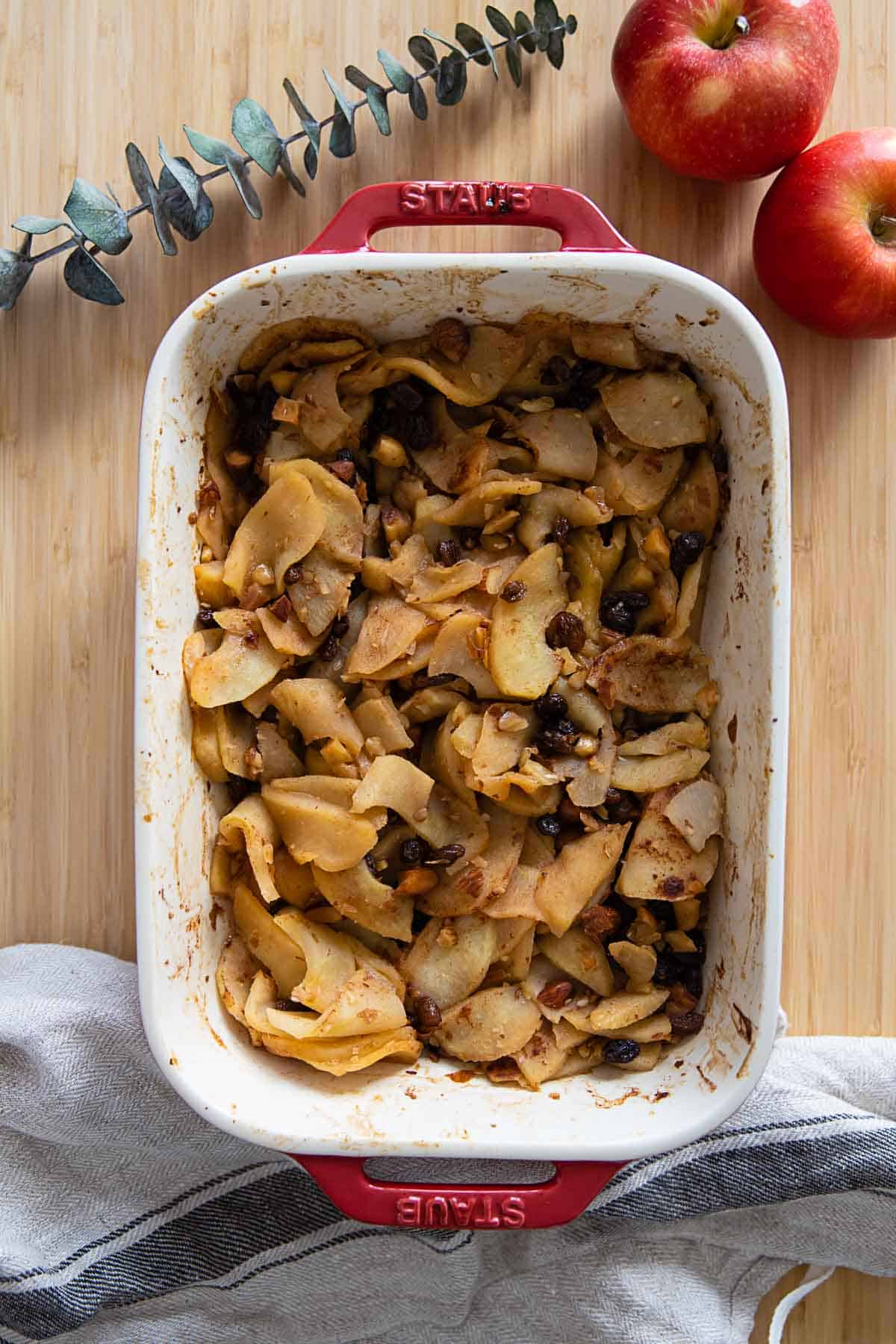 The Ingredients
Apples – use your favorite kind. You just have to make sure they are crisp, not mealy. I recommend peeling them because the skins stay pretty though even after baking.
Nuts – I love using almonds but literally ANY kind of nut works in this recipe. Pecan, Walnut, Hazelnut, Peanut…..
Dried Fruit – I find the combination of apples and raisins unbeatable but if you're not a raisin fan….still try it with raisins, lol, you might be surprised at the taste of baked raisins. If you are allergic to raisins use chopped up dried apricots or dates instead.
Spices – Cinnamon is obviously the clear favorite but you can get create here and add pumpkin spice or a mix of all the what I call "fall" or "Christmas" spices: cinnamon, all-spice, pumpkin spice, anise star, cardamom, clove, ginger. Just be careful with the strong ones. Cardamom and clove for example can totally enhance but also totally ruin a dish.
Sweetener – Adding a sweetener to the apples is totally optional. The sweeter the apples the less sweetener you will need of course, or maybe even none. I love using either maple syrup or maple flakes simply because I love the combination of apple/raisin and maple. Any other sugar works though. Coconut sugar, honey, stevia, brown sugar, white sugar. Use what you have in the cupboard.
Topping – I love making a simple vanilla custard to top off the sliced baked apples but if you are short on time or cooking/baking other things while the apples are baking you can also simply add a scoop of your favorite vanilla ice cream instead.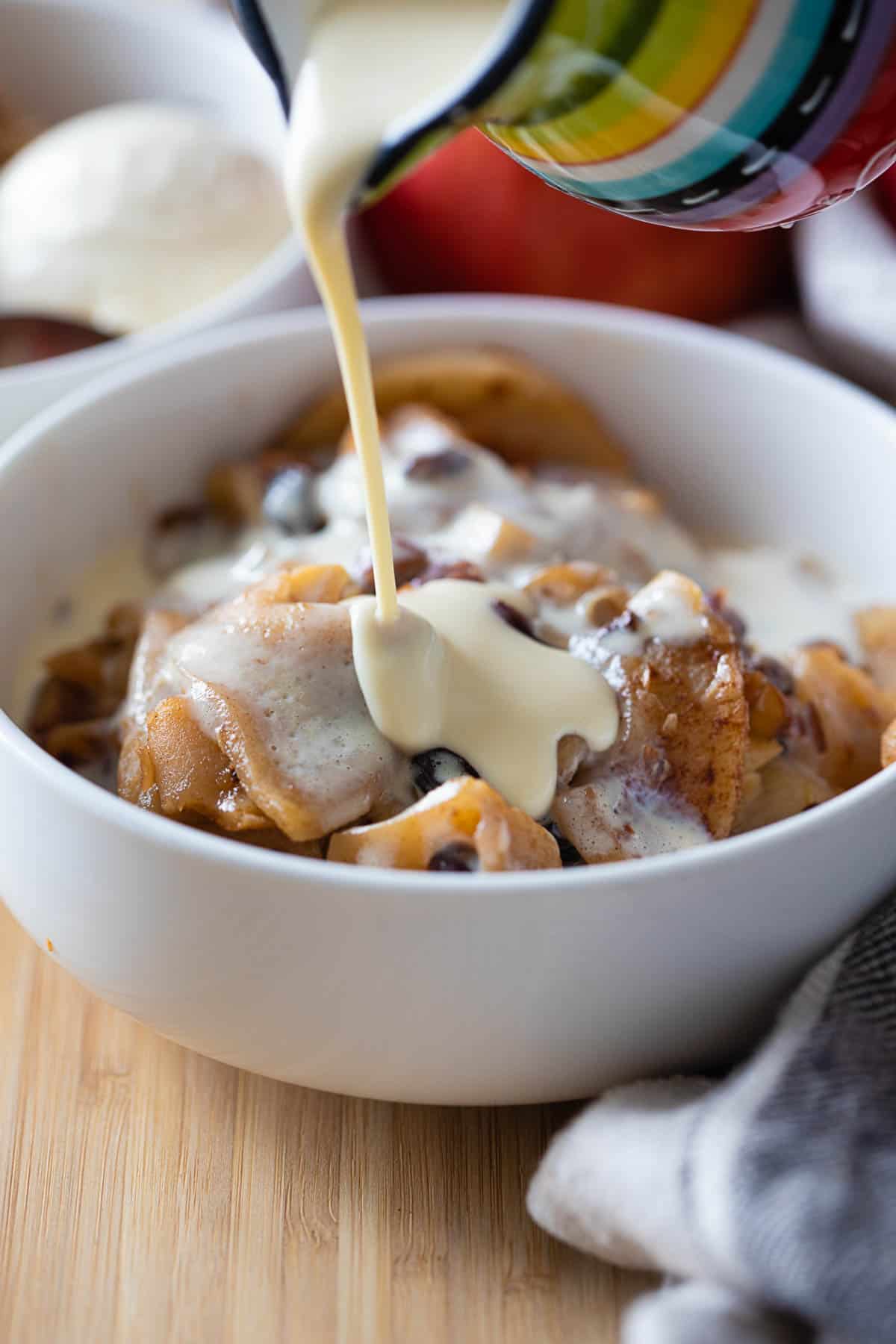 Vanilla Custard Special Instructions
The first time I made custard it curdled and I couldn't understand why when I was following the recipe to a T.
Turns out, egg yolks can't hold any liquid anymore once heated to more than 170F (77C). It annoyed me so so so much that the recipe developer hadn't made that note in the recipe.
So, even though it may sound like overkill to be measuring the custard's temperature all the time I definitely recommend it. If you get over those 170F and your custard curdles you have to start from scratch and that takes much longer than just paying attention in the first place.
Get a digital food thermometer (affiliate link), they are super cheap, and serve for meats and all kinds of things for forever in your kitchen.
Also, make sure your yolks are at room temperature when you whisk them with the maple sugar (or regular white sugar) and starch or else they will start cooking when you add the warm milk.
Yes! I insist on "tempering" the yolks by adding 4-6 Tbsp (one at a time) to them before adding the yolks into the saucepan to the rest of the warm milk. All these steps have a reason and not to annoy anybody. Promise. Making custard is basically a chemistry lesson and you have to follow all the steps so nothing explodes :P
The longer you cook the custard (on low never reaching more than 170F!!!) the thicker it will get. So depending on how runny or thick you want it to be you'll have to simmer 10-20 minutes.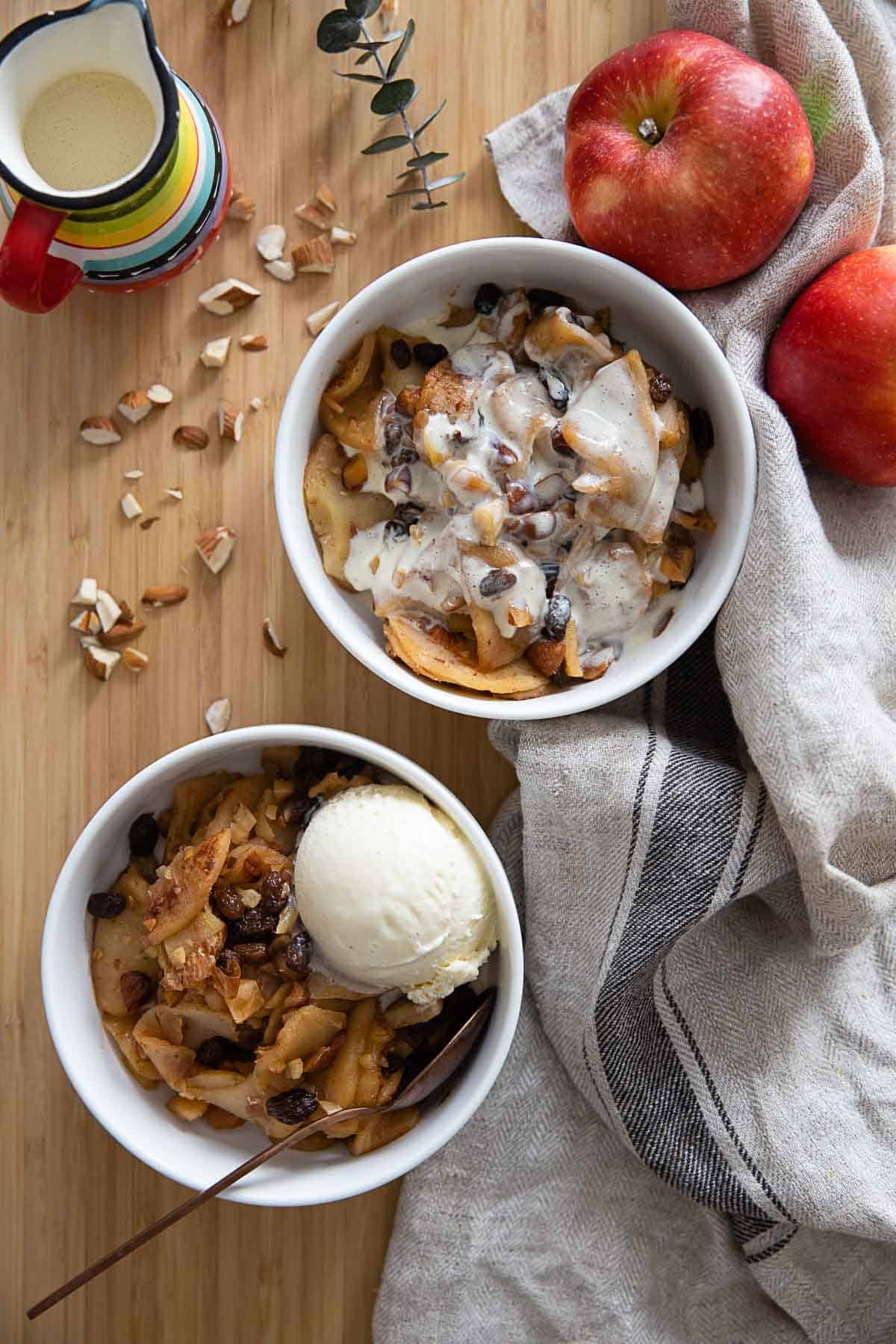 Frequently Asked Questions
Are Baked Apples Healthy?
Baked apples alone are most definitely healthy. The whole dessert's nutritional composition obviously depends on the recipe. My recipe is not as healthy as eating a raw apple but definitely checks all the boxes for my definition of "healthy but indulging dessert".
Everything is sweetened only with maple syrup and raisins and the amount of starch used is very minimal.
How Can you Keep Sliced Apples From Turning Brown?
The #1 thing that makes apples oxidize is oxygen. So if you want to keep them beautifully white before baking it's best to keep oxygen away and the best way to do that is to slice them into a bowl of water. So, work with one apple at a time and then put the slices in water immediately.
Another option is to drizzle lemon juice over every piece. This makes the apples quite sour though and then later you'll require a lot of sweetener to counteract the sourness.
In my opinion, it's not really a big deal if the apple slices brown a bit. You will add them to the oven and bake them and they will turn caramel color anyway. Nobody will be able to tell they were a bit brown before baking. I just drizzle a tiny bit of lemon juice into the full batch of sliced apples. That's it.
Which apples are best for baking?
Any apple that isn't too mealy. So basically almost every fresh apple is fine. I like using sweet apples so I can keep the amount of added sweeteners to a minimum. Think Jonagold, Honeycrisp, Pink Lady, Gala, Braeburn, Macintosh.
The mealier the apple the greater the chance your apples won't stay sliced but rather become mush. The more sour the apple (green apple for example) the more sweetener you will need.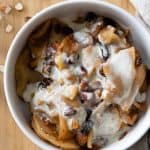 Easy Sliced Baked Apples
These sliced Baked Apples are a simplified version of the German recipe for "Bratäpfel". Almonds, raisins, cinnamon, and homemade maple-sweetened vanilla custard make this an unbelievably delicious dessert.
Print Recipe
Pin Recipe
Ingredients
1/2

cup

raw almonds

4-6

apples

1

lemon

2

Tbsp

melted butter

1/2

cup

raisins

1/4

cup

maple flakes

1.5

cups

milk

-

dairy or plant milk

3

egg yolks

-

at room temperature!

1

tsp

vanilla extract

1

Tbsp

corn starch

2

Tbsp

maple sugar
Instructions
Preheat oven to 400 F (200°C).

Coarsely chop almonds and set aside.

Peel, half, core, and thinly slice apples. Make sure the slices are no thicker than 1/8" but still tick enough to hold their shape.

Add apple slices to a baking dish and drizzle lemon juice and melted butter over them. Top with chopped almonds, raisins, and maple flakes and stir to combine.

Season generously with cinnamon, cover the baking dish tightly with tin foil and place in the oven for 40 minutes.

(Completely omit this step if you're serving the baked apples with vanilla ice cream)

In the meantime, prepare the custard by heating the milk over low heat until it's about 150F hot, then remove from the heat.

Whisk egg yolks, vanilla, corn starch, and maple sugar in a bowl until smooth, then temper the eggs by adding 1 tablespoon of warm milk at a time to them whisking in between until you added about 4-6 tablespoons.

Add the tempered egg yolks to the saucepan with the remaining milk and put back on the stove and cook on low while constantly stirring until you reach your desired thickness. Measure the temperature often to ensure you never heat the custard to more than 170F or it will curdle.

Serve the freshly baked apples in a bowl and drizzle vanilla custard over them or serve with a scoop of vanilla ice cream.
Nutrition
Calories:
488
kcal
|
Carbohydrates:
73
g
|
Protein:
10
g
|
Fat:
20
g
|
Saturated Fat:
7
g
|
Cholesterol:
169
mg
|
Sodium:
109
mg
|
Potassium:
712
mg
|
Fiber:
9
g
|
Sugar:
43
g
|
Vitamin A:
558
IU
|
Vitamin C:
24
mg
|
Calcium:
222
mg
|
Iron:
2
mg
What's your clean eating vibe?
Take this fun QUIZZ and find out in 10 seconds!