The most delicious, naturally-sweetened healthy Oatmeal Breakfast Cookies for an easy grab-and-go breakfast option. Oats, cranberries, pecans, and sweet potato in cookie form are the best start into the day!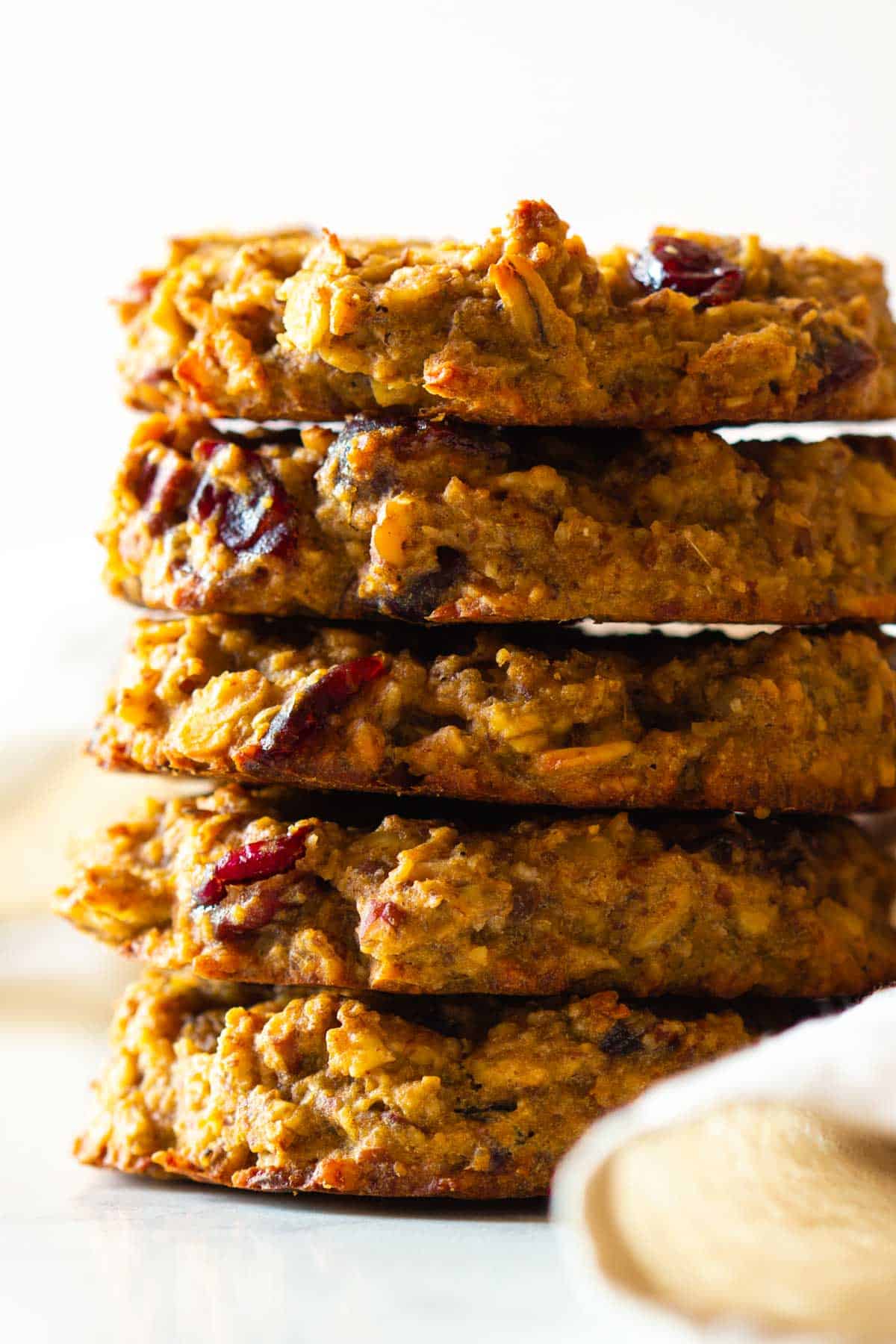 Green Healthy Cooking is famous for its oat recipes! How could it not be? Oats are the most delicious thing in the world! Have you ever tried Overnight Oats? What about Instant Pot Steel-Cut Oats? Or Banana Oat Pancakes……?
Oats are such incredible ingredient and the recipe possibilities with them are simply endless. It was about time I worked on a healthy Oatmeal Breakfast Cookie recipe!
How To Make Sweet Potato Puree
The easiest and fastest way to make sweet potato puree is to cook the sweet potato in the Instant Pot. I like keeping the sweet potato whole so it doesn't absorb water and says more flavorful and sweet. Most medium-sized sweet potatoes cook in about 45 minutes on high pressure.
If you are short on time, cut the sweet potato into about 1″ thick rounds and place on the trivet or the steaming basket inside the Instant Pot and pressure cook on high for only 15 minutes.
If you don't have an instant pot, boil the sweet potato in a rolling boil until fork tender or cut in half lengthwise and place in the 400F hot oven for approximately 30-40 minutes or until fork-tender.
Special Tips To Make This Recipe
Use your blender to make oat flour instead of buying oat flour. It's much much cheaper and takes only 20 seconds. Add old-fashioned rolled oats to your blender, then pulse a couple of times.
Use parchment paper on your baking sheet to ensure the cookies don't stick to the baking sheet.
Use a 1/4 cup measuring cup measure out the dough and flatten the cookies so they are similar in size and thickness and bake evenly.
Add very little natural sweetener to keep them healthy. The dried fruit and sweet potato already offer a lot of sweetness.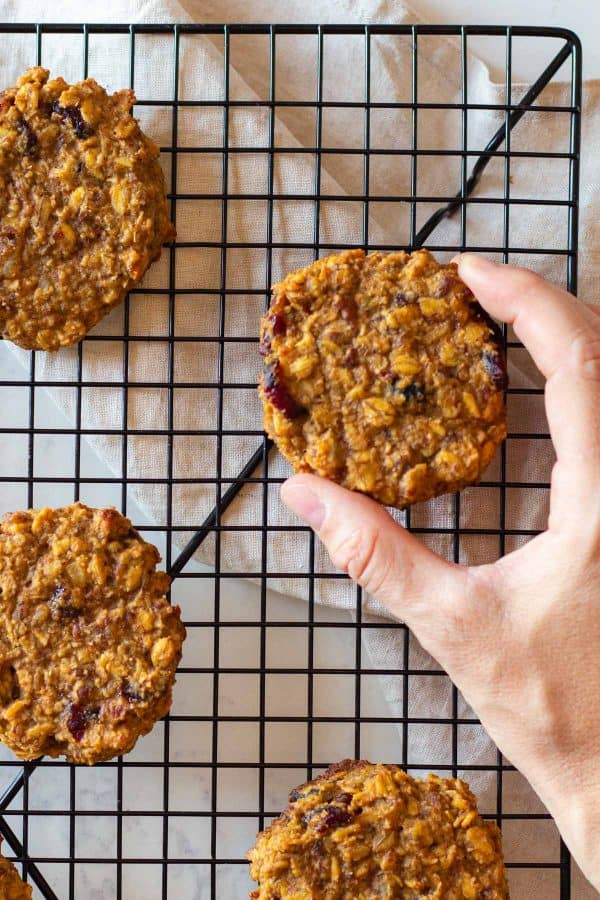 Frequently Asked Questions
Can I freeze breakfast cookies?
Yes, they are perfect for freezing. They last for at least 4 days in the refrigerator, too. To defrost simply transfer the cookies from the freezer to the fridge the night before, or place them under the broiler for 3-4 minutes.
What Ingredients can I substitute?
You can easily substitute all the add-ins but not the base ingredients. The best substitutions are:
Cranberries = raisins, chopped dates, chopped dried apricots, chocolate chips
Pecans = any other nut or seeds
Ground flaxseed = ground chia seeds
Maple syrup = honey or agave nectar
Sweet potato puree = mashed pumpkin puree or apple sauce or pear sauce
What Ingredients Can't I substitute?
The base recipe is old-fashioned rolled oats, oat flour, eggs, and coconut oil and I do not recommend replacing them with anything else.
While the coconut oil can sometimes be replaced by butter in certain recipes because it reacts the same way (soft when hot and hard when cold) I do recommend it in this recipe.
I also do not recommend using any type of egg replacement in this recipe.
How Should I Store These Cookies?
The best way to store Oatmeal Breakfast Cookies is in an airtight container. Up to 48 hours they can be stored in a cool dark place at room temperature. If planning on storing for longer I recommend keeping them in the refrigerator. If planning on keeping for longer than 4 days I recommend freezing them.
Can I Mix All Ingredients In One Bowl Instead Of Separate?
I do not recommend mixing all ingredients in the same bowl. Mix the dry ingredients in one bowl and the wet ingredients in a separate bowl. Then combine wet and dry ingredients. This is so the eggs get whisked well and incorporate properly, else you risk ending up with one very eggy cookie and another that is very dry.
These Oatmeal Breakfast Cookies are inspired by my friend Regina's Pumpkin Breakfast Cookies. Nothing but raving reviews for her cookies and from me as well. They are absolutely delicious!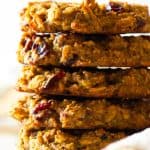 Oatmeal Breakfast Cookies
The most delicious, naturally-sweetened healthy Oatmeal Breakfast Cookies for an easy grab-and-go breakfast option.
Print Recipe
Pin Recipe
Ingredients
2/3

cup

sweet potato puree

-

instructions on how to make it in the blog post

1/4

cup

coconut oil

-

liquid but not hot

1/4

cup

maple syrup

2

eggs

1

cup

old-fashioned rolled oats

3/4

cup

old-fashioned rolled oats made into oat flour

1/2

cup

dried cranberries

1/2

cup

chopped pecans

1/4

cup

ground flaxseed

1/2

tsp

cardamom

1/4

tsp

sea salt
Instructions
Preheat the oven to 350F.

Add eggs to a bowl and whisk well, then add coconut oil and maple syrup, and lastly completely cooled down sweet potato puree and whisk until well combined.

Add the oat flour, the whole oats, ground flaxseed, chopped pecans, cardamom, sea salt, and dried cranberries to a large bowl. You can mix them or not.

Add the wet ingredients to the dry ingredients and use a spatula to combine them. Take your time for this step as the oat flour will absorb the liquid slowly and the dough will become thicker over time.

To form uniform-sized cookies use a 1/4 cup measuring spoon to measure the amount of dough for each cookie. If you clean out the measuring cup each time before forming a new cookie it's easier to get the dough out in one movement. Use the back of the measuring cup to press the dough to about 1/2" thickness.

Bake the cookies for 18-22 minutes or until golden. Then leave on the baking sheet for a couple of minutes until you can touch them and transfer to a cooling rack.
Nutrition
Calories:
230
kcal
|
Carbohydrates:
26
g
|
Protein:
5
g
|
Fat:
13
g
|
Saturated Fat:
6
g
|
Cholesterol:
33
mg
|
Sodium:
80
mg
|
Potassium:
225
mg
|
Fiber:
4
g
|
Sugar:
10
g
|
Vitamin A:
3635
IU
|
Vitamin C:
4
mg
|
Calcium:
42
mg
|
Iron:
1
mg
What's your clean eating vibe?
Take this fun QUIZZ and find out in 10 seconds!