I told you these upcoming days until Christmas were all going to be all about extraordinarily delicious breakfasts!! Breakfasts rule the days around Christmas and New Years!! Apart from the Mexican Breakfast Chilaquiles con Camarones you have to, HAVE to make this Banana Bread with Maple Candied Walnuts. You just HAVE to. Believe me. It is absolutely delicious and on Christmas Day itself (only 4 more days *shreek*) I will share with you a nice tweak to this recipe and how to create yet another great breakfast with it. Prepare one banana bread to snack on these days and another one to store in the fridge and ready to prepare an award-winning breakfast with it in like 5 minutes on Christmas morning!!! Watch out for that recipe on Friday suuuuper early morning, you weren't planning on sleeping in on the 25th, were you? …..SANTA WILL HAVE LEFT YOUR PRESENT UNDER THE TREE ;)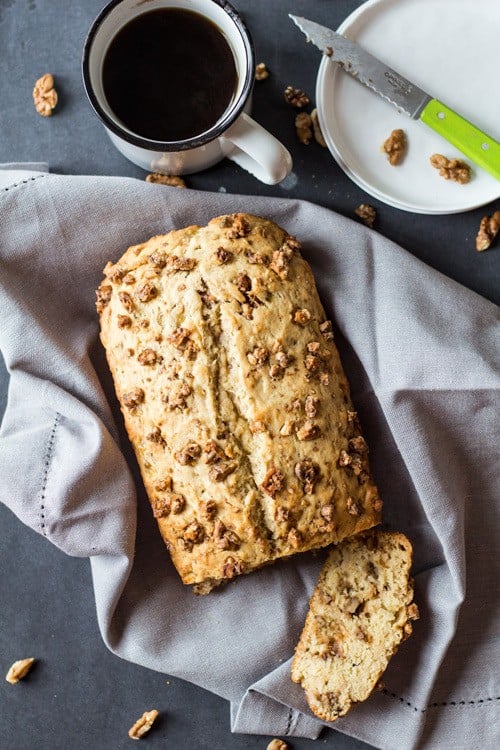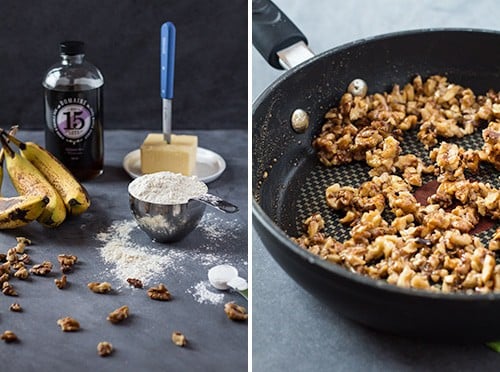 For now let's focus on the Banana Bread with Maple Candied Walnuts itself. Notice how I can't leave out the last part of its full name? Banana bread sounds kind of boring and lame, it's the maple candied walnuts that make this banana bread 5-star-restaurant-breakfast-bar-worthy. They are prepared in a couple of minutes and make ALL the difference.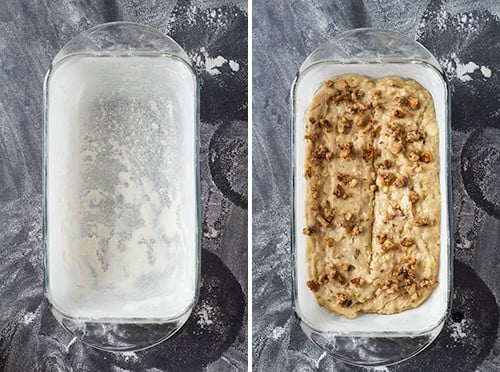 The easiest way to make a loaf pan unsticky is by taking a piece of butter and grease all sides and bottom of the pan with it and then add a tablespoon or two of flour to the middle and then move around the pan and pound the loaf on the sides to move around the flour to every corner, and sides. The best way to do this is is over the sink to have excess flour fall in the sink instead of your floor. The bread will slide right out of the pan once it's baked. I recommend to wait at least 10 minutes though to avoid serious burning accidents while doing so.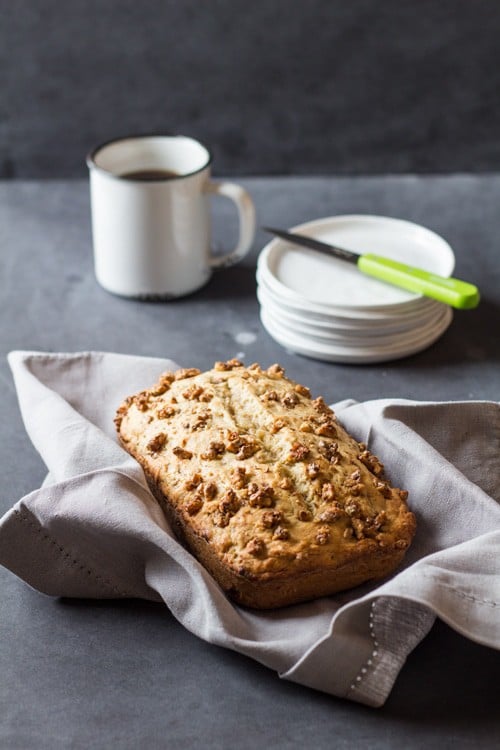 I'm all ready for Christmas. Like my son keeps saying: "I can't wait any longer until it's Christmas!" The menu is planned and shopped for, the presents are all wrapped and under the tree, I already know and practiced How to Set a Beautiful Christmas Table, watch out for the pictures and tutorial on Wednesday (!!!), aaaaand I will have a Banana Bread with Maple Candied Walnuts in the fridge for Christmas Morning's Breakfast :D
Are you ready yet??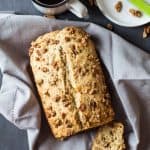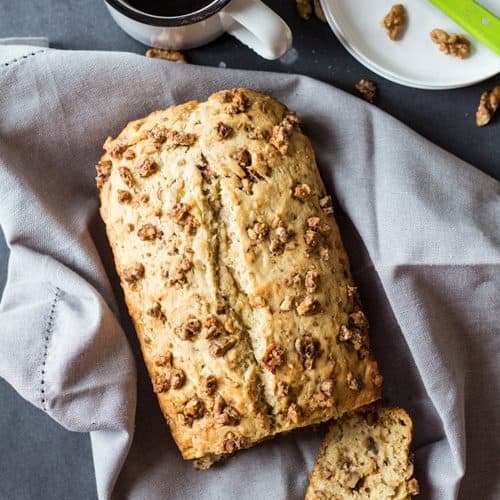 Banana Bread With Maple Candied Walnuts
Print Recipe
Ingredients
2

cups

all-purpose unbleached white flour

2

tsp

baking powder

3

brown spotted small bananas

-

(12 oz / 350 g)

1

egg

1/2

cup

butter

1/2

cup

high quality maple syrup

1/2

cup

walnuts

2

Tbsp

high quality maple syrup
Instructions
Preheat oven to 350 F (180 ℃).

Heat a small pan over medium heat.

Coarsely chop walnuts.

Once pan is hot, add chopped walnuts and 2 Tbsp maple syrup, mix well and keep stirring every once in a while. Toast walnuts for a couple of minutes. Remove from heat and let cool while you prepare the rest of the bread.

In a small heavy bottomed pot or pan melt butter over very low heat.

In one bowl mix flour and baking powder with a whisk until well combined.

In another bowl, mash the bananas with a fork until smooth.

Once butter is almost completely melted, remove from heat and whisk until last bits are melted. Add maple syrup and whisk until very well combined.

Add egg and maple/butter mix to mashed bananas and mix well.

Add wet ingredients to dry ingredients and gently mix together. Do NOT overmix batter. When you still have flour bits here and there gently incorporate 3/4 of the candied walnuts crumbled into bits.

Butter and flour an oven-proof loaf pan, add batter, sprinkle last 1/4 of candied walnuts on top and with a very sharp knife make a long slit along the top.

Bake for 45-55 minutes until golden on top. If you insert a wooden pick it should come out clean.

Let cool down for about 10 minutes before removing from loaf pan.

Then let cool on a rack for as long as you can handle looking at it without taking a bite ;P
What's your clean eating vibe?
Take this fun QUIZZ and find out in 10 seconds!