A healthy and typically Mexican breakfast: Huevos Divorciados (divorced eggs) made with a homemade salsa verde and salsa roja (green sauce and red sauce).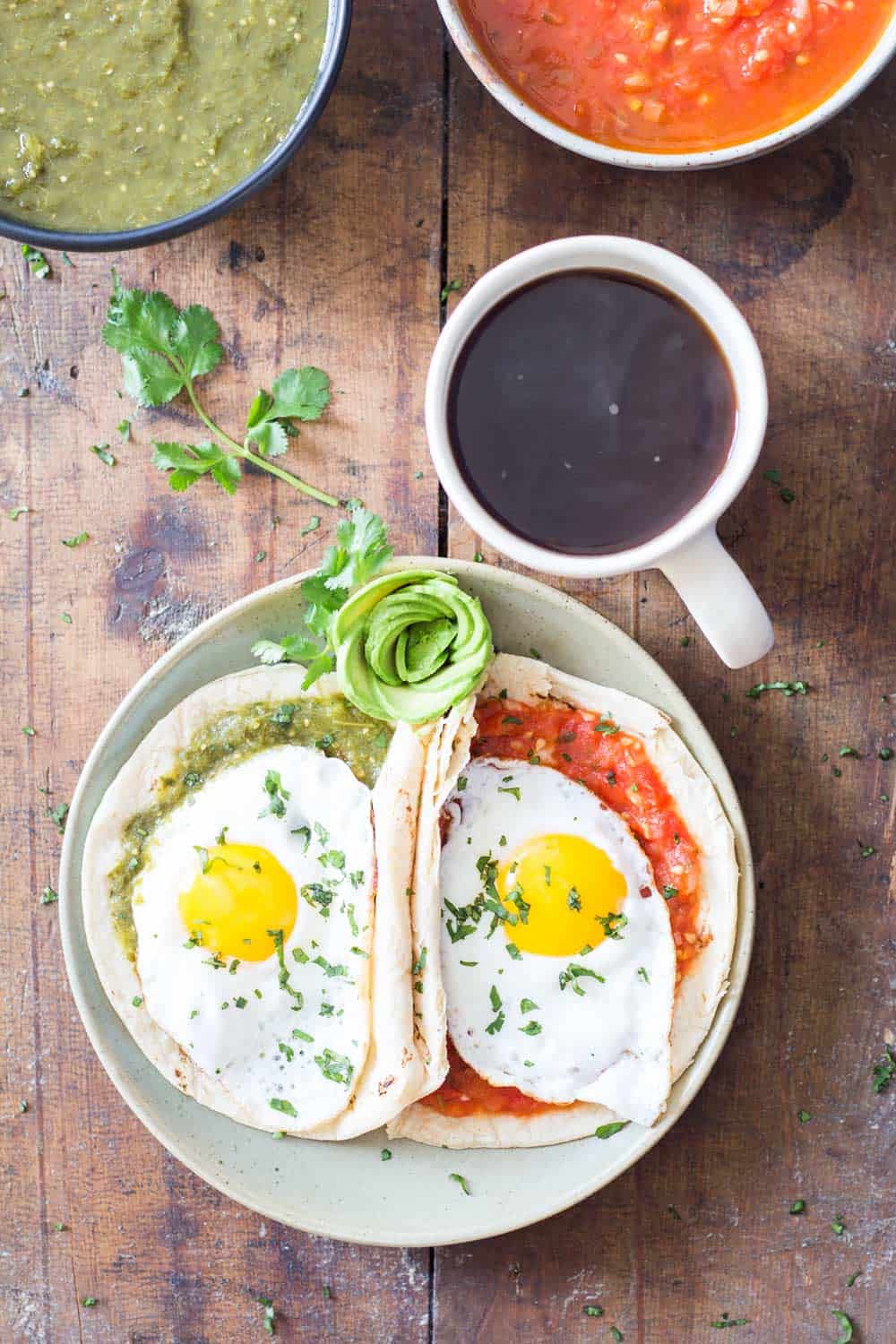 Ok, so now that I've started this series of "nostalgia" dishes we might as well continue with another super typically Mexican breakfast that (in my opinion) has the funniest name ever: Huevos Divorciados! Which means "divorced eggs" Hehe.
There are three kinds of Mexicans I'd say, the ones that love red salsas and the ones that love green salsas and then there is the rare Mexicano that loves both and orders huevos divorciados because red salsa and green salsa are not a happy couple and have to be served on separate tortillas but on the same plate because at some point there was love and they were married, how else could they be divorced :P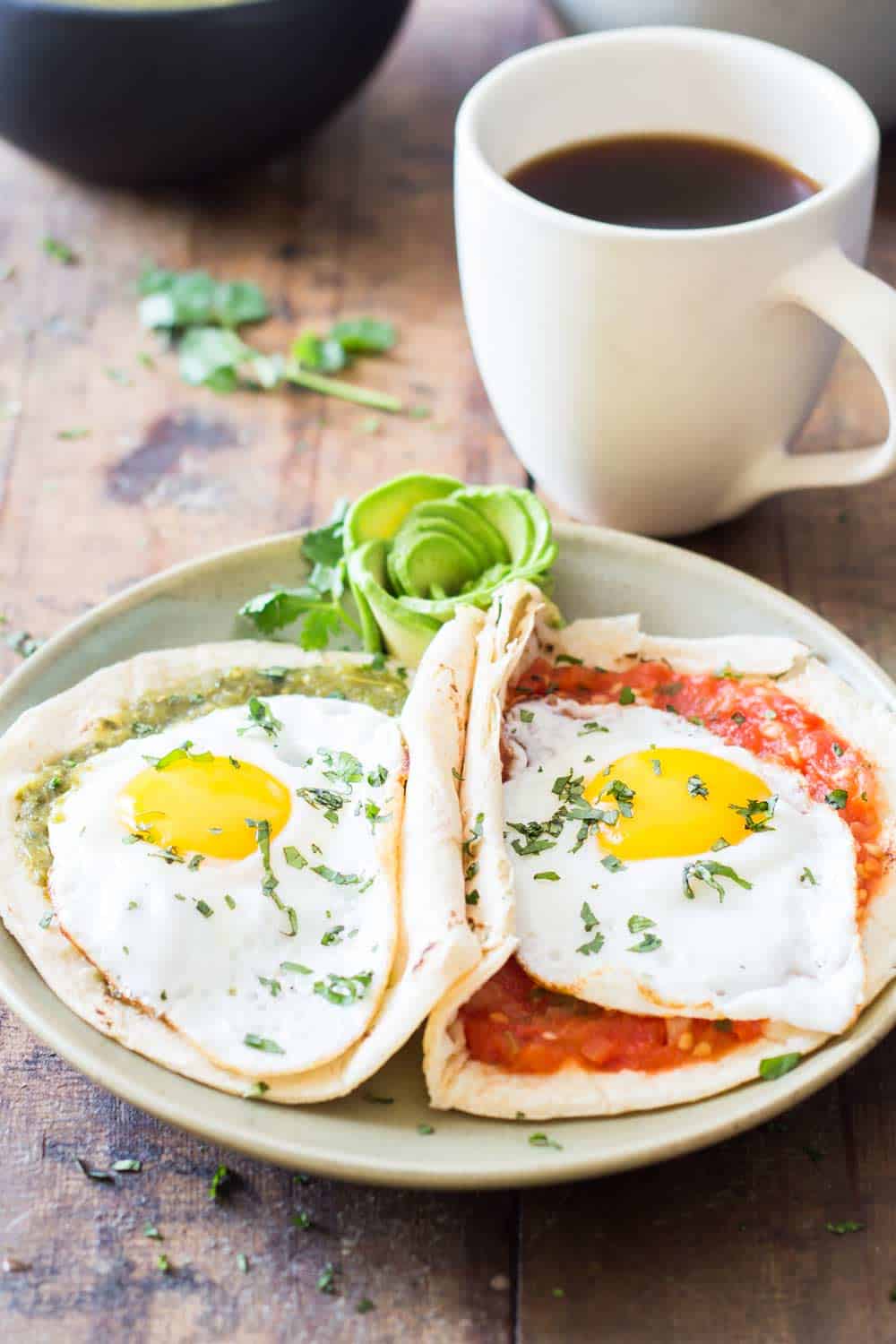 How come I post so little typically German recipes you ask? Well, although I was born and raised in Germany and I consider myself to be probably 75% German when it comes to personality, I never ate a typically German diet when living there. My mother is Peruvian, an extraordinary cook, and just like me incapable of eating the same things over and over again, so as a kid I ate a wide variety of dishes from all over the world and that is exactly what I'm cooking here, too. Foods from all over the globe because they make me feel "home". The culinary world is my only consistent "home" ever since I moved away. How is that for nostalgia therapy? Great, eh?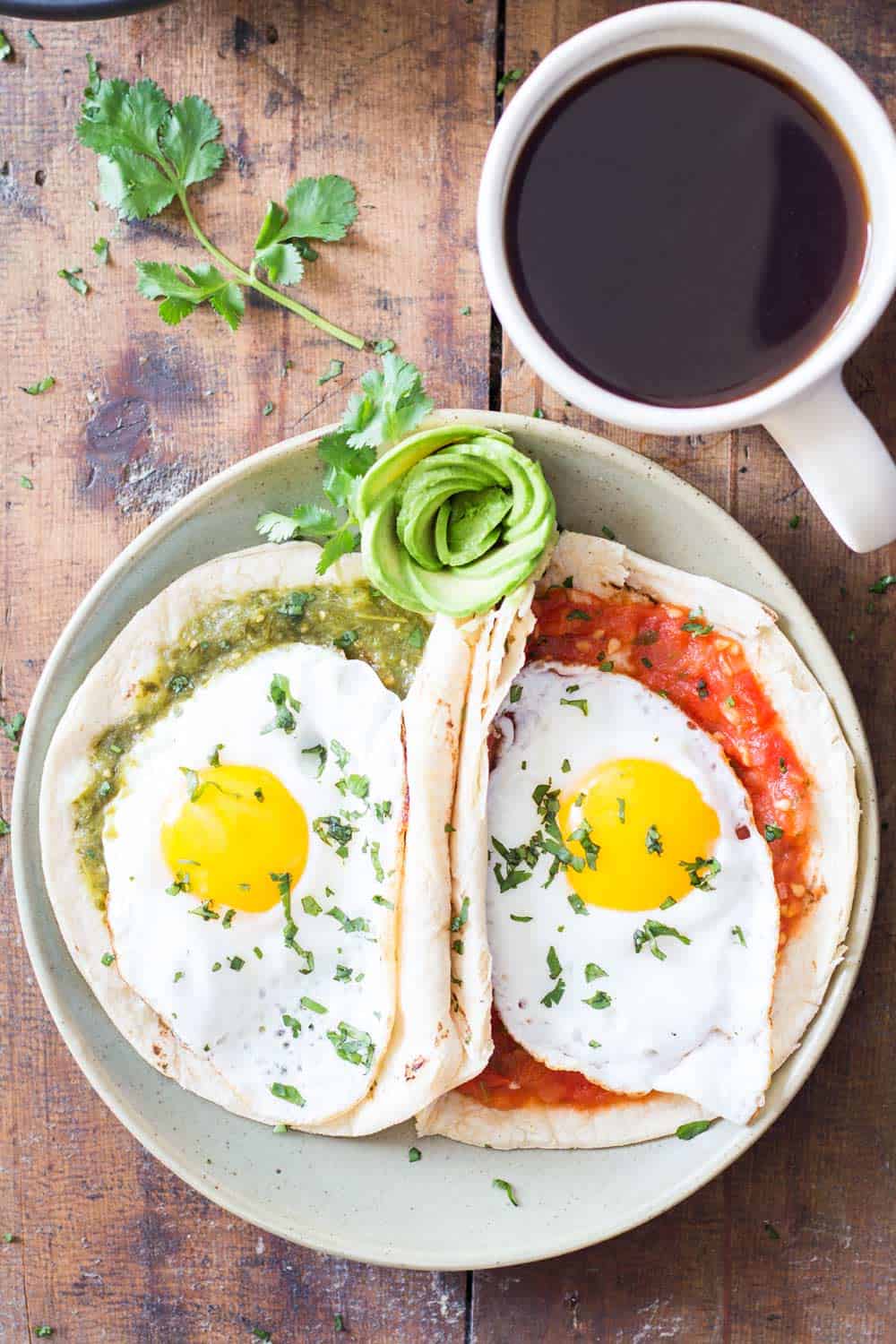 I've got to admit that probably the thing I love the most about Montreal is that I can get pretty much ANY ingredient I need for any kind of dish that comes into my mind. There is always a shop or market that carries ripe avocados, there are several Latin American shops where I can get tomatillos, Peruvian ají and rocoto, all sorts of Mexican chillies, piloncillo/panela….Asian stores where you can get lemongrass and galangal or cilantro with its roots still attached etc. etc. etc. I love the food culture here. Montrealers are not only open to foreign cuisine but rather LOVE foreign and exotic restaurants, and shops and markets do an extraordinary job to carry all sorts of produce and products from all over the world. I always feel kind of sorry for the people working at the cashier because they rarely know what it is I've carried to their checkout counter and always have to ask in order to press the right button in order to be able to weigh it.
For these huevos divorciados you won't need any fancy ingredients though. The only "special" ingredient you will need are tomatillos for the Salsa Verde. You might have to resort to canned tomatillos if your stores are less adventurous. The Homemade Mexican Salsa, the red one, is made with easy to find ingredients.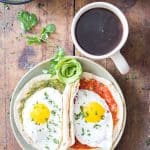 Huevos Divorciados
A healthy and typically Mexican breakfast: Huevos Divorciados (divorced eggs) made with a homemade salsa verde and salsa roja (green sauce and red sauce).
Print Recipe
Ingredients
Salsa Verde

Homemade Mexican Salsa

-

(link to recipe in post text above)

8

tortillas

8

eggs

1-2

avocado

Salt

Pepper

cilantro
Instructions
Heat a very large pan over medium heat.

Heat a small pan over medium heat.

Once very, very hot, add a litte bit of high-smoke point oil, such as avocado oil, to the large pan and move around to cover the whole bottom. Once oil is hot (about 30 seconds), add 4 eggs (try to keep them separate).

Add 1 tortilla to the small dry pan and warm up 30 seconds on one side, 30 on the other and place on a plate. Repeat until all tortillas have been warmed up and placed on plates. Don't forget to check on the eggs.

Add 2 warmed up tortillas to each plate, cover one with Salsa Verde and one with Homemade Mexican Salsa.

Place one ready fried egg on top of each salsa covered tortilla. Repeat step 3.

Serve with 1/4 to 1/2 avocado per plate, salt and pepper to taste and garnish with finely chopped fresh cilantro.
Nutrition
Calories:
386
kcal
|
Carbohydrates:
35
g
|
Protein:
16
g
|
Fat:
19
g
|
Saturated Fat:
4
g
|
Cholesterol:
327
mg
|
Sodium:
540
mg
|
Potassium:
456
mg
|
Fiber:
4
g
|
Sugar:
3
g
|
Vitamin A:
550
IU
|
Vitamin C:
5
mg
|
Calcium:
119
mg
|
Iron:
3.8
mg
What's your clean eating vibe?
Take this fun QUIZZ and find out in 10 seconds!