Midnight Cookies are made of all insomnia-fighting ingredients! The best healthy midnight snack recipe ever! Refined sugar-free but still deliciously sweet and full of healthy fats to keep you satisfied all night.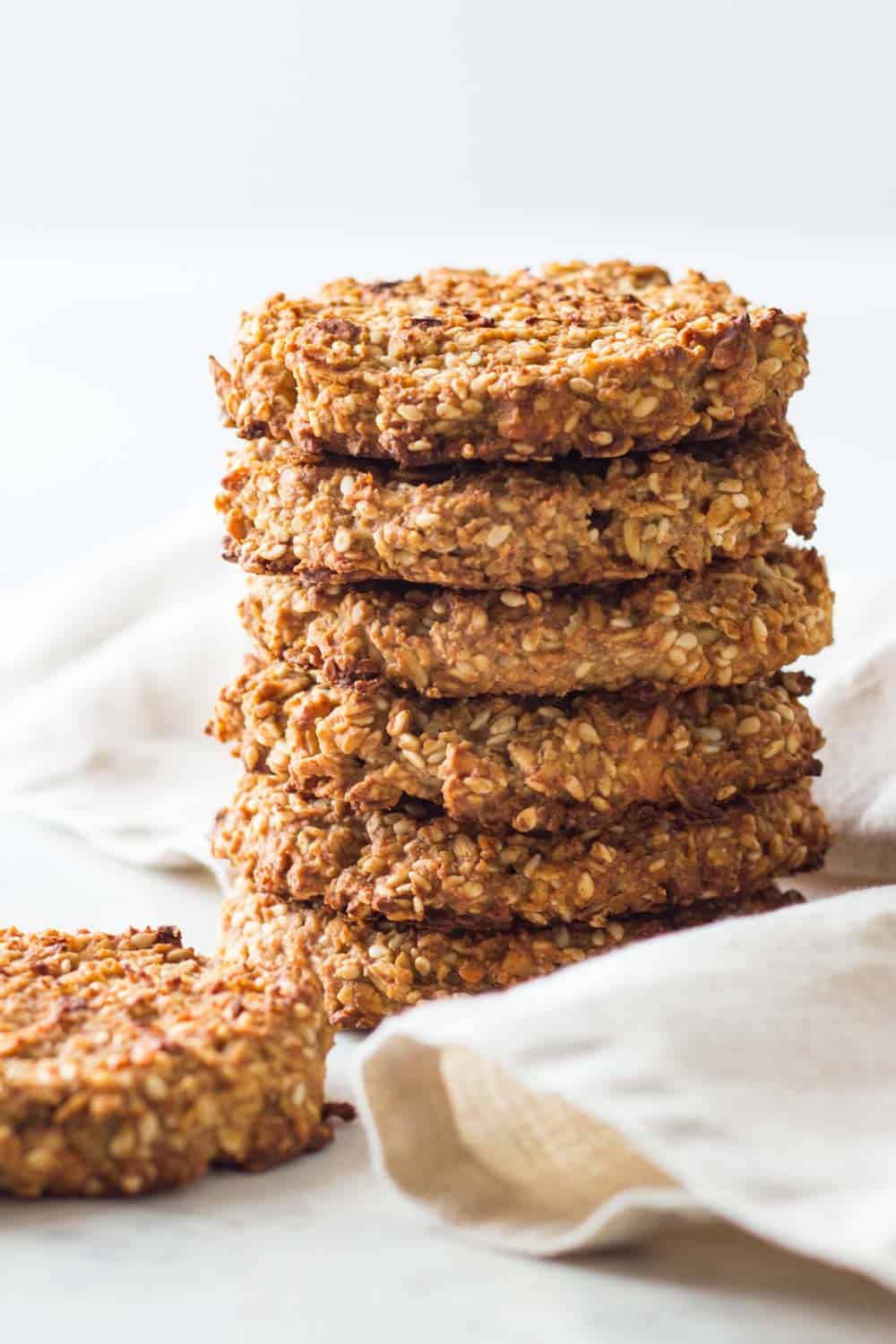 The cookies are super chewy and soft and delicious. Enjoy them with a warm cup of herbal tea, sleep tight, and don't let the bedbugs bite! If you prefer salty snacks check out these healthy snack ideas.
How To Make These Cookies
I love this healthy midnight snack recipe for its simplicity. You basically just mix the dry the ingredients in a bowl, then blend the wet ingredients in a blender, mix both, form cookies, pop in the oven, and you're done.
I have a couple of extra tips for you though:
Make the oat flour first in your blender. Add the old-fashioned rolled outs, pulse a couple of times and then pour the coarse flour out into your bowl.
Now, use the blender, dirty as is, to blend the wet ingredients. No need to wash it out, the wet ingredients will end up in the oats anyway at the end.
Make sure all pits are out of the dates. Even if you buy pitted dates there is a chance one pit is still in there and your wet ingredients will have hard bits of date pit in them.
You can freeze the cookies. They defrost pretty quickly when popped in the oven for like 5 minutes.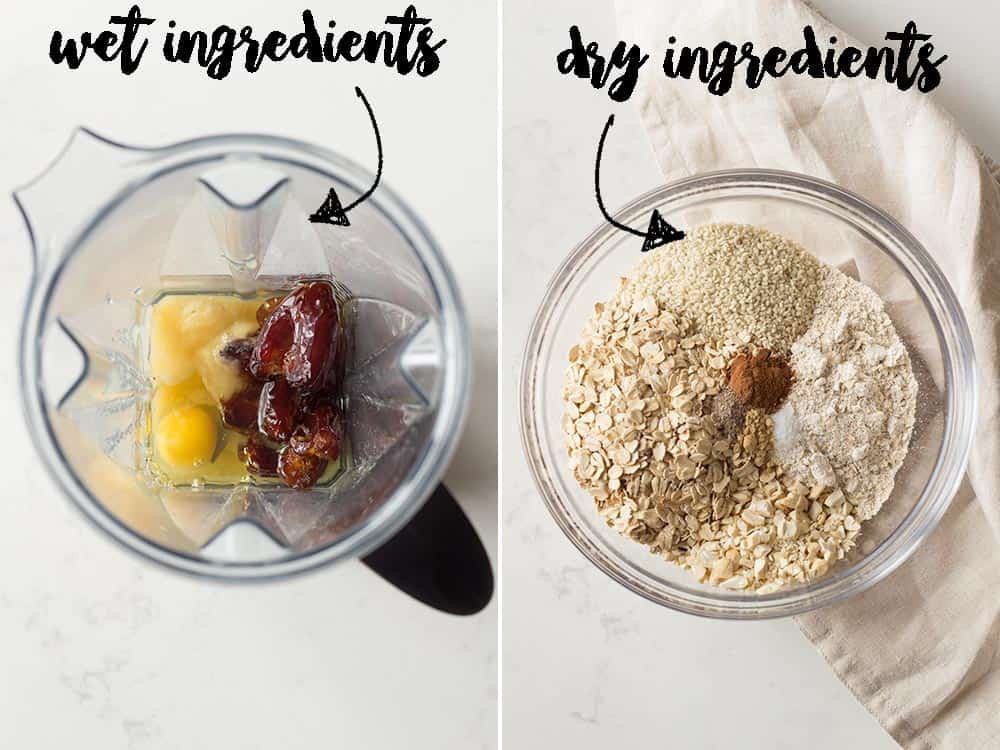 You want to achieve a very creamy consistency of the wet ingredients. A high-speed blender works best but you can achieve it in a food processor as well. You simply have to blend for long enough.

Can A Midnight Snack Help You Sleep?
Well, I think there is still a lot of research necessary. What we DO know is that some snacks and foods can make you NOT sleep. That's for sure. Anything containing caffeine, unhealthy fats, and excessive amounts of sugar are definitely a big no no close to bedtime.
Try and stay away from coffee, black, green, and white tea, dark chocolate both in a bar and in liquid form.
How Can I Satisfy Late-Night Cravings?
The best way to avoid late-night cravings is to eat a nutrient-dense clean diet. The better you nurture your body throughout the day, the less it will crave in the evening.
Cravings are often caused by a lack of certain nutrients. You can be psychologically extremely disciplined but the cravings won't go away unless you solve the problem at the root.
Eat nutrient-dense foods that cover all your nutritional needs and you won't even need a snack. If for whatever reason you were unable to nurture your body properly one day, resort to a healthy nutrient-dense healthy midnight snack to get you to the next day.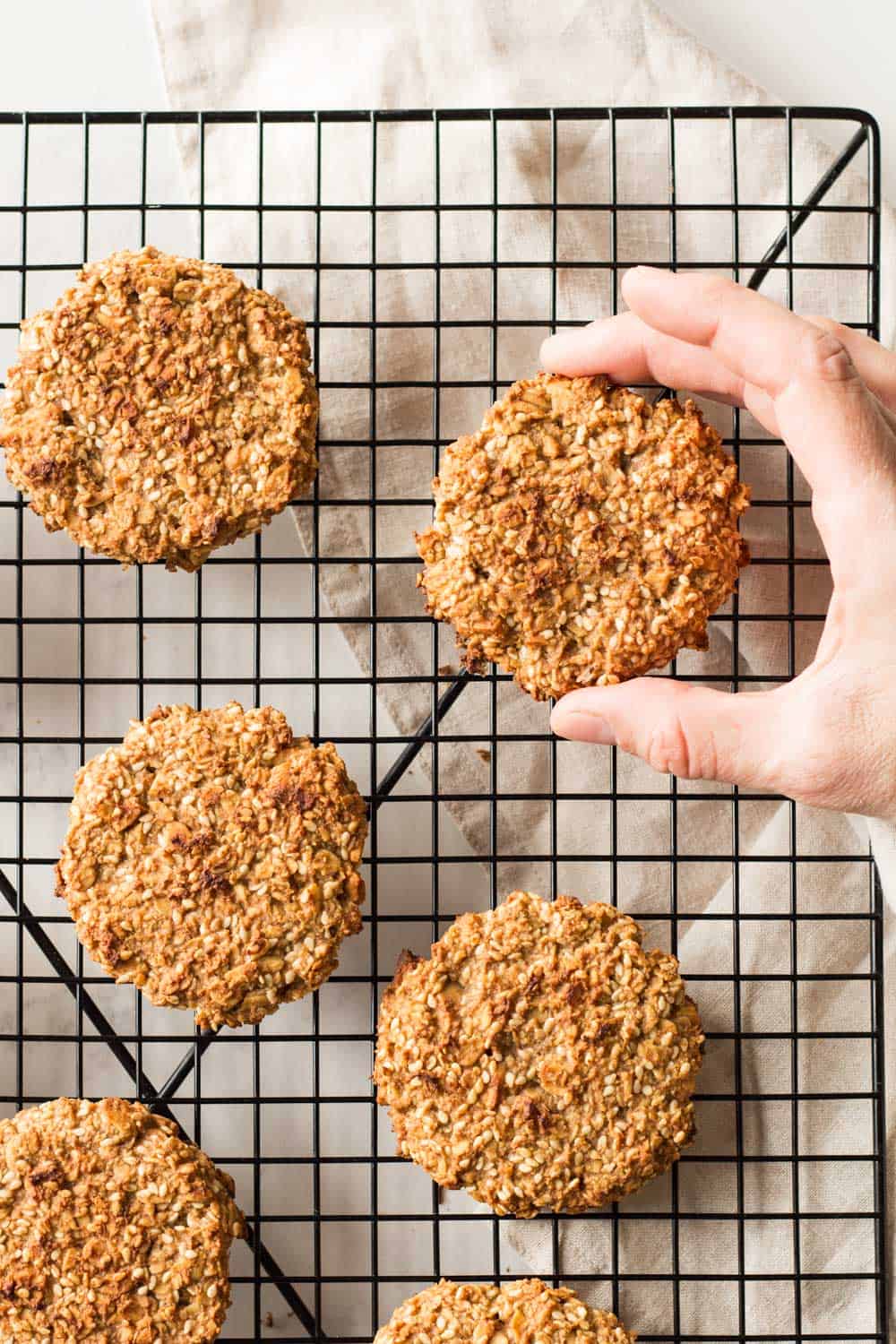 What Is The Healthiest Late-Night Snack?
Avoid sugary treats late at night and instead eat healthy fats. If you crave something sweet late at night (hi twin!) try and eat stuff containing natural sweeteners like dates or a little honey or maple syrup.
Try and have a healthy midnight snack. I know it's hard. You've been at work all day, you came home and had to do chores. It's midnight and all your crave is chocolate! Remember though, fighting insomnia once you lie in bed definitely won't make you relax.  It'll just stress you out more.
Try and enjoy without having any electronics in hand or watching TV. Enjoy while looking out the window and staring at the stars. I know this sounds cheesy but I swear it helps relax and calm down to get ready for bed.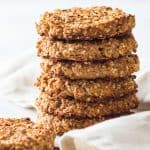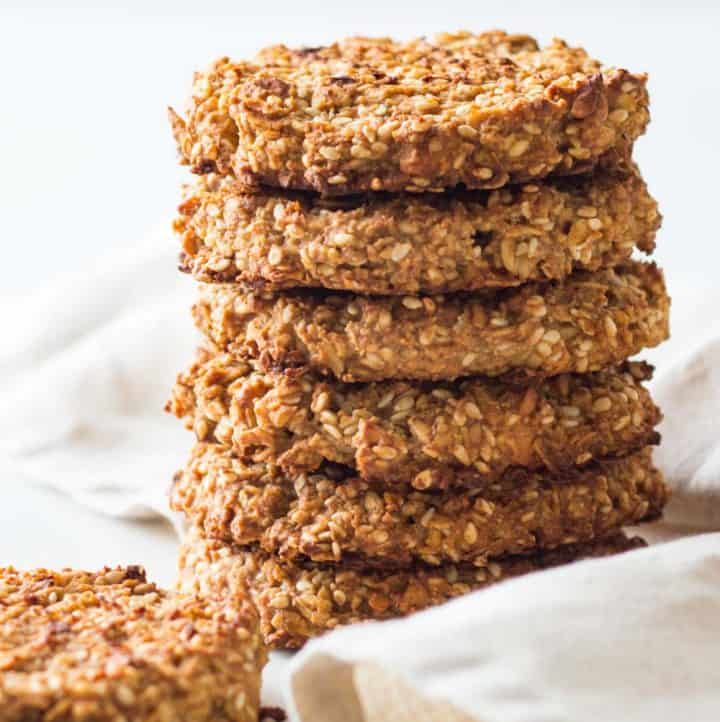 Midnight Cookies
Midnight Cookies are made of all insomnia-fighting ingredients! The best midnight snack recipe ever! Refined sugar-free but still deliciously sweet and full of healthy fats to keep you satisfied all night.
Print Recipe
Pin Recipe
Ingredients
3/4

cups

old fashioned rolled oats made into oat flour

1

cup

old fashioned rolled oats

1/2

cup

chopped cashews

1/2

cup

sesame seeds

1/4

tsp

sea salt

1/2

tsp

cinnamon

1/8

tsp

cardamom

1/4

tsp

ground ginger

1/2

cup

pitted dates

-

if hard then soaked in hot water for 5 minutes and then drained

1

egg

1/4

cup

coconut oil

-

melted

1/2

cup

unsweetened apple sauce

1-2

Tbsp

honey
Instructions
Preheat oven to 350 F.

Add 3/4 cups old-fashioned rolled oats to the blender and pulse to create a coarse oat flour. Then add to a large bowl.

Add whole old-fashioned rolled oats, chopped cashews, sesame seeds, and spices to the bowl.

Put dates, apple sauce, coconut oil, honey, and egg in a blender and blend until smooth.

Combine wet and dry ingredients.

Scoop out 1/4 measuring cup of dough per cookie and place on a parchment-paper-lined baking sheet flattening the cookie to about 1/2 inch thickness.

Bake for approximately 18-22 minutes or until golden. Beware of not burning the bottoms.

Cool on a cookie sheet and store in an airtight container preferably in the fridge.
Nutrition
Calories:
182
kcal
|
Carbohydrates:
18
g
|
Protein:
4
g
|
Fat:
11
g
|
Saturated Fat:
5
g
|
Cholesterol:
14
mg
|
Sodium:
56
mg
|
Potassium:
160
mg
|
Fiber:
3
g
|
Sugar:
7
g
|
Vitamin A:
20
IU
|
Vitamin C:
1
mg
|
Calcium:
75
mg
|
Iron:
2
mg
What's your clean eating vibe?
Take this fun QUIZZ and find out in 10 seconds!