I've been craving a "fancier" leafy salad for several weeks now. Pretty much ever since I made the Winter Salad with Sage Vinaigrette. We eat leafy greens on a daily basis. Be it a leafy salad or cooked kale/chard/spinach. My salads often tend to look quite boring though considering I have like minus 15 minutes to prepare lunch/dinner on some days. Tuesdays and Fridays for example we come home from Karate practice at 6:30 and bedtime is usually 7. What does the Green Healthy Cooking houshold have for dinner on such a day if there isn't anything prepared beforehand? Easy. Scrambled eggs with a slice of bread and a side of romaine lettuce. JUST romaine lettuce. I love lettuce alone. My kids, too. However, it can become boring and on the days there IS time for fancier cooking I prefer to make fancier versions of our daily greens intake, such as this Feta Salad. NOM NOM!
Add in some extra crunch, color and flavor with red radishes, a sweet red apple, fun daikon radish sprouts and a yellow bell pepper, sprinkle with delicious crumbled feta cheese and you've got an AMAZING "fancy" salad. Not only pleasing to the eye but also to the belly. My kids even ate the sliiiiightly spicy radishes announcing that they now finally love them and that it's probably because they are now a big girl and a big boy and thus can eat spicy. They did however add, that they might want to wait liking chilli until they are 6 years old *lol*
I paired this salad with an out of this world meat pie. I was even able to record the whole process of preparing it. I had filmed the Baked Apples recipe preparation completely with my big camera on a tripod from above to later find out on my computer that my head was in the way ALL.THE.TIME. Hahaha. I made about 10 short clips of my hair moving around. Greeeeaaat! So, no, my regular camera is not good for filming the process of a recipe. I wasn't going to give up on this endeavour altogether just yet. This time I tried to use my phone on one of those bendable arm tripods that clip on a table. We'll see if that worked. I hope it's ok and editable and shareable.
For now, you can practice preparing fancy salads to go with you to-die-for-meat-pie ;)
Feta Salad
Ingredients
5

oz

baby greens

(baby spinach, baby romaine lettuce, baby spring mix, etc.) 140g

1

yellow bell pepper

4-5

red radishes

1

juicy and sweet red apple

1

lemon or lime

1

hand full

daikon radish sprouts

(or other sprouts)

2

oz

feta cheese

(55g)

6

Tbsp

olive oil

2

Tbsp

apple cider vinegar

1

Tbsp

honey

1/2

tsp

salt

pepper
Instructions
Wash and dry leafy greens and add to salad bowl.

Wash and dry spouts and add to bowl.

Wash, deseed bell pepper and cut into thin slices. Add to salad bowl.*

Wash and thinly slice radishes and add to salad bowl. *

Cut lemon in half and squeeze out all juice into a small fairly flat bowl.

Wash and thinly slice apple and lay apple slices into lemon juice for 1 second each side. Drain well and add to salad bowl. *

Mix salad with your hands.

Crumble feta cheese in between fingers and sprinkle on salad.

Add olive oil, apple cider vinegar, honey, salt and pepper to a mason jar or other tight sealable small container and shake until well combined.

Pour salad dressing over salad right before serving.

* if you have a mondoline for these steps, prep time will be significantly reduced.
Here a bit of a close-up of your fancy Feta Salad:
On a more personal note, as I've told you, I am now an Ex-Grinch and totally in love with Christmas, right? So I'm wading through Pinterest and so far I've pinned about 69437 DIYs for Christmas decorations which I intent to do ALL in my "free time". I juuuust have to still find out when that is exactly…..uuummm. So far I've been able to make one and I love it! It's from this blog. Yesterday evening, while daddy was preparing kids for bed and for the first 2 hours of my 4-hour evening I made this beauty. THEN, I started cooking the meat pie filling and preparing the puff pastry for it, which both require overnight refrigeration. Let's just say, my night was long but it's the only free time I have. If I don't nibble away from sleep time there is no time left. I was super duper tired on Sunday but the kids' faces when they saw THIS! was totally worth the effort and lack of sleep :D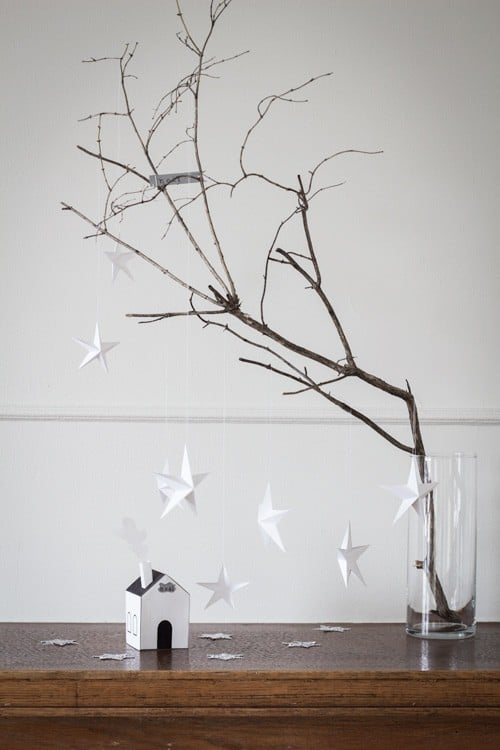 Get all recipes straight into your inbox!